It's Time to Define Just Exactly What Public Welfare Means
By Kay Matthews
A subcommittee of the Taos Regional Water Plan Steering Committee has been working diligently on drafting a Public Welfare Statement that will be incorporated into the regional water plan. The State Water Plan specifically calls for regions within the state to establish criteria for evaluating the public welfare within their regional water plans, and the Taos Public Welfare Statement could be a precedent setting document, as public welfare, while a criterion in the management of New Mexico's water resources, has never been legally defined.
Determining what public welfare in New Mexico really means is critical in these times of increased pressure to transfer water rights from agricultural to urban and industrial use. La Jicarita News has extensively covered the proposed Top of the World application to transfer agricultural water rights from northern Taos County to Santa Fe County for the proposed Aamodt settlement. If and when the protest of this transfer (La Jicarita editors and other parciantes and acequia associations are protestants to the transfer) goes to a hearing before the Office of the State Engineer (OSE), the protestants must demonstrate that the transfer: 1) is contrary to sound conservation practice; or 2) impairs someone else's water rights; or 3) is detrimental to the public welfare of New Mexico.
Coincidentally, the only time the concept of public welfare was used by the OSE to deny a water transfer was in Taos County. During the hearing on the controversial Las Sierras resort development water transfer application in the early 1990s, then state engineer Eluid Martinez denied the transfer request, basing his decision on the fact that a transfer might draw down area wells and hamper the historical flow of the Rio Pueblo, the Arroyo Seco, and the Rio Lucero. In his decision Martinez wrote, "The public welfare is not well served by approval of only a portion of the water supply required for a proposed planned development project in which the ultimate water requirements are known. Ultimate cumulative effects to existing water rights resulting from the use of water within the proposed Las Sierras development project are not known and therefore a determination cannot be made as to whether those effects would not constitute impairment." He also acknowledged that because New Mexico state statute does not recognize preferential uses of water, local agencies should determine whether water uses for agricultural and traditional purposes should be protected (Taos Pueblo supported the water transfer protest filed by members of the Las Colonias-West Mesa Preservation Association because of the possibility that the transfer would lower the water table under the Buffalo Pasture Wetlands): "Whether a given area is to be preserved for traditional uses, such as agriculture, or converted to new uses such as subdivisions and commercial enterprises is more appropriately decided by local governmental entities charged with land zoning and development activities."
The decision was appealed to district court, but Judge Peggy Nelson dismissed the appeal. Several months later the owner of the land and water rights terminated his agreement with the developers and the transfer became moot. Without a hearing in the New Mexico appeals or supreme court, Martinez's decision was not binding and did not become case law.
Although still in draft form, the Public Welfare Statement and Implementation Program of the Taos Regional Water Plan is a comprehensive attempt to manage the area water in a sustainable manner. In particular, it lays out the criteria for determining whether proposed water appropriations or transfers from the Taos Region to other regions and within the Taos Region from one sub-watershed to another are inconsistent with the public welfare. The individual criteria include: cultural protection; agrarian character; ecological health; long-term economic development potential; recreation/tourism; public information; water budgets; conservation/ restoration; and conjunctive management.
How the public welfare program will be implemented is critical to the process. The Taos Regional Water Plan Public Welfare Statement includes the formation of a local review board that it suggests "will be better qualified than the State Engineer to evaluate the Public Welfare criteria of the Taos Region." The Local Public Welfare and Conservation Review Board will evaluate the potential impacts of proposed water appropriations and transfers on the public welfare and advise the OSE and local governmental entities as to whether these appropriations or transfers are consistent with public welfare. The board will be comprised of members who represent the various water interests within the Taos Region, including the Taos County Commission, the town of Taos, unincorporated communities, Taos Pueblo, Picuris Pueblo, the acequias, the mutual domestic water associations, domestic well owners, and regional watershed groups. In evaluating each individual public welfare criterion, the review board will also consider the cumulative effects of all other existing and reasonably foreseeable appropriations and transfers that might affect the same sub-watershed, together with the potential effects of the proposed appropriation or transfer.
As was stated previously, while the State Water Plan calls for each region to establish its own public welfare criteria, there is no legal requirement that the OSE agree to the findings of the local review board. While an OSE lawyer wrote a brief several years ago that supported the position that agency decisions should be defined by regional water plans, the OSE has a long history of rubber stamping water transfers that underwrite growth and development in our urban and suburban areas. Public Welfare Statements like the one in Taos are a step in the right direction, but a court decision upholding a case based on this public welfare criteria, as in the Las Sierras district court decision, is necessary to establish precedent and get us farther down the road towards more equitable management of our water resources.
ANNOUNCEMENTS
• The Española Ranger District is once again soliciting input regarding the Hyde Park Wildland Urban Interface Thinning and Prescribed Fire Project. The project proposes to reduce the risk of catastrophic crown fire within the area, including facilities at Hyde Memorial State Park, Black Canyon Campground, and homes in nearby residential subdivisions. A decision was made in February 2006 to proceed with the project, but after administrative review, the decision was sent back to the district for further analysis. The decision in February authorized mechanical thinning of approximately 860 acres of ponderosa pine, piñon/juniper, and mixed conifer stands on slope less than 40 percent using mastication equipment . It also authorized approximately 965 acres of prescribed fires on slopes greater than 40 percent. The proposed action currently being considered remains essentially the same. A public hearing will be held in September. Written comments can be submitted by August 25 to Sanford Hurlocker, Acting District Ranger, Española Ranger District. P.O. Box 3307, Española, NM 87533. You can e-mail comments to comments-southwestern-santafe-espanola@fs.fed.us.
• The Española District of Santa Fe National Forest will host a series of meetings this fall and winter to discuss the "Headwaters Fireshed" project that seeks to establish collaborative efforts to prevent catastrophic crown fires in the fireshed that serves as headwaters to several tributaries of the Rio Grande: Rio Nambe; Rio Pojoaque; and Rio Tesuque. If you are interested in participating please contact Sandy Hurlocker, Acting District Ranger, Española Ranger District, P.O. Box 3307, Española, NM 87533.
• There will be a Celebration of Local Beef on Friday, August 25 from 5:00 to 8:00 pm at the Santa Fe Women's Club, 1616 Old Pecos Trail to meet ranchers and taste New Mexican locally raised beef - grassfed, grass-finished, organic, and natural. Learn how to order and store beef in your own home freezer and learn the health benefits of grass-finished beef. The cost per person is $10.00, with local wine $2.00 per glass. The event is sponsored by Slow Food Santa Fe, the Southwest Grassfed Livestock Alliance, and the Quivira Coalition. RSVP at www.quiviracoalition.org (click on Workshops & Events) or call 505 820-2544, ext. 5.
• The deadline for comment on the Los Alamos Laboratory state-wide Environmental Impact Statement is September 5 (call 877 491-4957 for info). The Lab is proposing to expand its production of nuclear weapons. La Jicarita will cover this issue in the September issue.
We were saddened by the August 7 death of Larry Frank, friend and La Jicarita News supporter. We want to extend our deepest sympathy to his wife Alyce and the rest of his family.
Agricultural Revitalization Initiative: The Next Steps
By Kay Matthews
The very well attended first public meeting of the Agricultural Revitalization Initiative (ARI) demonstrated that there is great interest and desire in the norteño community to keep our lands in agricultural production and keep water tied to the land. Farmers, land owners, non-profits, and government agencies all turned out to put their heads together and figure out the best way to do this. The general consensus was that forming a resource center to link information, farmers, agencies, and funding opportunities is a good way to enhance the on-going efforts of many disparate groups involved in agriculture and land protection. Everyone agreed that a pilot project be initiated in the Pojoaque Basin, one of the most "at risk" areas in northern New Mexico, to try maintain as much land as possible in agricultural production by utilizing a variety of innovative collaborations.
There are already many small, informal efforts being made in communities across northern New Mexico that could both inform and benefit from the ARI. In my own small village of El Valle, no fields lie fallow despite the absence of some of their owners or their inability to farm. Because we are a community of extended families, many of the fields are maintained by the family members who still run cows and own the necessary equipment to produce alfalfa and hay. Orchards are also irrigated and maintained by extended family members and the fruit is shared by all during harvest. Lynda Prim, founder of the Farm Connection and a former organic certifier for the state, is coordinating the Dixon Land Link, which is a vehicle for landowners in Dixon and surrounding communities to offer available land and water rights for beginning or experienced farmers to rent or lease. Land Link also networks internship, apprenticeship, and other opportunities related to small scale agriculture in the community. The organization has the support and cooperation of the community acequia organizations, and the acequias have actually provided the names of parciantes who have land that is not being used and who owe back ditch fees, which can be paid by Land Link and the acequia if they choose to participate in the program.
These models can be extended across el norte, where young people are leaving the community to seek employment, viejos are unable to farm anymore, and newcomers, unfamiliar with traditional agriculture and irrigation, are buying available land in the villages. This trend could be reversed if there was enough economic incentive to keep the younger generation interested in agricultural production. That's where ARI could provide critical information on value added crops, marketing opportunities, and business development. Miguel Santistevan, director of the youth project of the New Mexico Acequia Association, is already providing a valuable link between the traditional agricultural skills of his parents' generation and the needs of a new generation of teenagers and young adults whose educational skills could enable them to make the leap from subsistence farming to farming as a viable living. With the help of ARI Santistevan's efforts could be duplicated across el norte.
The market for locally grown, unprocessed and organic food is growing exponentially. And unless we organize to fill that niche, the corporations that already control food production and distribution in this country will. Northern New Mexico is in a unique position because our land and water are still managed by the many small communities that have flourished for hundreds of years. The system of acequias that water our fields, orchards, and gardens have senior priority protection and are largely intact, despite enormous pressure from urban and industrial users to transfer these rights to facilitate their growth and development.
The communities closest to New Mexico's urban centers feel the most pressure, of course. The Pojoaque/Nambe/Tesuque area communities are particularly feeling the impact of the burgeoning growth of both the city and county of Santa Fe and are vulnerable to the political pressure being brought to bear to settle the Aamodt adjudication, which essentially favors continued commercial and residential growth. This area is where ARI organizers would like to establish a pilot project that could utilize the above mentioned collaborations already in progress and explore other innovative options to literally "save" what land is left from rampant development and infill.
At the August 9 "working group" meeting of the ARI, participants volunteered to form a steering committee to decide what form the organization should take, draft a mission statement, establish a list serve and web site, and develop a pilot project. One of the participants, Juan Montoya, whose son is currently serving with the military in Afghanistan, shared a letter his son had written talking about wanting to come home and be able to farm the family land in Pojoaque. The group will consult with the Montoya family to extend their farming operation, as well as identify other "lands at risk" in the Pojoaque area and identify potential farmers who might want to work these lands.
The Same Old Story
By Mark Schiller
I was talking to New Mexico historian Malcolm Ebright recently about his new book, The Witches of Abiquiu, and we both came to the same disturbing conclusion, which I'll get to after a brief explanation.
Abiquiu was a genízaro settlement: that is, it was composed entirely of non-Pueblo Native Americans - Apache, Ute, Comanche, Navajo, Kiowas, etc. - who had been captured by the Spanish or other Native Americans and sold into slavery. However, in contrast to African-Americans in the United States, who were enslaved for life, the Spanish indentured these captives for the period it took them to work off their cost (there was a fixed rate) and then freed them. The majority of these freed former slaves then continued to live in Spanish settlements and basically adopted the Spanish culture. The Barrio Analco near the chapel of San Miguel in Santa Fe, for instance, was an area predominantly inhabited by genízaros and mestizos, the descendants of Spanish and Native American intermarriages .
Some genizaros found employment in the homes of Spanish elites or as soldiers in the Spanish garrisons in Santa Fe and Santa Cruz de la Cañada. However, as their number increased most were unemployed, landless poor at the bottom of a rigidly stratified social order. As Ebright has pointed out, it was Spanish Governor Tomás Vélez Cachupín (governor 1749-1754 and 1762-1767) who came up with a shrewd way to address what was becoming a growing problem: He granted them farm and pasture lands on the frontiers of the established Spanish settlements.
Vélez Cachupín specifically noted, in the concession of the Las Trampas grant, that these community grants served two purposes: 1) these new settlements acted as a buffer for the established villas of Santa Fe, Albuquerque and Santa Cruz de la Cañada, which were extremely vulnerable to raids by hostile nomadic tribes; and 2) the established villas had exhausted their resource base and the growing, unskilled population needed land to farm and ranch in order to subsist Moreover, as Ebright noted in his book, "the elites could not always be relied on to defend their land to the death," whereas the genízaros and mestizos who settled these grants had little or no alternative.
So, the vast majority of community land grants in New Mexico were made to people whose ancestry was primarily, or to a significant degree, Native American. Which brings me to my point: the communities fighting the vicious and interminable battle against each other in the Aamodt water adjudication, both Pueblo and Hispano, are essentially descended from the same first people, just as the Israelis, Palestinians and Lebanese are descended from the same semitic stock. It's the same old story: Los capitalistas continue to divide and conquer and la gente continues to pay the price.
Gemini Farms: Back to the Land
By Mark Schiller and Kay Matthews
Editor's Note: As the Agricultural Revitalization Initiative (ARI) gets off the ground (see page 3) we thought it would be interesting to take an in-depth look at a northern New Mexico farm that is run by several young people in their twenties who are doing just what the ARI hopes to accomplish: putting a piece of traditionally irrigated land back into production.
Two young brothers with a vision have created a garden in Las Trampas that provides food for themselves, their friends, the folks who buy at the Santa Fe Farmers Market and who eat in Santa Fe restaurants, and also serves as an inspiration for anyone who cares about food sustainability.
Teague and Kosma Channing, 27 and 23 respectively, grew up in Santa Fe with a Polish mother and British-American father. Every summer they traveled to the farm county of Poland to visit their mother's family, where they were exposed to traditional, old world farmers who grew fields of wheat and potatoes as well as kitchen gardens and orchards. They saw that in Poland even people who lived in the city maintained their connection to their farming roots and relied upon local produce for a substantial portion of their diet.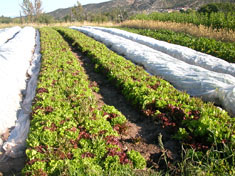 Rows and rows of vegetables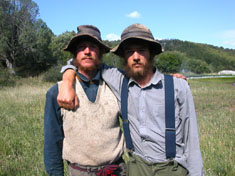 Brothers Teague and Kosma Channing
Although they maintain they grew up as typical Santa Fe teenagers, this experience obviously had a profound influence on the brothers. After Teague graduated from college and Kosma from high school, they decided to learn how to farm themselves and worked for several local farmers and orchardists before deciding to start their own farm. After an extended trip to Mexico, where they perfected their Spanish, they ended up at Jeff Klein's seven-acre homestead in Las Trampas. (Klein is the founder of the Self-Reliance Foundation that has worked to help maintain small farms. He is also a friend of the Channing family.) Although three acres of the land were irrigable, they had not been farmed in years and were overgrown with grasses and willows.
Teague and Kosma moved in during January of 2003 and immediately acquired several goats that grazed the grasses while they cleared out the bottom field. With the help of friends they built a barn out of salvaged material and hand-cut vigas. A Trampañero brought in his bulldozer and tractor to prepare the lower field for planting. The brothers also met local farmers like Eluid Leyba from Ojo Sarco, who they call the calabacita king, and began acquiring as many local seed varieties and as much local knowledge as they could.
As they worked to prepare the other fields they consulted with a market gardener from Ojo Sarco who helped them design a system of hoop houses and raised beds to maximize production. By their second year they were growing everything from garlic to greens, corn to calabazas, and beets to beans. They sold the produce at the Santa Fe Farmers' Market, broke even the first year, and by the end of the second season made a small profit. Teague says, "We tasted success and independence, and took a strong sense of pride in our indigenous crops."
While friends were always around to help pitch in, Teague and Kosma were able to recruit interns from the University of California at Santa Cruz and Tufts University, where Teague went to college. Also during this time, the brothers met Ann LeFevre, a young, experienced farmer who had worked at several New Mexico farms, including one in Peñasco. Ann and Teague fell in love, and she joined the household. Ann has a special affinity for the goats and has expanded the herd to provide enough milk to supply the household and make cheese. Kosma learned how to butcher the juvenile male goats from a Muslim friend in order to supply the household with cabrito.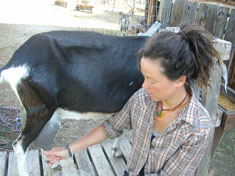 Ann Lefevre milking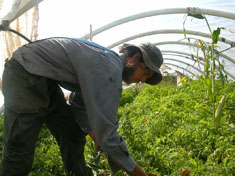 Kosma harvesting tomatoes in hoop house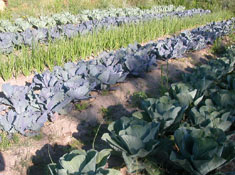 Cabbages everywhere
During their third year the farmers expanded the upper field and built a root cellar. Working three days a week it took them a month, with the help of local friends like Brad Rose, Diego Lopez, and others. "That took a lot of concrete and a lot of hard work," Kosma told us. They use the cellar not only to store produce for market, but also for household winter storage of potatoes, carrots, beets, garlic, etc., as well as homemade fruit wine.
Now in its fourth year, the farm fulfills their vision of diversity and sustainability. Numerous hoop houses allow them to grow warm weather crops such as tomatoes, chile, and basil. Succession planting provides a continuous supply of fresh produce, and crop rotation maintains soil fertility and reduces pest infestations (Kosma told us he and a co-worker spent seven hours crushing cabbage bugs with their hands). Kosma and Teague believe that by growing food they are being true to their core values, which include the spiritual connection of land, water, food, and community.
Unfortunately for those of us who have eaten their food, the brothers plan to expand their vision and their operation by buying a larger farm, probably somewhere in the northwest, where water is more available and land is cheaper. They also want to move away from a reliance on fossil fuels and mechanized irrigation, like the electric water pumps they use at Gemini farms. While they appreciate the traditional acequia system of northern New Mexico and have a good relationship with the acequia commission in Las Trampas, they acknowledge that because of the location of the acequias their present operation would be impossible without the use of pumps. They want to grow grain, have pasture for horses, and be able to expand production with gravity flow flood irrigation. Their ultimate goal is to establish a Community Supported Agriculture (CSA) project that feeds their local community.
Meet the New Rio Arriba County Commissioners (or Defend RAFCN, Take Your Pick)
By Kay Matthews
I thought I was going to a meeting on August 2 in Española to meet the newly elected Rio Arriba County Commissioners (who are Alfredo Montoya, previously a commissioner, and incumbent Elías Coríz), as the flier on my e-mail said. This was an opportunity to discuss recent controversial issues that the people and commissioners of Rio Arriba County have been dealing with: the cell phone tower moratorium, the Bureau of Land Management (BLM) ATV "Fun Park", and keeping the Chimayó chile trademark in the control of the community. The flier was sent by some folks from the Chimayó Council on Wireless Technology who had been asked by Rio Arriba Health and Human Services Director Lauren Reichelt to help get the word out about the meeting.
When I got to the meeting, that discussion was relegated to the end of the agenda and it was conducted by commissioner elect Montoya and current commissioner Felipe Martinez, not Elías Coríz. The meeting was actually sponsored by the Rio Arriba Family Care Network Coalition (RAFCN). And its purpose soon became apparent: to defend the organization, and Rio Arriba County Health and Human Services Department, from accusations made in recent articles in the Rio Grande Sun that the organizations are inefficient, have squandered millions of dollars in grant money, and have been totally ineffectual in combating drug and alcohol addiction in the Española Valley. The Sun has laid much of the blame on former RAFCN and current Health and Human Services Director Lauren Reichelt, who it accuses of running both organizations that are supposed to be different entities, with different missions.
Reichelt began the meeting with a brief description of RAFCN as a coalition of 50 members representing health and human services organizations whose mission is to develop policy that guides direct health care providers. She explained that she has moved over to the county's Health and Human Services Department and that Darren Griego is the new director of RAFCN.
Meeting facilitator Santiago Juarez is the one who directly addressed the accusations made by the Sun, however, calling the articles attacking RAFCN "detrimental to the moral health of our communities and health providers." He claimed that much of the information in the articles was "inaccurate" and that they are asking for "fair and balanced reporting." He also put the issue in a political and cultural context by accusing the Sun of undermining RAFCN's attempt to deal with the effects of a long history of colonization and poverty.
Juarez and Reichelt also used the meeting to defend the Liquor Buyback Resolution passed by the county commission that has come under attack from the liquor lobby and business community, also in the Rio Grande Sun. The Liquor Buyback Resolution proposes that the state buy licenses that are for sale at fair market value and retire them, rather than let them be sold to new businesses. Reichelt provided statistics revealing that the extremely high accidental poisoning rate in the Española Valley is due not just to heroin but that alcohol, at 71%, is actually the most abused substance. The number of extant liquor licenses is significantly more than the established quota, based on population: in Rio Arriba there should be 19 licenses, as opposed to the current 54; and in Española, there should be four, as opposed to the current 24. (The Sun quoted State Representative Jim Trujillo questioning these figures.) Juarez again pointed out that there needs to be another discussion of colonial history with regard to dealing with alcoholism, but that it's necessary to deal with it symptomatically even if that doesn't address the root problem.
To his credit, Alfredo Montoya acknowledged that some folks had come to the meeting expecting to discuss their issues with the commissioners and he would stay as long as necessary to do so. But he obviously was there to defend RAFCN as well, which he proceeded to do with a prepared statement. He started out by saying that it was time to "rebuild RAFCN relationships and reinvigorate our trust in each other." But he credited the organization with being instrumental in addressing the commission's two biggest concerns, substance abuse and health care access, and establishing coalitions among groups that had previously worked separately. RAFCN brought substance abuse "to the forefront and mobilized the public into making it a public health issue, not an enforcement issue", as the War on Drugs addresses it. The coalition has had to "withstand pressures then and now from interests who profit from addiction. We're continually under attack because we bring up issues that go against predatory business interests."
Commissioner Martinez also made comments supporting Juarez's analysis regarding colonization and how the land grant and Chicano movements of the 60s and 70s galvanized norteños to work for social justice. He also said that the commission is now negotiating to acquire San Juan/Chama water rights that it would distribute throughout the county to help meet the needs of the agricultural communities as well as cities and towns.
When they finally opened up the meeting to questions from the audience, La Jicarita News asked about the recent county commission resolution in support of cattle grazers as valued members of the agricultural community. The resolution was drafted in response to El Rito District Ranger Diana Trujillo's decision that the Jarita Mesa Cattle Growers Association would have to remove their approximately 400 head of cattle from the mesa where drought conditions, exacerbated by competition from the wild horse and elk populations, have resulted in inadequate resources needed to support both wild and domestic grazing. Martinez told us that the ranchers, who had been given until the end of July to remove their cattle, have now been given an extension until the Range Improvement Task Force from New Mexico State University, an independent reach organization, conducts another analysis of the conditions of the allotment.
John Chavez of the Santa Cruz de la Cañada Land Grant raised the issue of the BLM "Fun Valley Special Management Area" on 19,000 acres of land that was originally included in the Truchas, Sebastian Martín, and Santa Cruz land grants. Local communities and acequias are concerned about the potential for congestion, erosion, and environmental degradation. The designation of this management area has been part of the BLM's Resource Management Plan since 1988, but the agency is now revising the Plan. As part of the NEPA scoping process the BLM is accepting public comment until August 30 on this Special Area Designation, which encourages ATV use, personal use as well as organized races, but limits use to existing roads and trails. Commissioner elect Montoya stated that the commission needs to assist communities to assure that their concerns are incorporated into the NEPA process.
Many folks had already left to go to the lunch provided by RAFCN before Chellis Glendinning and Lucy Collier of the Chimayó Council on Wireless Technology raised the issue of the cell phone tower moratorium. Glendinning wanted to know the status of the community surveys that were given to the Health and Human Services Department asking it to conduct a study of the impacts of all county communication towers. Apparently this information is supposed to be included in RAFCN's Environmental Health Assessment, but Reichelt was unaware whether this had happened. Collier presented Commissioner Martinez with a list of concerns that included the BLM ATV park and the need for the designation of a Chimayó historical district, which could have protected the community from the cell phone tower and other inappropriate development.
As I was leaving the meeting several participants expressed their frustration that they had come to the meeting on false pretenses and their concerns had been given short shrift.