Erecting the Hoop House
On a windy (of course) day in April Del Jimenez of New State University's Alcalde Agricultural Center and Rey Torres, Taos County Extension Agent (pictured below), brought their hoop house program to the El Valle farm of La Jicarita News co-editors Mark Schiller and Kay Matthews. The NMSU program provides the materials at a reduced cost (paid for by the homeowner), and the expertise, provided by Del and your county agent; the homeowner provides a crew for the day's work (and sometimes the participation of folks wanting to qualify for their own hoop house project).
That's all it takes, a day. And our hoop house was the most labor intensive and one of the largest that NMSU builds. Built with PVC pipe and reinforced plastic, ours was designed with a pitched roof that can accomodate significant snowfall at higher elevations (El Valle is around 8,000 feet). The design also has roll-up sides (pictured at the bottom right) to let the heat escape when necessary. The more traditional hoop house has a domed ceiling made of curved PVC.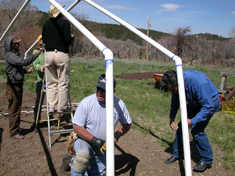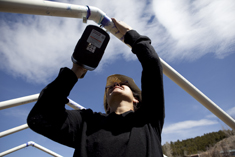 Special thanks to Catherine Jordan and Steve Lick who came all the way from Minneapolis to help with the project.
ANNOUNCEMENTS
Placitas Acequias Win a Huge Victory
Finally, after a ten-year struggle between water rights protestants and developer Lomos Altos in the village of Placitas, the company withdrew its application to transfer agricultural surface water rights from Valencia County to wells serving its developments in Placitas. The application was protested by a group of folks who claimed their springs and the acequias of Las Huertas Creek, senior water rights, would be adversely impacted by the deep wells from the development (see La Jicarita News, February 2009). The case has been in court ever since (it went all the way to the state Supreme Court where it was remanded de novo to District Court), until this April, when Lomos Altos withdrew the application.
The developer made the fatal mistake of opening up the case to include over 100 third parties who might have had an interest in several of the springs in question, which meant they must all be served with notice to prove that they had put the water rights to beneficial use or they had been forfeited. This essentially initiated an adjudication of the area, which is the purview of the Office of the State Engineer. Several of these new defendants hired their own lawyers, several motions to stay or dismiss the case were submitted (including one from the State Engineer), and Lomos Altos finally realized that it had opened a can of worms that would take years and untold financial resources to sort through.
So congratulations to the original protestants, Lynn Montgomery, Robert Wessely, and Catherine Harris, and the others who immediately got involved in protecting their water rights.
Historic Hippie Homecoming Holidays
A host of events sponsored by Horse Fly Institute to celebrate Taos' historic hippie happening will be held
Friday, June 19 through Wednesday, June 24. The calendar of events includes:
• June 19: first TAO Masquerade Ball at Taos Art Plaza, 223 Paseo del Pueblo Sur, one block south of the Plaza. Call 575 751-0071.
• June 20: 95.9 KKIT/1340 KVOT Storyteller Theatre/Taos Mountain Motorcycle Rally. "Easy Rider" showtimes at 4:30 pm, 7 pm, 9:30 pm and continuing on Sunday at 1 pm, 4:40 pm, 7 pm.
• June 20: William Davis Photography Gallery, "New Prints of Vintage Photos from the 60s; San Francisco to Taos." El Torreon, 1017 Paseo del Pueblo Norte.
• June 20: Lions Club of Taos presents KidSight Family Gold Outing, Taos Country Club.
• June 21: Hippie Homecoming-Body Painting, 10-2 pm, McCarthy Plaza on La Plaza; Stick Pony Races, 2-3 pm, McCarthy Plaza; La Cocina Reunion at Ogelvie's, 3-6 pm; Dolly and the Lama Mountain Boys, Taos Plaza Gazebo 6-8 pm.
• June 24: Barefoot Boogie with the Blue Streaks and Pot Luck at McCarthy-Benavides Building.
• The 2008 Farm Bill has provided funding specifically to help farmers and ranchers transition to organic farming. In New Mexico more than $1 million is available through a special allotment for organic farmers/ranchers through the Environmental Quality Incentives Program. Applicants for this special initiative may receive financial assistance up to $20,000 per year, limited to $80,000 total. The Natural Resources Conservation Services (NRCS) is overseeing this process, and your local District Conservationist will come to your farm/ranch to help you develop a conservation plan based on your goals. Applications for the program can be taken any time for this or any other NRCS program; however, applications for this year's funding were due May 29. When you go to your NRCS office, if you are already certified as an organic producer, bring (1) proof of farm/ranch ownership and (2) your organic system plan. If you want to transition to organic bring (1) proof of ownership and (2) you will be required to submit a self-certification letter to the District Conservationist that you "agree to develop and implement conservation practices for certified organic production that are consistent with an organic system plan." There is a list of NRCS field offices at www.nm.nrcs.usda.gov, or call 505 761-4445 for more information.
Editorial: To Zone or Not To Zone, That is Peñasco's Question
By Kay Matthews
Many years ago I wrote an article for the Albuquerque Journal Magazine called "Land Use & Lifestyle" about what was happening to the village of Placitas at the north end of the Sandia Mountains, a traditional land grant community that was rapidly turning into a commuter subdivision of Albuquerque. A large part of the article focused on whether zoning can manage land use or is, as Frank Popper, a former professor of Urban Studies at Rutgers put it, a product of urban elites who have moved to the countryside and want to protect themselves and their surroundings.
This analysis was indeed true in Placitas, which has grown exponentially both geographically and in median income, but I've come away from the recent Peñasco Area Community Association (PACA) meetings to discuss a land use plan, or zoning, in our many small communities of southern Taos County, with a very different feeling.
First of all, this seems to be a bottom-up process as opposed to a top-down one. While Taos County adopted a Growth Management Plan in 2006, only those neighborhood associations that are interested in designing specific growth management plans for their areas are working with Taos County consultant Charlie Deans, of Community by Design. PACA (which formed in 1996) met with Deans several years ago, and a group of community volunteers helped him draft a plan for the Peñasco area, which was presented to the PACA board for its revisions, and then to the community in a series of meetings.
La Jicarita News covered those meetings (see the February and March 2009 issues), so I won't repeat the details of the draft. What I'd like to address is the paranoia that so often rears its head at community meetings like these and often reduces the conversation to one of emotion rather than reason. This paranoia is understandable, considering the long history of colonization and marginalization that has occurred in northern New Mexico, but when a tool is developed that may help communities control their own destinies, perhaps we can participate in a process that will develop a plan from the ground up, be carefully considered, and voted on by an informed public.
Democracy requires taking the responsibility to become informed and actively participate in the processes that affect our lives. Too often at community meetings we hear, "How come I didn't know about this beforehand" or "who are these people who are on the PACA board or on the committee that drew up this draft land use plan?" Well, they are people in the community who voluntarily - that means no pay and a tremendous amount of time and energy - decided to get involved in an issue they believe is critical to the health and well-being of their community. Whenever I used to attend the many meetings we held with the Forest Service over timber and range policies (and now control over acequias, see the April 2009 issue of La Jicarita) the first thing I asked is, how many people in this room are being paid to be here and how many are here on their own time?
So a committee of volunteers took the time to attend PACA meetings (which are well advertised and held the third Thursday of every month) and worked with Deans over the course of a year to develop a land use policy they think would best protect the interests of our traditional rural communities: protecting our agricultural resources, including surface and groundwater, and maintaining our rural character. At the April 19 meeting in Peñasco, someone in the crowd compared the proposed land use plan to the self-governing nature of our acequias, with bylaws that protect against the movement of water out of our communities and enhance the function of this, our most valuable resource. Existing regulations don't adequately protect our land and water.
So where do we go from here? At the May 21 PACA meeting in Peñasco Deans provided a forum for one more community discussion. La Jicarita was unable to attend the meeting, so we asked PACA board member Kenneth Detro to give us a firsthand report. From what he told us in an e-mail, it looks like folks in Peñasco were ready to engage in their own form of democracy when, in Detro's words, they "reached a state of self-generated lift-off" and decided to abandon the plan, as an elder in the community put it, "in content but not in spirit." They felt it should be reviewed by the entire community, all the villages, on a line by line basis. Deans announced that it looked like he was no longer needed and that he wouldn't attend the next community meeting scheduled for June 14 in Chamisal. But he volunteered to help by looking over any plan the communities come up with, get help with any legal questions, and leave his maps and aerial photographs at the Peñasco Community Center for people to use. According to Detro, a small circle of folks formed and agreed to organize a meeting with an least two representatives from all the Peñasco Valley communities present to review the plan line by line. The meeting is set for June 28, 6:00 p.m., at the Vadito Community Center.
Air Monitoring in El Valle
At the request of some residents of El Valle, the Oversight Bureau of the New Mexico Environment Department, which monitors Los Alamos National Laboratory, placed an AIRNET station there in June. It will collect airborne particulates for isotopic analysis.
With the help of the Embudo Valley Environmental Monitoring Group (EVEMG), the residents contacted Bill Bartels of the Oversight Bureau, who met with El Valle residents Nancy and Larry Buechley and visited their woodworking shop on the llano above the village where the station will be located. The location is ideal, because the shop has the required electrical power and is well away from anyone's residence that might be disturbed by the noise emitted from the station. EVEMG has worked with Bartels and the Oversight Bureau since the Cerro Grande Fire to get better baseline data regarding LANL air and water emissions that might affect the Embudo Valley.
Folks in El Valle and other surrounding villages are concerned about both air and water contamination because of the "extraordinary" levels of plutonium, cesium, and strontium that were found in a soil sample at Las Trampas Lake, at the head of their watershed, and samples of lettuce with high concentrations of uranium that have been found in the Embudo Valley. The Oversight Bureau will continue testing vegetables in the area and maintaining an AIRNET monitoring station at Picuris Pueblo. Although most of the contaminants released from LANL probably are dispersed close to the Lab, forest fires (particularly the Cerro Grande fire of 2000) and open air burning at the Lab can cause plume clouds of contaminants that are easily carried to the downwind communities of the Española and Embudo valleys.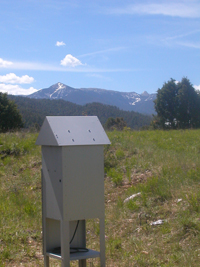 El Valle AIRNET station looking towards the Las Trampas Lakes watershed
La Jicarita News Awarded Grant
The New Mexico Historical Records Advisory Board has awarded La Jicarita News a grant to investigate the career of George W. Julian, who served as Surveyor General of the New Mexico Territory from 1885-1889. Julian was appointed Surveyor General ostensibly to reform the land title confirmation process, which the federal government alleged was tainted by fraud and corruption. As Surveyor General, Julian recommended rejecting many land claims that were recommended for confirmation by his predecessors. Our investigation will look at all the claims he investigated, both those formerly reviewed by his predecessors as well as claims presented to him for the first time, in an effort to determine whether his recommendations were based on legitimate evidence, or as some scholars have asserted, motivated by the federal government's desire to retain as much land in the public domain as possible. We will also look at the possible affects of partisan politics on his decisions.
This information is vital to the land grant community's efforts to determine whether injustices occurred during the adjudication of Spanish and Mexican land claims by the federal government and to better understand this critical period in New Mexico's development. It will be made available through a series of articles in La Jicarita News, both in hard copy and on the Internet, through links to The Center for Land Grant Studies, in a fully annotated article for an historical journal, and eventually as part of a book that will investigate the influence that Surveyor General George W. Julian and United States Attorney for the Court of Private Land Claims Matthew G. Reynolds had on the land claims adjudication process.
La Jicarita News co-editor Mark Schiller, who will oversee this project, has extensive experience researching land grant histories and adjudications. He has worked with Center for Land Grant Studies historian Malcolm Ebright on the New Mexico Land Grant History Project and helped New Mexico Legal Aid draft a response to the GAO report on community land grants for the New Mexico Attorney General's Office. He has twice been funded to conduct research through the Office of the State Historian Scholars Program. He has recently completed an article detailing research previously funded by the New Mexico Historical Records Advisory Board regarding the history and adjudication of the Antonio Chávez land grant that will be published in an upcoming issue of the University of New Mexico Law School's Natural Resources Journal.
The hoop house will extend our growing season in both the spring and fall. Tomatoes, which we normally have a hard time getting to ripen, are already planted and thriving inside.
For more information about the program contact Del Jimenez at 505 852-2668, djimenez@nmsu.edu, or contact your county agent.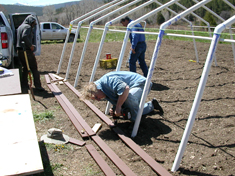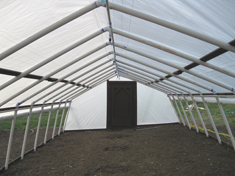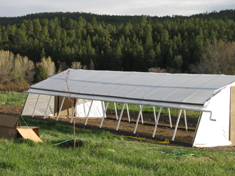 Taos Regional Water Plan, Implementation Phase (We Hope)
By Kay Matthews
The Taos Regional Water Plan (TRWP) Steering Committee met on May 28th to prepare for the Interstate Stream Commission (ISC) hearing on the State Water Plan update scheduled in Taos on June 4 and to try to figure out how to segue from a steering committee to an implementation committee. The steering committee is basically comprised of those folks who have continued to participate in the planning process despite the controversy and bad feeling generated when the Public Welfare Implementation Program was jettisoned from the plan (see La Jicarita News, March 2008). All the 16 regional water plans are supposed to report to the ISC on the progress they're making towards implementation, and what water projects they need to meet the implementation goals of their plans.
The May 28th meeting, while primarily a reminder of how far we have to go, did reveal some progress on a couple of fronts. The TRWP now has a public information office in conjunction with UNM-Taos at 201 Cruz Alta and the involvement of folks there from the Water Institute. The technical committee, under the leadership of Tony Benson and Taos Soil and Water Conservation District, has been actively engaged in water mapping to assess water supply in the various regions of the planning area. They are trying to complete the work that New Mexico Tech began in the region but whose funding has run out. New Mexico State University's Sam Fernald is also doing a study of how the Hondo Fire near Lama in the 1990s affected that watershed in terms of runoff and aquifer recharge.
A lot of time was spent by steering committee members airing concerns about issues that need to be addressed by the TRWP with the general theme that the Taos area has the water resources the rest of the state wants. Therefore, the implementation committees that were appointed at a previous November meeting need to get in action. These include: Watershed Management (getting the Forest Service involved in better thinning and restoration projects); Water Quality Protection (while the Water Quality steering committee has sampled 600 or so deep wells, which have revealed little contamination, it's the shallow wells and septic systems that contain nitrates); Public Education (hopefully the UNM-Taos connection will help disseminate information regarding implementation projects); Protection of Traditional Agriculture (La Jicarita News brought up the ongoing issue of the Forest Service requiring special use permits for acequia projects on Forest land that undermines traditional agriculture); Infrastructure Improvements; Keep Water Rights in the Region (the Top of the World water transfer application by Santa Fe County is still under protest, while several other proposed transfers by that county have been protested or blocked); Growth Management (La Jicarita News also referenced the Taos County Comprehensive Plan that allows neighborhood associations to implement land use planning with the help of county contractor Community by Design, but that there needs to be better outreach and education regarding this opportunity); and Measuring and Monitoring, which will continue the ongoing work of the technical committee.
Tempers got a little testy when discussion ensued about the segue from a steering committee to an implementation governance committee, just as they did during the planning process to determine who should represent whose interests. The draft committee currently consists of nine recommended positions: 1) one person to represent the Town of Red River, Questa, and Taos Ski Valley on a rotating basis; 2) a representative from the Town of Taos; 3) one position from El Valle de los Ranchos Water & Sanitation District and El Prado Water & Sanitation District; 4) a representative of Mutual Domestic Water Associations; 5) an acequia representative; 6) one at-large member from the Peñasco Valley; 7) a representative from Taos County; 8) someone to represent the domestic well users; and 9) one at-large member from the northern watershed. While the majority of those present at the meeting agreed to take this list back to their respective communities for input and/or approval, Bruce Kelly from the Taos Ski Valley objected that the three incorporated areas of Red River, Questa, and the Taos Ski Valley had only one representative. Another committee member urged that these appointments be as non-political as possible, making sure that those who end up representing their constituencies be well versed in the TRWP goals and objectives regarding implementation of the plan. This governance committee will oversee the various implementation committees, work on fund raising for water projects, and be the liaison with the ISC. If anyone would like to serve on any of the implementation committees or recommend a representative from their respective communities to serve on the governance committee, contact City of Taos planner Allen Vigil at 575 770-5592 and AVigil2@taosgov.com or County planner Nathan Sanchez at 575 737-6443 and nathan.sanchez@taoscounty.org.
The Public Welfare Implementation Program, after being dropped from the TRWP, was codified into a County Ordinance that has yet to come before the County Commission. This ordinance will address the concern that repeatedly came up during the public hearing process on the TRWP: keep water in its area of origin, both within the county as a whole and within its subregions and watersheds. An implementation program would set up an oversight committee to look at all transfers both within and from the region, and based on the public welfare criteria in the Public Welfare Statement, make an informed recommendation to the Office of the State Engineer as to whether the transfer is in the public interest.
Mora County Residents Gear Up to Fight Oil and Gas Drilling
By Kay Matthews
As citizens are doing all over the county, folks in largely rural Mora County have joined together to form an organization to confront the prospect of oil and gas drilling in the area, particularly near Ocate. The group, Drilling Mora County, has sponsored several public meetings and contacted citizens in other areas of the state who have dealt with county regulations that apply to the environmental and social impacts of drilling.
During the Bush administration the oil and gas industry was exempted from the Clean Air Act, the Clean Water Act, the Surface Water Run-off Act, the Safe Drinking Water Act, and the Community Right-to-Know Act. Consequently, there is little oversight regarding the hazardous chemicals used in the industry's hydraulic fracturing process and no way of knowing exactly what formula of chemicals is being used (there is currently legislation being drafted to require companies to disclose all chemicals used in the drilling process). Generally, however, radioactive sand is pushed into the ground so that fractures can be traced by the emitted radioactivity. Various chemical solvents, including benzene, xylyne, ethylene glycol (antifreeze), tetramethylamonium chloride, and formaldehyde are used, which can cause cancer in humans (benzene and formaldehyde) and birth defects in fetuses, change DNA, and disrupt endocrine function.
Scene from a hydraulic fracturing drill site
This method also uses enormous amounts of water, as much as a million gallons per well. Each fracturing process -and there can be three per well - uses up to 300,000 gallons of water. And where does that water come from? It comes from the leasee's well, although a lot of folks are unaware of this, as language in industry leases is extremely technical and not readily understood by the lay person.
To date, the State Land Office has auctioned approximately 13,000 acres of Mora County to KHL, Inc., of Albuquerque, and Daniel E. Gonzales of Santa Fe. The land was leased for $28 to $50 per acre. Other leases have been signed with private land owners, although the number is not known, as none of the leases have yet been registered with Mora County. Apparently KHL has been having a difficult time figuring out who owns the mineral rights to much of the land in the Ocate area, but the landowners who have signed leases are being paid $2.50 per acre for a ten-year lease. This is close to the same amount paid in the 1950s for oil and gas leases, and much less than is being paid by the industry on the east coast. Mora County is the 17th poorest county in the country.
Once the leases are registered, permit requests will fall under Mora County regulations, specifically the Comprehensive Land Use Plan (CLUP) and the Development Guidance System (DGS). (The CLUP is currently being revised with the help of an Albuquerque consulting company, Sites Southwest, to include more specific information on oil and gas permitting.) According to Drilling Mora County's web site, the DGS, drafted after a 1994 public survey, is a strong document designed and developed to protect the agricultural lands and traditions of Mora County from industrial development. Through a comprehensive review involving public input, any development can be turned down if it falls outside the DGS requirements of protecting the culture, water, air, land/soil and human and animal health. According to the group's attorney, Bruce Frederick of the New Mexico Environmental Law Center, the county has jurisdiction over permit requirements for oil and gas drilling on both private land and State Trust Lands. Although the DGS does not specifically reference oil and gas development, there is no question that it could not proceed unless authorized under a "conditional use" permit from the Mora County Land Use Administrator, who should require that applicants complete a "detailed and thorough environmental impact report (EIR)" as part of the process. Subsequently, the Administrator must hold a public meeting to determine whether the applicants and community can agree on permit conditions that would mitigate any adverse effects. The final decision lies with the Board of County Commissioners.
As for jurisdiction over State Trust Land, once the property is leased it becomes the lessee's private property under New Mexico state law and consequently, in Frederick's opinion, no special delegation of authority would be required to regulate private oil and gas development.
La Jicarita News will cover this issue more extensively in upcoming issues. For more information, go to: drillingmoracounty.blogspot.com.
Miranda Canyon Preserve Goes Before Taos County Planning Commission
By Kay Matthews
While La Jicarita News was on its May hiatus the Taos County Planning Commission voted to not recommend preliminary plat approval of the Miranda Canyon Preserve subdivision, the controversial Weimer family development on the former Cristobal de la Serna land grant. However, apparently the Commission failed to follow proper procedure in two respects: (1) the meeting was advertised as a hearing on the developer's request for an exemption on subdivision roads with a higher than 20% gradient, as stipulated in the subdivision ordinance (which the commission approved); and (2) a findings of facts about how specifically the development has failed to meet the requirements of the subdivision ordinance. The Commission will have to hold another meeting to vote on plat approval, which is scheduled for the regular June 9th Planning Commission meeting, after our print deadline. The proposal then automatically goes before the County Commission for its approval, regardless of the Planning Commission's decision to recommend or not recommend (this regulation for subdivisions was enacted several years ago).
La Jicarita News kept abreast of the action as a group of local citizens called the Miranda Canyon Watershed Coalition mobilized to take a united stand before the commission. Joel Goodkind and Leo Martinez, residents of Llano Quemado, the entry point of the proposed subdivision, held an organizational meeting in early May (you can listen to both the organizational meeting and the Planning Commission meeting at culturalenergy.org, which has done a great job of covering this issue) and assigned folks to look into a number of concerns to bring before the Planning Commission: impacts on water resources from the more than 100 proposed wells that will be drilled in the faulted hydrogeology of the subdivision; potential traffic congestion in Llano Quemado; cultural and historical impacts, including concerns at Picuris Pueblo; and loss of open space and threatened species in Miranda Canyon.
Red Eagle Rael, a former Picuris Pueblo governor, read a statement at the organizational meeting from the current Governor, Richard Mermejo, stating unequivocally that the Pueblo is opposed to the development. There had been confusion about the Pueblo's position due to a letter from the Pueblo in 2007 that requests the Pueblo be allowed to access Weimer property (Miranda Canyon) for the purpose of collecting traditional herbs and with the intention of preserving habitat of wildlife and plant species. That request was granted by the Weimer Properties, LLC, and the agreement is memorialized as Picuris Pueblo Resolution No. 18-07, Rael claimed that only an official letter from the Governor that is approved by the Tribal Council and Tribal Caciques has any authority. The letter from Governor Mermejo was also presented at the Planning Commission meeting.
Rumors then began to fly that the developer had made a deal with not only Picuris Pueblo, but Taos Pueblo and the Jicarilla Apache, to adjust the subdivision plat to meet their concerns. However, project manager Barbee sent culturalenergy.org a statement that Picuris Pueblo remains opposed to the development and that there have been no changes to the preliminary plat.
There also seems to be some confusion regarding the emergency egress from the subdivision via Forest Road 476. When I spoke with then Camino Real District Ranger John Miera last summer (2008) he indicated that the developer would have to submit a formal request for a special use permit and prove that there was no viable alternative egress route except across public land. But there is a June 2007 Forest Service letter on file in the subdivision application addressed to Weimer Properties granting future homeowners the right to use the existing public road as egress and granting them an exemption from the seasonal closure of FR 476, signed by John Miera.
There is also speculation that if the economy continues on its downward trajectory the Miranda Canyon Preserve is going to be in deep financial trouble. Consequently, some folks are hoping that a conservation land trust might be interested in acquiring the property from the Weimer family.
If the Planning Commission upholds its previous votes, the road gradient exemption can be appealed but the Planning Department must submit a report on the finding of fact within 30 days, which will go to the County Clerk, and within 30 days from that time will come before the County Commission as a de novo hearing.