Rio Arriba County Commission Passes Ordinance to Protect Irrigated Lands
By Kay Matthews
Nine months ago the Rio Arriba County Commission directed its planning department to develop an ordinance to protect the irrigated agricultural land of the county. After extensive research and community input, the planning staff presented its recommendations to the commission several weeks ago, and the "Agricultural Protection and Enhancement Ordinance" was passed unanimously by the commission. The ordinance will address short-terms impacts on irrigated land while planners prepare a comprehensive land use plan over the course of the next few years.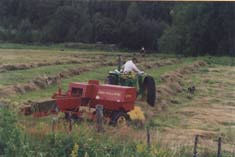 The main component of the new ordinance is an amendment that establishes cluster development criteria for subdivisions/residential development on irrigated lands. In the Agricultural Conservation Study that accompanies the ordinance, planners described the major community concerns that were raised at the numerous meetings held to develop the plan. The overall consensus was that the county needed to protect irrigated agricultural land and the acequia system that supports it, and to protect water quality, but also balance that with a way to meet the economic need of affordable housing. The planning department presented the idea of cluster housing as a method to protect irrigated farmland as well as lower land costs for small scale housing developments and family transfers that promote shared well and waste water systems.
Subdivisions or residential lot development on irrigated parcels of land larger than 1.5 acres will be allowed on only 30% of the property while 70% of the land will remain in undeveloped agriculture. If the existing lot size is 1.5 to 2.99 acres the number of potential new lots cannot exceed two; 3 to 3.99 acres cannot exceed three lots; 4 to 4.99 acres cannot exceed 4 lots; and 5 to 9.99 acres cannot exceed 5 lots. Subdivisions of irrigated land that are larger than 10 acres will be required to subdivide within the same cluster development criteria.
The minimum lot size within the developed area will be 7,500 net square feet. All lots within subdivisions on irrigated land less than 3/4 acre in size will be required to provide an adequate liquid waste-water disposal system approved by the New Mexico Environment Department. Lots that are 3/4 acre or larger will be allowed to use a conventional waste water septic system. A shared well will be required for lots less than 3/4 acre in size within the developed area. Permitted uses for the 70% agricultural area include agriculture, liquid waste disposal systems that are required for the developed area, parks and recreation, and accessory structures associated with agriculture such as greenhouses, barns, corrals, etc. The ordinance also encourages that "impervious surfaces" within the developed area, such as driveways, be minimized.
Planners now begin the task of developing a comprehensive land use plan that will address the county's diversity, economic development needs, housing issues, etc. Planners realize that a comprehensive plan should allow communities to develop land use and zoning regulations that are specific to their individual needs. Various policies that would aid in these efforts include a Transfer of Development Right Program (TDR), in which the county would identify private or federal lands adjacent to communities that could provide alternative development rights to agricultural lands; a Purchase of Development Rights Program (PDR), in which the county could purchase development rights from property owners of irrigated lands; and the creation of a Land Conservation Bond that could provide the financial support needed to implement a TDR or PDR.This money could also be used for the county to purchase land that is vital to the traditional land use needs of the county.
Rio Arriba County has been nominated for several awards recognizing its efforts to protect the land, water, and culture of el norte.
ANNOUNCEMENTS
• Taos Soil and Water Conservation District will be accepting applications for cost-share projects for fiscal year 2000-2001 beginning Monday, July 3 and ending on Thursday, August 31. A mil levy referendum on March 28 approved funding for projects that include acequia rehabilitation, rodent control, and river bank stabilization. To request an application by mail you may call the Taos Soil and Water office at 751-0584 or stop by the office located in the Juan I. Gonzales Agricultural Center at 202 Chamisa Road. Their hours are 8 am to 12 pm and 1 pm to 5 pm.
• The Quivira Coalition is sponsoring several outdoor classrooms on rangeland heath over the course of the summer. The Davis family of the CS Ranch, located near Springer, will host a workshop on July 22-23. Sid Goodloe, owner of the Carrizo Valley Ranch located near Capitan, will host a workshop on August 26-27, and Ghost Ranch, near Abiquiu, will be the setting for a tour on September 16-17. The cost for each tour is $35 for Quivira Coalition members and $50 for non-members. Call Courtney White at 820-2544 to make reservations.
• The Bureau of Land Management (BLM) is seeking input on its proposed draft land-use planning manual and handbook. The manual is available on the web at www.blm.gov, or at the Taos Field Office, 226 Cruz Alta Rd. Taos, NM 87571.
LETTERS
Some of you may have noticed the exchange of letters in the Journal North between La Jicarita editors and Rex Wahl, the new director of Forest Guardians (FG). Our letter complained that the press panders to FG - which continues to be run by Sam Hitt, not Rex Wahl - as the so-called "experts" on forest health, despite the lack of evidence to back up their assertion that thinning increases the risk of wildfire. Hitt contends that thinning opens up the forest canopy so that remaining trees are exposed to winds which dry them out and make them more susceptible to fire. We have seen absolutely no evidence to substantiate this claim.
Wahl's response to our letter didn't address this issue at all. Instead, he claimed that thinning creates slash, ergo, fire danger is increased. Does he think we're complete idiots? It's just common sense that slash must be piled and burned - during the winter - and then thinned areas can be treated with prescribed burns to regenerate grass and forbs.
Our gripe against the mainstream press is that they always run to FG when they want a response from the environmental community. We feel that FG's form of environmentalism - tierra sin gente - is at cross purposes with the community that works to address both environmental and social justice issues. Perahps Wahl, who claims he's an "expert" on forest issues because of his degree in biology, should spend some time on the ground, in the forests and communities of el norte, to better understand tierra con gente.
High Road Art Tour & New Projects
By Jane Cook
You know it's spring when the artisans begin to gather. I'm always excited when, after a winter of carving, weaving, or whatever, we begin to plan ways to have the work shown and appreciated by others. On June 12, La Jicarita Community Arts Marketing Project (CAMP) held its third annual regional planning meeting at Chamisal Ancianos. As in past years, about 50 artisans from the villages of Truchas, Ojo Sarco, Trampas, Chamisal, Peñasco, and Vadito gathered together to discuss and plan the coming Art Tour (September 23-October 1), and other new projects.
We began by distributing the hot-off-the-press "High Road to Taos Art Guide," a full-color 24-page booklet featuring 60 local artisans, as well as places to stay and eat along the High Road. Funded by La Jicarita Enterprise Community and Artisan Collaborative, this booklet shows the impressive art work done by the people of our communities. We encourage our neighbors to pick up a copy at the La Jicarita Office or at many local businesses.
We then moved on to current and future projects. This is an important and encouraging moment for our artisan projects. With the growth of our programming, we have been able to hire new staff for the CAMP project: Juliet Garcia-Gonzales, of Chamisal, who will work along the High Road, and Annette Chavez, of Mora, who will work with artisans in the Mora Valley. Because the Art Tour along the High Road, our website, www.HighRoadNewMexico.com, and related projects have been so well received, both by the artisans who participate and by visitors and funders, CAMP and Artisan Collaborative have raised approximately $100,000 for cooperative artisan projects. This presents new opportunities and challenges, and at the meeting, several committees formed to continue strategic planning, develop new projects, and find a site for a much-needed community arts store. Other artisans volunteered to help with publicity, brochure distribution, and mailings.
More artisans than ever have signed up for the Art Tour, and we are taking a leap by extending the tour to a week-long event, focussed on the two weekends (September 23-24 and September 30-October 1), but with sites open for mid-week business as well. Our plan is to pool resources by rotating artisan staff during the week to sell artwork at a central community location as well as the galleries and home-studios. This year, we will be presenting an expanded program of entertainment at the Peñasco Centro de Comunidades. We invite possible performers, as well as people interested in selling food, to call Jane Cook at 689-2905. In addition, we hope to expand youth either in a separate exhibition or along with the other artisans at community sites (call Juliet Garcia-Gonzales at 587-2212). And we are hoping to provide more opportunities for our "ancianos" to take part. Last year, Chamisal Ancianos sold crafts and food. This year, the Art Tour hopes to provide transportation to bring our elders to visit the art sites. We invite our elders to come join us as musicians, craft demonstrators, etc. For more information, or to share your ideas, suggestions, please call 689-2905. The Art Tour is a community-wide event, so please take part!
Leonard Peltier Denied Parole Again
By Eda Gordon
Unless President Clinton grants executive clemency, Native American rights activist Leonard Peltier will have no chance for release from prison before 2008. Peltier was reviewed for parole June 12, 2000 at Leavenworth Penitentiary, where he is spending his 24th year of incarceration. Without deliberation or consideration of any documents presented on Peltier's behalf, the parole examiner recommended that Peltier's sentence stand until his next scheduled parole hearing in 2008. The examiner was seen writing the denial while the presentation was in progress.
Attending the parole hearing were emissaries of Amnesty International, the National Council of Churches, the National Congress of American Indians, and Canada's Assembly of First Nations, as well as Jean Ann Day, survivor of the Pine Ridge "reign of terror." Representing Peltier were attorneys Jennifer Harbury, Carl Nadler, and former US Attorney General Ramsey Clark.
They argued that Peltier's poor health, serious family needs, and positive program achievements were all reasons for the US Parole Commission to reconsider its 1993 denial of parole. They also argued that the Commission's original decision was wrong. The Commission has yet to justify delaying beyond their own mandate the time in which Peltier can be considered for release.
None of these arguments made an impression. The parole examiner refused to read the report of Dr. Peter Basch, warning that Peltier's health problems - inappropriately treated in prison - could result in "recurrent central retinal vein occlusion, stroke, heart disease, and kidney failure." He did not respond to pleas from Amnesty International or the National Council of Churches, and he showed no interest in eight parole plans offering Peltier housing and employment from various Native organizations and tribes, including the Institute of American Indian Arts (IAIA) in Santa Fe. Over the last three months 10,000 letters were collected from US citizens, human rights organizations, luminaries and members of the international community supporting Peltier's release. They were ignored.
Leonard Peltier was originally convicted of the murders of two FBI agents on the Pine Ridge Indian Reservation. However, formerly withheld documents supporting Peltier's innocence later forced the prosecution to admit they could not prove who actually killed the agents. In a virulent campaign against Peltier's release, including full-page ads in the Washington Post, letters to the editor around the country, and barrages on talk radio, the FBI has insisted that Leonard Peltier is the killer, that he was convicted and lost all his appeals, and it is just that he remain in prison for the rest of his life. It is a fight to the finish for Leonard's freedom. Following the parole hearing, Ramsey Clark spoke to the press: "There is a simple and sad lesson in what happened today: It is clear and unequivocal as a lightening blast, the United States is still at war with the American Indian, as tragic as it is."
Peltier's defense counsel will continue to protest the denial of parole in federal court. At the same time there will be renewed efforts to gain Peltier's release through a grant of executive clemency. A national demonstration has been called for October 27 in Washington, DC, and on June 26 a 25th Year Memorial and Honoring for the People of Oglala was held on the Pine Ridge Reservation. To stay informed of the Free Peltier Campaign, contact the Leonard Peltier Defense Committee, PO Box 583, Lawrence, KS 66044. Phone: 785-842-5774. E-mail address: www.freepeltier.org. Call the White House Comments Line Today 202-456-1111. Demand Clemency for Leonard Peltier!
Editor's Note:
The 25th Year Memorial and Honoring for the People of Oglala on the Pine Ridge Reservation mentioned in the article was held on June 26 in Oglala, South Dakota on the Jumping Bull Property. Members of the American Indian Movement who resided on the Jumping Bull Ranch where the shooting incident occurred 25 years ago, along with local residents of the Pine Ridge Indian Reservation, gathered to call for healing. Ceremonies were held for AIM member Joseph Killsright Stuntz and FBI agents Jack Coler and Ronald Williams, who were killed during the shoot-out.
Jean Day, an AIM member who lived on the ranch, invited the families of the agents to the ceremonies. "They share a common grief with us. We too lost many of our loved ones during that time. We are not enemies," she said.
For more information regarding the event you can contact Robert Quiver, Coordinator of the Lakota Student Alliance at 605 867-1507.
Cidermaster of Rio Oscuro
By Harvey Frauenglass
Editor's Note: This is an excerpt from the Prologue of Embudo farmer Harvey Frauenglass' forthcoming book, Cidermaster of Rio Oscuro. His book will be published in August by the University of Utah Press.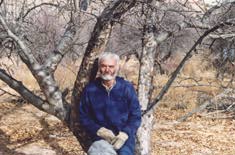 Everything I have heard from neighbors and outlanders alike, everything I have read, and everything Gayle and I have experienced here has convinced me that it is difficult and sometimes nearly impossible for even the most dedicated people to earn a modest living on a small farm. And this is anywhere, not just in the high, narrow valleys of northern New Mexico, and has been the case with few exceptions for as long as anybody knows. Yet brave, intelligent people, people with many choices, have continued to live on and work small farms, often taking outside jobs to support their farms. On the wall behind me is a poem in Chinese by T'ao Ch'ien, born in 365 C.E., who give up his position as minister to his emperor to hoe beans in heat and rain. Beata Grant, daughter of neighbors Bob and Carolyn and professor of Chinese literature, has translated it for me.
Planting beans at the foot of South mountain:
Where the grass is thick, the bean sprouts sparse.
At dawn I try to bring a desultory order to the wild weeds;
Then, carrying the moon and shouldering my hoe, go home.
The road is narrow, not only overgrown with grass but long;
And at the close of day, the dew soaks my clothes through.
Dew-soaked clothes, however, are scarcely worth complaint:
As long as they don't mean abandoning the road I've chosen.
One thousand six hundred years later in another country on another continent I read these words and I know T'ao Ch'ien. We walk the same road. It does not matter that he served an emperor before going back to the land and I served an agency of national security. It does not matter that I am pruning trees while he hoed beans. It does not matter that his land was wet and ours is dry and is irrigated through community ditch systems we call acequias. As keepers and caretakers of our farms, our land, and as growers of food for own families and families living in cities where they may not have any land for gardening, he performed and I am performing beneficial work, as beneficial as anything a man or woman can perform.
After we started making cider I thought of calling this work A Cidermaster's Handbook, notes and instructions on keeping an orchard and pressing cider in northern New Mexico. I saw the cidermaster as an equivalent to a Tasmanian cropmaster.
The cropmaster, according to permaculturist Bill Mollison, was the key to the survival of Tasmanian aborigines. He was a man of "long and accurate memory." He was the protector of the tribal tree, the one who set up taboos and feasts and the very manner of taking food. He "ensured that the tribal permaculture endured, even though some of the tribe itself perished."
Like a cropmaster, a cidermaster also needs a long and accurate memory. As keeper of the orchard, he too enforces the taboos. He arranges the manner of preserving the trees and the manner of taking from them. He encourages the orchard spirits and the human spirit in the orchard. He heals the wounds. And as he learns from the living and growing and dying of the trees, he passes on to his helpers all he knows, that the same pure, tart cider he presses now with apples from these trees may still be pressed and enjoyed long after he is gone.
I am still looking for such a cidermaster. Perhaps she or he has not incarnated. Until that happens, I record the events of the farm so that when the cidermaster arrives he or she may read what we have done up to this point, and why we did it, and may understand how we felt about being in this work. Perhaps this cidermaster will be an alchemist, transforming people into their essential juices rather than apples into apple juice. After pressing the ten-thousandth gallon of juice, anything seems possible. But with or without the cidermaster, there is no end in sight to the work on the farm. And the inner work, for me, has hardly begun. Blessings are of little value if I do not recognize them and respond to them, to Gayle, to our children and grandchildren, brothers, sisters, friends, neighbors. I am renegotiating the contract with myself to be aware of the blessings I am given by my people, and yes, our animals, our trees, our land, our acequia, every day, every day.
Editorial
By Mark Schiller and Kay Matthews
The recent rash of forest fires has brought home to the general public what we, who live in forest adjacent communities, have been aware of for years: New Mexico forests desperately need to be thinned. Decades of over logging and fire suppression have left them densely overgrown and unhealthy.
For years we fought to get rid of the multinational logging companies that were clearcutting and high grading our forests. However, once this was accomplished and Congress finally mandated the Forest Service to focus on ecosystem management, they also severely cut back their budget. While there are several emergency restoration bills now pending in Congress, the federal government needs to open its coffers and provide local forest districts with the funding necessary to implement restoration: riparian protection, thinning, and prescribed burning. Ecosystem management is more than healthy watersheds and forests, however. It also means healthy communities that are dependent upon forest resources for their social and economic health. These communities can provide the thinning crews and milling operations necessary to begin the restoration work, particularly near their own communities.
We must, however, remain vigilant that corporate loggers do not regain a foothold in our forests under the guise of restoration.We are particularly concerned by a proposal supported by state foresters to bring a large logging corporation into the Cimarron area. These foresters believe that our communities don't have the resources to accomplish the amount of thinning necessary to restore our forests. Now is the time to invest restoration dollars in training and equipping our own local labor force to join those already engaged in community forestry: La Montaña de Truchas; La Companía Ocho; Las Humanes; Madera Forest Products; Las Comunidades; Rocky Mountain Forest Resources; Picuris Pueblo Forestry Crew; and Jemez Pueblo Forestry Crew. Other projects, like the pellet factory in Silver City and the proposed Angel Fire Biomass/Natural Gas Power Plant are set up to process the small diameter timber thinned from the forests.
It is imperative that these community groups develop the infrastructure necessary to operate independently. Too often in the past they have been micro-managed by environmental groups and forestry consultants who use them to leverage foundation money and advance their own agendas. For a secure future for our forests and rural communities, we must ensure that restoration dollars hit the ground and support community-driven economic development.
Hearing on Roadless Area Proposal
By Mark Schiller
The Forest Service held a public comment forum in Taos to discuss the Draft Environmental Impact Statement for President Clinton's Roadless Area Conservation Plan on June 26th in the town council chambers. Carson Forest Supervisor Gilbert Vigil chaired the meeting, which was also attended by Santa Fe Forest Supervisor Leonard Atencio and district rangers from El Rito, Camino Real, and Canjilon. Comments were limited to three minutes per speaker and were recorded by a court reporter.
The proposal calls for a prohibition on "new road construction and reconstruction in the unroaded portions of inventoried roadless areas." Fourteen people took the opportunity to express their opinions, which ranged from total support to vehement opposition.
The first two speakers gave a clear indication of what was to follow. Jacob Barba of People for the West, a public lands multiple-use advocacy group, claimed this proposal violated many federal acts already in place, as well as the sovereignty granted to land grant heirs by the Treaty of Guadalupe Hidalgo. He felt the proposal ignored the needs of rural communities with regard to traditional uses, prevented adequate fire protection, and violated the Forest Service multiple-use mandate by reducing access necessary for mining, logging, and grazing.
Sean Saville of the Public Interest Research Group (PIRG), on the other hand, strongly supported the proposal. He pointed out that this might be our last chance to protect the small percentage of unroaded areas in our national forests not already given wilderness designation. He claimed this proposal would help protect water quality because roads are the main source of erosion in our watersheds. He also claimed that the proposal could help prevent catastrophic fires by reducing logging.
Other speakers stated that this plan is a top-down decision made by bureaucrats in Washington and advocated a common sense, sight specific approach. Jock Fleming, a retired Forest Service employee, felt the plan seeks to avoid Congressional scrutiny in order to create what he termed "a defacto wilderness" for elitist recreational uses." Environmentalists, however, supported this concept of defacto wilderness as protection for potential congressional wilderness classification.
The deadline for written comments is July 17. They may be addressed to: USDA FS CAET/Attention-Roadless Areas Conservation Proposed Rule/ P. O. Box 221090/Salt Lake City, Utah, 84112. A final decision is expected during the winter of 2000.
Legislative Interim Committee Meets to Listen to Acequia Concerns
By Kay Matthews
The Water and Natural Resources Legislative Interim Committee is where legislation pertinent to acequias is heard. For their first interim hearing on June 8 legislators invited Paula Garcia, director of the New Mexico Acequia Association, and David Benavides, water rights attorney, to make presentations. In long and comprehensive testimony Garcia presented an acequia perspective on critical water policy issues for the state of New Mexico.
She began by emphasizing the value and significance that the more than 1,000 acequias provide to the state. As social institutions, acequias have maintained the land-based culture and tradition of the Indo-Hispano settlements of el norte and have functioned as the only form of political government in unincorporated communities (they are currently classified as political subdivisions of the state). Economically, they are essential to maintaining the agricultural nature of rural communities, and as farming expands into niche markets and specialty crops, acequias become even more important to the sustainability of a land-based economy. Ecologically, the intricate systems of acequias were developed by indigenous people with knowledge of sustainable water management that recharges the aquifer and provides riparian habitat for wildlife.
The New Mexico Acequia Association (NMAA) is a state-wide umbrella organization for regional acequias that have already formed or are in the process of forming. Most of the existing regional acequias, defined as those acequias that share a common stream system, formed to provide a unified defense in adjudication suits. They now also provide other water management functions such as regional water data management (Geographic Information Systems), regional water management programs (e.g. Acequia Conservation Programs), and advise their member acequias on issues of water pooling and acequia rehabilitation.
Garcia enumerated what she and the NMAA see as the most dangerous threats to acequia viability. Recent attempts to commodify, or assign water a free market value, is a direct threat to the traditional view of water as a community resource. The transfer of water rights out of acequias and areas-of-origin is at odds with this traditional view and threatens both the future economic viability of rural communities and their ability to self govern. Transfers also undermine the ability of acequia parciantes to adequately maintain the acequia. Acequia parciantes must bear the burden of fighting transfers, which is expensive and time consuming.
The NMAA and regional acequias must now address these threats by influencing - and developing - state water policy. In the past, much of this work has been reactive: activists responding to legislation that could negatively impact acequias. Garcia told the legislators that acequias must now be proactive and involved in the development of policy at the grassroots and legislative levels.
The most fundamental protection for acequia rights is the Treaty of Guadalupe Hidalgo. Just as the 1848 Treaty guaranteed ownership of Spanish and Mexican land grants that were an integral part of the colonization and growth of the New Mexico territory, it also guaranteed acequia-based water rights. Garcia asked the legislators to consider these treaty protections in any proposed legislation (in last year's session numerous bills supporting Treaty rights were introduced) relating to New Mexico's water resources and acequias.
Because it may be a long time before the abrogated land and water rights of land grants are redressed, the NMAA asked the legislators to consider acequia rights in numerous policy questions that will come before the committee. For the last several years two members of the committee have introduced legislation that would establish a state-wide water bank. Garcia asked that the committee support acequia efforts to establish and operate water banking and water pooling systems at the local and regional level and seek ways for state law to be consistent with these customary practices. She also asked that acequias be afforded the powers and protection that already exist for other water management entities like conservancy districts.
Other protections include policies that keep water rights within their areas-of-origin. For example, Garcia asked the committee to support the ongoing policy of the Office of the State Engineer (SEO) to not allow water transfers across Otowi Gauge. The County of Santa Fe's proposal to transfer water from Top of the World Farms, near Questa, to county lands south of the gauge via an infiltration gallery, is seen as a threat to the SEO policy of not allowing transfers of water from el norte to the middle or southern water regions.
Adjudications, or the process by which the SEO recognizes and quantifies individual water rights throughout the state, are of course a major concern of the NMAA. Garcia asked that the committee support the investigation of alternatives to the existing water rights adjudication process, which is lengthy and cumbersome to parciantes who must defend their rights. She also asked that the legislators support the ongoing process to resolve errors and omissions in previous and ongoing adjudications in order to bring closure. A bill designating funds to support the costs of this process passed the last session, and a memorial was introduced to support negotiation efforts between acequias and the SEO to resolve these errors and omissions and to ensure appropriate court hearings, if necessary. Garcia thanked the legislators for their previous support of the Acequia and Community Ditch Fund and asked for their continued support of adequate funding.
A very contentious issue that has already appeared before the legislature is that of instream flow. While the New Mexico Attorney General's Office rendered an opinion several years ago that instream flow, or maintaining minimal river flows, can be considered a beneficial use, some environmental groups have urged the legislature to enact state law to provide for an instream flow right. Garcia cautioned the committee that acequias are concerned that any legislation that would recognize instream flow as a beneficial use or right leads to the commodification of water, which, as she stated earlier, is a direct threat to the traditional view of water as a community resource.
Another contentious issue in last year's session was proposed new guidelines drafted by the Interstate Stream Commission (ISC) regarding repayment of acequia rehabilitation loans. The NMAA has already submitted a letter to the ISC stating its objections to some of the proposed changes, which include provisions that would impose liability on individual acequia parciantes or officers. Garcia expressed these concerns to the committee by asking them to support existing policies that recognize the authority of the acequia to incur debt on behalf of its members. She also asked the legislators to rescind a line item in last year's state budget that prevents using state funds for the acequia portion of the cost share plan with the SEO and ISC (the SEO provides 80% of the acequia rehabilitation costs while the ISC loans 20% of the costs at 2.5% interest).
In addition, Garcia asked the committee to improve standards for providing legal notice of proposed water transfers, to support funding for regional water planning, and to support policies that encourage small scale agriculture, such as farmers' markets, WIC programs, NMSU agricultural programs, and the New Mexico Organic Wheat Project. In closing she stressed the importance of healthy watersheds that maximize the supply of water, food, forage, and biodiversity and asked that legislators support funding for watershed improvement and restoration.