Community Food Security: A Growing Idea
By Esther Kovari, New Mexico Farmers' Marketing Association
What do hunger, small farms, and school cafeterias have in common? Together they help to paint the picture of how we as a society get our food, in other words, our "food system." While our stores are full year-round of foods from all over the world, 16% of New Mexicans (the highest rate in the nation) do not always have access to enough food to meet their basic needs. Our small farms are in trouble, as the farmers' share of the food dollar has decreased, so that now farmers receive only 21 cents of every dollar spent at the grocery store, as compared to 32 cents in 1989. Prospective farmers cannot afford to buy land, and our beautiful river bottom valleys are fast being paved over by residential developments. Fast food and candy are served in our schools, while our children are falling prey to national epidemics of obesity and diabetes.
A broad coalition of activists has come together to form a national Community Food Security Coalition in order to draw connections between these problems and to work together for a more just food system. The Coalition held a national conference in Santa Fe on October 28-31, attended by anti-hunger activists, family farm organizations, public health officials, sustainable agriculture proponents, and social justice advocates from around the country and New Mexico.
At the opening forum this diversity of perspectives was clearly brought out. Judith Hefferman of the Town and Country Methodist Church expressed the deep concern of faith communities about the injustices of our current food system. The National Catholic Rural Life Conference has a new campaign, "Eating is a Moral Act," designed to express the dramatic connections between what we eat and how food is produced. Consumers are urged to consider the conditions of factory-farmed animals; the treatment of farm workers; the effects of industrial farming on our environment; and the viability of rural communities. Another speaker, Marion Nestle of New York University, pointed to a whole host of statistics about corporate control over our food choices. The amount of money available to public health efforts that urge people to eat less and more healthily is overwhelmed by the advertising dollars spent by corporations promoting soft drinks and snack foods of no nutritional value. Community activist Hank Herrera talked of the need for communities to take back control of their food systems by becoming more self-reliant through increased production and consumption of locally produced food.
One of the key goals of the Coalition is to influence the direction of the 2002 Federal Farm Bill. (The 1996 Farm Bill is considered to have been a disaster by most US farmers.) The Coalition is asking the US Department of Agriculture to incorporate community food security as central to its mission; to assist efforts to protect and strengthen agriculture in and around urban areas; and to expand its food assistance programs to meet society's true needs. They are also asking for a substantial investment in projects and programs that promote the food security of communities such as community gardens, farm to school programs, and more.
In New Mexico there are many examples of local efforts to build a just and healthy food system:
• The WIC Farmers' Market Nutrition Program provides benefits to over 20,000 nutritionally at-risk women and children to purchase fruits and vegetables from local farmers' markets.
• The Cooking With Kids project in Santa Fe teaches children cooking skills and introduces them to other cultures through their food.
• The Taos County Food Center assists low and moderate income residents to start their own food processing enterprises.
• The Rio Grande Agricultural Land Trust is working to keep prime farmland along the Rio Grande corridor in production
• A growing farmers' market movement has enabled many small producers to stay on their land and has provided farm-fresh produce to tens of thousands of consumers at 28 farmers' markets statewide.
Vote with your fork, buy local food and support local food producers! For more information about the work of the Community Food Security Coalition, check out www.foodsecurity.org on the worldwide web.
The Embudo Valley Regional Acequia Association is Official
By Kay Matthews
Fourteen acequias in the Embudo/ Dixon/ Rinconada area officially formed the Embudo Valley Regional Acequia Association in October of this year, and as such become another regional association member of the New Mexico Acequia Association (NMAA). The officers of the association are: Estevan Arellano of Embudo, President; Eric Evenson of Dixon, Vice-president and official representative to the NMAA; and Mary Campbell of Cañoncito, Secretary/Treasurer.
Last February area parciantes who are members of the Rio Pueblo/Rio Embudo Watershed Protection Coalition and the Taos/Rio Arriba Mining Reform Alliance got together to identify acequias and parciantes who might be interested in forming an association. Approximately 60 parciantes attended the first meeting, representing thirteen acequias. Antonio Medina, president of the NMAA, and David Benavides, a water rights attorney with Community and Indian Legal Services, also attended the meeting to provide information and legal advice. The group unanimously decided to form an association, and one person from each acequia volunteered to carry the proposal back to their individual acequias for approval. Eventually all of the acequias in the area approved the formation of the association and elected an official to represent each acequia at subsequent meetings. Sample bylaws provided by the Taos Valley Acequia Association were modified to suit the needs of the Embudo association, and both bylaws and article of incorporation were approved at the October meeting.
Dixon parciante Robert Templeton, one of the organizers of the association, told La Jicarita News that the newly formed Embudo association is the first association to form without the threat of imminent adjudication by the Office of the State Engineer. Parcian-
tes were motivated by issues of impending growth and development both within their communities and from urban areas downstream which could impact their acequia water. They also realized the importance of having an association in place when the Rio Pueblo/Rio Embudo watershed, or the Rio Grande watershed of the Rinconada acequias, are adjudicated. "We recognize that at the time of adjudication in our watersheds it will be necessary for the entire watershed to organize," Templeton said. "We hope our organization can be helpful in facilitating a larger association."
The association is currently working to collect historical records from the state and county to try to inventory irrigated acreage and associated with water rights. They are also documenting already established water sharing agreements. Their address is: Embudo Valley Regional Acequia Association; P. O. Box 471, Dixon, NM, 87527-0471.
ANNOUNCEMENTS
Health and Wellness Fair
Picuris/Peñasco Community Coalition
Saturday, November 18, 2000
8:00 am - 2:00 pm
Peñasco Elementary School Commons
Dedicated to the members of our community who have been lost to alcohol and substance abuse. Community members are invited to bring pictures of loved ones for a Memorial Wall.
Farmers' Market/Arts and Crafts
Discount Cholesterol Screening 8 am - 10 am (No food or drink after 9 pm)
Free Water Testing: Sample should be taken just before leaving house, run water for a few minutes first, bring at least 1 quart in a clean glass or plastic container
Free Traditional Native American Sweat Lodge: Children' sweat, 12 noon; adult sweats, 10 and 2 pm
Pumpkin Cook Off: Bring any food item made with a pumpkin ingredient, register by 10 am
Free Blood Pressure Test Free Glucose Test
Entertainment Children's Program Run/Walk
Food Booth to Benefit Picuris Senior Program and Peñasco High School Peer Educators
For more information call: 1-800-860-7087 or 689-2361
AWARDS
The New Mexico Environmental Law Center presented its annual awards for water protection, environmental protection, and community advocacy at Linda Taylor and Robert Haspel's house in Santa Fe on October 3.
Paula Garcia, executive director of the New Mexico Acequia Association, received the Griff Salisbury Environmental Protection Award for her work with parciantes all over the state to maintain and protect the viability of acequias as a cultural and environmental system. The Karl Souder Water Protection Award was presented to Edith K. Pierpont of Santa Fe for her work with the city to manage its water resources to ensure sustainability. Shirley E. Baca of Las Cruces was given the Community Advocacy Award for her legislative and grassroots work on issues of health, poverty, and the environment.
The Law Center is a non-profit, public interest law firm that provides free legal services to clients throughout New Mexico - acequia and neighborhood associations, individuals, environmental organizations, Pueblos and Tribes. The center employs four full-time attorneys and its work is dependent upon membership dues and contributions from individuals and foundations. If you are interested in becoming a member you may contact the center at: 1405 Luisa Street, Suite 5, Santa Fe, NM 87505, 989-9022; e-mail address nmelc@nmelc.org.
Congreso de las Acequias
Saturday, November 18th
Holy Cross Church - Marian Hall
Santa Cruz, NM
9:00 am - 3:00 pm
Agenda
9:00 - 9:30 Registration
9:30 - 11:30 Introduction of Acequia Delegations
NMAA Annual Report
Election/Induction of Congreso
Representatives
11:30 - 1:00 LUNCH
1:00 - 3:00 Forum on Priority Issues for 2001
Vote on Resolutions
3:00 - 3:30 Closing
Acequia Congreso

Fundraising Drawing

PRIZES

Alfalfa Hay • Firewood • Art • Pasture Hay

Pig • Books • Gift Certificates

Donation: $1 per ticket - $10 per book
The Congreso de las Acequias will have our 2000 annual meeting on Saturday, November 18 in Santa Cruz. We are inviting acequias from all regions of the state to be part of the meeting and introduce themselves as part of a delegation of acequia leaders from their communities.
This will be a historic gathering of acequias where we will induct new representatives to the Congreso, conduct a forum to determine and prioritize common issues facing acequias, and, most importantly, get to know other acequia leaders from around New Mexico.
The meeting will begin with introductions of acequia delegations followed by the NMAA Annual Report and induction of new Congreso Representatives.
A pot luck lunch will follow with a keynote speech by Manuel Trujillo, a mayordomo from Ensenada in Rio Arriba County, and a recognition of acequia leaders and supporters.
The afternoon session will be an open forum that will conclude with the passage of resolutions by the Congreso. Some of the important topics that will be covered include:
• Treaty of Guadalupe Hidalgo
• Protections from Water Transfers
• Youth and community education
• Strengthening Acequia Self Governance
• Acequia Rehabilitation Funding
• Instream Flow
• And others . . .
Santa Barbara Grazing Allotment Rehabilitation: A Progress Report
By Mark Schiller
In 1998 the permittees of the Santa Barbara Grazing Association entered into an agreement with the Forest Service and The Conservation Fund's "Grassbank" to remove all cattle from their allotment for a period of two to three years while a large scale restoration program was undertaken. During that time it was agreed the cattle would spend the period when they would normally be on their allotment (approximately May 15 - October 15) at the Grassbank while Forest Service crews, private contractors, and community members worked on the allotment to upgrade overall forest health and provide better habitat for domestic animals and wildlife. This October marked the end of the second year of this innovative program and La Jicarita News spoke with members of the participating groups to update the progress.
Camino Real Ranger District range management supervisor, Steven Miranda, explained that all of the thinning work within the initial 400 acre categorical exclusion (CE) had been completed this summer. In addition, four earthen upland water catchment basins have been dug in the areas which had been thinned. These will provide water for cattle and wildlife in areas where forage should be increasing and will help keep cattle, elk, and deer out of sensitive riparian areas along the river. Trail work, which included reburying culverts and waterbars, clearing trail and removing debris from the Rio Santa Barbara, was also accomplished.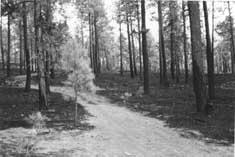 Spring 2000, after the burn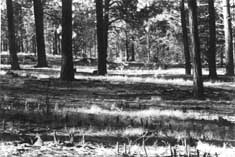 September 2000, restored understory
La Jicarita toured the 88 acre area which had been prescribed burned last spring and saw ample evidence that the restoration work has been effective. Despite hot, dry summer conditions, native grasses were thriving in the areas which had been treated while on an immediately adjacent area which had not been treated the understory remained stunted and choked with forest debris. Miranda told us that the fire crews hope to burn an additional 100 acres this fall and the remaining 200 acres as soon as conditions permit.
Cecilia Seesholtz, Camino Real district ranger, said that the wildlife surveys for the environmental assessment (EA) of 16,400 acres (where an additional 400 acres are targeted for treatment within the current project) have been completed and the Fish and Wildlife Service has concluded there will be no significant impacts to wildlife. She and her staff intend to release the draft EA by the end of November for a 30 day public comment period and hope to have the entire process completed in time to begin work in the spring. She explained that once this EA is in place the district can seek additional money to extend the project beyond the three-year period.
George Maestas, a Santa Barbara permittee, also toured the area which had been burned and told us he was generally pleased with the result. However, he expressed concern about the amount of area that would be treated within the three-year period. "The permittees based their decsion to participate in this project on the idea that enough new forage would be created so that with careful management we would be able to maintain or increase the number of permits granted on the allotment. We hoped 2000 or more acres would be treated. 800 acres may not be enough to accomplish that goal." Despite these reservations he said permittees continue to be supportive of the program and will move their cows to the grassbank once again next spring. He also told us that seperating the cows when they return from the grassbank had been an ordeal both years and that it would help a great deal if a corral was installed in the Hodges area to facilitate this process.
Bill deBuys of The Conservation Fund explained that his group, in addition to running the Grassbank, is responsible for establishing monitoring plots on the areas in Santa Barbara which are being treated. These plots will provide information about changes in vegetation, soil conditions, and soil structure associated with the thinning and burning. Plots have already been established in the areas which have been treated under the CE and plans are being made to establish plots in the areas that will be treated within the EA. DeBuys emphasized that they are not just looking at rapid change but will continue to monitor these areas over a seven year period to determine the long term effects of the treatments.
La Jicarita News will report on the proposed prescribed burn of additional acreage if conditions allow the Forest Service to proceed with it this fall.
Collaborative Stewardship on the Carson
By Max Córdova Jr., Truchas Montaña Youth Team
Several years ago the Camino Real District of Carson National Forest and the communities came up with the idea of collaborative stewardship of our national forests. This stewardship program has been very successful as a tool in forest restoration. The Youth Team had the opportunity of helping Forest Service employee Henry Lopez set up units at Chamisal for local people to thin. The Youth Team recently visited the areas to photograph and monitor the work of community people in Chamisal and in the Entrañas area near Truchas.
The Forest Service is very impressed and pleased with the work of the communities in these stewardship plots. It is impressive to see the transformation taking place using mechanical thinning in forest restoration. As dry as the year has been grasses were growing under the piles of slash. The day we visited the units we saw lots of birds and other small animals and even saw turkeys on one of the units. The Forest Service is planning to burn the piles of slash this winter. The Youth Team will continue to monitor the changes as we continue working with the Forest Service.
Forest Service employee Henry Lopez indicated that over 38 contractors/families are participating in the stewardship program. He and other Forest Service employees are being kept busy getting units ready for people to come and cut wood. The community folks pay a small fee and get to keep the wood they cut.
If you are interested in a stewardship block call the Forest Service about this program at 587-2255.
The Youth Team feels that this work of collaborative stewardship protects the future of the forests and our communities. The people participating and making sure this program is a success deserve a big pat on the back for the work they do.
The potential success of the program was recognized by the Kennedy School of Government, which awarded the program $100,000. The Forest Service has contracted to do a video on the project and plans are in the works for a conference to demonstrate its success and hopefully duplicate it in other parts of New Mexico and the country. Those who have participated in the program are the reason for its success. We urge people to visit with the Forest Service to see the improvements to the Forest.
National Heritage Area Planned for Northern New Mexico
By Kay Matthews
Over the course of the last six months representatives from nine northern New Mexico areas have been meeting with Ernesto Ortega of the National Park Service to discuss a proposal to establish a National Heritage Area in el norte. This is a Congressional designation in which, according to the Park Service, "natural, cultural, historic, and scenic resources combine to form a cohesive, nationally distinctive landscape arising from patterns of human activity shaped by geography." Many of these areas now face "irrevocable alteration through development or neglect," and a heritage designation would channel monies through the Park Service for the affected communities to develop a plan to conserve these special qualities.
A management entity for the heritage area would be responsible for creating a management plan and is authorized to receive federal funds on the area's behalf. The National Park Service would enter into a contract with the local management - which could be a state or local agency or non-profit corporation - to act as a fiscal agent and provide expertise in historic preservation, interpretation, and natural resource conservation.
The nine northern areas in New Mexico that would be included in the designation are: Taos, including Taos Pueblo, Ranchos de Taos, Llano Quemado, and Talpa; Española, including Corral de Piedra, Guachupangue, Fairview, and Santa Clara Pueblo; San Juan Pueblo, including Alcalde, Velarde, Embudo, Dixon, and Rinconada; Peñasco, including Picuris Pueblo, Chamisal, Vadito, and Rodarte; Las Trampas, including Ojo Sarco, Truchas, Córdova, and Chimayó; Santa Cruz, including Cuarteles, La Puebla, San Pedro, La Mesilla, and Arroyo Seco; El Rito, including Ojo Caliente, La Madera, Petaca, Las Tablas, and Vallecitos; Abiquiu, including Medanales, Rio Chama, Chilí, Hernandez, and El Duende; and San Ildefonso Pueblo, including El Rancho, Pojoaque, Pojoaque Pueblo, Nambé, Tesuque Pueblo, Tesuque, and Santa Fe.
Last April Española mayor Richard Lucero and city manager Leonard Padilla invited "key " people to the first district meeting in Española. Subsequent meetings were held in some of the other districts where community leaders helped identify "key" people in these districts. According to the Park Service, these meetings were intended to provide an opportunity for dialogue and ideas about "preserving the rich cultural and natural heritage of our area" while at the same time providing a forum for the Park Service to introduce the concept of a Natural Heritage Area.
A steering committee has been selected and is comprised of: David Córdova of Eight Northern Pueblos; Willie Atencio of Española; Linda Garcia of Peñasco; Sigfredo Maestas of Northern NM Community College in El Rito; Mary Mascareñas of Llano; Mayor Richard Lucero of Española; Loretta Vigil of Española; Kathryn Córdova of El Prado; Orlando Romero of Santa Fe; Fred Vigil of Española; Jose Villa of Alcalde; and Mayor Fred Peralta of Taos.
Some of the services and activities that might be provided by National Heritage Areas include interpretation and education centers, research centers, museums, historic preservation projects, oral history projects, etc.
These concepts immediately raise red flags for some folks, though. Several people who attended meetings in Española and Dixon spoke with La Jicarita News about their concerns. They expressed fear that the kind of "corporate" tourism that might result from a heritage designation would further erode, not enhance, the cultural integrity of their villages. One person we spoke to said he wasn't interested in being "preserved in formaldehyde" as a heritage site and that we shouldn't be talking about "preservation" but how to keep our communities economically and culturally viable. He emphasized the importance of making sure people understand the difference between appropriate economic development and the kind that opens the door to uncontrolled growth. All of them felt that the educational aims seemed geared towards tourists and were unclear as to how the designation would teach our own youth about local culture and history.
At an Española general meeting in October the Park Service did try to allay fears that a heritage site designation would put the federal government in control of more land or buildings. According to Ortega, the Service would act only as a facilitator in attracting grant monies for restoration work and would not acquire any of the properties.
Many of the other designated sites in the U.S. appear to be historic or environmental areas rather than living cultures: the Cache La Poudre River Corridor in Colorado; the Augusta Canal Heritage Area in Georgia; the Essex National Heritage Area (which illuminates colonial settlement and the development of textile and maritime industries). The Rio Arriba County Commission hasn't taken a position on the proposal but continues to send members of the planning department to the meetings. They encourage residents to find out more about the designation and ask questions and voice their opinions at the district meetings. La Jicarita will continue to monitor the progress of the proposal and analyze its potential impacts.
On the Streets of Chimayó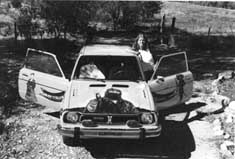 Lolo Medina, Chimayó mural artist
Lisario Martinez, Chimayó car painter
Chellis Glendinning, owner and conceptualist
The mural depicts Frida Kahlo on the passenger door, Emiliano Zapata on the driver door, and Subcomandante Marcos on the hood.
The Social Event of the Season
Paula Garcia and Bazan Romero Tie the Knot