Water and Natural Resources Legislative Interim Committee Comes to Española to Talk About Acequias
By Kay Matthews
The Rio Arriba County commission chamber was packed with acequia parciantes on August 14 to hear testimony before the Water and Natural Resources Legislative Interim Committee and area legislators. Representatives from many of el norte's regional acequia associations&emdash;Taos Valley, Santa Cruz, Rio Chama, El Rito, Gallina-Capulín, Ojito-Chamisal, Dixon-Embudo, Rio de Gallinas, Acequias Norteñas&emdash; were introduced by Paula Garcia, Director of the New Mexico Acequia Association (NMAA), which sponsored the committee hearing in conjunction with the county.
After opening remarks by Española Mayor Richard Lucero and County Commissioner Alfredo Montoya (who urged the legislators to do their part to prevent water transfers out of rural communities), Norm Gaume, head of the Interstate Stream Commission (ISC) reviewed the Acequia Restoration Program which provides monies for design and construction through the Army Corps of Engineers and the Office of the State Engineer (OSE). He addressed several controversial issues that acequias have brought before his office: He has asked the New Mexico Attorney General to decide whether acequias within conservancy districts, such as the Santa Cruz Irrigation District, may qualify for cost-share monies within the Acequia Restoration Program; and he acknowledged that because the Natural Resources Conservation Service (NRCS) has been unable to provide the design work for many of these acequia projects in a timely fashion, the ISC will begin contracting with private sector engineers (see La Jicarita, May/June 2000).
Representative Ben Lujan told Guame that he plans to introduce legislation that will require that cost-share monies be made available to historical acequias within conservation districts. He also objected to the ISC proposed new loan regulations that could make individual parciantes liable for loan defaults (under the questioning of Representative Stevan Pearce, Guame revealed that currently no acequias are in default).
State Engineer Tom Turney was next on the agenda with a report on the Errors and Omissions Pilot Project with the Santa Cruz Irrigation District. This project, funded by the state legislature, is a mechanism to address disagreements between water rights holders and the OSE in the adjudication process. The majority of conflicts arise from the amount of acreage the OSE claims&emdash;through deed records and aerial surveys&emdash;are being irrigated. While Turney felt his office has committed significant resources to this project and has resolved a high percentage of the disputes, Representative Nick Salazer pointed out many parciantes don't fight adjudication decisions because of the costs involved, and that as the OSE initiates more adjudications it will become increasingly expensive to resolve conflicts.
Representative Lujan, along with several other legislators, including Senator Carlos Cisneros, then put Turney on the spot for the failure of his office to notify affected acequias and parciantes in water transfer applications (the law currently only requires notification in newspaper legals). Several years ago Cisneros sponsored a bill to require mail notification, which never became law, and this year, the NMAA plans to ask legislators to sponsor a similar bill. Turney got a big laugh from the crowd of farmers when he said that his office does post transfer notices on the internet. He did say that his office opposes the transfer of water from northern New Mexico across the Otowi Gauge near San Ildefonso Pueblo. The OSE obviously does not want to renegotiate the terms of the Rio Grande Compact, which determines how New Mexico fulfills its water obligations to Texas by gauging water at Otowi: "I don't want to ask Texas or Colorado anything," Turney said. Acequias oppose moving water across the gauge to prevent the loss of water rights from the rural north to cities and industry in the south.
Palemon Martinez, President of the Taos Valley Acequia Association, then presented a list of acequia policy recommendations to the committee. These include continued funding for the previously mentioned Errors and Omissions Pilot Project, Acequia Rehabilitation Program, and Acequia and Community Ditch Fund (to help finance adjudications), as well as mediation and negotiation in adjudication suits. Martinez also reiterated the NMAA and regional associations' goal to require notification of affected acequias in transfer applications. He predicted that acequias will maintain their opposition to a state-wide water bank, which last year was introduced by Representative Pauline Gubbels and Senator Sue Wilson. The Middle Rio Grande Conservancy District (MRGCD) also presented a draft bill last year that defines the autonomy of conservancies to manage their own water banks, and Martinez said this idea could work for acequias as well. Wilson asked Martinez what acequias would like to see in the way of banking legislation, and Martinez responded that because acequias do not fully receive their appropirated water supply they should be able to reallocate water that is not being used on a lease basis to their commissions. And these waters should be managed within the acequia's river drainage system and not be allowed transfer out of that system.When Gubbles asked if Martinez was the "point man" on furthering this discussion, he said that the NMAA and all the regional association respresentatives in the room were ready to talk about this issue.
The afternoon session was devoted to two emotional topics: a discussion of how the Treaty of Guadalupe Hidalgo can keep water rights tied to the land and the fact that acequias are being shut down in priority calls while Endangered Species Act (ESA) waters flow down the Rio Chama to the Rio Grande. This second point was emphasized when the group, traveling in school buses, crossed the high-water Rio Chama on the way to its lunch stop at Rancho de Abiquiu, which is on one of the acequias on the lower Rio Chama that has been directed by the OSE to stop irrigating. Although the ranch, which irrigates 350 acres of pasture and fields, has a 1732 priority date, a partial adjudication of the area has classified this date as a junior right and in this time of drought is one of the eight ditches shut off in a priority call. The ranch manager told the group that while his boss will be able to survive this year's drought, he knows that his neighbors will suffer and some of them may go out of business.
The group demanded that Turney explain why this acequia was shut down. Standing in front of an ancient cottonwood on the banks of the almost dry acequia, he said that the water they were seeing in the Rio Chama was water that was being released from El Vado and Abiquiu reservoirs to comply with the 'Agreed Order' in the silvery minnow lawsuit. In this negotiated deal, the federal government has purchased or leased stored San-Juan Chama diversion water that belongs to the cities of Albuquerque, Española, and the MRGCD to keep the Rio Grande wet. While the OSE is an Intervenor in the lawsuit, according to Turney, "The federal agenda is to do away with our state water law." In a press release later handed out to the group, Turney further stated, "This temporary solution is extravagant in its use of water. This solution cannot be repeated in 2001 . . . without stopping all human uses of Rio Grande and San-Juan Chama project water in New Mexico above Elephant Butte Reservroir and essentially draining all the northern New Mexico reservoirs."
Legislators' response to this information was loud and clear: one representative called it "criminal"; Senator Wilson asked why the OSE doesn't go to the New Mexico Attorney General to get injunctive action to stop the dumping of the reservoirs; and Rep. Pearce asked the rhetorical question, if the cities are giving up some of their reserved water rights to comply with this order, where are they going to get their water in the future? Everyone in the group answered his question: From the farmers!
Discussion of the Treaty of Guadalupe Hidalgo, which was led by Manuel Trujillo of the NMAA and Michael Meyer, an historian specializing in Hispanic water law, tied into these questions.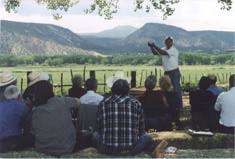 Trujillo, a land grant heir from Ensenada, said the fight over sovereignty of water should be between Janet Reno and Madeleine Albright&emdash;the Department of Justice , which enforces the Endangered Species Act and the Department of State, which is constitutionally required to uphold treaties. He pointed out that last year he helped get a bill through the legislature that called for a study of the potential effects of the Treaty of Guadalupe Hidalgo on the ESA. Now we need to look at how the Treaty can trump all other law, including state adjudication.
Mike Meyer concurred with these claims. Article Eight of the Treaty states: "Property of every kind shall be inviolably protected." Surface and ground water rights were clearly private property rights under Spanish law, governed by acequia associations. These private property rights are twice protected under the United States Constitution, which states that treaties are the "supreme law of the land" and under the New Mexico State Constitution which states that the rights guaranteed by the Treaty of Guadalupe Hidalgo "shall be inviolate." Meyer also emphasized that there is case law to the effect that when federal law, such as the ESA, comes in conflict with the Treaty, intent must be considered by the lawmakers or the Treaty will triumph. In the meantime, Meyer urged, "The State Engineer and the acequias should be on the same side in this fight against the assault by extreme environmentalists."
ANNOUNCEMENTS
• Everyone is invited to a Quivira Coalition sponsored "Poop and Stomp" open house to observe a Holistic Reclamation Project in Action. Terry Wheeler's cows are stomping all over the overburden pile from the Nacimiento Mine near Cuba, New Mexico as a remediation tool. The project is a joint venture of the Quivira Coalition, NMED, EPA, and landowner and residents of the Señorito Creek watershed. The open house is scheduled for September 9, 10 am to 1 pm at the mine. Call Courtney White at 820-2544 for directions.
• Camino Real District Ranger Cecelia Seesholtz has announced her decision to construct four rangeland watershed improvements in the form of earthen tanks in the Santa Barbara Project area to provide livestock and wildlife water sources away from stream riparian habitats. This project is needed to improve conditions along the Rio Santa Barbara and Rio Chiquito. For additional information regarding this project you may contact the ranger or Steven Miranda at P. O. Box 68, Peñasco, NM 87553 or 587-2255.
• The Quivira Coalition is sponsoring Grassbanks in the West: Challenges and Opportunities, a two-day conference of ideas and experience on November 17 and 18 in Santa Fe. Speakers will include Drum Hadley of the Malpai Borderlands Group, Bruce Runnels of the Nature Conservancy, Palemon Martinez of the Northern New Mexico Stockman's Association, Kris Havstad of the Jornada Experimental Range, Owen Lopez of the McCune Foundation, Virgil Trujillo of Ghost Ranch, Bart McGuire of the city of Tucson, Gerald Chacon of the NMSU Extension Service, and Ed Marston of High Country News. La Jicarita will have an article in the October issue by Courtney White, Executive Director of the Quivira Coalition, explaining the mission of the conference and a list of topics.
Book Review
By Mark Schiller
Cidermaster of Rio Oscuro By Harvey Frauenglass
University of Utah Press
Most professional writers have an audience in mind and are constantly trawling bait in an effort to hook them. There's another kind of writer, however, for whom writing is the means by which they define the issue of their own lives. Their writing, as the poet Robert Creeley has noted, "comes from the very condition of the experience demanding it." Harvey Frauenglass' Cidermaster of Rio Oscuro is a case in point.
At its core this book chronicles the process by which the author learns to bring his life as a father, a husband, a friend, and the caretaker of a large, overgrown orchard into step with the larger cycle of life, the four seasons. Writing, itself, is the means by which he attempts to accomplish this monumental task and it is evident throughout how much is at stake.
The multilayered story details Frauenglass and his wife Gayle's move from Los Alamos, where they both worked for the lab, to the rundown stone and adobe farmhouse previously owned by the village priest and the long neglected orchard he planted decades ago in the Rio Oscuro Valley. Gayle, who formerly worked as a technical illustrator, intends to devote herself full time to painting and Harvey, who formerly worked as a technical writer, intends to become a farmer and orchadist. When they first arrive Gayle's Uncle Bill, perplexed that they would abandon what he must have considered a comfortable existence, asks "Why have you chosen such a hard path?" And, in fact, the move demands nothing less than a complete metamorphosis of their lives as they "come back to the earth, to learn the earth all over again."
Cidermaster of Rio Oscuro, though meditational in tone, is an emotional roller coaster. At one stunningly beautiful moment in his life Frauenglass shouts "Stop, I want to stay in this moment," only to find the next moment brings devastating news that realigns their lives as relentlessly as the flooding river realigns their ditch bank. Becoming a cidermaster, he learns, is a balancing act: sweet and tart, life and death, past and present. Ultimately he realizes that "everything that ever happened is still happening" and that their farm is the sounding board through which it all resonates.
Frauenglass' exacting prose conveys the harsh lessons and glorious rewards of his apprenticeship. Cidermaster of Rio Oscuro gives eloquent testimony to the breadth and resilience of the human spirit.
Editorial
By Mark Schiller
The next few years are going to be critical for community based forestry businesses and non-profits throughout the west. Last week the Forest Service announced it would seek 12 billion dollars from Congress to reduce the risk of catastrophic fire by thinning and prescribed burning densely overgrown national forests in at least 12 western states. They propose treating 3 million acres a year, up from 570,000 that are currently being treated. At the same time environmental groups such as the Forest Guardians and the Center for Biological Diversity, who have previously promoted absolutist agendas that would ban all commercial tree cutting on public lands, are being forced by the rash of wildfires that are devastating the west this summer to reexamine these policies. Forest Guardians, for example, now says it will consider "judicious cutting of smaller trees" and the Center for Biological Diversity is working with the Forest Service on a restoration sale in the Gila that will involve several million board feet. This means that community forestry organizations may finally be in a position to build the kind of capacity necessary to become profitable and sustainable.
Now is the time for these groups to seize control of their destinies. Residents of northern New Mexico rural communities have a long history of forest stewardship and possess all the requisite skills to do the on-the- ground work. However, too often we've seen the business end of these projects controlled by consulting groups who "micro-manage" community organizations by writing the business plans and grants and providing accounting and other technical services. It seems to be tacitly assumed by the funding community that local foresters are incapable of learning to provide these services for themselves. In fact, some foundations insist community groups use outside consultants as a condition for granting them money. Instead of building capacity within the communities, these neo colonialist attitudes promote increased dependence. Moreover, by using community organizations to leverage foundation, state, and federal monies, these so-called consultants are able to channel large portions into their own organizations, paying employees and associates top dollar to provide technical services while community members who are doing the on-the-ground work average 8-10 dollars per hour. Little or no effort is made to train community members to assume administrative jobs.
If community based forestry is going to play a significant role in rural revitalization, it is essential that community members get the training necessary to write grants and administer businesses. It's time for foundations, especially local foundations, to step up to the plate and provide money directly to these groups to underwrite such training.
Puntos de Vista
By Courtney White, Executive Director of the Quivira Coalition
Rising from the ashes of the recent forest fires and the dust of the drought is a central question: do humans have the right to manage nature? And if so, what sort of management, and for what purpose?
It is a question that lies at the very heart of the grazing debate, as a new book demonstrates. In fact, whether nature should be "managed" or "left alone" has become a Great Divide for the public lands wing of the environmental movement in general, as well as the fuel for the bonfire of lawsuits and the call for "zero cow" policies.
The new book is The Western Range Revisited: Removing Livestock From Public Lands To Conserve Native Biodiversity (University of Oklahoma Press), by Debra Donahue, a law professor at the University of Wyoming.
The ostensible goal of the book is to catalogue the sins of traditional ranching; but its ultimate objective is to make a case for "unmanaged nature." As such, it is a useful illustration of the philosophical forces at work within the environmental community, as well as the tensions.
It also gives us a chilling look at the dangers of absolutist thinking.
Old News
Ms. Donahue's thesis is straightforward: "Livestock grazing is incompatible with preserving landscape-scale native biodiversity on western ranges averaging 12 inches or less of annual precipitation." Which just happens to be most of the West. When it rains.
She considers ranching to be an irredeemable activity. "Livestock grazing is simply not ecologically sustainable," she writes, "at least on a scale that is economic . . . . Merely curtailing livestock use will not achieve the goal of preserving and restoring arid land biodiversity. Evicting livestock will be essential."
She rips traditional ranching on political, economic, and social grounds as well. She even dismisses as "plainly speculation" the threat of sprawl and habitat fragmentation as a result of private lands development on former ranches. "The prediction of more real estate subdivisions is seldom supported by the facts," she writes.
She closes her book with a cold-blooded summation: "Eliminating grazing in arid regions of the West would offer tremendous potential benefits while imposing very few costs. The economic impact would be minor . . . and the cultural concerns overblown."
Unless, of course, you are the one being eliminated.
The first problem with The Western Range Revisited is that it is packed with old news. Her litany of outrage is all too familiar: historic overgrazing tremendously damaged rangelands; ranchers have enjoyed a cozy relationship with federal overseers for generations; ranching is an economically marginal activity; overgrazing continues to affect biodiversity; ranchers exert disproportionate political power in excess of their numbers; the cowboy myth is largely a creation of Hollywood; and federal subsidies to ranchers explode the image of self-sufficiency.
As an argument for a judgement of execution, however, The Western Range falls flat. That's because the second problem with the book is more consequential&emdash;it is out of touch with current events.
Biodiversity
The fatal flaw in Professor Donahue's argument is easy to identify. It's called the Empire Ranch. And Ghost Ranch, the Tipton Ranch, the Gray Ranch, the Desert Ranch, to name only a few ecologically oriented "New Ranches." The omission of holistic ranchers like Sid Goodloe, Jim Winder, Roger Bowe, Cathy and Mike McNeil, Terry Wheeler, and many others, is significant, and damaging.
That's because these progressively managed ranches and their ecologically minded stewards not only conserve native biodiversity, they often increase it. And many of these ranches do so while operating below Ms. Donahue's 12-inch rule.
Take the U Bar Ranch, for example. Located on the Gila River near Silver City, the U Bar, which is owned by a mining company, managed by a rancher, and employs irrigated agriculture, supports the largest concentration of endangered Southwestern Willow Flycatchers in the world. And the numbers have gone up every year since 1996, the year a long-term study began. In fact, the U Bar apparently has become a source population of Flycatchers for the Gila Valley!
Additionally, according to Dr. Scott Stoleson of the USDA Rocky Mountain Research Station and lead researcher on the Flycatcher study, the U Bar is home to the largest concentration of neo-colonial migratory birds in North America.
On a working cattle ranch. In a desert.
One reason for the rise in biodiversity on the U Bar is the willingness of the rancher, David Ogilvie, and the mining company to try new ideas, such as grazing the bird habitat only in the dormant season. David also likes the Willow Flycatcher and wants to see it thrive. In other words, his environmental ethic is large, and his managerial ability is skillful.
The U Bar's biodiversity may not depend on farming and ranching, but its presence on an intensely managed landscape does contradict Ms. Donahue's assertion that conserving biodiversity starts with eliminating agricultural use of arid lands. More importantly, however, I believe the Flycatcher is flourishing because of David's management, not in spite of it.
Thus we arrive at the crux of the debate.
To Manage or Not To Manage
Debra Donahue's prescription for conserving native biodiversity in the West, beyond simply killing the cowboy, is to employ large contiguous blacks of land as bio-reserves, connected to each other by corridors for migrating wildlife. These Wildlands would be huge, in her estimation, encompassing the majority of BLM lands. They would be so large, in fact, that "active management may not be required," she writes.
Ms. Donahue proposes that nature knows best and should be left alone. Other than a few types of ecological restoration, she considers the management of nature by humans to be undesirable. She blames the current ecological crisis on anthropocentrism. "A utilitarian, mastery-over-nature attitude, along with its biblical roots, is considered fundamental to the Wise Use movement in the West, in which livestock and other commodity interests are prominent."
It is a view shared by other environmentalists. Unmanaged Landscapes: Voices for Untamed Nature (Island Press, 1999) editor Bill Willers argues for "Nature's autonomy," which, he says, can only be found in wild landscapes. "When managed for some human-centered purpose, its autonomy is lost," he writes. "Restoring wilderness conditions on landscapes of all sizes can allow for self-regulation in a state of ancestral wholeness." Although his goal is to recreate an ancestral past, which ancestral past, among so many, is not clear.
Nevertheless, to accomplish this goal, management, in his view, "must become an erasing, a reversing, a minimizing of human impact&emdash;a science of letting things be."
But what about the birds on the U Bar? Or all the healthy rangeland on the Empire Ranch? What about all those riparian areas blossoming and healing under the watchful eyes of Sid Goodloe and Jim Winder? What about the biodiversity restored under the intense management of Terry Wheeler? What about the environmental ethic of Roger Bowe or the Davis family?
What about the forest fires? The drought? What about the fragmentation of wildlife habitat due to urban sprawl? What about the one billion day-visits made to our public lands annually by recreationists? What about global warming and the CO2 build-up in the atmosphere? What about poverty and population pressure? What about industrial corporate capitalism and the globalization of the economy?
"Letting things be" does not solve these problems. Neither does pining for an ancestral past (which was full of land-managing Native American, by the way). Instead, I believe we should use the past to inform the future; and we should get to work&emdash;now.
That means management.
Democracy
In a world seriously out-of-kilter ecologically and economically, the visionary idealism of Donahue & Co. is not only impractical, it is harmful. It denies that well-managed landscapes can conserve, or even enhance, native biodiversity while accommodating family-scale commercial activity. Their vision ignores or dismisses contradictory evidence and masks its mean-spiritedness under the banner of "science."
In a pluralistic society such as ours it is a vision that smacks of totalitarianism.
I vote for well-managed landscapes instead.
I vote for the U Bar, the Empire, and Ghost Ranch. I vote for an expanding Southwestern Willow Flycatcher population, healthy riparian zones, and native biodiversity. I vote for open space protection, viable rural communities, strong families, and cultural diversity.
I vote for growing grass, clean water, and cool fires. I vote for sustainable wildlife populations, healthy forests, and robust rangelands. I vote for well-managed herds of cattle living side-by-side with native species, conserving and expanding diversity together. I vote for wilderness and ranches.
I vote for the values that promote good stewardship of the land. I vote for a real land ethic, one that seeks to create sustainable, self-regulating natural and human communities simultaneously. Call it "bioanthropocentrism."
I vote for cooperation, innovation, conservation, restoration, and work. I vote for an end to bigotry, ignorance, and tyranny.
I vote for democracy. Real democracy.
I may be a dreamer, but as someone famous once said, there's more of us every day.
Reprinted with permission from the August 2000 issue of the Quivira Coalition newsletter.
Editorial
By Kay Matthews
When Uncommon Ground: Rethinking the Human Place in Nature was published in 1996, many environmentalists interpreted its message&emdash;that "nature" is a human idea, with a long and complicated cultural history&emdash;as a hostile attack on the environmental movement. The book, an anthology of essays by well-known teachers of environmental science, history, sociology, biology, etc. was born of a conference at the University of California at Irvine in 1994, where participants came together to look at environmental problems from a humanistic, interdisciplinary perspective. The book's editor, William Cronon, addresses the attack by environmentalists in the book's foreword: "The criticisms we offer&emdash;whether of environmentalism in particular or of American ideas of nature in general&emdash;are intended to encourage greater reflection about the complicated and contradictory ways in which modern human beings conceive of their place in nature. . . . At a time when threats to the environment have never been greater, it may be tempting to believe that people need to be mounting the barricades rather than asking abstract questions about the human place in nature. Yet without confronting such questions, it will be hard to know which barricades to mount, and harder still to persuade large numbers of people to mount them with us."
This question is what many of us in el norte have been asking for the last few years: Has the pendulum swung too far in our reaction to what humans have "wrought" on the "natural" world so that many environmentalists, rather than helping find a middle ground to lighten this heavy hand, encourage the notion of man's separateness from nature? The failure of these environmentalists to deal with human social issues because of this idea of separateness results in policies like Zero Cut and the Wildlands Project which define any human touch, be it corporate or community, as inherently bad.
Cronon, who is a professor of history, geography, and environmental studies at the University of Wisconsin, talks about this dualism in his chapter "The Trouble with Wilderness." By defining wilderness as something that stands apart from humanity, environmentalists often encourage conflict between those who value wilderness and those who are too preoccupied with solving their own environmental problems of toxic poisoning or loss of land, water, and land-based employment: en otras palabras, the poor. "This in turn tempts one to ignore crucial differences among humans and complex cultural and historical reasons why people may feel differently about the meaning of wilderness," Cronon writes.
By not addressing issues of environmental justice, environmentalists lose their moral ground. Here in northern New Mexico, both Native American and Hispano traditional communities have been dependent upon their surrounding forests for hundreds of years; when these common lands became public lands, they lost most of the "inhabited wilderness" that sustained them as societies. As rural el norte becomes more vulnerable to global economics it is the responsibility of all of us who value wilderness to extend our concern to the sovereignty of inhabitants of wilderness. And there are many groups doing just that: community forestry groups like La Montaña de Truchas and Madera Forest Products, and the coalition that is working to rehabilitate the Santa Barbara Grazing Allotment (including the Quivira Coalition, see page 4). These are our issues of environmental justice.
We believe that there can be a more holistic way of integrating both cultural and natural landscapes that maintains an ethic of place or a middle ground where conflicts can be resolved. Too many environmentalists speak in absolutes, devising ethics in the abstract and applying them across the board. We must be able to find a middle ground based on the ethics of place, incorporating the social, ecological, political, and economic realities of each situation. In her chapter Constructing Nature: The Legacy of Frederick Law Olmsted, Anne Whiston Spirn sees this middle ground as that between John Muir's idea of nature as "temple" and Gifford Pinchot's idea of nature as "workshop", a balance between reverence and use. Just as the loggers and environmentalists of the Pacific Northwest must come to terms with the best way to save ancient forests and the small-town economies dependent upon logging, so too must we in el norte commit to keeping people on the land through sustainable use of our forests and watersheds. Another contributor to the book, James Proctor, in his chapter, Whose Nature? The Contested Moral Terrain of Ancient Forest, calls these efforts "inclusive environmentalism, one uniting it with other social movements in a common moral cause: to help create a more liveable world for all of us, humans and nonhumans alike."