Sustainable Water Use as a Public Good in the Face of Private Water Rights: A Dialogue
The issue of "sustainable water use" has been at the top of just about everyone's list of concerns after the 1999-2000 year of drought and devastating forest fires in New Mexico. In recent weeks State Engineer Tom Turney has been urging Santa Fe to develop access to its San Juan/Chama rights and to insure the long term viability of those rights. His concern implies that what Santa Fe does to insure a sustainable water supply will affect all of northern New Mexico, particularly if the city proceeds with the construction of the infiltration gallery at San Ildefonso Pueblo, which could potentially provide a vehicle for the transfer of northern ground and surface water rights south to Santa Fe and beyond. A coalition of northern New Mexico acequias and parciantes has already protested the County of Santa Fe's proposal to use the infiltration gallery to transfer Top of the World agricultural rights to the county.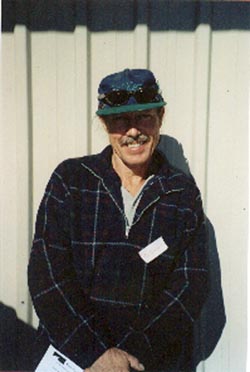 Lynn Montgomery, Placitas mayordomo and water transfer protestant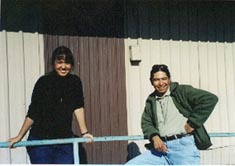 Paula Garcia of the New Mexico Acequia Association and Blaine Sanchez of Isleta Pueblo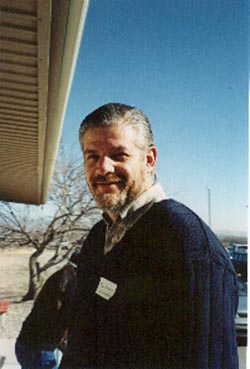 Mike Hamman, former Sangre de Cristo water manager, now with the Jicarilla tribe
Several panelists at the recent annual meeting in Albuquerque of the New Mexico Water Dialogue specifically addressed the issue of conflicting water demands and the potential effects upon rural communities and acequias. Peter White, the attorney who epresents the Top of the World protestants, spoke about the need to protect existing rural water rights in the face of efforts to maximize commercial water use, or what is being billed as the "highest use." John Carangelo, a member of the Socorro Soil and Water Conservation District and a La Joya parciante, told the group that the only way to insure water sustainability is to invoke the public welfare doctrine to balance the rights of individual water holders with the government's responsibility to protect riparian habitat and our quality of life: "Property rights are only valid until they impair someone else's right."
Who this "someone else" usually is was addressed at the dialogue by David Benavides, attorney with Community and Indian Legal Services of Northern New Mexico. Unable to attend the conference, David asked Paula Garcia, director of the New Mexico Acequia Association, to read his remarks to the group. They are included in their entirety below:
"Sustainable water use as a public good in the face of private water rights.
I see two issues contained in this question.
The first issue is whether we can roll back the amount of water we use in the state to a sustainable level, even if it means infringing on water rights that are regarded legally as private property rights.
The second issue is how we ration water use once we determine what level of rationing is needed.
The origin of our non-sustainable level of water use is historical, and in hindsight we can easily be critical of what occurred. We should not have given permits for new water rights in fully appropriated basins. We should have been clearer about what constituted a fully appropriated basin. We should not have given out massive new ground water permits under the old policy of dedications. We should not have allowed for automatic approval of every domestic well anywhere in the state.
The answer to the question of whether we can curtail a water user if there is not enough water is clearly yes and is embedded in our statutes. Under prior appropriation principles, the most junior water users really should have no expectation that they will get the full amount of their water right unless it's an exceptionally wet year; in dry years they may be entitled to no water at all. In other words, their private right is an uncertain one from the start: being denied water in a particular year is not so much an infringement of a property right as it is a fact of life under the prior appropriation system. Our problem here in New Mexico is that some of the most junior users, like the City of Albuquerque, Intel, and the City of Rio Rancho, expect to get their full water right every year, and moreover, they think no one should question their junior water right in a dry year. So not only did we over-appropriate our water supply, but we have junior water users who are taking water like senior users, resulting in the continued use of water each year at unsustainable levels. The important point is that we have the statutory tools to reduce water use to more sustainable levels, and there is nothing illegal or anti-private-property-rights about using them. It's just that no one wants to start that war.
The question of how to ration water to get to a sustainable level is a question of environmental justice. The principles of environmental justice encourage us to choose, among all the environmentally sustainable options for resource management, those options that address the most important issues facing society, particularly issues of inequity, poverty, and lack of opportunity. I work for an office that represents poor people on a variety of civil legal matters. Not a day goes by that I am not reminded that we live in one of the poorest states in the country. This is not a fixed condition, it is a problem, which, like any other problem, can be solved. We cannot forget that those problems also have a history, a history that includes not only military conquest and broken treaties, but also communities that value their communal needs over private interests being deprived of essential resources through the legal system.
A good example of applying principles of environmental justice is the Federal Sustained Yield Unit Act. This act, in many ways a pioneering effort in environmental justice many decades before the term even existed, was a New Deal-era act passed by Congress relating to sustainable forestry practices. The act allowed for the creation of specific units within the national forest where there were poor, forest dependent communities, and stipulated that sustainable forest management practices benefit the economies of these communities. Interestingly, of the five units created nationally, only two of the units still exist, one in Oregon, and the Vallecitos Sustained Yield Unit in northern New Mexico, which continues to demonstrate the dual mission of both sustainability and economic justice, despite a long and troubled history of Forest Service mismanagement and timber sale appeals by environmental groups.
Another example is the return of Blue Lake to Taos Pueblo. There, the federal government acknowledged that Taos Pueblo had been wrongfully dispossessed of those lands and restored what had become part of the national forest to Taos Pueblo ownership (although held in trust by the federal government, as most Indian lands are).
We can see from these two examples that specific questions of environmental justice need to be addressed in specific ways. One question is who should benefit from the sustainable management of a resource? The answer to that is that we as a society need to address the needs of poor communities by protecting their access to natural resources.
Another question is do we believe in righting historical wrongs, even if that means that the larger public does not get something it might desperately want? Many of the communities that are struggling to protect themselves from water transfers, from the adjudication process, or from changes in the law have been historically dispossessed of important parts of their resource base and are some of the poorest communities in the state and in the country. The last thing they need is to be further diminished in the thing of highest value they still possess, i.e., their water rights, because of some new rationing system that is implemented under the guise of "it's in the public interest"(as if the issues of poverty, justice, and opportunity are somehow not "public interest" issues). Instead, we should look to see how these water rights will make these communities better able to survive as communities. Can the fact that some of the poorest people in the state possess one of its most valuable resources translate to a future that is not one of poverty but one of economic and social parity?"
ANNOUNCEMENTS
• La Jicarita Study Committee will host a public meeting in Peñasco on Saturday, February 17, to introduce to the community the engineering firm Waterworks, the nonprofit organization that is conducting the wastewater treatment feasibility study for the Jicarita watershed. The study committee, comprised of representatives from all over the watershed, has been raising money for the last several years to look into establishing a wastewater treatment facility or facilities to prevent nonsource point pollution of the watershed. Community representatives and Waterworks engineers will provide details of the projected 18-month study and will be available to answer questions about the project. The meeting is scheduled for 1:00 pm at the Peñasco Community Center. Subsequent meetings will be held to keep community members informed of the progress of the study. For more information call Julia Gefford at Picuris Pueblo, 587-0110.
• Embudo resident Lou Malchie's "Artifacts of Civilization", color photographs of textures and architectural elements from Central America, will be shown at Caffe Tazza, 122 Kit Carson Road, Taos, during the month of February. An opening reception will be held on Sunday, February 4, from 3:00 to 5:00 pm. Everyone is invited.
• Rebekah Reppert announces the opening of her new restaurant in Peñasco, Due Corvi Pizzeria, in the old Peñasco Theater building at 15046 Highway 75. She cooks and bakes pizzas, pastas, sandwiches, salads and herbed foccacia breaks. The restaurant is open for lunch and dinner, Thursday through Monday, 11:00 am to 9:00 pm, Sunday winter hours, 2:00 pm to 8:00 pm. The number is 587-0311.
• Wise Fool Theater Arts Project announces the premiere of its new work, The Curtain, at El Puente, Peñasco Cultural Center, 15046 Highway 75 in Peñasco. Weaving folk arts with contemporary issues, this extravaganza of puppetry, aerial arts, stilts, music, projection, and movement will address the concept and reality of the arbitrary dividing lines we call borders. The Curtain tells tales of: forced removal where each step of the journey is a step out of one's culture; lines which objects may cross at will but people may not; worlds built to match those we came from, and the constancy of cultural elements such as dance and food. The Curtain will be the grand (re)opening of the old Peñasco Theatre. Performances will be held in Peñasco on:
March 16th and 17th, Friday & Saturday, 7:30 pm
March 18th, Sunday, 2:00 pm 587-2726
Performances in Santa Fe at El Museo Cultural de Santa Fe, 1615 Paseo de Peralta:
March 23rd, Friday, 7:30 pm
March 24th, Saturday, 2:00 pm
March 25th, Sunday, 7:30 pm 992-2588
Pecos River Watershed Alliance Takes Steps to Manage Growth
By Mark Schiller
The first Saturday of each month the Pecos River Watershed Alliance meets to discuss and make plans to act upon social and environmental issues which are impacting the San Miguel County communities that stretch along the Pecos River from Ribera to Villanueva. Residents feel this area is being overwhelmed by an influx of wealthy newcomers who are attracted by the beauty of the area and its proximity to Santa Fe, but are often insensitive to the impacts non-traditional management of the ranches and farms they are buying have on the families that have inhabited this valley for hundreds of years. These newcomers include shock-jock Don Imus, who has tried to buy up and monopolize area water rights, and movie star Val Kilmer, who has denied locals access across his property to the river via long established routes. Alliance members told La Jicarita that the group hopes to consult with 1000 Friends of New Mexico and UNM Community Development professor David Hinkle about a comprehensive plan to manage growth within the watershed.
But community members are not content to simply fight the negative impacts of inappropriate development. They also want to promote development that maintains people's ties to the land and creates employment opportunities that are appropriate to the culture and traditions of the area. At the January 6 meeting, Marcia Diane of Partners Land Trust, a 501 C-3 non profit that acts as the umbrella for the watershed alliance, discussed the status of several ongoing projects and proposals for projects the alliance is considering for the future. Diane told the group restoration work on private lands owned by community members associated with the group is continuing and that the group has secured the use of a chipper from the U. S. Fish and Wildlife Service to aid in these efforts. The chipper will be used to create mulch from the unusable portions of trees harvested to restore grasslands. She went on to say that the alliance has submitted proposals for grant money to the New Mexico Environment Department to build a constructed wetlands in the watershed and to the Ben and Jerry Foundation and the ENMR rural phone company corporate giving program for money to initiate a "farming for birds" program patterned after a successful project initiated by farmers in the Bosque del Apache area.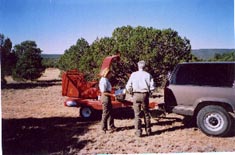 Fish and Wildlife personnel demonstrate new chipper
The alliance is also considering ways to take advantage of the organic foods market. They discussed the potential need for a second organic meat processing plant (there's only one small, certified facility in El Rito which must service the entire state) and the possibility of establishing a new facility in the Pecos watershed. Community members were also encouraged to attend the upcoming New Mexico Organic Farming and Gardening Expo which will take place in nearby Glorieta on February 10 to get more information about all aspects of organic farm and ranch production
Grassbanks, which are private holdings or public lands that have been set aside to provide graze while restoration work occurs on ranches and grazing allotments were also a topic of conversation. Diane, who attended the recent grassbank conference in Santa Fe, said the group has identified an approximately 33,000 acre parcel of Forest Service land formerly included in the San Miguel del Vado Land Grant that the group would like to encourage the Santa Fe National Forest to consider using as a grassbank for community ranchers.
Alliance members, who have expressed concern about getting reliable information about land restoration, then heard a presentation by Santa Fe National Forest hydrologist Steven McWilliams about Properly Functioning Conditions (PFC) with regard to restoration of riparian areas. McWilliams said that PFC is part of a national effort which brings the Forest Service, the Bureau of Land Management, the Environmental Protection Agency, and the Natural Resources Conservation Service together with other state and local agencies to evaluate land conditions in a non-judgmental way. Utilizing a checklist involving 17 separate but interrelated categories, PFC teams are able to determine if riparian areas are "functioning properly, functioning but at risk, or not functioning properly."
If areas are at risk or non functioning, PFC teams can help determine problems and refer land owners or public lands managers to agencies and individuals who can suggest ways of restoring the areas. McWilliams told the group that there is also a drylands version of PFC.
The group has secured the senior center in San Miguel for future meetings. People interested in more information about the alliance can contact Marcia Diane at 421-2998.
Puntos de Vista
By Miguel Santistevan
Acequias have been in existence in northern New Mexico for over 400 years. If one studies the Moorish and Roman traditions of irrigation in the Old World, as well as Native irrigation techniques in the New World, acequia systems in northern New Mexico are thousands of years old and are a combination of the most sophisticated irrigation techniques and the most diverse cropping systems originating from many cultures around the world. Aquí en el norte, the construction of an acequia was a requirement for the establishment of many of our communities, along with the construction of a defensible plaza and a church. The acequia has been the lifeline of our communities, bringing people together for the cleanings and providing water to irrigate our fields. The acequia provided water for growing crops and pasture for animals, the primary source of survival in these remote environments that would not have been habitable otherwise.
Recently, the acequia system has become a victim of attacks. Many acequias in northern New Mexico are being adjudicated, a process in which the State Engineer sues acequia users for the right to use the water. Economic-minded developers and politicians are looking at acequia waters to provide for subdivision developments and golf courses in more urban or tourist areas. Environmentalists also blame the acequias for taking water from the rivers, reducing steam flows, and threatening fish species. These groups do not seem to understand that the acequias have a legal right to continued existence under the Treaty of Guadalupe Hidalgo and the State Constitution of New Mexico.
Legal arguments aside, I intend to show that the acequia makes sense from an ecological standpoint: by recharging the groundwater aquifer; increasing river flows; creating biodiversity; and serving as an example of an ecologically sustainable livelihood in these times of environmental devastation. I came to learn of ecology through researching small mountain streams at the University of New Mexico while working on a Bachelor's Degree in biology. Later I went to work for the Rio de Chama Acequia Association. By working closely with acequia parciantes and reflecting on my experience in stream ecology, I came to appreciate the ecological benefits of acequias and the ecological knowledge therein. Because of this experience I decided to further my education in terms of acequias and ecology and enrolled in the Agriculture Ecology program at the University of California, Davis.
While at Davis I learned that food production in the United States is creating many environmental problems. Large-scale agriculture is dependent upon chemicals that pollute the soil, the water, the food, and the workers. Industrial agriculture (the kind that supplies grocery stores, restaurants, and makes processed food) is creating soil erosion, wasting incredible amounts of water, and using genetically engineered seeds in a monoculture cropping system. Even "organic" produce can come from genetically engineered crops (for example, the BT gene in "organic" tomatoes), uses fertilizers from distant sources, and creates pollution in its distribution. Almost all commercially produced food is dependent on the movement of resources and goods across the country and around the world. The dependence on fossil fuels and the global economy creates pollution in every aspect of production and distribution, which is really not necessary given local abundance and opportunity. For example, many people in New Mexico buy Washington apples from the grocery store that were grown using chemicals and created pollution to get here, when locally produced apples taste better, are healthier, and do not have to travel so far.
Contrast the findings to acequia agriculture. Acequia agriculture is diverse, with many crops being planted, creating healthy soil and a healthy garden environment. This eliminates the need for the chemicals that industrial agriculture uses. Acequia agriculture is small scale and does not create nearly as much, if any, soil erosion. Acequias use water from within the watershed, as opposed to commercial agriculture that uses large-scale water diversion projects that transport water for hundreds of miles from immense reservoirs. Keeping water in its area of origin allows acequia water to infiltrate the water table, recharging groundwater supplies and maintaining downstream river flows. Furthermore, I have found that acequia agriculture uses mostly native seeds and traditional practices that are adapted to the local environment. The food produced from acequias is natural, healthy, and is not shipped all over the world like grocery store food but is consumed in the region, minimizing pollution in its production and distribution.
It is facts like this that inspired me to study the dynamics of acequia culture for my Master's degree from Davis. I am hoping that my work will eventually help give credibility to the acequia system in the face of economic, political, and environmental ignorance. I am currently gathering history and information on native seeds and seed saving practices as well as the changes to agricultural lands in Chamisal. Chamisal, like many communities of La Jicarita watershed and surrounding areas, is a perfect example of a surviving acequia culture, complete with native seeds and local knowledge. I have found that agricultural practices in these areas represent some of the most sophisticated examples of sustainability in the world. The native seeds and crops in this area are some of the strongest, having been grown in high altitudes, short growing seasons, and marginal soils. Acequia culture represents an environmental land use ethic and works with nature rather than against it.
The ecological benefits of acequias definitely outweigh the costs. I have argued these points with scientists, politicians, and environmentalists alike. More importantly, I have tried to make these points clear to students at Peñasco and Pecos high schools. Acequia culture provides one of the best, if not the best, examples of sustainable living on Planet Earth.When talking to the elders, I find that life in times past was more difficult and that it was a lot of work to survive off the land. But I have also found that people were happier and healthier in those times, that while they did not have many material things they had more time with each other, to visit and to share.
I find the so-called richness of American culture and money is not so rich after all, that it creates pollution on the planet and oppression of people and workers in other countries. But I find that the richness of acequias, the land, and culture of el norte is true wealth, creating a healthy ecology, a healthy culture, and a healthy future. This can only be true if we maintain and defend our culture and our seeds, while resisting any effort from outside forces to take that which our ancestors worked so hard for us to have now. To this end, I would like to thank everyone who is maintaining the culture and the seeds, and all who have taken the time to teach me. In the future I hope we can work together to maintain what is left and to regain what has been lost of our culture, one of the most beautiful and unique cultures in the world. ¡Que via el norte! ¡Y que viva la raza!
Organic Certification of Livestock: What Does It Take?
By Mark Schiller
Organic certification of poultry and livestock is a process which adds substantial value to meat production by supplying the expanding niche market for additive free, humanely raised meats. La Jicarita recently spoke with Joran Viers, director of the New Mexico Organic Commodities Commission (OCC), and he outlined some of the steps ranchers need to take to be certified.
1. Livestock or edible livestock products that are to be sold, labeled, or represented as organic must be from livestock under continuous organic management from birth. This does not mean that the breeder stock from which the slaughter stock is produced must be organic.
2. The producer of organic livestock must provide the animals with a total feed ration composed of organically produced and handled agricultural products (including pasture and forage), except the non-agricultural products and synthetic substances listed below that may be used as feed additives and supplements. Permitted Supplements and Synthetic Additives:
i. any source of feed salt;
ii. trace minerals;
iii. vitamins, accepted for enrichment or fortifica- tion, limited to those approved by the FDA for livestock use;
iv. fillers and excipients.
A farm or field may be certified for organic production when it can be demonstrated that an application of prohibited materials (such as pesticides or chemical fertilizers) or the use of prohibited production practices has not occurred during the year of production or at any time during the three years (36 months) immediately preceding the harvest. Ranchers can have their livestock and pastures certified in one operation by the OCC. Ranchers who engage in public lands grazing can also be certified as long as no pesticides or herbacides are used on their allotment.
3. All animals must be provided with a palatable, digestible, and nutritious diet appropriate to their age, weight and according to their behavioral and physiological need, to promote a positive state of health and well being and growth rate and shall have access to adequate water at all times. All animals, consistent with their physiological and ethological needs, must have access, when seasonally appropriate, to sunshine, fresh air, soil, fresh plants, etc.
4. The producer of organic livestock must not:
i. sell or represent as organic any animal treated with antibiotics or any substance containing a non-allowed synthetic substance, or any substance containing a non-allowed non-synthetic substance;
ii. Administer any animal drug, other than vaccinations, in the absence of illness;
iii. Administer hormones;
iv. Administer synthetic parasiticides to slaughter stock;
v. Administer animal drugs in violation of the Federal Food, Drug and Cosmetic Act.
Many synthetic products used as disinfectants, sanitizers, and medical treatments, are allowed however.
5. In addition to information submitted to the certification agent in the Organic Plan, producers shall keep the following records, as applicable:
i. Adequate records permitting the Commission to trace each animal;
ii. Records must exist sufficient to permit the Commission to trace the sources and amounts of all feeds, supplements, medication, etc.;
iii. Records of all purchased animals, including organic status, intended use (i.e. breeder stock vs. slaughter stock), supplier's name, address, date of purchase, and number of animals purchased.
6. Slaughter must be effected under sanitary conditions which means USDA or NM Livestock Board approved, organically certified slaughterhouses.
Ranchers who use all their pasture and cut hay to feed their own herd can certify both their herd and their fields for a yearly fee of $125.00. If, however, they intend to sell some of their hay as organic, there is an additional $125.00 yearly fee for that certification.
On February 10 the OCC and the Farm Connection will sponsor an Organic Farming and Gardening Expo at the Glorieta Conference Center. The Expo will include special sessions addressing organic beef production, organic hay production, organic certification and record keeping, rangeland restoration, and grass banking. Readers interested in attending or obtaining more information can call Lynda Prim at 579-4386 or Sarah Grant at 983-4098 ext. 13. Readers interested in obtaining complete OCC guidelines for organic certification of livestock, poultry, farms, and pastures can contact Joran Viers at 266-9849.
Editor's Note: This is the first in a series of articles that will provide information about the organic certification process for livestock and produce and the potential economic and environmental benefits.
Santa Domingo Pueblo - BLM Land Exchange: Where's the Land?
Editor's note: The Santo Domingo Pueblo/Bureau of Land Management Draft Environmental Impact Statement (DEIS), released in November 2000, proposes a land exchange where the BLM would give approximately 7,376 acres of land north of former State Road 22 and south of Santo Domingo to the Pueblo in exchange for the Pueblo's transfer to the BLM private lands of equal value, "yet to be acquired by the Pueblo, within high priority acquisition areas" identified as the Rio Puerco and Taos Resource Management Plans. These "yet to be acquired lands" are identified in the Taos Resource Management Plan as those along the Rio Grande within the Taos Corridor. What this exchange actually means is that Santo Domingo will give the BLM money to try to purchase these private lands within the corridor.This raises some interesting questions regarding Santo Domingo's role in federal land acquisition that could influence further development of the Corridor for recreation. Kay Weiner, a member of Embudo-based El Bosque Preservation Action Community, wrote a letter on behalf of her organization to the BLM, part of which is included below:
"Although the private lands ['yet to be acquired'] are not specified on Map 4-D of the Santa Domingo DEIS, they are listed in the Rio Grande Corridor Final Plan of January 2000 (RGCFP) prepared by the Taos Field Office of the BLM. In fact, some landowners from this table have already been contacted for purchase of their land. Consequently, one half of the exchange has been omitted from the draft. The DEIS addresses the property that Santo Domingo will receive. It identifies the land that will be transferred by the Pueblo to the BLM as something of equal value in Rio Puerco or Taos RMP, but it fails to list the lands BLM has already specified for acquisition. We request that you 'put a face' on this acquisition by including in the DEIS the land slated for acquisition, as specified in Chapter 3 of the RGCFP.
The majority of the corridor land in this section of the river is prime river bottom agricultural land that has been farmed for centuries. Rio Arriba County, the county in which we live and farm, has been in the forefront in its efforts to preserve these lands as evidenced by the newly enacted 'Agricultural Protection and Enhancement Ordinance 2000.' Therefore, we oppose any land purchases that would compromise the preservation of agricultural lands or negatively affect the tax base of this economically disadvantaged county.
Under the current draft the 'whole picture' of the exchange and its ramifications are omitted from the draft. Landowners in the Embudo Valley were neither notified, consulted, or represented in this 'exchange.' The draft, which was not distributed in our area and only came to our attention through a concerned third party, does not consider the sociological, cultural, and economic impact to our communities.
In general, we cannot support this policy of 'exchange' without full disclosure of the specific lands in the exchange and an opportunity for people in the affected communities to comment."