Collaborative Stewardship At Work: a Two-Day "Unconference" April 27-28, (Fri-Sat), 2001 at the Kachina Inn, Taos, New Mexico
This free conference will highlight the innovative, collaborative, and community-driven work being done to restore environmental and economic vitality on public and private land in northern New Mexico.
Although the mountains and valleys of northern New Mexico have been home to indigenous peoples for many centuries, traditional, self-sustaining work, including subsistence farming, timbering, ranching, and other economic activities are now threatened by a host of diverse pressures. Compounding these threats is a long and frequently contentious relationship between local residents and federal land-management agencies, epitomized by the long-running dispute over the fate of historic land grants.
In the mid-1990s, after years of conflict, the residents of Truchas, Peñasco, and other neighboring mountain villages decided to try a new tack and opened a dialogue with the staff of the Camino Real District of the United States Forest Service in an attempt to find a better way of managing, and restoring the land they all shared. They chose cooperation over confrontation and found a partner in the Forest Service. Together, they called their work "Collaborative Stewardship." In 1998, this innovative partnership earned national recognition when it was awarded the Innovations in Government Award from the Kennedy School of Government at Harvard University.
This conference will share our story, and encourage others to build on our successes and learn from our failures. It is organized around three topics vital to the future of the communities of the region -"WATER/AGRICULTURE (Soil), COMMUNITY FORESTRY (Trees), AND GRAZING (Grass) " - which will be discussed in half-day sessions. The focus of each session will be the innovative practices being used to keep the acequia system viable, keep people in agriculture, and maintain cultural traditions.
These practices also include the formation of regional acequia associations to maintain community control of water; the creation of niche markets for organic and locally produced fruit, vegetables and meat; contract stewardship blocks to produce sustainably harvested firewood and building materials such as vigas, latillas, and fence posts; and grazing allotment restoration, herding, and grassbanks for sustainable cattle management. Most importantly, the conference's experts will be the residents themselves: local farmers and ranchers, woodlot operators, and Forest Service personnel. Each is united by a desire to challenge "business-as-usual" in the way our land is administered by engaging in a collaborative approach to good stewardship.
It is our hope that this conference will lead the way for future collaborative relationships between local communities, federal agencies, nonprofit organizations, environmental groups, and other people who believe that the future lies in shaking hands and pursuing common goals for the common good.
Speakers include:
Lynda Prim, The Farm Connection
Paula Garcia, New Mexico Acequia Association
Brett Olsen, lawyer
Henry Lopez, USFS
Max Córdova, La Montaña de Truchas
Ike De Vargas, La Companía Ocho
Kirt Winchester, USFS
Jan-Willem Jansens, Common Ground
Louis Hena, Picuris Pueblo Environment Department
Abe Franklin, NM Environment Department
George Maestas, Estevan Lopez, Santa Barbara Grazing Association
Steve Miranda, USFS
Virgil Trujillo, Ghost Ranch
Joe Torres, Valle Vidal Grazing Association
Courtney White, Quivira Coalition
Will Barnes, The Conservation Fund
Matt Mitchell, organic beef rancher
For more information call Courtney at 820-2544
ANNOUNCEMENTS
• Embudo Valley Community Supported Agriculture Accepting New Members for 2001. Community Supported Agriculture (CSA) is an alliance between farmers and community members to support local, ecologically sustainable agriculture. The Embudo Valley CSA is a co-operative effort among three Dixon growers. You can become a member of our CSA by purchasing a share of our farm's harvest. In return, you will receive a weekly bag of vegetables for 6 months, from May to November. A full share provides enough vegetables for a week for a family or group household of two adults who eat a lot of vegetables or four people who eat fewer vegetables. A full share costs $15.38 per week. Half shares for individuals or small families are available for only $8.46 a week.When you buy food from a local grower, you help to preserve the things we value most: healthy and productive farmlands, active acequias, a community with a network of social and economic relationships among friends and neighbors, and the important role food plays in sustaining family and community life. If you would like to become a member of our CSA, or request more information, please call Felicity Fonseca in Dixon at 505-579-4085, or write to us at P.O. Box 548, Dixon, NM 87527 or ffonseca@cybermesa.com.
• The Online Civilian Conservation Corps Museum is seeking the stories about the CCCs, CCC Enrollees, Staff, or Technical Advisors for publication to this online historical resource. If you would like to participate please send your stories, with name company number and location if known, to Justin CCC Museum, PO Box 5, Woodbury NJ 08096 or email to JFJmuseum@aol.com.
LETTERS
"Thank You"
From Sandra Sue R. Richardson
Although I didn't win the Peñasco School Board Election held February 6, I would like to thank you for your support and input during my four years of service on the Peñasco School Board.
I hope I was helpful in addressing your concerns and issues regarding the Peñasco School Board system. I feel that the students in our district are well served by the excellent staff who have the expertise and education of our children at heart.
I would like to wish the very best to the Peñasco School Board members, administrative staff, teachers, students, and of course, the good people of the Peñasco Valley communities.
Thank you
La Jicarita Wastewater Study Committee Commits to Developing Master Plan for the Watershed
By Kay Matthews
For more than five years representatives of the domestic water associations in La Jicarita watershed have been meeting to discuss their concerns about contamination of the Rio Pueblo and its tributaries, and to look at possible solutions. After the Pueblo of Picuris adopted Environmental Protection Agency Clean Water Standards in 1995, it joined together with these associations to create La Jicarita Wastewater Study Committee.
Over the course of the next few years the committee began to raise funds for a Wastewater Master Plan, and in 2000 contracted with WaterWorks, a non-profit Santa Fe engineering firm, to act as project manager. The committee to date has raised $95,000 to underwrite the costs of a wastewater assessment study: $45,000 from the 2000 state legislature; $25,000 from McCune Charitable Foundation; and $25,000 from the Healy Foundation.The projected cost of a regional water plan, which would include an assessment of regional needs for the next 20 years by evaluating population growth, a hydrogeological study, surface water assessments, and designs for alternative wastewater systems, is $380,000. The committee has submitted a funding request to the 2001 legislature for the cost of this master plan.
WaterWorks will focus its initial work in the area of the watershed immediately surrounding the Pueblo: Vadito, Peñasco, Rio Lucio, and Chamisal. The company has committed to donating the extra $60,000 it estimates the study will cost, and will be an active partner in helping raise the additional funds necessary to extend the study to the upper watershed, where collaboration with public lands agencies will be essential.
The first priority of the study will be to determine if wastewater is indeed the primary source of pollution in the watershed. According to WaterWorks engineer Sasha Earle, "We are prepared to start from ground zero, but all the information we can gather from other agency studies will be incorporated into our study." Already, information collected by the Picuris Pueblo Environment Department from the upper watershed to the Embudo confluence indicates a decline in water quality. Several wells in the study area have revealed unacceptable levels of nitrates (60 milliliters per liter as opposed to EPA standards of 10 milliliters per liter).
This first phase of the study is estimated to take approximately 18 months. Once the data has been collected and analyzed, the company will provide a Preliminary Engineering Report (PER), which will include an assessment of possible treatment alternatives, focusing on low-tech, passive systems that are cost effective and can be operated and maintained by community people. These include recirculating sand filters, wetlands, pond systems, and mechanical systems. All of these options can be blended into an overall system that best fits the needs of the area. WaterWorks also offers community assisted construction: equipment teams can be brought into communities to help them build the system with sweat equity, which keeps the costs low and trains community people in management operation. The PER will also identify a priority treatment project and costs, so that the committee can go to the state legislature, government agencies, and foundations for grants or low interest loans.
WaterWorks will also be responsible for organizing community meetings for public input and dissemination of information. At the first meeting on February 17, Ronald Rodriguez, chairman of the study committee, emphasized that this effort is a community partnership, one of the first times the Pueblo and local communities have come together to address an issue that affects the entire watershed. "All we have to do is look at how fast our communities are growing to validate the need for this study," Rodriguez said at the meeting.
Newly elected Taos County Commissioner Gabe Romero attended the meeting and told the group, "I commit myself to this board and the work you are doing." Based on his own experience as a board member of the El Valle Water and Sanitation District in Ranchos de Taos, he recommended to the committee that it start the process of officially forming a district or authority so that when the initial wastewater study is completed there will be an entity in place to acquire funds (Picuris Pueblo is currently acting as the fiscal agent for the project).
All the committee and project members who spoke at the community meeting - Ronald Rodriguez, Sasha Earle, Estevan Lopez, and Eagle Rael - emphasized that impending growth is the biggest threat the watershed faces, and that the communities need to get started now to get ahead of the game once water resources are impacted by more infill and development. Earle pointed out that while his non-profit company is a partner in this project that will work with the communities on best management decisions, if the area doesn't address the issue now it could ultimately face federal or state intervention, where the costs and restrictions of remediation would be much higher and the communities would have less input and control.
Editorial: Organic Expo Demonstrates Commitment to Maintaining our Agricultural Lands
By Kay Matthews
A wealth of information, ideas, and food kept all the farmers and ranchers busy and filled up at the recent New Mexico Organic Farming and Gardening Expo at the Glorieta Baptist Conference Center. The annual event, organized by The Farm Connection and the New Mexico Organic Commodities Commission, brought together all kinds of folks who grow organic vegetables and flowers, raise organic turkeys or cows, process herbs into oils, spin wool from churro sheep, and engage in private or public efforts to maintain the agricultural lands that support all of these activities.
While it was hard to choose from the many workshops offered throughout the day - cooperative marketing, organic beef production, farm labor, the New Ranch - I chose to attend one that discussed conservation easements and policy mandates that work to keep land in agricultural production. It was obvious from the discussion, led by Jim McCord of the Rio Grande Agricultural Land Trust and Julie Gallegos of the Rio Grande Headwaters Land Trust, that we must slow down the rate at which agricultural lands are being lost in New Mexico: 1.1 million acres between 1992 and 1997. In the middle Rio Grande area where McCord owns a farm near Socorro, and southern Colorado, where Gallegos ranches, land trusts provide protection for relatively large, or expensive, lands with conservation easements, which maintain extensive corridors of open land and support biodiversity. These easements, administered by the trusts, also provide income tax benefits, estate tax benefits, and allow for a certain amount of flexibility with regard to diverse management of the land, i.e., setting aside a certain percentage for the landowner's family to build houses.
But here in northern New Mexico, where farmland has already been divided up among families over many generations, and where communities are hemmed in on all sides by public lands, land trusts are not as appropriate. What is essential to protect our lands is public policy initiatives that prevent irrigated lands from being developed. This is what the Rio Arriba County's Agricultural Protection and Enhancement Ordinance is designed to do: manage subdivision and residential development by requiring cluster housing, which preserves 70% of the property in undeveloped agriculture. Well and wastewater criteria in the ordinance also protects ground and surface water from contamination.
In the course of the discussion, McCord also raised the issue of water management, specifically last summer's release of San Juan/Chama surface water to maintain silvery minnow habitat south of Socorro: "Invoking the Endangered Species Act is adversely affecting our attempts to save farmlands," McCord said. "It creates contempt for the Act and the environmentalists who use it." McCord also pointed out that many people in the scientific community with whom he works think the release was a wasted effort that didn't protect the minnow and seriously threatened future water supplies. If the ultimate effect of enforcing the ESA is to further marginalize farmers, their lands will quickly be sold off for development, and the open space habitat they preserve will be forever lost.
Unfortunately, some folks in the environmental movement like to argue that the cost of maintaining farm and ranch lands is too high or that subdivisions are not necessarily bad. Anti-grazing advocates argue that ranching can't stop sprawl and that we have to prevent both "condos and cows" with land use restrictions. Given current economic trends across the west this argument is not only naive, it fails to analyze the difference between condos and cows as a class issue.
Dan Flores, a professor of history at the University of Montana, is guilty of this same failure. While he has written previously about inhabited wilderness and the biocentric bias of the environmental community, in a High Country News feature in 1999 he argues that automatically judging Montana "ranchettes" as "bad" buys into the argument that all human touch is insidious and that we all belong in cities. He, like the anti-grazers, fails to see that "ranchettes" versus farms and ranches is another issue of class: only those humans with enough disposable income or fax machines can inhabit the rural west.
Even more disturbing is another essay in High Country News by Hal Rothman, who is best known for his book Devil's Bargain about the dangers of relying on tourism as an economic development strategy. Called "Do we really need the rural West?" he essentially says that rural people are a drain on the country's economy, that we're using up all the water, and that we need to get out of the way of the urbanites who need that water to drink and water their golf courses and need the land to camp, ski, hunt, and ride ATVs. At first I thought, this essay must be tongue in cheek, but the editor of the newspaper, Ed Marston, didn't think so, because he responded to Rothman's question: Yes, we need the rural West to take care of the land in a sustainable fashion so there are healthy watersheds producing that urban water, providing healthy, regionally grown produce and meat, and preventing our forests from burning down and taking whole towns with them.
The folks at the Organic Expo obviously agreed with Marston, and their work is testimony to the dedication and creativity of those who live on the land.
Who's Reading La Jicarita?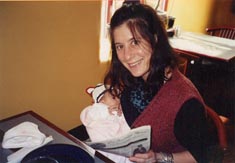 Baby Isabella, born February 12, and her proud mama, Lisa Krooth
Editorial: Land Grant Reparation: The Government Can't Just Buy It's Way Out of this One
By Mark Schiller
Recently one of the state's major newspapers ran an editorial addressing the land grant issue, in which the writer asks what will happen to disputed public lands (Forest Service, Park Service and BLM) if the investigation currently being undertaken by the General Accounting Office reveals that these lands were misappropriated by the federal government. He suggests that instead of returning the land, it would " make more sense to develop a formula for reparations, in greenbacks, rather than risk the privatization and commercialization of New Mexico's woodlands." This, I think, is a short- sighted, one dimensional solution to a long-term, multi-dimensional problem. It ignores the social problems and issues of sustainability the misappropriation of common lands has caused within land grant communities and implies that a one-time financial quick fix can bandage a gaping wound and make it all better. Let's examine the issue a little more closely.
First, I think it's important to understand that in order to maintain the land-based economy upon which land grant communities depend, they must have access to the resources contained in the common lands that were once part of their grants but are now, in many cases, owned by the federal or state government. Grazing rights, wood cutting rights, management of forests and watersheds to benefit community acequias and other extractive uses are essential rights clearly intended within the original Spanish and Mexican grants, but often denied or severely limited by public lands agencies.
Second, the composition of land grant communities has evolved since the initial grants were decreed. Many people who live within land grant communities are not heirs to the grant but are nevertheless dependent upon access to forest resources. I believe it was the intention of the original grants to provide economic, social and environmental sustainability for communities, not just individuals.
Third, as a result of more than 150 years of colonization and exploitation, land grant communities (both Native American and Indo-Hispano) have developed numerous social problems including high unemployment and high school dropout rates, alcoholism and drug abuse, domestic violence, etc. Any plan for reparation must also address these issues.
Of course the righteous thing to do would be return the land to the communities as common lands to be managed for their benefit by community councils. But assuming that the writer of the editorial is correct in asserting that "our senators and representatives would think twice before [privatizing] land that's been under Forest Service, Park Service, or BLM control for most of the past century", I'd like to suggest a possible course of action that would address these issues and still maintain public access to the disputed lands.
1) The federal and state agencies which currently manage these lands should enter into binding co-management agreements with land grant communities which would establish boards of directors to determine future management of these areas. These boards should be mandated to determine a policy which would provide for the sustainability of the forests, watersheds, and forest adjacent communities. The directors would represent both the communities and the current management agencies, but would be weighted towards the communities so that they have the final say in management disputes. These areas could then remain open to the public for recreation, but fees for recreational use would directly benefit the communities and conflicts between extractive and recreational uses would be resolved by the board of directors. These boards should also have the power to privatize small parcels of land immediately adjacent to the communities which could be used by community members to build residences so that lands which are currently under irrigation are not used for that purpose (see editorial page 4).
2) A special task force composed of professionals and community members should establish a plan to provide free upgraded social services which address the social and economic problems created by this injustice. Moreover, vocational rehabilitation should include training for all the managerial, technical, and support staff needed to manage former grant lands.
3) An equitable financial settlement, including punitive damages, should be made to all land grant heirs, and other financial services such as low interest loans and mortgages should be provided.
While this plan does not address all of the issues involved in resolving a problem which has festered for more than 150 years, I hope it provides a starting place that attempts to speak to the wide range of issues entailed. Simply throwing money at it may salve the conscience of the government and the American public, but it won't make the problem go away.
Mechanical Thinning Versus Fire: Which is Better for Forest Health?
By Max Córdova Jr., Montaña de Truchas Youth Team
I am doing this experiment as my school science project because I want to find out which is better for forest restoration, mechanical thinning or fire. I hope to achieve a better solution for restoring public forests. Mechanical thinning is where people go into a forest using chainsaws and other mechanical equipment. My theory is that mechanical thinning is better for restoring forest health in the long term although during the first year there is very little vegetation growth. I think fire is not as good a solution for long term effectiveness, although during years two to four after the burn there is increased wildlife in the areas.
Healthy forests contribute to clean air and water by trapping fast moving air and water, enabling impurities to settle out or be converted to harmless compounds by plants and soil. When an area of trees gets too populated, the new growth's roots get strangled by the bigger trees. Then the trees fall down, but it takes a long time for them to decompose because there is little sunlight that gets past the branches of the big trees. If forests were not thinned there would be too many trees and not enough water for all those trees or the people who are dependent upon water from the forest. Trees suck up a minimum of 12 gallons of water per day. Where there are fewer trees there is better habitat for animals because there is more diverse vegetation, there is better erosion control, and photosynthesis can work properly.
Forests also contribute to the economic stability of a community, especially if that community is forest dependent. There are many job opportunities and value-added products that come out of the forest such as wood for art, vigas for building homes, wildlife for food, herbs for medicine, and grass for livestock.
Fire is introduced by natural causes such as lightning and/or by agencies such as the Forest Service and BLM, as a "controlled' burn", but it can be a very long time before the agencies introduce fire because they have to wait for the right "window" (a time when there is no wind, etc.). Sometimes fires get out of control or are started by lightning or careless people. Sometimes when people use mechanical thinning the forest is abused by clear cutting. In the United States and in Canada, forests are threatened by clear cutting, which destroys plant and animal habitat and leaves the landscape bare and unproductive if not properly reforested.
To test my theory I visited areas that were recently burned by either prescription or wildfire, and areas that were thinned with mechanical tools. I photo-graphed and videotaped these different areas, collected ground samples and data, and then compared ground samples and photographs. I observed that in an area where a fire had gone through the first thing that grew back was scrub oak. For the first one to three years there was a lot of wildlife because scrub oak is very salty and most animals like salt. There were also grasses and vegetation in the first four years. The fire made the ground very loose and susceptible to erosion. The scrub oak then got so thick that animals could not get into the little amount of food that grew and soon left because they needed a more varied diet.
The first year trees in the mechanically thinned area appeared more vigorous and healthy. The thinned forest allowed for better control of fires. These thinned areas did not attract much wildlife the first year, but after that there was increased wildlife and much more vegetation. The ground was more stable than the ground where it had been burned.
My conclusion is that my theory was not entirely right or wrong. It seems that mechanical thinning is necessary in restoring long-term forest health if it is not abused. A small controlled burn can help if it is managed carefully to avoid erosion.
Ricos mas Ricos y Pobres mas Pobres . . .
Editor's Note: We found this article tucked away on the business page of one of the New Mexico dailies.
"More than half of American families live from paycheck to paycheck and many have seen their assets erode despite a decade of economic expansion, the Consumer Federation of American said Tuesday.
The consumer group released an analysis of Federal Reserve data showing that the 'typical' U.S. household has net financial assets, including retirement savings, of less than $10,000 and that many families lost wealth in the late 1990s as consumer debt increased.
The median for all U.S. households was $9,850 in net financial assets, or assets minus debts, in 1998, the most recent year covered by the Fed data. Financial assets include savings and investments but exclude a primary home and vehicles. Among the low and moderate-income households, the median was less than $1,000.
In a new survey of consumers, commissioned by the Consumer Federation, 53 percent of respondents said they live from paycheck to paycheck, sometimes, most of the time, or always. The percentage rose to 64 percent for households with moderate incomes of $20,000 to $50,000 a year and to 79 percent for those with low incomes of less than $20,000.
Sixty percent of those surveyed said the phrase 'I don't think I'm saving enough for the future' describes them somewhat or very well. The survey, conducted by Princeton Survey Research Associates . . . polled a national sample of 1,637 people who make the financial decisions in their households. The margin of error was plus or minus 3 percent."
Legislative Update: Water Issues
Mid-way through this 2001 legislative session, the New Mexico Acequia Association (NMAA) and other acequia advocates have been successful in getting several important memorials and bills approved or on their way towards approval:
• The Otowi Gage Memorial, introduced by Rep. Debbie Rodella and Senator Carlos Cisneros, passed both houses of the legislature. It is an endorsement of the ongoing policy of the State Engineer to prohibit water transfers across Otowi Gage, located near Pojoaque. The policy serves as a protection for northern New Mexico water rights from demands south of the gage.
• The Notice of Water Transfer Applications Bill, introduced by Rep. Ben Lujan and Senator Carlos Cisneros, passed both houses of the legislature. This bill requires that applicants seeking to transfer water rights must provide written notice to water managing political subdivisions (including acequia commissioners) in the "move from" and "move to" locations of the proposed transfer. As it stands now, notice need only be published in a newspaper of general circulation in the steam system of the move from area.
• The Forfeiture Exemption Bill, sponsored by Rep. Debbie Rodella and Senator Phil Griego, was passed by the House Agriculture and Water Resources Committee without recommendation. This bill amends the state statute to protect acequia-owned water rights from forfeiture, making acequia powers more consistent with those of irrigation districts.
For more information and current updates, check the NMAA website: www.nmacequias.org
Folks at the New Mexico Organic Farming & Gardening Expo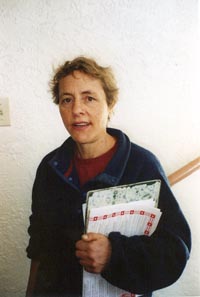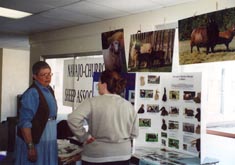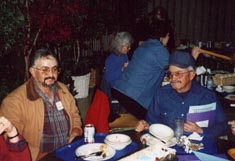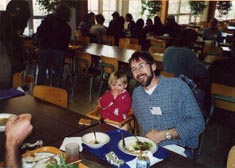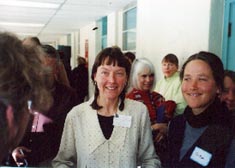 Top to bottom: Sarah Grant, The Farm Connection; The Navajo Churro Sheep Association; Andie Sanchez and George Maestas, Santa Barbara Grazing Association; Joren Viers and daughter Wren, Director, Organic Commodity Commission; Lynda Prim, The Farm Connection