Embudo Valley Community Supported Agriculture Begins Its 3rd Year of Providing Fresh Produce to Valley Residents
Embudo Valley Community Supported Agriculture (CSA) partners Felicity Fonseca and Rachel McCarthy are already harvesting lettuce, spinach, arrugala, and mustard greens from their Dixon greenhouse for sale to Taos and Santa Fe restaurants. By the second week of May, however, they will be supplying shareholders with produce for 26 weeks through the fall growing season. This year they hope to increase participation in the CSA to 50 shareholders: full share memberships cost $400 and half share memberships are $240. They also offer a work share (50% reduction) for those members who want to work three to four hours a week during the distribution season.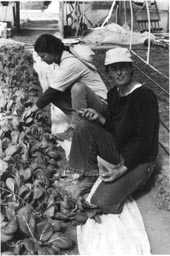 Felicity Fonseca (foreground) and Rachel McCarthy harvesting greens in the CSA greenhouse
To help meet this larger supply and to cut down on heating expenses they have invested in a passive solar heating system for their greenhouse. The system runs heated water through pipes embedded in the soil that radiantly heat the plants and greenhouse. They hope it will allow them to extend their growing season both in the spring and into the winter.
The lands the partners use for the greenhouse and to grow their field crops are rented from local land-owners and watered from both a well and the acequia via a pump and drip irrigation system (both Felicity and Rachel had been cleaning the ditch with their fellow parciantes the day we visited them). In response to feedback from shareholders, this year they plan on reducing the amount of cooking greens and adding several new vegetables, including broccoli, parsnips, and rutabagas. They also plan to significantly increase their output of sweet peppers and potatoes. New varieties of heirloom tomatoes, winter squash, eggplant, cabbage, and onions will be introduced and they are setting aside a separate seed saver plot.
Felicity Fonseca has been the mainstay of the CSA for the past three years and is also a board member of the Santa Fe Farmers' Market (and its new secretary). She learned her gardening skills as an apprentice and has subsequently become a master gardener. She also keeps the books for the CSA and is looking into small business development opportunities as the organization matures.
Her partner this year, Rachel McCarthy, is from Virginia and learned about the Embudo Valley CSA on the La Jicarita News website. She's farmed in Maine and Albuquerque's South Valley, but found her niche in Dixon as an apprentice with the CSA last summer.
They both emphasize the importance of Community Supported Agriculture as "a way for farmers and community members to work together to create an alternative to our industrial food production system by supporting ecologically sustainable local agriculture." While the Embudo Valley CSA is not organically certified (they are considering applying for certification), Felicity and Rachel use the same ecologically sound practices employed in organic gardening.
If you are interested in becoming a member (they encourage membership from the Peñasco area as well as Dixon, Embudo, and Taos) or would like more information, call Felicity at 505 579-4085, or e-mail her at ffonseca@cybermesa.com.
ANNOUNCEMENTS
• A conference on the Community & Economic Development Opportunities in Small Tree Utilization will be held at the Albuquerque Convention Center on April 11-13. The conference is sponsored by the USDA Forest Service, State and Private Forestry-Cooperative Forestry, the Southwestern Society of American Foresters, Four Corners Sustainable Forest Partnership, and others. The purpose of the conference is to provide information regarding community and economic development opportunities in small tree utilization. The agenda covers all aspects of small-diameter utilization: What It Is and Where It Is; Characteristics and Volume of Wood from Residential-Wildland Interface; Structural Lumber from Small-Diameter Logs; and Options for Using Logs in the Round. There will be programs on revolving loan funds, Forest Service and other government assistance grants, and small business marketing. Panels will address Stewardship Contracts (Henry Lopez from the Camino Real will lead a panel on stewardship blocks); Primary Processing; Existing End Users of Small-Diameter Timber; Harvesting Equipment, Economics, and Impacts; and Secondary Processing. Biomass Energy Generation will also be discussed. Optional field trips include the Jemez Pueblo Forestry and Santa Ana Bosque Restoration Project; Wood Product Businesses in the Albuquerque Area; the Manzano Mountain Area; and Rio Grande Bosque Restoration Projects. Scholarships are available through SmallWood 2002. To receive a scholarship application or register for the conference, write to: Forest Products Society, 2801 Marshall Court, Madison, WI 53705-2295, phone 608 231-1361, or e-mail conferences@forestprod.org
• The National Hispanic Environmental Council (NHEC) is accepting applications from college students (in a wide variety of disciplines related to the environment, natural resources, agriculture, and energy) interested in receiving a "Travel Scholarship" to the upcoming 7th Annual "National Hispanic Sustainable Energy & Environmental Conference", to be held April 20-23, 2002, in Tucson, AZ. The Conference features 25+ workshops, a major Career Fair, site visits to environmental facilities, and the opportunity to network with hundreds of fellow minority environmental students and professionals from around the country. To apply for the travel scholarship, students must mail us a current resume, with GPA, plus a one page letter that explains their career goals and how they intend to use what they learn in the future. The scholarship is open to both graduate and undergraduate college students in majors related to the environment. The travel scholarship will cover nearly all costs for a student, including round-trip airfare, 3-4 nights hotel, most meals, registration, materials, and some incidentals. There is no fee to apply, and only a $25 registration fee if selected. If you are interested in applying, go to the NHEC web page at:
www.nheec.org for more details.
ZERI Institute's Gunter Pauli Visits Northern New Mexico
Gunter Pauli, founder of ZERI, Zero Emissions Research Initiatives, came to Peñasco High School in February, for the second time in a year, to talk with science and history classes about "Thinking Outside the Box." ZERI, an international non-profit organization, offers solutions to poverty and environmental degradation by building sustainable systems that address social and economic concerns as one. Specifically, ZERI develops economic systems that utilize biomass materials and waste from agriculture and forestry for new, higher-value products.
ZERI also develops school curriculum for kindergarten through high school in environmental education. For the younger children the curriculum focuses on using fairy tales to develop emotional intelligence and familiarity with the processes of natural science. These progress to more complex sciences and hands-on projects in high school, building natural systems that are socially, culturally, and environmentally sound and economically viable.
While in New Mexico, Pauli also visited with farmers and foresters to look at economic opportunities: with farmers and ranchers in Embudo and Picuris he discussed projects involving soil regeneration utilizing waste for growing food mushrooms and worms; with Nambe tribal members he discussed treatment of wastewater and solid waste recycling for development of an eco-industrial park at the Pueblo; and with community foresters he discussed uses of small diameter timber broken down into its essential elements for food products, sugar, medicines, vitamins, glues, paper, and wallboard products.
During Pauli's talk at Peñasco, student Símon Vásquez performed the following rap song which he had written after Pauli's previous visit to the school.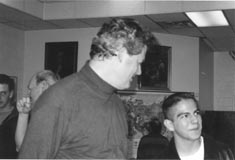 Pauli with Peñasco student Símon Vásquez
In this polluted world with perfect ness coming in no hurry,
A hope for zero emissions relies on Z.E.R.I.,
But here's a true story,
Nothing real scary,
The basis of biology,
Needed in a hurry,
Stop killing animals to leave as a waste,
Save a horse and use a tree for paste,
Got too much trash and don't know what to do?
Let Z.E.R.I. find a couple mushrooms for you,
For one kingdom's waste is another's treasure,
To a bird it's his waste,
But to a tree it's pure pleasure,
Benefits of Z.E.R.I. reach beyond money's measure,
By cleaning our earth, with new research,
And bringing our people together,
For if united we stand
It will be a sure fire plan,
Cleaning up our human act, as well as the land,
Founded and researched by Gunter,
Efficiency, Zero emissions hunter,
His game is community sustainability,
Doubted in the past, now a future reality,
Needed to be brought forth by the people themselves,
Like me from the North with my cultural wealth,
Frijoles y Maiz en una casa de adobe,
Aprendiendo mas y levantando a mi gente,
porque es como dice mi jefe . . . una mano lava la
otra y las dos lavan la cara!
La Jicarita will report on individual ZERI projects in New Mexico in upcoming issues.
For more information regarding Pauli and the work of ZERI, contact Lynda Taylor at 986-1454.
Honoring Our Elders
The Picuris-Peñasco Community Coalition, in partnership with the Peñasco Independent Schools, sponsors the annual Honoring Our Elders, A Celebration of Life community event. This year's celebration is Saturday, April 6th, 1:00 pm in the Peñasco Elementary School Commons. Everyone is invited to attend. Attendees are asked to bring either a dessert or an appetizer to share following the main program.
Gov. Clarence Chile, Picuris Pueblo, and Andy Torres, Peñasco District Superintendent of Schools, will open the program, Larry Torres will emcee, and the notable Cipriano Vigil, known as "the living embodiment of nuevomexico music and ritual", the Peñasco High School Stage Band, and the Peñasco Girls Drill Team will entertain.
Students from Jan Badash's 2nd grade class, Rose Caminiti's 3rd grade class, Suzanna Lopez' 4th grade class, and Rosemary Fernandez' 4th grade class have been hard at work painting clay flower pots and planting them with colorful pansies to brighten the celebration. Members of local Jr. Girl Scout Troop #531 have polished their hostessing skills to greet guests at the door.
This year's elder honorees are:
Cande Aguilar El Valle
Eduvigen Chacón Rodarte
Alfredo Córdova Truchas
Délfido López Las Trampas
Gertrudes Lovato Peñasco
Ricardo Lujan Vadito
José M. Martínez Chamisal
Refugio Martínez Ojo Sarco
Leonides Pacheco Río Lucío
Margarita Trujillo Llano
Ernesto Vasquez Placita
Rafaelita Yazza Picuris
Ed Yost Tres Ritos
Honoring Our Elders is truly an intergenerational project that consists of two parts: the Celebration on April 6th and the Student Video Project. A team of students from the Peñasco Jr. and Sr. High School participate by creating the Honoring Our Elders: A Celebration of Life video. This year's video is entitled "Every Story Has A Heartbeat."
Students meet weekly to receive training in the use of the equipment necessary to create the movie, as well as interview skills and techniques. They then go into the elders' homes as a crew to conduct the interview. The following crew jobs are assigned on a revolving basis - interviewer, video camera operator, audio cassette recorder, translator, note taker, sound control, 35mm camera photographer, and digital still photographer. The remaining part of the project includes logging each hour-long interview tape, language translation where needed, and editing towards the production of one hour-long documentary.
The 2002 Video Team members are:
NAME COMMUNITY GRADE
AnnaRose Garcia 8 Río Lucío
Carlos Pacheco 12 Peñasco
Gwendolyn Aguilar 12 Las Trampas
Ivy Malisow 10 Vallecitos
Jacob Romero 11 Rodarte
Krista Leyva 8 Lower Ojito
Louise Pocock 11 Llano de San Juan
Norman Fernandez 8 Río Lucío
Roberta Martínez 10 Chamisal
Sandee Vigil 10 Peñasco
Santiago Garcia 12 Chamisal
Theresa Kellywood 11 Picuris
"Every Story Has A Heartbeat" will premier this summer at the El Puente Theatre and Cultural Center in Peñasco - a community uniting to learn and to celebrate!
Edge Habitat: Where Tradition Meets Innovation
By Mark Schiller and Kay Matthews
Mary Steigerwald and Rico Meleski define Edge Habitat, the name they give their 55-acre forest inholding, as the diverse meeting place of several habitats: sub-alpine meadow, ponderosa pine, and mixed conifer. "Edge" also embodies the philosophy they bring to their lives, which melds traditional values with innovative, cutting edge solar technology.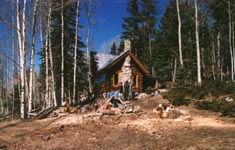 Mary, Rico, and Aspen in front of their hand-crafted cabin
Mary, Rico, and their 13-year old daughter Aspen moved to Edge Habitat, in the upper reaches of Las Trampas Canyon, in 1995 to establish a traditional, land-based lifestyle without modern-day amenities: they use candles for light; a hand-pump for water; and horses, llamas, and skis for transportation (they are snowed in during the winter). But an act of nature in 1997 caused them to explore innovative solar technology that opened up new opportunities to make a living at their isolated homestead. A severe windstorm blew through the canyon in April, felling hundreds of large diameter trees across their land, blocking their access to El Valle and Truchas."We were walking around stunned by disbelief at the devastation," Mary said. But within a few months inspiration replaced despair, and with the help of several local friends they set up a small gas powered sawmill to start milling the fallen trees into beams and sawtimber.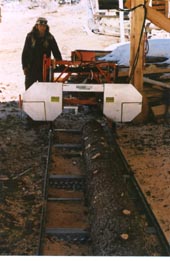 Rico sawing a log with the solar-powered band saw
Bothered by their dependence on gas-fueled power and the disturbance it caused in their quiet life (they jokingly referred to the noise as "Josephine is singing"), they began exploring the possibility of powering their operation with solar panels. One of their partners had experience in solar design, and together they assembled a 36-volt direct current system that powers the band saw. At the same time, they invested in photo- voltaic panels and an inverter to power 115-volt alternating current chainsaws. "At first we couldn't believe that electric chainsaws could handle the big trees. As long time gas-powered chainsaw users, we were embarrassed and didn't want anyone to see us using electric saws," said Rico. But once they tested them, they found that they were just as powerful as their gas saws and much quieter.
In order to make their chainsaws mobile, they put the solar panels, inverter, and batteries on a handmade cart that their Norwegian Fjord horse, Ingot, can pull anywhere on their property. With 100 foot extension cords, Rico and his partners found that they could access even the most remote, steeply sloped areas.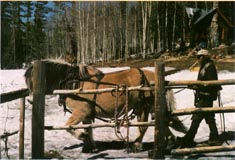 Rico and Ingot
Mary pointed out that with an initial investment of approximately $4,000 for the electric saws and mobile solar power system, rural homeowners can cut the materials necessary to build a house and then power it. Their daughter Aspen, who has been home schooled and is now an aspiring writer, powers her electric typewriter with a small photovoltaic system. Rico particularly likes the fact that the system is environmentally benign, causing very little soil compaction, pollution, and noise. He feels that community foresters could use similar systems on small, steeply sloped restoration projects, particularly in the upper reaches of watersheds.
After four years, they have almost cleared the land of fallen trees and will probably phase out their sawmill business. They will continue to do restoration work on their inholding, but will rely on Mary's felting business and their skills as wilderness outfitters and educators. After they moved to northern New Mexico in the late 1980s and acquired llamas, Mary learned to felt their excess fur into clothing and other utilitarian items like chair cushions and rugs, which she made for family and friends. Through word of mouth she began selling these items to other community members and began to experiment with felting sheep's wool, which she dyes with natural plants and fibers. She found it was stronger, easier to work with, and more durable. She also began to craft animal and human figures from felt, and found an immediate market in a cataloger in the midwest. Her first order was for 200 raccoons: each animal took about an hour and a half to make. She supplied the catalog with raccoons, rabbits, sheep, bears, and eventually human figures such as cowboys, gnomes, and St. Francis (her biggest seller) for four years, before the catalog's demand for larger volumes became prohibitive. She now markets her figures in a local arts and crafts cooperative and has been able to refine her technique with the use of a felting needle: "You never know what talent you may have that you can turn into a living."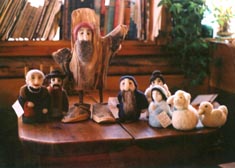 Some of Mary's felted figures with a carved figure of Rico's
Mary, Rico, and Aspen also keep busy with various other projects, both utilitarian and discretionary. They use Ingot to plow a garden of garlic, potatoes, and other root crops (at 9,500 feet their growing season is short and their crop diversity limited). Ingot is as much a pet as a work animal: Rico loves training him and took the editors of La Jicarita on a sleigh ride this winter. "I always wanted to say 'Gee' and 'Haw', for left and right," Rico told us as he guided Ingot through a maze of trees. The interest shown by friends and acquaintances who have visited Edge Habitat over the years has led Mary and Rico to consider sponsoring sustainable, land-based education seminars and wilderness outfitting excursions. With their combined talents - Rico is a backcountry ski and backpacking expert and Mary is an excellent vegetarian cook - they can offer a complete wilderness experience. They encourage visitors, and if you would like to contact them their address is: P.O. Box 16, Ojo Sarco, 87521.

Aspen and the family horse, Amy Goodman
National Fire Plan Funding: Where's the Accountability?
By Kay Matthews
The recent report by the General Accounting Office (GAO) questioning the effectiveness and accountability of all the federal funds appropriated to reduce fire risk across the country comes as no surprise to community foresters in New Mexico. Those individuals and organizations who applied for the economic action program grants and community restoration grants last year can testify to the lack of coordination and communication between agencies and communities and the technical difficulty of the proposals. At a March 22 meeting of the Community Forestry Alliance, a state-wide coalition of foresters working to provide economic, environmental, and social benefits to their communities through forest restoration projects, foresters talked specifically about the fact that much of the forest land targeted for restoration under the National Fire Plan is not NEPA ready: "Money came from the top down and caught the people on the ground off guard," said William Gonzales, a paralegal at Community and Indian Legal Services who is working for the Alliance under contract. Only five to ten thousand acres of the many thousands of acres targeted for restoration on the Carson and Santa Fe forests are ready for contract.
Another impediment to the restoration process in New Mexico has been the way Forest Service contracts have been designed over the past several years: either they were too large for the capacity of local foresters, too small to generate adequate income, or too scattered to sustain a locally based operator. In the Las Vegas area, for example, when larger sales were broken up into 300-500 acre contracts the Forest Service was able to find bidders. The Alliance has been advocating these smaller sales and working to make sure that local operators are better informed about what is available for contract in their communities.
Several of the foresters who attended the Alliance meeting expressed their fears that because many of the them lack the capacity to bid on larger sales, once larger tracts of forest become NEPA ready the Forest Service will turn to outside companies to complete the work. It's already happening in southern New Mexico, where an out-of-state company has been awarded restoration projects on the Lincoln National Forest. They all agreed that National Fire Plan funding over the next four years needs to be better coordinated to build the capacity and infrastructure necessary to ensure that local operators get these contracts. Within the agencies, there needs to be better communication between contracting officers and grant administrators to ensure that restoration projects are developed in the areas where local operators are ready to contract. Foresters need to build partnerships with each other and with the federal agencies so that there is cooperation, rather than competition for grant monies. Equipment, labor, and insurance costs can be shared among the foresters. As one logger bluntly stated, "We're suffering terrorism here among our neighbors when we fight among ourselves for contracts."
One of the main complaints in the GAO report was that more than half of the highest-risk communities listed nation wide for priority funding were in the southeastern United States and not prone to severe wildland fires. Gonzales showed the Alliance members a map of where the 2001 grants were dispersed in New Mexico; areas that had previously suffered large fires in New Mexico received the majority of the grants while many other areas in both New Mexico and Arizona were barely represented. Foresters discussed the need to know whether funding for this year will be directed towards those areas that were underfunded and whether previously funded groups should again apply for funds to continue building the infrastructure they need in their communities.
Last year the Alliance submitted a grant proposal to the Regional Forester for funding to set up demonstration projects in high priority wildland/urban interface areas such as the Gallinas Watershed near Las Vegas. The grant would provide on-the-ground training for restoration crews, technical assistance, community business development, marketing and educational opportunities, and a monitoring plan. The proposal was not funded, due to lack of discretionary funding within the regional office after September 11. The Alliance will continue to try to raise funds to support these efforts that can benefit all its member groups and individuals.
For more information regarding membership in the Community Forestry Alliance or information about grant monies available for this year you can contact William Gonzales at: 1-888-403-4480.
La Jicarita Wastewater Treatment Project Update
Members of La Jicarita Valley Wastewater Committee are asking area residents to call members of the state legislature to urge them to reconvene in a special session so that monies can be made available to complete the wastewater master plan for the Rio Pueblo watershed. During the last legislative session the Committee requested a $320,000 grant from the New Mexico Finance Authority for the master plan. While the grant was included in a bill that died during the session, $15 million for water and wastewater projects was approved in the capital outlay bill that Governor Gary Johnson signed after the session was over. However, legislators must reconvene to name the approved projects so that the Finance Authority can distribute the monies among them. According to Sasha Earle, engineer for Border WaterWorks, the non-profit organization compiling the wastewater plan, La Jicarita Valley Wastewater Committee stands a good chance of acquiring its appropriation, as the Finance Authority will likely fund less costly projects such as this one.
The $320,000 will be used to complete the watershed analysis by the State Bureau of Geology (hydrological and pollution surveys) and complete an aerial survey. This survey of the area north along SH 518 from Holman Hill to Picuris Pueblo has already been initiated with funding acquired by the Pueblo. An additional $86,000 from the $320,000 appropriation would be used to survey the Chamisal/Peñasco area.
While the Committee has been lobbying for this additional funding, Border WaterWorks has drafted a door to door survey that will be used to collect information regarding individual wells and septic systems as well as any health problems that may be associated with contaminated water. The State Bureau of Geology will need this information to complete its analysis and the Pueblo would like to gather the health information to include in future grant applications. The Committee requested that the Pueblo formulate a memorandum of understanding that would address privacy issues regarding any personal information in the survey. While the Bureau of Geology has offered to provide the GPS (Global Positioning System) equipment necessary for the survey, the Committee hasn't been able to find enough volunteers who have the time to go door to door. Therefore, Earle wrote an Environmental Justice grant (through the Environmental Protection Agency) to hire Peñasco high school students to conduct the survey. The Committee won't know until September if the grant will be awarded, so Border WaterWorks may front the money to fund the project this summer, when the students will be available to work.
Earle wrote a second Environmental Justice grant, under the auspices of the Pueblo, to hire a lawyer to deal with jurisdiction issues in the watershed that will inevitably arise due to the Pueblo's checkerboard of lands: what authority state agencies have within the Pueblo; what enforcement authority the Pueblo maintains on its checkerboard, etc.
The Committee is also posting petitions in the post offices and other public buildings for residents to sign supporting the legislative appropriation. Listed below are the names and numbers of legislators who can be contacted. If you have any questions, please call Ron Rodriguez at 587-0188 or Sasha Earle at 988-4206.
Your Senator: Sen. Carlos Cisneros 986-4861
Your Representative: Rep. Nick Salazar 986-4433
Senate Leadership:
Sen Leonard Lee Rawson, Minority Whip 986-4703
Sen. Mary Jane Garcia, Majority Whip 986-4726
Sen. Richard Romero, President Pro-Tem 986-4733
Sen. Stuart Ingle, Minority Floor Leader 986-4702
Sen. Timothy Z. Jennings, Maj. Floor Leader 986-4863
House Leadership:
Rep. Ben Lujan, Speaker of the House 986-4782
Rep. Danice Picraux, Maj. Floor Leader 986-4777
Rep. Earlene Roberts, Minority Whip 986-4758
Rep. James Taylor, Majority Whip 986-4774
Rep. Tedd Hobbs, Minority Floor Leader 986-4757