Picuris Pueblo and Friends Back at the Mica Mine, One Year Later
Gerald Nailor, Picuris Governor, center, talks with Oglebay Norton representatives, right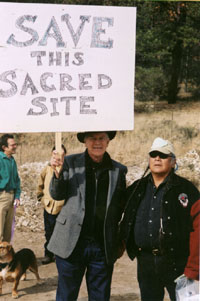 Malcolm Ebright and Richard Mermejo, Picuris War Chief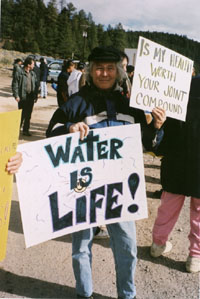 Esta Gutierrez Of Vecinos del Rio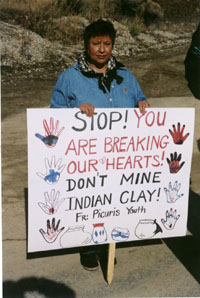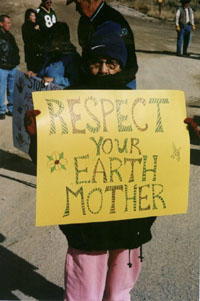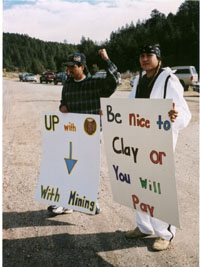 Picuris Tribal members of all ages come to show their support
Editorial: Picuris Pueblo - No Compromise in Defense of Mother Earth
By Mark Schiller
On November 14 Picuris Pueblo, in an effort to publicize its concerns about the mica mining and milling operations of Ogelbay Norton, led its second public protest (see La Jicarita December 2001 for details about the first protest) at the mine site on U.S. Hill and at the mill site in Velarde. Working in conjunction with Vecinos Del Rio, a community action organization from the Velarde area, The New Mexico Environmental Law Center, Amigos Bravos, and concerned individuals throughout the Rio Pueblo/Rio Embudo/Rio Grande watershed, the Pueblo is demanding that Oglebay Norton cease the mining and milling operations that have destroyed the Pueblo's ancestral clay pits and degraded air and water quality throughout the area.
During the protest several officials from Oglebay Norton approached Pueblo Governor Gerald Nailor to acknowledge that the mine and milling sites "haven't been managed well." They attempted to assure the Governor that those responsible had been fired and that the company is "going to do whatever it takes to bring this facility into compliance." This last statement refers to a Notice Of Violation recently issued by the New Mexico Energy, Minerals and Natural Resources Department which cited Oglebay Norton for:
1) Failure to obtain an approved permit modification or revision to allow use of Holder #9 waste unit for deposition of sand tailings.
2) Failure to minimize negative impacts to the hydrologic balance in both the permit and potentially affected areas.
3) Failure to construct and maintain stockpiles to minimize mass movement. This failure caused disturbance on a previously undisturbed area outside the approved design limits of the mine.
4) Failure to reclaim disturbed lands in a manner that controls erosion.
The Governor, however, told the group of protesters that the Pueblo is not interested in negotiating with Ogelbay Norton and intends to proceed with its efforts to have the mine shut down and the land reclaimed. He went on to say that the mining and milling operation threaten "not only our resources but our lifestyle, which is based on hundreds of years of culture and tradition." War Chief Richard Mermejo amplified on the Governor's comments, saying the mining and milling operations "are destroying Mother Earth just to increase the jingle in a few greedy peoples' pockets. As warriors and the sons and daughters of Mother Earth, we will not allow this to happen." Donna House, President of Vecinos del Rio, then told the protesters that Oglebay Norton is "poisoning our air and our water." She explained that people living adjacent to the mill site are concerned about breathing the dust from the milling operation, which also covers their homes, their cars, their acequias, and their crops.
This continuing demonstration of community solidarity and empowerment is enormously important, and I'd like to use it to make a couple of points. First, we all owe an enormous debt of gratitude to Picuris Pueblo for having the courage and perseverance to take on the "big issues" such as the mica mine. This is not the first time Picuris has led the fight to check inappropriate development in the Jicarita watershed. The Pueblo led the successful fight to stop mining in the Copper Hill area. They also led the fight to prevent ski area development that could adversely affect the environment and the rural/agricultural life of our traditional communities. They have implemented water quality standards to protect our most precious resource and are currently developing strategies to mitigate pollution from septic tanks in the Rio Pueblo alluvium. Working in conjunction with the New Mexico Environmental Law Center, which has helped the Pueblo voice its concerns in the courts and before regulatory agencies, Picuris has demonstrated that they are, indeed, formidable warriors who will not compromise their land-based values. While both demonstrations against the mining on U.S. Hill have been well attended and effective, it is high time that more community members demonstrate their support of the Pueblo by turning out in hundreds rather than dozens. You can also help by making a tax deductible contribution to the New Mexico Environmental Law Center, 1405 Luisa St. # 5, Santa Fe, N.M. 87505.
Second, many outside interests besides Oglebay Norton stand ready to continue the exploitation of our remaining forest, mineral, water, and cultural resources. Recreational development, tourism, real estate development, thirsty municipalities, and industry all threaten the rural/agricultural base of northern New Mexico. If we do not organize and speak with one loud, politically powerful voice, these remaining resources will be misappropriated just as the land grants were. This means looking beyond the issue of race which continues to divide us. This means looking beyond the petty internecine battles that plague all of our communities. Politicians, as we all know, are primarily concerned with one issue: getting reelected. Over the past few years several so called "community based" organizations have tried to lobby the state legislature and the congressional delegation on resource issues without doing the kind of community outreach that demonstrates they have the unified support and power to influence elections. They've been ineffective. If we have any real hope of influencing the political process regarding the management of natural resoures to benefit rural communities, we must first take on the arduous task of educating and organizing at a grassroots level. Let's not continue putting the cart before the horse.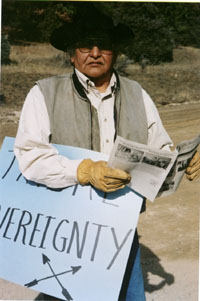 Carl Tsosie reading La Jicarita News at the demonstration
ANNOUNCEMENTS
The second annual Quivira Coalition conference, Ranching at the Crossroads: Forging a West that Works, will be held January 16-18, 2003 in Albuquerque. Speakers including Bill McDonald of the Malpai Borderlands Group, Lani Lamming of Ewe4ic, Craig Allen of the USGS, Kris Havstad of the Jornada Experimental Range, and Gary Paul Nabhan of Northern Arizona University will address topics of land restoration, ranchland ecosystems, community and cultural collaboration, and self sufficient ranching. Special events include: opening evening guest speaker Paul Starrs, Professor of Geography at the University of Nevada, Reno and author of Let the Cowboy Ride: Cattle Ranching in the American West; a book signing and autograph session with Daniel Kemmis, Gary Paul Nabhan, Rick Knight, Nathan Sayre, Jo Robinson, and Guy McPherson; a talk by rancher Sid Goodloe called "Reality Ranching - Trail Drives to the New Millennium"; and a Saturday evening banquet with speaker Jo Robinson, New York Times bestselling author of Why Grassfed is Best! The conference will be held at the Albuquerque Hilton at 1901 University Blvd. NE. The fee is $50 for Quivira Coalition Members and $65 for non-members, with a special student rate of $30. Registration forms and fees are due on or by January 2, 2003. Contact the Quivira Coalition at 505 820-2544 or by e-mail at projects@quiviracoalition. org to sign up.
• The Taos Soil & Water Conservation District announced that current board members Maureen Johnson and Edward Grant were reelected to new board of supervisor terms in the November 26 voting. Officers for the new board will be elected at the annual meeting and potluck on Friday, December 6, 2002 from 6 to 8 pm at the Juan I. Gonzales Agricultural Building, 202 Chamisa Road. The meeting is an opportunity for local land owners to learn about conservation issues, district programs, and upcoming events. If you would like to attend, RSVP the district office at 505-751-0584.
• Don't forget the upcoming New Mexico Organic Farming and Gardening Expo 2003 on February 7 and 8 in Glorieta, New Mexico. Sponsored by the New Mexico Organic Commodities Commission and The Farm Connection, this year's expo will feature Wes Jackson, founder of The Land Institute and author of New Roots for Agriculture and Meeting the Expectations of the Land (edited with Wendell Berry and Bruce Coleman), and Deborah Madison, noted chef, author, and slow-food advocate. The expo also offers educational workshops, a large vendor hall, and delicious organic food. For more information call: 505 266-9849 or e-mail joan.quinn@state.nm.us.
Editorial: The Forest Service Fiddles While the West Burns
By Kay Matthews and Mark Schiller
A recent full-page ad in the November 11 Albuquerque Journal, signed by dozens of New Mexico county commissioners and state legislators, petitioned Ann Veneman, Secretary of the Department of Agriculture, to transfer jurisdiction of national forest lands that are in "imminent" danger of catastrophic fire to the state of New Mexico. The petition cites Section 2268 of U.S.C. Title VII, which allows the Secretary to relinquish to a state the legislative jurisdiction over federal lands when necessary. It is a follow-up action to the passage of last year's New Mexico Senate Bill 1, which authorized county commissioners to take the necessary actions to prevent "death, harm, or destruction" that might result from catastrophic forest fires. Veneman's transfer of these lands to state jurisdiction would make Senate Bill 1 constitutional. According to the spokesman for the ad, Albuquerque attorney Clifford Nichols, the petitioners want to make it clear to the federal government that it will be held liable, just as it was in the Cerro Grande fire that was ignited by national park employees, if it does not take the necessary actions to protect its citizens and their property from the risk of catastrophic fire.
This is the latest skirmish in a battle being waged throughout the west to amend the National Environmental Policy Act (NEPA), the Endangered Species Act (ESA), the National Forest Management Act (NFMA) and other federal laws that some people think have created the "analysis paralysis" of public lands management. As everyone knows, millions of acres of national forest lands are in dire need of thinning and prescribed burning to restore their ecological integrity and protect forest dependent communities. While the federal government has allocated millions of dollars for restoration work in New Mexico, very few acres have actually been treated. Is this the result of burdensome environmental regulations like NEPA or is this the fault of an incompetent, overly bureaucratic Forest Service? We believe it is both.
Three recent restoration and timber projects in northern New Mexico illustrate why both environmental regulations and the Forest Service need streamlining. First, let's talk about the Santa Fe Municipal Watershed Project. This watershed is acknowledged as one of the highest priority wildland/urban interface areas in the country. The project proposes to protect the watershed from a high severity fire that could "decimate the watershed, threaten the city with loss of homes and businesses, cause massive soil and debris flows into the Santa Fe River and its water supply reservoirs, and send muddy flood waters through Santa Fe's streets and downtown areas." If any restoration project is worthy of immediate action, this is it. However, this project was appealed by Wild Watershed, Santa Fe Forest Watch, and Forest Conservation Council on the grounds that wildlife indicator species were not sufficiently surveyed. This means that when the need for immediate action had been acknowledged by an overwhelming majority of experts, a small group of environmentalists argued that in addition to ensuring enough habitat will be protected, time consuming surveys of wildlife populations should be undertaken to comply with NFMA. This appeal was dismissed by the Regional Office of the Forest Service, and in our opinion, was an egregious abuse of environmental regulations. Critical projects such as this one, where potential catastrophic damage is imminent and consensus among the majority of stakeholders is present, warrant the streamlining of the regulatory process. This doesn't mean it should be done under the radar screen or attached as a rider provision to a major bill, as Senator Tom Daschle did in his home state of South Dakota. There need to be federal guidelines which determine the parameters whereby local governments are empowered to expedite these projects.
But it is not only an appeal that has delayed the start of this project. The Forest Service awarded the contract to a Montana-based operator because of the requirement in the Environmental Impact Statement that most of the thinning be done by a feller buncher, an enormously expensive piece of equipment that no local or state-based operators own. The use of a feller buncher may in fact have a more negative impact upon the land than mechanical thinning with chainsaws and denies locally-based companies an opportunity to keep federal dollars in the state. The Forest Service required the use of a feller buncher because it "can do as much thinning in a day as eight men with chainsaws." Ironically, the project has been delayed yet again because the Montana operator is still trying to complete a project in Colorado and probably will not begin work in the watershed until next year. Moreover, the Forest Service capitulated to wealthy homeowners adjacent to the watershed who objected to trucks hauling logs through their neighborhoods. This means that all thinned material will be left on the ground to be burned at a future date, increasing the fire danger and further denying local operators the opportunity to sell the resource. In a test area that was thinned and burned in 2001 by the Forest Service, consumption of trees over three inches in diameter
Thousands March for Peace in Taos
By Aspen Meleski, age 14
On October 26th on an overcast day people from Taos, surrounding areas, and out of state gathered to take part in a peace rally and march which would take them to the home of Donald Rumsfeld, US Secretary of Defense.
The highway was lined with vehicles and cars were in every available parking space. A crowd gathered in a field near the Old Blinking Light and a stage had been set up on a flatbed truck. Protesters milled around during speeches by novelist John Nichols, Richard Deertrack of Taos Pueblo, and Taos mayor Fred Peralta.
Immediately after the speeches, the protesters started off towards Donald Rumsfeld's El Prado home (a 1.1 mile walk). The line of people was impressive as it inched along the highway, crossing once with the help of friendly State Police officers. The signs and flags were brightly colored with witty and heartfelt messages: Peace not Grease; Stop the Killing Machine; Turn off your Car; and many more.
The array of protesters was a surprise, ranging from babies to grandmas, from "hippies" to "professors" and included bicyclists, horses, dogs, several people in wheelchairs, and even two stilt-walkers (faces painted like skulls, long black pants to the ground) towered above us.
At Donald Rumsfeld's modest pink adobe, which was guarded by Secret Service agents as well as State Police, the head of the crowd (his narrow dirt lane squeezed us into a "snake") clustered at his front gate, where a list of citations against him was read and taped to the gate. As the people filed back down his drive they were asked to leave their signs in the barbed wire fence which bordered the lane on both sides. At the highway the crowd dispersed and my friends and I walked back to our car alone.
Remembering . . . the mood had been hopeful and friendly, with so many smiling faces and laughs. All in all, it had been a beautiful day.
And the rain began to fall!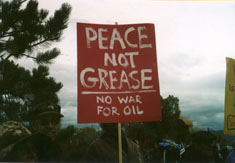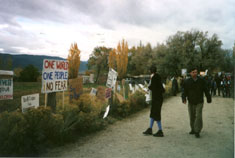 Saving the McCarthy Ranch
By Kay Matthews
Described as"Taos's last great grasslands," the McCarthy Ranch sits between Upper Ranchitos Road and State Highway 240. A working cattle ranch that has been in the McCarthy family for many years, 170 acres of the ranch are now up for sale to settle the family estate. When neighbors first heard about the sale a year and a half ago they formed Friends of the McCarthy Ranch to see what they could do about raising the asking price of $2.5 million to preserve what they describe as "the largest uninterrupted expanse of pastures left in Taos: 170 irreplaceable acres, watered by natural springs, year-round creeks, and the cottonwood-lined Rio Pueblo."
The group initially contacted the Taos Land Trust, and president Mark Shuetz began to work with the neighborhood organization. A collaborative effort developed when Robin Collier, general manager of Tierra Wools, the worker-owned weaving company based in Los Ojos, became involved in the project. Collier is also the executive director of the newly formed Wool Traditions, a non-profit educational center that is looking for land in Taos where it could locate: the McCarthy Ranch would be a perfect site. Taos Valley Acequia Association and the University of New Mexico Taos are both interested in participating in the educational operations of the center, which plans to establish a wool processing facility with retail space to sell naturally dyed yarn and weavings, a herd of sheep, a community garden, and educational exhibits on the process of weaving from sheep raising to finished product, sustainable agriculture, acequias, etc.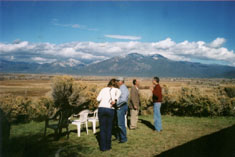 Visitors looking north across the McCarthy Ranch from a neighbor's house
An advisory board for Friends of the McCarthy Ranch is being established, and a capital campaign to raise the necessary $1 million down payment has begun. The Taos Community Foundation has agreed to accept donations for the fund raising effort and will apply for grants and provide administrative support. The American Farm Land Trust has agreed to accept donations for the land and hold them in escrow and return them if the necessary funding is not achieved in time to purchase the ranch (it is currently listed in the real estate market). The strategy is to generate private donations that can be matched with loans or donations from trusts and foundations. A portion of the ranch would be devoted to a nature preserve and grass bank, where local ranchers could graze their livestock while their pastures are rehabilitated. Wool Traditions would manage about 15 acres for the educational center. Hopefully, income from the operations would at some point be sufficient to support the center and contribute to the stewardship of the ranch lands. A conservation easement would be developed to insure the long term agricultural use of the ranch and to limit the scale of development at the center.
For more information regarding the project or if you are interested in making a donation, call John Bosshard at 505 758-9638 or Mark Shuetz at 505 751-4314.
New Mexico Community-Based Forestry Alliance
The News Mexico Community-Based Forestry Alliance is recruiting community forestry groups and other interested New Mexicans to join the Alliance as it moves forward to formalize the organization. The Alliance is a state-wide coalition of foresters working to provide economic, environmental, and social benefits to their communities through forest restoration projects. Over the course of the next few months the group will establish a steering committee and consult with forest adjacent communities, the Forest Service, and Bureau of Land Management to determine potential forest restoration projects and urban/ interface projects that the Alliance can contract for next year. Michael Quintana will be contacting forestry groups that have already been involved in the Alliance and recruiting potential members to provide updated information regarding the Alliance and to gather information on current restoration activities. If you would like more information regarding the Alliance please contact him at 505 577-2924 or Max Córdova of La Montaña de Truchas at 505 689-2686.
Who's Reading La Jicarita News?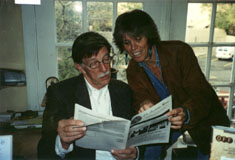 Jim Dunlap of Allá Latin American Books and Chellis Glendinning
La Jicarita News would like to thank all of you who sent in subscriptions, donations, and kind words - with a special thanks to the Healy Foundation. We'll be back for 2003.