Spañapalooza: Getting the Youth Together in Española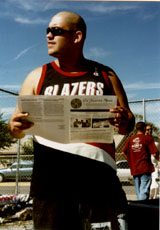 Enrique Martinez, lead singer of Malias and one of Spañapalooza's organizers, reading La Jicarita News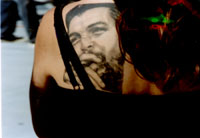 Che Guevara as shoulder tattoo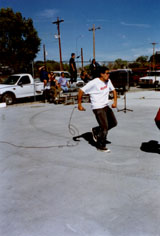 Miguel Santistevan enjoying the music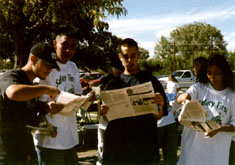 From left, Mario Vigil, Josh Calderon, Marcos Vigil and Nathana Bird of Aztlan Youth Organization, reading La Jicarita News
Almost 300 youth from the Española Valley came together on Saturday, October 5 at the Valdez Skate Park to show off their skate boarding skills, eat, and dance to the music of local bands. They also got a dose of education regarding land grants, acequias, economic opportunities, and health care. The event was sponsored by the Mexicano Land Education and Conservation Trust and Northern New Mexico Health Corps, who recruited educational groups to set up booths and required that the kids visit them before getting a food ticket.
"We'd like to sponsor another event in six months or so," said Lorenzo Sotelo of Northern New Mexico Health Corps. "Maybe next time we can make it more interactive, with more dialogue and participation by the youth. But we were very happy with our first attempt at bringing kids together to have some fun in a safe environment."
ANNOUNCEMENTS
• The Southwest Regional Forester upheld the appeal of the Agua/Caballos Projects and sent the Environmental Impact Statement (EIS) back to Carson National Forest. The regional office agreed with the appellant environmentalists that the EIS failed to assess the effect of logging on enough of the classified "sensitive species" that are found in the sale area of the Vallecitos Sustained Yield Unit. According to Carson Forest Service officials, the El Rito Ranger District will have to publish a supplement to the EIS, which will then be subject to public comment. The process should take another year.
• New national standards for organic certification were implemented nationwide on October 21. According to Joren Viers, Director of the New Mexico Organic Commodity Commission, New Mexico's only USDA-accredited organic certifier, these new standards are the most stringent in the world. They will prohibit the use of irradiation, sewage sludge and genetically modified organisms as well as the use of antibiotics in organic dairy animals, meat, and poultry. Viers stated that the new national standards will provide uniformity in organic certification guidelines, and for the first time set stiff penalties for those in violation: "This protects both the consumer and the organic producer from false claims in the marketplace."
• Elections for two positions of the board of supervisors for Taos Soil and Water Conservation District will be held on November 26 from 7 am to 6 pm at the Juan I. Gonzales Agricultural Center in Taos, 202 Chamisa Road. Voting will be for Position 2, chair, currently held by Maureen Johnson, and Position 1, secretary-treasurer, currently held by Edward Grant. All landowners in the District are eligible to vote (all of Taos County except the city of Taos).
• A new organization called Southwest Marketing Network recently formed to help small-scale farm and ranch producers, minority producers, and those producing alternative products or using alternative production techniques find local markets in the Southwest. A steering committee has been formed to guide the organization and is comprised of representatives of Native American groups, academic institutions, technology centers, New Mexico's Farm Connection and Farm to Table. The Network will conduct a survey of groups in the region to determine what marketing assistance they are providing and what assistance their members need. It will publish a quarterly newsletter, sponsor an annual conference, a Network website, training sessions in alternative marketing, business skills, and financing, research, and local demonstration projects. The project director is Jim Dyer, who can be reached at 2727 CR 134, Hesperus, CO 81326, 970-588-2292, jadyer@frontier.net
New Southwest Regional Forester Meets with Community People and Local Forest Service Personnel in Truchas
By Mark Schiller and Kay Matthews
Harv Forsgren pleasantly surprised community people who met with him September 23 in Truchas by noting that while the Forest Service personnel who attended the event were all getting a paycheck for the day, community members were there on their own time. Forsgren, the new Southwest Regional Forester, was invited to Truchas by Max Córdova of La Montaña de Truchas to meet with community foresters, activists, and representatives of the Eight Northern Indian Pueblos Council.
During the morning meeting, also attended by local district rangers, Camino Real and Española district staff, and Carson and Santa Fe forest officials, Forsgren heard presentations that addressed forest management issues that frustrate community members and local Forest Service personnel. Initially, a laundry list of general grievances was presented:
• The Forest Service is a top-heavy agency that fails to effectively channel its funding to local districts.
• The turnover in Forest Service staff at the district, forest, and regional levels disrupts the continuity of both relationships and projects and often means that there is little accountability on projects that don't succeed.
• The first line of communication between com-munities and the Forest Service is at the district level. When district staff are assigned to zone teams that work throughout the forest rather than within one district, that line of communication is less clear, and once again, there is less direct accountability.
• There is inadequate communication between the regional, forest, and district levels, as demonstrated by this summer's grazing crisis on the Santa Fe National Forest.
• While it was obvious by mid-winter this year that northern New Mexico was facing a serious drought, the Forest Service failed to develop a contingency plan that would allow restoration work, funded by the National Fire Plan and Community Forest Restoration Project, to proceed during forest closures.
• The Forest Service needs to design restoration contract sales so they are accessible to local contractors. The agency needs to work with the New Mexico Community-Based Forestry Alliance to insure that the necessary equipment and work force is available to all local foresters.
• Fees collected in the Contract Stewardship fuel-wood blocks and dead and down fuelwood permits are not being returned to the districts for infrastructure maintenance and improvement.
• In order for small contractors to turn a profit on restoration sales, they need to be financially com-pensated in addition to obtaining the resource.
Virgil Trujillo, a grazing permittee on the Santa Fe National Forest, provided Forsgren with an overview of the frustrations he encountered this summer due to drought conditions and the Forest Service eviction of some of the permittees from their allotments. Specifically, he spoke about the recent tightening of Forest Service policy regarding the base property principle. This regulation requires that permittees prove they have the necessary property base to maintain their cattle herds once they come off the forest allotments. In the past, Forest Service personnel have recognized that although land holdings have diminished due to the misappropriation of land grants and subsequent family lot splits or economic hardship sales, permittees have been creative about leasing necessary lands to graze their animals. With regard to Forest Service handling of this summer's drought, he pointed out that if a permittee is required to remove his herd from his allotment and therefore forced to liquidate, he not only loses income but must spend extra time acclimating a new herd to the allotment. He also addressed the issue of pre-existing acequia rights on forest lands, which became a problem for several parciantes during the past few years.
Max Córdova, president of La Montaña de Truchas, specifically addressed the concerns already raised regarding communication and accountability: "With the turnover of Forest Service staff, they aren't around to see the results of their decisions but community members are." He cited several examples: the use of DDT to combat the bark beetle in the late 1950s, which caused harm to people in the communities and wildlife populations for many years; and chaining of piñon and juniper trees in the late 1960s and early 70s to create more pasture but instead allowed sage and noxious weeds to take hold. With regard to the forest restoration program, Córdova felt that more progress could be made if contractors were not forced to chip or burn the resource but were allowed to remove it for value added purposes: "We need to find innovative ways to make forest restoration work more profitable for local contractors."
David Córdova, Planner for the Eight Northern Indian Pueblos, concurred with Max: "It's difficult for the work force in northern New Mexico to deal with the Forest Service's complicated contracting system. It's very sad for me to see the largest, most high profile forest restoration project in northern New Mexico awarded to a contractor from Montaña."
Various Forest Service representatives also addressed the group with their concerns, successes, and failures. Henry Lopez, Camino Real District Forestry Technician, presented a slide show on Contract Stewardship, which his district successfully initiated in 1998. "Demand on the district for stewardship blocks far exceeds our ability to prepare them," he said. He expressed his frustration with the zone concept that designates the timber staff as a forest-wide team, which he thinks fails to adequately address district timber needs such as the stewardship program and small thinning contracts.
Both John Miera, Española District Ranger, and Cecelia Seesholtz, Camino Real District Ranger, expressed their frustration with the NEPA process that often delays critical work for years while assessments are made and appeals heard. While they stressed the necessity of environmental safeguards, they both felt that NEPA guidelines are rigid and the process needs to be made more flexible. Seesholtz acknowledged the need to engage the communities and pueblos in order to accomplish restoration projects on her district. She thanked the Eight Northern Pueblos crew for the work they had recently completed in the El Valle/Las Trampas Contract Stewardship area. Miera suggested that the Forest Service develop a program to involve the communities in harvesting the piñons that are dying due to drought and insect infestation.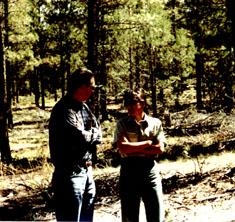 Harv Forsgren, Regional Forester, and Cecelia Seesholtz, Camino Real District Ranger
In the afternoon the group toured three Contract Stewardship areas on the Carson: West Entrañas, Forest Road 156, and El Valle. Henry Lopez show cased the restoration work the communities had accomplished. Addressing the Camino Real staff's concern that they can't keep up with the demand for additional stewardship blocks, Forsgren suggested that perhaps community members who have successfully completed work on one block and are familiar with the desired prescription be allowed to thin adjacent blocks without additional marking. Community members have long felt this is a viable way for the district to expedite the restoration process. They expressed hope that the new regional forester will implement new policies that will allow local ranger districts the autonomy necessary to address local needs and concerns.
Non-profit organizations have taken a big hit in the wake of the stock market plunge. Foundations are warning grantees to expect even more cuts in the 2003 funding cycle. Several of the foundations that have consistently supported La Jicarita News have reduced our funding. We have applied for new sources of revenue, but in the meantime, we ask those of you who receive the newspaper in the mail and find it informative or helpful to please send in a subscription or donation. And we ask those of you who read us on the web or pick us up in the library or local grocery store to send us whatever you can afford (we'll put you on the mailing list if you'd like). Mil gracias!
Puntos de Vista: New Strategies and Collaboration on Treaty Rights
Moises Gonzales, Mexicano Land Education and Conservation Trust
On September 22nd of this year, Chicano land- based communities took a new approach in advocating for protection of rights under the Treaty of Guadalupe Hidalgo. During the New Mexico Acequia Association (NMAA) annual meeting in Taos the general membership approved a resolution that established a framework for working with community land grant organizations in recognition of land and water rights protected by the Treaty. The resolution approved by NMAA calls for the organization to collaborate with the New Mexico Land Grant Forum and the Mexicano Land Education and Conservation Trust in development of a strategy to enforce community land, water, and cultural use protections. In addition, the resolution states that the organizations collaborate to include water right protections in any remedy that addresses the Treaty of Guadalupe Hidalgo.
In recent years the efforts of the NMAA have lead to an increased awareness of the social and cultural importance acequia water rights play in the sustainability of the land-based culture of New Mexico. The organizational efforts of acequias has so profoundly impacted the political process that candidates for local and state offices must now address acequia issues as part of their political agendas. Similarly, the New Mexico Land Grant Forum was organized in the early 90s in order to demand that Congress address the loss of land grant land as part of its political agenda. By the end of the decade senators Domenici and Bingaman implemented a process to evaluate whether the federal government properly adjudicated land grant claims. Representative Tom Udall of the third congressional district of New Mexico introduced legislation known as the Mexican American Land Claims Act, which would establish a commission appointed by the president to evaluate land grant claims on a case-by-case basis. The new millennium has seen acequias and land grant issues as major conversation topics at the dinner table, weddings, and first holy communions in Indo-Chicano families throughout Northern New Mexico.
In May of 2002 the Mexicano Land Education and Conservation Trust emerged as another organization that promotes land and water right protection under the Treaty of Guadalupe Hidalgo. The organization's goal is to develop a broad-based membership throughout land grant communities in New Mexico and southern Colorado to influence the legislative and political process. The organization has already started working toward this goal by hosting educational events that are intended to mobilize community land grants as well as youth. The Trust has been involved in organizing efforts in the Santa Cruz, Pueblo Quemado, Juan Jose Lovato, Juan Montes Vigil, Trampas, San Sebastian Martin, Carnuel, Chilili, and Cundiyo land grants, just to name a few. However, efforts by this new organization to achieve its full political capacity will require collaboration with other organizations.
A fully organized acequia and land grant movement in New Mexico could radically change the political process in New Mexico. For example, let's look at Rio Arriba County. The total population of the county is approximately 41,000, with only about 7,000 people living within the City of Española. The majority of the population is situated in the unincorporated villages throughout the county on irrigated agricultural lands adjacent to BLM or Forest Service lands that were taken from the community land grants. In Rio Arriba County alone, where Indo-Chicano people make up 76 percent of the population, I would estimate that at least 20,000 people are dependent on the acequia system for income and subsistence. Add the political potential of parciantes in Mora, Taos, San Miguel, Sandoval, Santa Fe, Guadalupe, Cibola, and East Bernalillo County and you can just imagine the potential political power. I would estimate that at a minimum 100,000 people are connected and have an interest in sustaining the acequias and ensuring that land grant lands are returned so that we will no longer be forced to build on our irrigated farmland. The question our communities must ask themselves is, does our political power exist to protect existing political interests or does our power exist to support our own interests first?
I would like to think that our power exists to support our own interests, but in reality we are not organized well enough to fully impact policy at the state and federal level. When we are organized and mobilize village to village, then the government will not think in terms of "should we recognize your water rights or your land claims" but will finally be forced to respect the use of our water and return the land that sustains the culture and resources of northern New Mexico.
Editor's note: For more information regarding the Mexicano Land Education and Conservation Trust you can contact Moises Gonzales at 927-0402.
Ray Pacheco's "Value-Added" Goats
By Mark Schiller
In order to make a living off the land one has to have an vast array of skills and be extraordinarily resourceful. Ray Pacheco, who lives with his wife, Evelyn, in Las Trampas, is a farmer, rancher, logger, wood miller, furniture maker, and vintner. In August of this year he added "noxious weedologist" to his resume. That's when he increased his herd of four pet goats to 26 and stopped thinking of them as pets and started referring to them as "lean, mean, eating machines."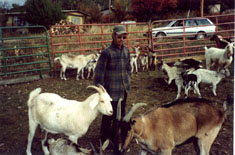 In the late spring Pacheco attended a seminar sponsored by the Taos Soil and Water Conservation District and the Quivira Coalition with Lani Lamming, who'd brought a herd of 600 goats from Wyoming to Taos to do a noxious weed control pilot project (see La Jicarita, June 2002). Lamming explained that she and her children were no longer able to make a living cattle ranching and had started a successful business using goats to eradicate the noxious weeds that are destroying grasslands throughout the west. "That meeting really inspired me," Pacheco told La Jicarita News. He began looking around the area for more goats. Chris Folkmer, who raises dairy goats and lives in the neighboring village of Ojo Sarco, was willing to sell Ray 20 goats and the experiment was up and running.
Forming a partnership with Jake Martinez and Catherine Wayne, who stay with the goats and do most of the herding, Pacheco contracted with Roy Martinez of Ranchos de Taos to do a 15 day "experiment" on three acres of Martinez land that was infested with Russian knapweed and Canada thistle. Before putting the goats on the land, they spread a mixture of grass seeds throughout the area and then turned the goats loose. They "mowed down the weeds" and stomped the grass seeds into the soil. "When the rains came the grass sprouted and caught," Pacheco explained. "It looked beautiful. We'll probably have to go in there at least one more time next year to completely eradicate the weeds, but I think we were all pleased with the success of the project." Pacheco has already spoken with Peter Vigil, director of Taos Soil and Water Conservation District, about doing some projects next year in conjunction with his office, including Fred Baca Park in the town of Taos.
Pacheco, Martinez, and Wayne currently use metal fencing panels to keep the goats confined to the weed-infested areas, but Pacheco feels the panels are difficult to work with and wants to start using electric fencing instead. "Electric fencing is very lightweight and mobile," he explained, "and once the goats get used to it, it makes the set up and herding much easier." The herd currently includes 21 females and five males. Pacheco hopes most of his females will give birth to twins in the spring. He also plans to buy more goats and envisions a herd of about 100 for next year. "I figure 100 goats can do about one acre a day depending on how dense the weeds are." He says that his price per goat per day ranges between one and two dollars depending on the number of goats involved and the condition of the area being treated.
In addition to increasing his own herd, Pacheco has spoken with Lamming about breeding goats for her. Pacheco's herd is Alpine Dairy goats, but Lamming raises Cashmere goats, so that along with her weed operation she can sell their highly prized wool. If all goes well Pacheco will take two to three hundred of Lamming's goats over the winter and keep them penned separately. This will help supplement his income and give him needed experience with a larger herd.
"Goats prefer weeds and tree saplings to alfalfa and grass," Pacheco explained. "When I first realized that, I began going over to the acequia and cutting all the junk that we have to deal with when we clean the acequia in the spring. The goats loved it and, of course, it reduced my feed costs." He pointed out that goats eat salt cedar and willows, making them a good fit for eliminating these species along streamsides.
If we're going to keep farming and ranching an economically viable way of life, we have to find creative ways to add value to the resources we already possess. People like Ray Pacheco demonstrate the kind of energy and resourcefulness that's revitalizing land-based livelihoods in northern New Mexico. For further information you can contact Ray at 689-2566.
Editorial: Water, Otra Vez
By Kay Matthews
I recently heard a spokesman for the Alliance for the Rio Grande Heritage, who was articulate and well informed, express the need for all stakeholders - urban residents, farmers, ranchers, and environmentalists - to work together to conserve and share our water resource in an equitable fashion. At the same time, a coalition of environmental groups (some of which are members of the Alliance) filed suit to force the release of San Juan-Chama water from northern reservoirs to keep the silvery minnow alive. To get to the bargaining table, the environmentalists rationalize, they are forced to "get the attention" of the stakeholders by suing them. The intervenors in this lawsuit - Albuquerque, Santa Fe, the Middle Rio Grande Conservancy District (MRGCD), the state of New Mexico - disagree with this assessment, of course, citing the collaborative efforts that have been made to find a solution, which led to A Memorandum of Understanding between the various stakeholders signed in 2000 (federal and state agencies, the MRGCD, the Alliance for the Rio Grande Heritage, and Albuquerque). Considering the complexity of the water situation and the enormity of the bureaucracies involved in the process, the environmentalists may be correct in asserting that it's going to take more drastic measures than a Memorandum of Understanding to get the city of Albuquerque to actually do something to address its uncontrolled growth and lack of water conservation and the MRGCD to clean up its bureaucratic mess and deliver water efficiently and fairly to basin farmers.
However, when push comes to shove, it's unlikely that junior water rights holders like Albuquerque are the ones that are going to be in jeopardy of losing their water. We've already seen a priority call on an acequia in the Rio de Chama Acequia Association (which disputed its adjudicated priority date) and the buying up of agricultural water rights in the Pecos watershed in southern New Mexico to help meet water obligations to Texas. State Engineer Tom Turney is reluctant to make a priority call on junior water rights on the Pecos that might affect urban areas, and many environmentalists consistently bemoan the fact that norteño parciantes are generally the ones with the oldest priority dates. They support the notion that the "highest and best" use of our water is for urban, environmental, and recreational use.
As water rights attorney David Benavides points out in a letter to the editor of Grist Magazine, the "first-in-time, first in line doctrine . . . is one of the few that actually benefits poor communities. . . . These community irrigation systems are the only remaining models in this region of the type of community-based, democratically-managed, small-scale local food production" that are resistant to the commodification of water in the free markets of agribusiness and globalization. Yet the state engineer, cities, and environmentalists seem intent on making them vulnerable to market demands by pushing for adjudication, which defines these community rights as private rights. Several western states, including Colorado, are talking about overhauling the priority system to "place a greater priority on urban water needs rather than agriculture." Instead of talking about urban water conservation and limits to growth, they use distorted agricultural diversion percentages to make it seem like our farmers and ranchers are wasting all the precious water that should be directed to the "highest and best" uses: urban, commercial, recreation. As Moises Gonzales states in this issue's Puntos de Vista, it is time for us to consolidate our power and employ all our strategies, village by village, to keep people on the land and resources in our communities.
Action Alert
At a meeting on October 23 at Picuris Pueblo community members made the decision to support the Pueblo's protest of Oglebay Norton's application to expand its mica mine on U.S. Hill. A demonstration will be held at the mine site (located on SH 518 across from Amole Canyon) on Thursday, November 14, at 10 am. The protestants will also caravan to Oglebay Norton's mill site in Velarde to protest its disputed milling operation. Picuris invites everyone to meet at the tribal offices at 6 pm on Wednesday the 13th to help make signs for the protest. For further information call the tribal office at 587-2519.
Who's Reading La Jicarita?
J.D. Rogers, editor of the Applegator, and Jack Shipley, chair of the Applegate River Watershed Council
Who's Reading The Applegator?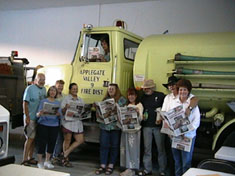 Volunteers who assist with the bulk mailing process for 8,000 Gators every other month
Applegator is the bi-monthly newspaper of the Applegate Partnership based in the Applegate Valley of Oregon. The Partnership is a community-based project involving industry, conservation groups, natural resource agencies, and residents who work together to ensure that management of its watershed sustains the natural resources and contributes to the economic and community stability of the Applegate Valley. J.D. Rogers and Jack Shipley will be visiting the Southwest in March and are looking forward to meeting with community groups involved in the same kinds of projects and partnerships. The Applegate Partnership has been successful in initiating forest restoration projects in the Applegate Valley and can share what they have learned from the process with community foresters here in New Mexico. If you would like to contact Jack Shipley regarding his visit, you can reach him at: Rocky Creek Farms, 1340 Missouri Flat Rd., Grants Pass, OR 97527, Phone/Fax: (541) 846-6917, e-mail: rockycreekfarms@terragon.com