Norteños Demonstrate at Kirtland Air Force
Norteño activists traveled to Albuquerque on March 15 to join local demonstrators outside Kirtland Air Force Base to protest the planned U.S. invasion of Iraq (now in full force). Green Party members from all over the state were there; La Raza Unida was there; and AFSCME union organizers, who helped health care workers at Taos Hospital renegotiate their contract several months ago, were there. Several of these women, including Eleanor Chavez, who spoke at the demonstration, face charges for their anitwar activities in Albuquerque and are being threatened with eviction from their homes. Speakers at the rally also informed the crowd that they would demonstrate in front of Albuquerque Public Schools administrative office to protest APS's disciplinary action against two teachers at Rio Grande High School who displayed antiwar posters in their classrooms.
After several hours of music and speeches, demonstrators spontaneously spilled onto Gibson Boulevard and shut down traffic as they marched up and down the street calling for an end to war. Then the Albuquerque Police Department moved in its troops to force marchers off the street. One hundred police in full riot gear, some on horseback, physically pushed demonstrators not only off the street but off the sidewalk as well. People - parents with young children, elderly Veterans for Peace, students - demanded to know why they were not allowed to demonstrate on the sidewalk, but there was no answer from the police force. Armed with batons and rifles, they remained in the street for almost half an hour after clearing it of demonstrators before moving off to allow traffic to resume. Here are some of the faces of the demonstrators and the police force they faced as they exercised their right to freedom of speech and assembly.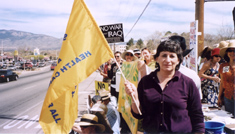 AFSCME union representative Eleanor Chavez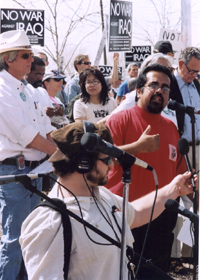 Enrique Cardenal, La Raza Unida Party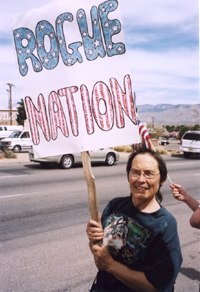 Taoseña Marilyn Hoff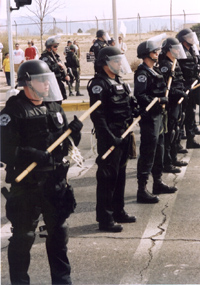 APD riot police face demonstrators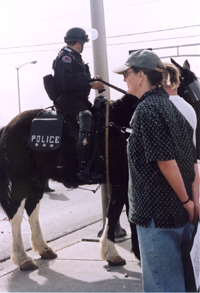 Michelle Goodman faces police
ANNOUNCEMENTS
• High Road Artisans is offering a series of artist workshops called "Drawing on Inspiration" by Jan Janas, a self-employed Truchas artist who has been teaching art to high school and college students for over 25 years. April classes will be held at the Chamisal Ancianos Center on Mondays, April 14, 21, and 28 from 6 to 8 pm. The workshops are designed to help people develop confidence in drawing skills. They are free and all artistic skill levels are accepted. An additional class, "Let's Make it Legit" will be offered on Saturday, May 10 from 9:30 am to 2:00 pm at the Truchas Community Library with instructor Linda Medart. The purpose of the class is to help with federal and state forms, filing, and record keeping. The cost is $5 for the day. For more information or to register contact Sharon Adee, 689-2654 or sharonadeeus@yahoo.com.
• Stan Crawford will be reading from his new book The River in Winter, New and Selected Essays (University of New Mexico Press), on Sunday, April 27, 7 pm, at the Embudo Valley Library in Dixon. The reading is a benefit for the library, which will receive $8 for each book sold. Crawford's book is a collection of essays divided into four categories: Brief Histories; Water; Creatures and Their Habitat; and The Infrastructure of Place. They chronicle Crawford's many years in Dixon as a writer, farmer, mayordomo, and longtime supporter of the Santa Fe Farmers' Market. Look for a review of the book in the May issue of La Jicarita News.
• The Quivira Coalition recently released an "Invitation to Join the Radical Center", asking those in the environmental and ranching community to come together to "cease hostilities and enter a new era of cooperation." The document was drafted by a coalition of ranchers, environmentalists, scientists, and activists who recently attended the annual Quivira Coalition meeting in Albuquerque and is being sent out to all those who believe that much of the West can be grazed in an ecologically sound manner using new models to improve and restore land. For further information call the Quivira Coalition at 505 820-2544.
Acequia Protection Bills Become Law
Two pieces of legislation that will help acequias keep water in their communities passed both houses of the state legislature and were signed by the governor (see La Jicarita, March 2003). The bill which allows acequias to adopt a provision into their bylaws that gives commissioners the authority to deny proposed transfers out of their system if they will be detrimental to the community ditch or its members will go into effect March 1, 2004. The bill allowing acequia commissioners to "bank" and redistribute water within its own system goes into effect July 1, 2003.
Geoff Bryce, director of the Taos Valley Acequia Association and board member of the New Mexico Acequia Association (NMAA), told La Jicarita News that the NMAA is planning a series of workshops to inform parciantes how to effectively make use of this legislation. This will include bylaw recommendations that can be adopted to implement these laws and advice for setting up a community water bank. Bryce suggested that acequia commissions should familiarize themselves with these provisions as soon as possible so they are prepared to implement them when they take effect.
Parciantes wanting more information can contact Geoff Bryce at 758-9461, the NMAA at 345-7701, or David Benavides of New Mexico Legal Aid at 1-800-373-9881.
KRZA Community Radio: Is it Meeting the Needs of El Norte?
By Kay Matthews
While Alamosa-based KRZA recently replaced its radio transmitter to extend its broadcast range and reach a larger listening audience, some folks in Taos believe that unless the station also changes its attitude towards how it covers news in northern New Mexico, the listening audience in El Norte will only decline.
The station started many years ago with a mandate of 80% Spanish language programming for the San Luis Valley. But it was unable to build a large enough listener base and actually went off the air for awhile. The people who came together to reorganize the station realized they would have to expand their English language base and extend to the Taos area to be financially viable.
A group called the Taos Advisory Committee (TAC) was established several years ago to help the station improve its presence in northern New Mexico. In a proposal submitted to the KRZA board last fall, the TAC volunteered to raise the money necessary to open an office in Taos and to hire a full-time staff member. The office would provide a place for volunteer recruitment, training, equipment storage, meetings, interview space, and a local phone for better community access. A full-time staff person would provide local coverage and expand community involvement through the recruitment of new volunteers, production training, and community outreach.
Currently, the station relies solely on the volunteer efforts of a few Taoseños - primarily Mike Tilley, Fabi Romero, and John Nettles - to supply listeners with reports on Taos-area news. Romero provides invaluable coverage of Taos County Commission meetings, and Mike Tilley covers everything from politics to art to youth activities. At its meeting last fall the board agreed to "look into" the possibility of establishing an office in Taos but was resistant to the idea of hiring a full-time Taos staff person. According to Robin Collier, a member of TAC, "Six months later nothing has come of their promise to 'look into an office' even though half the funding for the station comes from the Taos area. The KRZA board and staff fail to understand the geographical and cultural differences between Taos and Alamosa. It doesn't make any sense to not have an office and staff in Taos. It's almost like they see us [TAC] as a threat. I'm sure they don't see it that way but that's how it appears to us."
When asked why the station has failed to move on the TAC recommendations, KRZA manager Mike Clifford responded that the board of directors, after the fall meeting, lost several of its members and has been involved in recruitment. Once a new board has been established it will have to reconsider the TAC proposal. While he said that several new members had been recruited, including Wes Carraher from the Taos area, he was not sure that the proposal would be on the board's May agenda. In response to Collier's criticism, he said, "I don't think there's any resistance to having a presence in northern New Mexico. The question is what form it will take."
Collier is particularly concerned that in the meantime Mike Tilley is nearing "burnout" and may decide to leave his volunteer position with the station. "Somewhere in the culture of KRZA is the idea that volunteer reporters should never be paid. What I see is that some of the paid positions began as volunteer efforts that became indispensable, so funds were raised to turn those volunteer positions into paid ones. I think that is exactly what should be done for Mike Tilley, who brings in more voices to KRZA than anyone else. What he does can't be done by a volunteer. The station has never provided him with the equipment he needs to do his job. Until I voluntarily helped set up a computer and internet line for him to send his stories electronically to Alamosa, he had to find someone to make the hour and a half drive to deliver them to Alamosa or play the stories over the phone. He's never received any payment for his services other than minimal expense money that is largely inadequate."
While Tilley admits that he is indeed "near burnout", he is currently engaged in recruiting community groups in Taos interested in producing news programs that would appear on a regular basis on A Las Ocho, the morning news program on KRZA. Tilley encourages the groups to create their own content while he tapes the programs and delivers them to the station. So far, he has set up programs including Community Against Violence, SOMOS, the Harwood Museum, News From Taos Pueblo, Knowing Your Civil Rights, and Living Treasures, and is working on developing programs with UNM-Taos and Taos High School. While these groups will hopefully develop longtime relationships with the station, Tilley admits that to ensure continuity there needs to be a Taos staff person. "I would certainly like to see this as a paid position, but it might not be me. It's a great opportunity for KRZA to fulfill its mission as a community radio station."
La Jicarita News asked Clifford what the official station policy is with regard to who gets paid and who doesn't. "There is no official policy, it's basically up to the board. But generally, we pay people who coordinate volunteers and not those who have programs on the air." When we asked why Mike Tilley doesn't get paid, Clifford responded that "He has taken it upon himself to do the work he does."
Clifford says the station has already taken steps to expand its northern New Mexico coverage. It is working with Taoseño Arsenio Cordova and his UNM-Taos students on El Norte cultural programming, broadcasting traditional music through Tradiciones del Valle, and talking about a regular program on acequias in conjunction with the Taos Valley Acequia Association (with the help of Mike Tilley). But some of the TAC people believe that its network of volunteers and current paid staff, which is completely underwritten by noncommercial funding (the station recently restricted even its small company sponsorship from mentioning any products on the air), are inadequate to meet the needs of the Taos community. Collier says, "You cannot know the Taos community without living in it, and if the station fails to acknowledge that, someone's going to create another radio station in Taos that serves the community. It's just a question of time."
The next meeting of the KRZA board will be held in Taos at the San Geronimo Lodge (on Witt Road) on May 1 at 5:30 pm.
Interview with Moises Gonzales, Rio Arriba County Assistant Planner and Co-Chair of the Mexicano Land Education and Conservation Trust
La Jicarita News: As the new members of the Rio Arriba County Commission work to bring themselves up to speed regarding county policies and programs, we thought it would be a good time to check in with the planning department to see where you are in the process of finalizing the Comprehensive Land Use Plan.
Gonzales: The Comprehensive Plan really consists of eight individual plans that attempt to address the unique concerns of our many communities in Rio Arriba County. For example, if you're looking at Dixon and Embudo, where you have farm plots that average two acres, as opposed to Tierra Amarilla, where they're twenty plus acres, we're talking apples and oranges. Some communities have a faster rate of growth, like the Lindreth area, while the Coyote-Gallina area is actually losing population. We have to finish up meetings in some of the communities and then start writing up all the findings that came out through the entire process, hopefully by May. Then we'll analyze the data to identify critical policy issues in all of these areas. Generally, communities want to preserve their agricultural lands and restrict development to dry lands, where there can be planned growth. It's good timing for this new commission to come on board so they can participate in at least a quarter of the planning process. Once we move towards final adoption of the plan we will have county-wide meetings, and the commission will be able to take ownership of the plan.
LJN: There's been some question about the county's ability to enforce some of the ordinances already in place, like the agricultural ordinance that only allows development on thirty per cent of irrigated lands.
Gonzales: Last year we had 30 applications on 200 acres of irrigated farmland that we protected under the ordinance. Given our small staff, however, we could always do a better job. For example, regarding a 10-acre subdivision in Ojo Caliente that was initially excluded from the ordinance, some neighbors came in and submitted a hydrographic survey that made us reevaluate the subdivision plat. That's why it's so important to engage the community in the planning process. There are going to be instances where people in the community have better information that we do.
LJN: How is the Comprehensive Plan going to reflect the specific needs of each community?
Gonzales: The challenge for us is to customize codes and policies that reflect the needs of each community. Again, in a community like Dixon or Cañones, any further loss of agricultural land is going to be significant, whereas in communities like Tierra Amarilla, Gallina, and Velarde, which still have large tracts of irrigated land, the loss of thirty percent would not be felt as significantly. The only way to customize policy is to decentralize the Planning and Zoning committee so that it can engage the community in a democratic review process. Realistically, we may have to establish four or five community planning boards appointed by the commission on a regional basis.
LJN: Another big issue that the Comprehensive Plan has to deal with is the fact that many county communities surrounded by federal lands have no place to expand except irrigated land. Last May we attended a workshop on the county collaboration with the Sonoran Institute regarding the possible exchange of conservation easements [an easement that permanently restricts development to protect natural and cultural values] on irrigated lands for the opportunity to acquire selected federal lands. Can you talk about that project and what, if any, progress has been made.
Gonzales: The Institute has been able to get several foundations interested in this project and we've met twice with the BLM staff in Taos to determine how we can move forward with this. The BLM says we have to look at the environmental issues and benefits that these exchanges will have on riparian river bottom lands, and if we make the investment in these studies they will take us seriously. So now we need to hire a wildlife biologist to assess the biological and riparian benefits, an ethnographer to assess the cultural benefits of the traditional landscapes of acequias, and someone to assess the economic benefits of establishing new planned communities.
LJN: Do you have a sense of how receptive the BLM is to this proposal?
Gonzales: I think they think it's a good, innovative idea but of course there are agency issues that need to be worked out and ultimately the decision lies in congressional hands. One of the arguments that I've made to them is that if we can demonstrate the benefits of exchanges we can bring the environmental community on board. I've been talking with the Santa Fe Group of the Sierra Club and have written an article for them in the Rio Grande Sierran. Let me give you an example of an exchange that they might support. There's a beautiful, privately owned piece of land in Rio Arriba County that is culturally very significant. The owner has talked about developing it. What if the county and the BLM purchased it and put it in the public domain in exchange for public lands adjacent to some of our communities for planned growth? That way everyone is happy: the communities, the feds, the environmentalists. I think moderate, realistic environmentalists understand the issue and I think we all need to let go of polarized agendas. That includes land grant and acequia activists as well as environmentalists. We can't be stuck in archaic thinking. We all have to make a paradigm shift about how we think about managing public lands.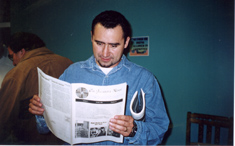 Moises Gonzales reading La Jicarita
LJN: As a board member of the Mexicano Land Education and Conservation Trust can you bring us up to date on the group's efforts to orgainze the land grant community as a broad-based membership group.
Gonzales: We recently worked with the New Mexico Acequia Association to put together a gathering at the state capitol on February 3 that was very successful in generating media and government attention. Our mission is to advocate for land and water protection under the Treaty of Guadalupe Hidalgo and to promote conservation. How do we do both of those things? We have to quit seeing ourselves as the victim and create a grassroots movement to pressure the political powers that be to take action. We have to move from being a victim to being a political force to reckon with. Our role is to work with all the traditional communities as the means to establishing this political force. We were able to get an Abelard grant to formalize our organization, elect a board, and get our 501(c)(3) status. We put on a conference last fall (see La Jicarta, October 2002) in Santa Fe and Spañapalooza in Española, a youth fair, to tell people who we are and what our mission is. The next step is to develop an organizing strategy. We have to look at the numbers of people who are impacted by land grants and build a base of support. So far we have 22 land grants with common lands that are organized. We want to organize another 20 and we want 100 people from each of these communities to help make alliances and work with the larger population. If we can do that we would have 4,000 folks who are connected to about 100,000 folks in northern New Mexico, all affected by land grant and acequia issues. Then we can have an impact on our congressional delegation. We also have to look at our resource collective, 150,000 acres of common lands in the organized 22 communities and start thinking about economic development and conservation. We need to ask ourselves, how can we manage these lands so that they can develop the kind of capital we need to implement our agenda? For example, the Carnuel Land Grant has very valuable properties in the Sandia east mountain area. We already have cell tower leases. Maybe we need to look into alternative energy by forming a cooperative with other grants like Chilili and Las Vegas to construct biomass or wind generation. I know this is an enormous undertaking, but we have to start thinking like this.
LJN: What is the role of the Trust in helping communities determine what kind of land grant restitution is appropriate?
Gonzales: I see the role of the Trust as being twofold: that of building a social movement, like I've already talked about, and helping communities be as inclusive as possible in assessing their options. Not all of the land grant communities are in the same boat. In the Carnuel Grant we have a claim for 90,000 acres. We were only patented 2,000. Some of our claim is in the Sandia Mountain Wilderness. We have a 15-page remedy that makes a number of different proposals. One of them is to reduce our 90,000-acre claim if we could get 1,000 acres for economic development and housing, another 1,200 acres as a natural preserve for management of community resources like fuelwood and grazing, and create a trust fund from the rest of the land to compensate us for the lost acreage. The board that administers the trust would only be allowed to use the interest generated from the principle to maybe fix our water system, build some affordable housing, repair our acequias, or invest in an economic development project like building greenhouses. All the communities will have to make these decisions for themselves, but one of the things that concerns me is that we have to learn to be more inclusive. Fifty-one percent of our community is women. I would like to see the Trust put together a forum talking about the role of women in the movement. And have we looked at the assets of the progressive Anglo community that support us? We need to create an organizing model that looks at who lives in these communities and how we can unite to work as allies.
Puntos de Vista: The Albuquerque Drinking Water Project By John Carangelo
In December 2002, a hearing, essentially unnoticed and unreported, began in Santa Fe to help the State Engineer decide whether to approve an application by the City of Albuquerque to use it's San Juan/ Chama Project water. The hearing resumed on February 24, 2003 in Albuquerque.
While there is generally no objection to the city's use of San Juan/Chama Project water, to which it is legally entitled, there is concern about the use of water to which it is not entitled, and to the plan, which will result in a reduction of the amount of water flowing downstream and an increase of pollutants. The proposed plan, however beneficial in sustaining the growth of Albuquerque, is not in the interest of the health and welfare of New Mexico, is contrary to conservation, and will result in the loss and impairment of more senior water rights.
Approval of the application will determine how the provisions to challenge a water rights transfer - impairment, public welfare, and conservation - are going to be applied. Precedent will be set for all San Juan/Chama Project water contractors and others such as Intel, Rio Rancho, University of New Mexico, Las Cruces, Santa Fe, Kirtland Air Force Base, or anyone wishing to change from ground to surface water, as their respective aquifers are mined.
The Albuquerque Drinking Water Project is a temporary remedy for Albuquerque's water problem and does not address the cause of this problem, which is the continued depletion of the aquifer and surface waters.
The hearings to date have revealed that the Albuquerque Drinking Water Project is not correctly named, contains misrepresentations, does not specify how it intends to accomplish the objectives, and has key components that are unplanned or uncertain. The plan as presented is too theoretical and simplistic. It uses annual averaging, which is not representative of actual seasonal or daily river conditions. The relationship between Albuquerque's permitted, adjudicated, declared, leased ground and surface water rights, and over appropriation and conjunctive use of water is unclear. There does not appear to be a sufficient amount of accurate data to state or even predict the connection between surface and ground water in the area of the application. The recharge predicted by the model used has not occurred, yet we are using the same model to show that the aquifer will be recharged when the pumping stops. The location and destination of seepage, the rate of aquifer recharge, if any, aquifer safe yield, source of offset water, the ability to offset, and other pertinent water management criteria are unknown. Ambiguities concerning dam construction, fish ladder design and efficacy, in-take trash and fish screen design, how to control the San Juan/ Chama Native water use ratio, etc., are pervasive.
The unavoidable reduction in flow, when Albuquerque ceases to be a tributary, demands an exhaustive analysis of this flow reduction and its effect down- stream of Albuquerque and on the Rio Grande Compact.
The SEO should require that the hormones, antibiotics, pharmaceuticals, industrial, and non-point source river pollutants, which will now enter the drinking water, be monitored by frequently scheduled testing for all suspected contaminates in both the diverted water and effluent discharge. Approval should require that new or corrected data be periodically reviewed and allowed to change the project parameters.
The Albuquerque Drinking Water Project appears to contain too many loose ends, unknowns, omissions, conflicting hydrological and engineering data, and errors. All of these issues should be resolved or quantified to the best of the available knowledge before approval. They all have a direct bearing on the success or failure of the Project and the future well being of New Mexico.
Approval of this application should not take place without carefully considered and enforceable qualifications and daily measuring and monitoring by an independent agency or water master with the authority to cut off diversion when downstream uses are in danger of being impaired. The lack of strict controls could result in river conditions that may put compact deliveries in jeopardy, increase the vulnerability for water loss in litigation with neighboring states, irreversibly damage the environment, disrupt riparian ecology, harm our agricultural economy, and degrade rural areas. Any one or more of these could have disastrous consequences for the State of New Mexico.
John Carangelo lives in La Joya, New Mexico. He is a former board member of the New Mexico Acequia Association and is currently a member of the board of directors of the New Mexico Water Dialogue.
Editorial: What Would Jesus Do?
By Mark Schiller
Capitalism is ruthless: it dehumanizes commerce by assessing value based solely on supply and demand. "Whatever the market will bear", it insists, is the true measure of the worth of resources, goods, and services. Following this line of reasoning, capitalism argues that if a scarce resource such as water is being put to a "low value" use such as agriculture (i.e., a use from which profit is not maximized), then business and government should be doing everything in their power to ensure it's transferred to a "higher value" use such as industrial or urban development so that profit can be maximized. (The Western Water Policy Report underwritten by Congress and issued in 1997 tried to promote this very notion.) This is the kind of bogus, one dimensional argument which excludes values other than monetary (i.e., human values) that the corporate world invokes to rationalize exploitation of people and resources.
The relentless assault of capitalism, now clothed in the guise of globalization, continues to politically marginalize the majority of the Earth's people and consume its resources at totally unsustainable rates. A tiny, financially empowered minority controls the majority of the Earth's resources. Moreover, our elected representatives, whose campaigns and careers are essentially underwritten by corporate dollars, do everything in their power to promote corporate agendas at the public's expense. At the same time, the mainstream press, whose primary job (at least in my mind) is to monitor the activities of business and government, is, in fact, owned and controlled by corporations with whom it conspires to distort or entirely suppress the truth about their activities. So value has really become a matter of power and politics. Those who have power set the values.
Recently, the United Nations issued a 600 page report assessing future access to the Earth's most essential resource, clean water. It predicts that by the year 2050, seven billion people in 60 countries will not have an adequate supply of clean water. This will inevitably cause catastrophic health problems, environmental degradation, and political instability. As we've reported previously in La Jicarita, corporations are greedily buying water rights and privatizing water systems in order to profit from this impending crisis. Catastrophes such as this (and there is a frighteningly long and diverse list of them both actual and impending) raise the question: Are there essential resources and services to which everyone is entitled? Are there resources and services that are so basic that the supposedly "free market" should not be allowed to trade in or place a monetary value upon them? Our constitution guarantees us the right to "life, liberty, and the pursuit of happiness." Isn't access to clean water, food, shelter, and basic medical services implicitly included? Apparently not.
While the government is fully prepared to spend what will amount to hundreds of billions of dollars waging war on a country that is already devastated and poses little threat to world stability (far less than several countries I can think of that represent the United States' financial and political interests internationally and that our government willingly supplies with "weapons of mass destruction", or WMDs, as the media now calls them), it cannot provide universal health care for its own people. It cannot ensure that a significant portion of its own people do not go to bed hungry or live in substandard housing. It cannot ensure an adequate education or a safe environment for its children. It cannot ensure a living wage for its workers. George W. Bush claims that the teachings of Jesus Christ are his most important influence. However, he clearly holds the welfare of the "money lenders" (i.e., the corporations), who Jesus threw out of the temple and who will financially and politically benefit from this war, far above the welfare of the masses of people he's prepared to sacrifice: all the soldiers who are dying to protect oil interests, not freedom as he falsely claims, and all the non-combatant men, women, and children whom he euphemistically refers to as "collateral damage."
Of course, this kind of duplicity is not limited to Republicans. Under the Clinton administration, while the corporate world enjoyed unprecedented growth and prosperity (accomplished in large part through deceptive accounting practices and aided by government and mainstream press complicity), the government cut essential social services and initiated a program of "welfare reform" that devastated the poorest, most disenfranchised people in this country.
I'm reminded of an incident that occurred when Kay and I lived in the village of Placitas. We had a neighbor (who, ironically, went on to hold high political office) with whom we worked on several issues to protect our community. We subsequently found out that he was one of the principle investors in an enormous subdevelopment that would ultimately transform Placitas from a diverse rural community of about 500 to a sprawling yuppie bedroom community of 5,000. Kay confronted him asking how, as a member of the community, he could invest in a project that would destroy the qualities that had attracted us all there in the first place. His response was immediate. "It's just business," he said, as if that was supposed to explain it. The implication was obvious: As a business man he felt that he could, in good conscience, maintain a facade of strict personal ethics while actually operating under an umbrella of "no holds barred, winner take all" business ethics. That's the cornerstone of capitalist morality and that's what the real battle is about.