Acequia Abajo de El Valle Rehabilitation Project: Five Years in the Making
Acequia Abajo de El Valle Celebrates the Completion of Its New Presa
Reconstruction of the presa and spillway of the Acequia Abajo de El Valle became necessary after the flood of 1997 threatened to destroy the old log diversion structure that had been in place since the 1970s. In 1998 the acequia commissioners contacted the Acequia Rehabilitation Program of the Interstate Stream Commission, which helps fund acequia rehabilitation and maintenance projects. Five years later, in October of 2002, the community met to celebrate the completion of a gabion basket, concrete-capped dam that will hopefully serve the community for many years to come.
It was a long and arduous process. The community of El Valle would like to thank all of those people and agencies that helped make this project possible: the Presbyterian Church's Self-Development of People Committee; the McCune Foundation; Taos Soil and Water Conservation District; the Interstate Stream Commission; Michael Mayr of Acequia Engineering; Tom Lucero and Fred Sanchez of Pinoreal Construction; and Louis Fresquez, construction inspector.
Other parciantes seeking assistance from the Interstate Stream Commission for their acequias can contact John Garcia at 827-6138 or Ayelet David at 827-6134. The Commission will beholding workshops to inform parciantes about the kind of work it funds and how to apply.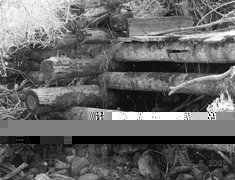 The original presa spillway, made of logs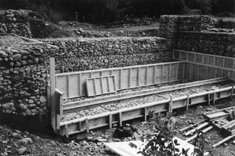 Forming gabion baskets for cement caps of new presa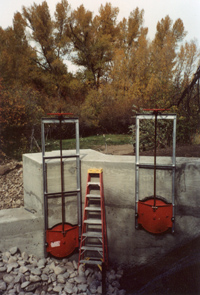 Gates for sluice and acequia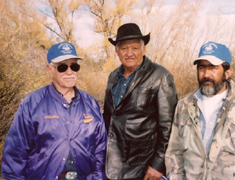 Celestino Romero and Edward Grant of the Taos Soil & Water Conservation District which helped fund the project; Fred Sanchez, construction crew foreman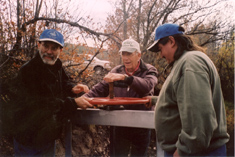 Commissioner Mark Schiller, engineer Mike Mayr, and contractor Tom Lucero putting water in the acequia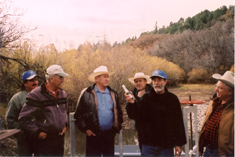 Left to right: Tom Lucero, contractor; Mike Mayr, engineer; Tomás Montoya, mayordomo; commissioners Arsenio Montoya, Mark Schiller, and Clarence Mascareñas celebrate completion of the presa on October 26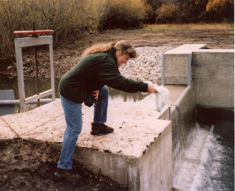 Acequia parciante Kay Matthews breaking champagne bottle on the newly completed presa
ANNOUNCEMENTS
Don't forget the New Mexico Organic Farming and Gardening Expo, 2003
When: Friday, February 7th, 12:00-4:30 pm & Saturday, February 8th, 8:00-6:00 pm.
Where: Glorieta Baptist Conference Center, east of Santa Fe off Exit 299.
Who: Keynote speakers on Saturday include Wes Jackson, co-founder of The Land Institute in Salinas, Kansas and author of New Roots for Agriculture; Becoming Native to This Place; From the Good Earth; and Meeting the Expectations of the Land, and Deborah Madison, founding chef of the Greens restaurant and author of cookbooks, including Local Flavors: Cooking and Eating from America's Farmers' Markets.
What: Workshops include: Whole Farm Planning for Organic Livestock Production; Gardening in the High Desert; The Navajo Sheep Project; Soil Fertility Management for Weeds, Insects and Diseases; Food and Nutrition from Farm to Table; Drip Irrigation for Home Gardens and Small Farms; and Statewide and Regional Marketing Networks.
Sponsors: The Farm Connection and the New Mexico Organic Commodity Commission. For more information call 505 266-9849 or email: joan.quinn@state.nm.us.
Interview with Estevan López, Newly Appointed Interstate Stream Commission Engineer
La Jicarita News: You were born and raised in rural northern New Mexico and you are currently an acequia parciante and national forest grazing permittee. How do you think the perspective you have will influence your new job as Interstate Stream Commission [ISC] Engineer?
Estevan Lopez: I'm hoping that the perspective I bring to the job represents a diversity of views that correspond to my life experience. Being a parciante and farmer/rancher gives me a rural perspective, but I've also got a perspective about what goes on in a growing city and the pressures that are brought to bear there because of my work in Santa Fe County as county manager. I'm also president of the Peñasco Mutual Domestic Water Association. I hope that this breadth of experience helps me understand the issues that rural communities are facing and bring them to the table.
LJN: Do you think that the interests of rural communities and those of urban development are conflicting or that we can bring some balance?
EL: They can be viewed as conflicting but they don't necessarily have to be. If we're going to find solutions to statewide water issues we're going to have to find ways for these two perspectives to be respected and work on consensus solutions to water issues. But certainly, if one or the other of these ignores the importance or existence of the other, then absolutely there's going to be conflict.
LJN: Urban developmental interests and the environmental community often accuse rural communities of being inefficient and wasteful in their agricultural use of water. On the other hand, rural communities accuse urban areas of failing to implement growth management plans and encouraging unbridled growth. Do you think either or both of these accusations are valid?
EL: There has to be an open discussion about both of these issues. Maybe we can look at agricultural efficiencies, but even within that context, if we line all our ditches so we use less water for irrigation we change the ecosystems that are dependent on those ditches. We have the groundwater recharge, whole bosques that grew up, and habitat for wildlife that has been created. It's not an easy question. Then the criticism of cities is, where does growth end? Or should we be looking at stopping growth? These discussions need to be opened up even if they're difficult and emotional. I don't know if this will provide solutions but at least you start getting at some of the root issues instead of one side saying, we can't have anymore growth because we don't have enough water and the other side saying, you're just saying that so you can control the growth. Let's have a discussion about the growth, then. Is that something we ought to be trying to control? Frame it in terms of the available resources. I think there is a great deal that can be done in terms of efficiencies in urban environments as well. Perhaps there are ways we can access some untapped resources, like brackish water that's deep beneath the surface, treating that to drinking water quality. But we still need to have the discussion about growth, whether it's wise for us to continue with unlimited growth. A lot of people say that you have to have growth to have a viable economy, but I don't know if that's a valid assumption. People need to weigh in on these issues. But even assuming we have those debates, and make the decision that we shouldn't grow, we still have a huge amount of work to do in water planning to overcome the momentum of our current growth.
LJN: Do you think it's possible to quantify the carrying capacity of various regions and watersheds in New Mexico?
EL: The thing that makes it so difficult to determine carrying capacity is the question of how much movement of water do we allow from one area to another? Most of the regional water plans that have been developed say that they want their water to stay in their regions. That doesn't seem to match how demand is growing. Unfortunately, the demand is going to continue to grow in the areas where it's already out of balance with the regional resource. I don't know if it's realistic to say that water is going to stay in each separate region.
LJN: What do you think are the most critical issues you will have to deal with immediately as ISC engineer?
EL: My foremost responsibility in this job is making sure we comply with interstate compacts, that we get our fair share of the streams we share with other states and that we deliver the appropriate amount to these other states. The governor has also told us that he wants us to develop a statewide water plan within a year.
LJN: That sounds like a pretty daunting task.
EL: I think it depends on how you define what a state water plan is. You could probably define some over-arching policy statements. You might be able to do some macro level assessments of supply and demand. But as you know, there's already been a lot of work done developing regional water plans, with a great deal of public participation. So I think if we're going to have a viable statewide water plan it needs to be a broad-brush plan that would allow you to take the regional water plans and integrate them into that broad-brush structure. But that doesn't necessarily mean that we're going to be able to honor the desires of each region with respect to a statewide plan. Keeping all the water within a certain region may not be realistic from the perspective of meeting our compact requirements.
LJN: As Santa Fe County Manager you were part of a group that developed an ordinance that would prohibit the transfer of acequia water to the county without approval of the affected acequia commission. Do you anticipate that the ISC will be strengthening its commitment to the acequias by proposing that the state adopt a similar statewide policy?
EL: I think that I do support such a concept, and now I'm speaking from my personal perspective as opposed to this agency. Of course, even within the acequia community there is disagreement about how such an ordinance would affect private property rights. But I think it's important to try to keep what happened in the Owens Valley in California from happening in northern New Mexico. It won't be good for the state to dry up northern New Mexico for the sake of Santa Fe or Albuquerque. I do think, though, that we have to use the water that we have efficiently. For example, if traditionally irrigated land is taken out of production because a fa