Community Activists Participate in International Human Rights Day in Santa Fe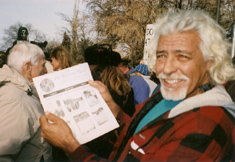 ke De Vargas, longtime La Raza member and advocate for land-based culture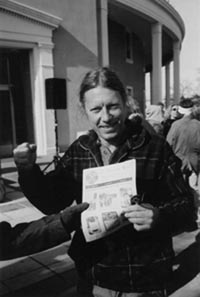 Lynn Montgomery of Placitas, acequia mayordomo who is leading the fight against transfers of agricultural water rights for development
Santa Fe County Proposes Ordinance to Protect Acequias
While Santa Fe County has become increasingly active in the water rights market, it appears ready to make the distinction as to what kind of rights it is willing to buy. On January 17, 2003, the Santa Fe County Commission will hold a public meeting to review an ordinance, drafted by its legal staff (with the help of the New Mexico Acequia Association), that would prohibit the county from acquiring acequia water rights without approval of the affected acequia.
This is a step the acequia community has long believed should be taken at the state level to protect agricultural water rights as cities and counties look for additional water to meet their growing needs. County Manager Estevan Lopez agrees that this ordinance could have broader application at the state level so that governing bodies can begin to build trust with the acequia communities as they work together to resolve state water issues. Commission Chair Paul Duran believes that the Office of the State Engineer (OSE) is the proper jurisdiction for this protection, but that by passing this ordinance the county can bring the issue to the table.
Currently in the draft stage, the ordinance is a proposed amendment to the Santa Fe County Land Development Code. The Acequia or Community Ditch Water Rights amendment would require that any applicant who comes before the county for approval of a transfer of acequia water obtain and provide proof of approval by the affected acequia, consistent with its bylaws or governing rules. Any acequia that has no bylaws or governing rules applicable to the subject of transfers would have to approve the transfer by a majority vote of its commission. This approval would be required before the transfer application could proceed to the OSE.
A subsection of the ordinance states that in denying a proposed transfer the acequia "must incorporate a clearly articulated finding that the transfer would have an injurious or adverse effect upon the acequia . . . ." But in the Purpose and Intent section of the ordinance, the county makes its own case against transfers: ". . . transfers of water rights away from acequias and community ditches can threaten their viability by reducing labor, funds, and the water necessary for the acequia to function and by removing a critical resource from the resource base of acequia communities."
Lopez credits Commissioner Marcos Trujillo, whose District 1 encompasses the northern third of Santa Fe County, as the "real champion" of the ordinance: "His leaving office at the end of the year lit a fire under us to get this moved forward."
ANNOUNCEMENTS
• The Camino Real Ranger District is proposing a thinning project within the La Joya Wildland Urban Interface analysis area. The project proposes to reduce hazardous fuels by thinning approximately 288 acres near the communities of Ojo Sarco and Truchas. The treatment method would be "thinning from below", which reduces the density of smaller diameter trees (three to 12 inches) and leaves behind more mature, larger diameter trees. Following the removal of trees the area would be prescribed burned and sediment traps created. No new road construction is involved, although some closed roads would be opened while the project is ongoing and then obliterated once the project is completed. Permits would be issued for community members to remove the product. Comments are requested by January 6 and can be addressed to the Camino Real Ranger District at P.O. Box 68, Peñasco, NM 87553.
• The New Mexico Water Dialogue will hold a statewide meeting Thursday, January 9, 2003 at the Indian Pueblo Cultural Center, 2401 12th Street NW, Albuquerque. The meeting is a forum for diverse communities to "discover common ground and make a positive impact on state water policy." An agenda for the meeting will be posted on the Water Connections website: www.nmwaterconnections.org. Registration is $20 (or $25 at the door) and includes lunch. To pre-register send a check to: New Mexico Water Dialogue, P.O. Box 1387, Corrales, NM 87048.
Who's Reading La Jicarita?
Terri Rolland at the opening of her show "Migrating Trees" at Linda Durham Contemporary Art in Galisteo on November 23
Back to Basics: The Oñate Center's Land Grant Project
By Malcolm Ebright
I have lived in one spot in Northern New Mexico for over thirty years, my querencia, the place in all the world where I am drawn. Like the land grants of New Mexico, the land I live on is unique. Land grants are fascinating partly because no two are the same. They contain endless variety since New Mexico's land and history are so varied. But because of this variety New Mexico land grants are difficult to categorize, organize, and define. Yet, that task is necessary, both for scholarly reasons and for the political reason that the General Accounting Office (GAO) study has already started to provide lists of the different classifications of New Mexico land grants, but unfortunately has created more confusion than order.
There are about 200 land grants in New Mexico including grants to Indian Pueblos. Though many lists of community land grants have been circulating as a result of the preliminary drafts of the GAO study, to date no one has prepared a complete list of all these 200 or so land grants and provided basic information about each one. That is what Norman Martinez, Robin Collier, Rick Hendricks, Richard Salazar, and I are doing with the Oñate Center Land Grant Data Base Project.
We are preparing a working list containing the name of each grant, the date of the grant, the county where the grant is located, any prior grants, granting official, local official, acres confirmed, references for finding additional information about the grant, and the type of grant. That information will appear as a side bar in a data base (see side bar below for an example), and will be posted on the web sites for the Oñate Center (www.rioarribanm.com) and the Center for Land Grant Studies (southwest books.org). Eventually, it is hoped that a short summary of the history of each grant and its adjudication will also be prepared.

Any grant for which there is a set of grant documents will be considered for the list. We have already found some grants that were never submitted to the Surveyor General or the Court of Private Land Claims, and yet were valid grants with grant documents. These grants will be included on the list. We will not include forged grants, such as the huge Peralta-Reavis grant, which was a complete fabrication, but we will include grants made to Indian Pueblos. Though some Pueblo grants have been shown not to be genuine, the pueblos were recognized as owning four square leagues of land and will be included on the list. In addition, there are many Hispano and Pueblo grants that overlapped other grants. They will all be included if they have grant documents.
Recently there has been some misunderstanding generated by the GAO Study and by scholarly works about land grants. The GAO Study was designed to focus on community land grants without a clear understanding of what comprises a community land grant, or the grants we call quasi-community grants. Quasi-community grants are large private grants, such as the Sebastian Martín, Sangre de Cristo, and Maxwell grants, that developed into something similar to a community grant on the ground, although title to the land remained in the hands of the grantee(s). These grants were made to one to two individuals without conditions, so in a strict legal sense they were owned by those individuals.
But a basic tenant of land grant law required that the owner of a grant establish permanent settlement on the land. Grants the size of the Sebastian Martín (51,000 acres), Sangre de Cristo (998,780 acres), or the Maxwell (1.7 million acres) grants could not be settled by the grantee and his family alone. In each case the grantees brought pobladores to help them settle the land and defend it. These settlers were given formal or informal rights to tracts of land for house lots and garden plots and common use rights to another portion of the grant. These grants are classified as quasi-community grants because on the ground they looked like community grants, but based on the grant document alone, they were private grants. As we study these grants, it seems clear that unjust outcomes took place on grants other than community grants, as the recent Rael v. Taylor case in Colorado proves. The data base project hopefully will lead to the identification of other types of inequities in the adjudication process.
The goal of the Oñate Center Land Grant Data Base Project is to be as inclusive as possible and to eventually provide a one page summary of the basic history of each land grant so that researchers can learn something about the grants in which they are interested. The identification of primary and secondary sources regarding each grant will tell the researcher where to look for additional information. Researchers who might use the data base include scholars, lawyers, policy-makers, teachers, students, and especially land grant residents. There will be a manual available to be used in conjunction with the database. This should assist community groups who are just getting started in researching their own querencias - the places they and their ancestors call home.
The greater the knowledge in the hands of the community, the stronger that community will be. Conversely, when a community forgets or loses its history, it loses its spirit, its soul, and its heart. We cannot let that happen. Knowledge is, indeed, power.
La Jicarita News Wins Award from Taos Soil & Water Conservation District
La Jicarita News was presented with the Media Award by the Taos Soil and Water Conservation District (TSWC) at its annual meeting on December 6. The paper was recognized for its work with the acequia community, farmers, and ranchers, whom TSWC supports in its conservation programs. The paper was also recognized for its work in getting out the news concerning TSWC projects and activities, including the mill levy and elections. Other awards presented at the meeting included: Outstanding Conservation Projects to Leslie Martinez, Chamisal y Ojito, and the Underground Water Study by Tony Benson and Elspeth Atencio; Conservation Agency Award to Dan Ruiz of the Natural Resources Conservation Service; Education Award to Roberta Salazar of Rivers and Birds; and Environmental Stewardship Conservation Award to Mark Shuetz.
¡Muchisimas gracias, Taos Soil & Water!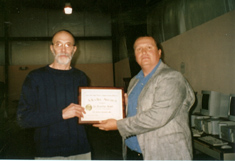 Mark Schiller, co-editor of La Jicarita News, receiving Media award from Peter Vigil, TSWC District Manager
The Far Horizon: To Carl Pope, Executive Director, The Sierra Club
By Courtney White
Excerpted with author's permission from The Quivira Coalition Newsletter, September, 2002
On June 11th I resigned from the Executive Committee of the Santa Fe/Northern New Mexico Group of the Sierra Club. I did so principally in order to create more elbow room in my life for my family. However, I have also moved on to a new type of environmental activism, one that does not fit well with the Club's current policies and approaches. "In fact," I said in my resignation letter, "I have deep concerns about the future effectiveness of the Sierra Club on issues related to the public lands in the West."
I want to explain this last thought, gleaned from nearly eight years of intensive environmental activism at the grassroots level, in hopes of nudging the Sierra Club, an organization I still greatly admire, in a new direction.
The American West has witnessed tremendous changes in the last fifteen year. These changes include the rise of models of sustainable use of public and private lands; the widening threat of recreation to biodiversity; the emergence of a "land health" paradigm from the scientific community; the shift of conservation strategies from "protection" to "restoration"; and the expanding role of collaboration to resolve resource conflicts.
However, these changes, which are here to stay, are not yet reflected in the work of most mainstream environmental organizations, including the Sierra Club. As a result, environmentalists have begun to marginalize themselves in the debate over the future of our public lands.
If the Sierra Club desires to remain a player at the grassroots level - by that I mean the level of grass and roots - significant changes will be necessary. I will use the issue of public lands ranching as an example.
Work
It is critically important for the environmental community to understand that a model of sustainable use of public rangelands by livestock has emerged over the last fifteen years. Its form takes a number of shapes - herding, planned or rapid-rotational grazing, grassbanks, dormant season grazing, etc. - but its underlying principle is the same: that controlling the timing, intensity, and frequency of livestock impact on the land can yield positive ecological and economic benefit to resource managers.
The science supporting this principle is strong and diverse; as is the small, but growing, number of ranchers who put the principle to work with demonstrable results. There is also a growing body of evidence which says well-managed ranches harbor as much biodiversity, or more, than "protected" landscapes, such as wilderness areas.
This is not to excuse overgrazing, which remains a persistent problem in the West. But the existence of ecologically sensitive ranch methods means the goal of activists needs to shift from extermination to reformation.
However, this requires a big first step - an admission that "work" is no longer a dirty word.
The history of the environmental movement is chiefly the story of the struggle against bad management. Clear cuts, strip mines, overgrazed rangelands, toxic dumps, poisoned rivers, and now, rampant oil and gas drilling - the catalog of abuse is all too familiar. As a result, a prejudice against commercial use of public land developed among activists, and rightly so.
But it is not the 1980s anymore. The emergence of the progressive ranching model across a wide variety of Western landscapes, including those that receive less than twelve inches of precipitation a year, means the goal of public lands environmentalism can no longer simply be to "protect" the land from human activity. Instead, its goal should be the same as progressive ranchers - to figure out how to live sustainably in our native landscapes.
Play
In the fall of 1999, twenty-two environmental groups (not including the Sierra Club) took out a full-page advertisement in the New York Times entitled "End Welfare Ranching." It called public lands ranching "ecologically and economically unsustainable" and proclaimed livestock production to be "the single largest source of water pollution, soil erosion, and species endangerment in the western U.S."
In support of its call for the abolition of ranchers, the advertisement cited an article published in the peer-reviewed journal Bioscience, which claimed that livestock grazing had contributed to the decline of 22% of endangered animal species and 33% of endangered plants in the U.S. This article reported the conclusions of a study conducted by a group of scientists who had analyzed the effects of various extractive industries on the viability of endangered plants and animals and ranked them according to their severity.
Contrary to the claims of the ad's authors, the greatest threat to endangered plants and animals, according to the researchers, was NOT ranching. At the top of the list was water diversion, principally dams. Ranching checked in at number three, ahead of logging and mining.
In second place was recreation.
Although the chief recreational threat to wildlife was identified as off-road vehicles, the underlying message of the study was clear: recreation is officially an "extractive" industry on public lands and should be treated as such.
Naturally, there has been no full-page ad in The New York Times calling for an end to public lands recreation. The reasons are obvious, including a huge case of denial. However, the 800-pound gorilla called "recreation" can no longer be ignored, and if the environmental community does not begin to put play on public land under the same microscope that it does work, then its credibility will continue to erode.
Work and play need to be treated equally and fairly. To do this, environmentalists should heed Aldo Leopold's advice - that any activity which degrades the quality and quantity of an area's ecological integrity should be curtailed, changed, or stopped; while any activity which enhances, restores, or expands ecological values should be supported. It should not matter if that activity is recreation or ranching.
Sense of Place
I was encouraged to learn that Wendell Berry spoke recently to the Sierra Club's Board of Directors. His invocation that "You cannot save the land apart from the people - to save either, you must save both" has been the guiding principle of my environmental activism.
I believe the ecological crisis confronting us is, at root, a cultural crisis. Poor human behavior caused much of the environmental damage that surrounds us today, and only good human behavior will restore the land to health. Isolating people from nature, a current trend of thought among some activists within the Club, will only further alienate us from our roots, and compound the environmental challenges confronting us.
Take the homesteaders, ranchers, and BLM managers of the "forgotten" sageland near Taos, for example [a collaborative project to restore the land with carefully controlled herding to break up the soil so native grasses can be established]. They love the land and have developed a strong sense of place by living on it, working it sustainably, and acting collaboratively to restore it to health. Each values the land in a different, but legitimate, way, with the common goal of seeing it become healthy and productive for wildlife and people.
The Sierra Club's sense of place needs to expand beyond wilderness and national parks. It needs to include the "forgotten" lands and the people who live there; and it needs to expand beyond knowing a place principally through recreation. Club members, and leaders, need to support reasonable rural people and encourage good stewardship. There are plenty of both out there, as well as a ton of common ground, literally, where urban and rural people can meet to bridge their differences.
As the saying goes, the only constant in life is change. Ranching is enduring big changes to its very nature, but so is public lands environmentalism. Where this evolutionary process is heading is anyone's guess, but I remain hopeful the Club will develop a new sense of place to go along with the changing times.
Enviro Injunction Imperils Grazing in New Mexico and Arizona
By Mark Schiller
A lawsuit that has not received much attention in the mainstream press could have an enormous effect upon New Mexico and Arizona livestock growers. On November 21, United States District Judge Raner C. Collins, in response to a lawsuit filed by Forest Guardians and several other environmental groups, issued an injunction ordering the Forest Service in New Mexico and Arizona, to "reinitiate consultation [to determine grazing utilization limits] with the Fish and Wildlife Service on any [grazing] allotment" which contains Mexican spotted owl (MSO) habitat that has not, as yet, been surveyed. If these consultations are not completed or a schedule for their completion is not agreed upon by January 22, 2003, the injunction further enjoins the Forest Service from permitting any grazing "within agency-designated MSO protected activity centers" (PACS, or areas where MSO nests or foraging sites have been found).
So why did this happen and what does it potentially mean? In 1996 the Forest Service, in New Mexico and Arizona, was mandated by amendments to the Forest Plan to set aside and protect PACS by consulting with the Fish and Wildlife Service about how to manage grazing so that it wouldn't impact MSO habitat . Of the 1,350 allotments initially surveyed, it was determined that 509 contained MSO habitat. However, since the initial survey, only 202 of the 509 allotments were further examined to determine "forage utilization limits" (how much grazing by livestock and wildlife can occur without impacting owl habitat). As a result of the Forest Service and Fish and Wildlife Service lack of action, Forest Guardians and several other environmental groups filed a lawsuit seeking an injunction that would force these two agencies to complete these surveys. The judge gave these two agencies until January 22, 2003 to complete the work. If the work is not completed by that date all grazing on the remaining 307 allotments (there are 22 such allotments on the Santa Fe National Forest and 2 on the Carson) not yet surveyed would be enjoined until the surveys are completed.
La Jicarita News spoke with John Horning, director of Forest Guardians, about the suit. Horning indicated that his group feels the suit is about bringing the Forest Service and the grazers into line with "current ecological, political, and social realities." His organization thinks both groups are living in the past and must wake up to the reality that some areas that have traditionally been grazed must be withdrawn entirely from grazing and managed for endangered species. Moreover, he believes that many grazing associations will have to significantly reduce their number of permits in order to generally mitigate impacts to vegetation and wildlife. While Horning laid most of the blame for what his group perceives as public lands grazing problems on the Forest Service, which he characterized as a "completely dysfunctional bureaucratic institution," he also felt that permittees must share the blame because they have not personally taken the initiative to reduce numbers or move livestock from areas that his organization believes have been over utilized.
La Jicarita also spoke with the regional director of rangeland management for the Forest Service, Dave Stewart, and Keith Bauerly, one of the lawyers for the plaintiffs. Their accounts of what the injunction could mean were conflicting. Stewart told La Jicarita that range management offices throughout the Forest Service are severely understaffed and cannot possibly complete over 300 consultations by the appointed date. Additionally, he said the Forest Service submitted a motion to the court on December 11 asking it to change the order from "The Forest Service shall reinitiate consultation with the Fish and Wildlife Service on any allotment where it has not done so" to "The Forest Service shall reinitiate consultation with the Fish and Wildlife Service on its rate of implementation [emphasis added] of the grazing standards and guidelines of the 1996 Forest Plan Amendments." In other words, the Forest Service concedes the fact that it has dragged its feet about completing these consultations and is asking the judge to impose an accelerated schedule for their implementation rather than enjoining grazing on the affected allotments.
Keith Bauerly, a lawyer for Earthjustice Legal Defense Fund, which is representing the plaintiffs, explained that he feels the situation is actually more complicated than simply completing the consultations. He contends that a 2000 legal decision in another case enjoined the Forest Service from using the 1996 Forest Plan Amendments' "forage utilization limits" as standards for these consultations. He feels, therefore, that the Forest Service and the Fish and Wildlife Service must devise new, more sensitive utilization criteria before reinstituting the consultation process.
Caren Cowan, director of the New Mexico Cattle Growers Association, is also concerned about thepotential effects of this injunction and said her group is working closely with the Arizona Cattle Growers Association, which has intervened in the case to ensure that permittees' interests are fully represented. She told La Jicarita that her group is "disturbed thatthe Forest Service has been unable to complete the consultations, but we understand that the agency is under staffed and constantly having to respond to new litigation [from environmental groups] which makes it very difficult for them to remain focused." She also said that she remained "cautiously optimistic" that the Forest Service would be able to resolve the issue before any permittees are forced off their allotments this winter or prevented from going on them this summer.
This lawsuit is a clear indication of the strategy absolutist environmental groups such as Forest Guardians intend to employ in their efforts to end all grazing on public lands. They hope that by constantly raising environmental and bureaucratic standards which grazing permittees must meet, exposing Forest Service and other public lands management agencies' incompetence, and exploiting these agencies' lack of staffing they will make public lands grazing so expensive and bureaucratically unwieldy that most permittees will no longer be able to maintain their permits. Unless permittees demand more accountability from the Forest Service and find the funds necessary to intervene in lawsuits such as this, it's a strategy that's probably going to work.
Oñate Monument and Visitors Center conmemoria El Tratado de Guadalupe Hidalgo
Tentative Schedule (subject to change)
FRIDAY, January 31, 2003
3:00 - PM Book & Periodical Fair
6:00 - 9:00 PM - Reception
Music by Trio Jalapeno
SATURDAY, February 1, 2003
10:00 AM - 3:00 PM - Book & Periodical Fair
6:00 PM - 9:00 PM - "Montesoro"
Camino Real Awards
Music by AnnaMaría
9:30 PM - 11:00 PM - Dance
Music - "Monica" accompanied by Splash
A new corrido to Don Juan de Oñate will be
performed for the first time by its author
Monica Ortega.
SUNDAY, February 2, 2003
Treaty of Guadalupe Hidalgo
Panel Presentations (1-5 pm)
1st Panel (1:00 - 2:30 PM)
Moderator - Dr.Carlos Ramirez
Malcolm Ebright, Esq.
David Benavides, Esq.
Dr. Greg Hicks, University of Washington
U.S. Representative Tom Udall (will attend if schedule permits)
2nd Panel (3:00 - 4:30 PM)
Moderator - Estevan Rael-Galvez
María Mondragon Valdez (Sangre de Cristo)
Shirley Romero Otero (Sangre de Cristo)
Antonio Manzanares (Tierra Amarilla)
Robin Collier (Tierra Wools)
Land Grant Study Center (5:00 PM)
Demonstration of Land Grant Data Base
MONDAY, February 3, 2003
Camino Real de Tierra Adentro Panel (10:00 AM - 12:00 Noon)
Dr. Joseph Sanchez
Lloyd Rivera
Peter Mackaness
Herman Agoyo
Margarita Muñoz
MONDAY, February 3 International Day
Visitors are expected from Santa Barbara, Chihuahua;
Valle de Allende, Chih.; Francisco del Oro, Chih.;
Chihuahua, Chihuahua