Quivira Coalition Conference: Fostering Social and Environmental Health in the West
By Mark Schiller
The Quivira Coalition, a group of ranchers, scientists and environmentalists dedicated to demonstrating that ecologically healthy rangeland and economically robust ranches can be compatible, held its third annual conference in Albuquerque on January 16 and 17. This year's theme, "Fostering Social and Environmental Health in the West ", brought together a diverse group of people to examine ways to "make a living off the land by abiding by nature's model." The discussion was divided into two general concerns: What is healthy land and how can we be more mindful of ecological limitations; and What are some innovative ways in which people who live off the land are adapting their management practices to fit more closely within nature's model while also increasing profits.
Friday's morning session focused on "Nature At Work" and included presentations by Director of the Conservation Fund Bill deBuys on Nature As Teacher, Wayne Elmore of the National Riparian Team on What is a Healthy Riparian Area?, and rancher Jim Howell on Learning to Graze in Nature's Image. The afternoon's discussion moved on to address Using Ecological Processes to Manage Land and included presentations from members of the Jornada Experimental Range and the Natural Resources Conservation Service. Workshop sessions addressed a wide range of topics including Restoring Forest Ecosystems, The Do's and Don'ts of Removing Trees and Starting Fires, and Keys to Low Stress Livestock Handling and Its Importance.
Saturday's general session included presentations by Dana Jackson of the Land Stewardship Project in Minnesota on Reconnecting Food Systems to Ecosystems, California rancher Joe Morris on Working in Nature's Model, Land Management Consultant Gregg Simonds on Creating Ecological Markets, and Washington State writer Jo Robinson on Factory Ranching Versus Pasture-Based Ranching.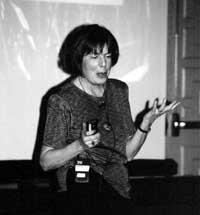 Conference speaker Jo Robinson
Because of recent disclosures regarding "Mad Cow Disease" infecting cattle in the United States, Robinson's message was particularly timely and poignant. She attacked the mainstream cattle industry's arrogance, which she said has completely disrupted nature's cycle and actually turned herbivores into cannibals by feeding livestock waste products from the meat packing process. She also cited studies by the cattle industry which promoted feeding livestock stale candy and poultry manure, among other waste products, and including chemical additives in their diet to add weight. By tracing the journey of calves through a commercial feedlot, she demonstrated how cattle become subject to a diversity of feedlot-induced diseases, necessitating the use of antibiotics. She pointed out the amount of nonrenewable fossil fuels that are used to maintain cattle on a feedlot (from transportation to growing pesticide-treated feed), which formulaically translates to about a half a gallon of fuel for every pound of beef. Finally, she contrasted feedlot animals to pastured animals, demonstrating that feedlot meat is not just less healthy, it's actually in many ways unhealthy. Conversely, pasture-based animals, if managed holistically, not only produce healthy meat rich in omega-3 fatty acids and conjugated linoleic acid (which lower the risk of cardiovascular disease, diabetes, obesity, cancer, and auto immune diseases), but also contribute to the health of the land by fertilizing it and preventing the incursion of woody plants and weeds.
Robinson's presentation at last year's conference led to the formation this past summer of the Southwest Grassfed Livestock Alliance (SWGLA). The founders of that alliance believe a niche market in New Mexico for homegrown grassfed meat "has the potential to strengthen ranch economies and become a healthy food alternative for urban consumers."
Other presentations on Saturday afternoon included Grass and Business Management on Small Ranches, The Promise of a Grassbank, How Conservation Easements Can Help Keep People on the Land, and Marketing Conservation Values on Ranches.
Courtney White, Executive Director of the Quivira Coalition, told La Jicarita he was delighted with the attendance, which has steadily increased over the past three years. He was particularly pleased that over half the participants were ranchers. "We've been working hard for more than six years to gain credibility in the ranching community," he explained. "With this conference I think we crossed that threshold. I also want to tell readers of La Jicarita that the Quivira Coalition is particularly interested in finding innovative ways to help northern New Mexico stockmen and I think the Southwest Grassfed Livestock Alliance is a huge opportunity for ranchers in the north whose stock has traditionally been grassfed and additive free to enhance their income."
For more information about the Quivira Coalition or the Southwest Grassfed Livestock Alliance, readers can contact Courtney at 505-820-2544 or e-mail: executive@quiviracoalition.org.
ANNOUNCEMENTS
EcoVersity: Earth-Based Learning/Sustainable Living, is offering the following courses in 2004:
• Permaculture Design Course (PDC), 2/28 - 3/12/04, Tuition: $890. Instructor: Scott Pittman, internationally acclaimed designer who has taught in over thirteen countries on four continents. 72-hour certification course covers permaculture site assessment, design and more!
• Certificate for Earth-Based Vocations, Tuition: $3950 (includes PDC - rebate for grads). Instructors: Bristol Stickney, Joel Glanzberg, Chrissie Orr, Alfred von Bachmayr & guests. Term 1: 2/28 - 5/7/04 (10 wks). Details: Weeks 1&2: PDC. Weeks 3-10: Natural Building, Renewable Energy, Land & Garden, Community Arts & Activism Practicums; Seminars in Earth-Based Vocations; EcoVersity Electives (see below). Term 2: (10 wks) Mentored Internship - Practical field experience and contacts. A comprehensive, hands-on curriculum. Join the fast growing field of professionals, such as planners, builders, designers, gardeners, farmers, educators, and activists, who are developing whole system approaches for designing human environments.
Applications available at 505/424-9797, x10 or admin@ecoversity.org. Now Enrolling! EcoVersity Courses & Workshops: Beekeeping, Bio-Dynamic Gardening, Feng-Shui & Permaculture, Natural Plasters, Pueblo Pottery, Recycle and Repair, Intro to Solar Design, Ecology of Manuscripts, and more. Register: 505.424.9797 x10 or www.ecoversity.org
• The Camino Real Ranger District is proposing the El Pato hazardous fuels reduction project on 229 acres near the community of Truchas. The project would "reduce the risk of high intensity running crown fire from entering the rural community of Truchas" by thinning trees from 3" to 12" in diameter and prescribe burning. The area is located less than 2 miles north and northwest of Truchas, accessed by SH 76 and FR 697; the vegetative type includes piñon pine, juniper, and ponderosa pine. The project may fall under the direction of Categorical Exclusion. Comments need to be submitted by February 14 to Camino Real District, P.O. Box 68, Peñasco, NM 87533.
• The Sustainable Agriculture Network (SAN) recently released a user-friendly publication to help producers develop goal-oriented business plans for farms and rural businesses. Building a Sustainable Business: A Guide to Developing a Business Plan for Farms and Rural Businesses includes blank worksheets and step-by-step strategies for developing a detailed, lender-ready business plan for organic farming, on-farm processing, direct marketing, alternative crops, and adding value. To order a copy send $14 plus $3.95 s/h to SAN Publications, 210 Hills Building, University of Vermont, Burlington, VT, 05405-0082.
Borrego Salvage Project Update
The Borrego Salvage Project was appealed last fall by Forest Guardians, Forest Conservation Council, Wild Watershed, and Santa Fe Forest Watch. The Regional Office of the Forest Service denied the appeal in the second week of December and three of a total of 11 units of the sale were released for bid. InterMountain Resources of Montrose, Colorado was awarded all three sales: Chupaderos Salvage; Borrego Ridge; and Loba Salvage. The units will be open for harvesting between the end of April and the beginning of November. However, if the current drought continues, the Forest Service may once again close the forest. If that is the case, most of the wood will deteriorate and become unsalvageable. Forest Guardians and Santa Fe Forest Watch were partially successfully in their suit against the Lakes and BMG timber salvage sales in the Jemez Mountains. A federal district judge ruled that one unit of 11 of the salvage sale would be put on hold until January 30. The environmentalists claim the Forest Service failed to protect Mexican spotted owl habitat in the unit.
March 20th Demonstrations
The March 20 National Coalition, comprised of groups including A.N.S.W.E.R. (Act Now to Stop War & End Racism) Coalition, Al-Awda, the Palestine Right to Return Coalition, Arab Muslim American Federation, Free Palestine Alliance, Muslim American Society Freedom Foundation, Muslim Student Association of the U.S. and Canada, and the National Lawyers Guild, is organizing protests across the United States on March 20. The principles of the coalition include "Bring the troops home now!", "End colonial occupation from Iraq to Palestine and everywhere!", "Stop the attacks on civil liberties!", and "Money for jobs, education, healthcare and housing - Not war!". The March 20 Coalition also takes an explicit position opposing internationalizing the occupation of Iraq, instead insisting that the Iraqi people have the unconditional right to exercise self-determination. Major demonstrations are planned in New York City, San Francisco, and Chicago; you may call 212-632-6646 or check www.internationalanswer.org/campaigns/m20/ index. html for information about demonstrations planned in other parts of the country. In Santa Fe, Peace Action New Mexico and United for Peace and Justice are sponsoring a demonstration/march that will begin at noon at the Roundhouse. For more information call Peace Action at 989-4812. StoptheWarMachine is planning a demonstration in Albuquerque. For information about the demonstration go to www.StoptheWarMachine. com.
Update on Top of the World Water Transfer Protest
The protest of the Top of the World water transfer application has been held up administratively for six years. The application, by Santa Fe County, proposes to transfer 588 acre feet (consumptive use) of groundwater from the Top of the World Farm, near Questa, to an infiltration gallery on San Ildefonso Pueblo. Protestants of the application, who include several acequias and parciantes, contend that the transfer is contrary to the public welfare. Specifically, they claim that the transfer would set a bad precedent, allowing the transfer of water rights from above Otowi Gauge to county use below the gauge (the infiltration gallery is above the gauge but the county would pump water from the gallery to uses below the gauge), which the State Engineer has historically not allowed.
Recently, lawyers for Santa Fe County, the Office of the State Engineer, the appellants and several protestants, met to discuss the status of the case. Representing the county, attorney John Utton told the group that he had requested the meeting because he thought a settlement of the decades-old Aamodt legal suit involving the Pojoaque, Nambe and Tesuque areas might be on the horizon and the county would like to consider applying the water from Top of the World to that settlement. Utton outlined the potential agreement, which was made by the lawyers for the parties involved, but has not yet been approved by their clients.
The agreement is very complicated and includes - along with provisions for existing Pueblo water rights, existing community acequia rights, and acquisition of 2,500 acre feet of water rights for future Pueblo uses - the construction of a water delivery and wastewater treatment system that would service 2,200 existing residences in northern Santa Fe County. In return for the system, residence owners would retire their existing underground water rights. The agreement also calls for acquisition of 750 acre feet of water rights for future expansion of the community water delivery system.
Most important to the water transfer protestants, however, was the water delivery system's feasibility study: the preferred alternative would divert water from the Rio Grande via the San Idefonso infiltration gallery for delivery both above and below the gauge. Paula Garcia, director of the New Mexico Acequia Association, and Peter White, one of the lawyers for the protestants, continued to maintain their concern that this transfer could set precedent for developers and municipalities below the gauge to shop for water rights above the gauge even if the county agreed not to purchase acequia water rights.
Geothermal Drilling in the Valles Caldera
When Congress passed the Valles Caldera Preservation Act in 2000, it purchased, on behalf of the American people, some 90,000 acres of land and 7/8 of the (subsurface) mineral estate. The Act authorized the Secretary of Agriculture "to purchase and withdraw from disposition" the remaining 1/8th (12.5 percent) share of the mineral rights on a willing seller basis at fair market value.
Recently, GeoProducts of New Mexico, which holds the lease for 12.5 percent of the preserve's mineral rights, filed applications to drill two wells on the Preserve to access steam that can be used to drive electricity-generating turbines. In the 1970s and 80s, another company, UNOCAL, drilled approximately 31 wells on the Preserve to investigate geothermal potential but never developed the resource. Ken Boren, president of GeoProducts and a petroleum engineer, believes that the potential is there and wants to "develop the resource and market geothermally generated electric power in Northern New Mexico."
Both Forest Service and private appraisers arrived at roughly the same value of $12-14 million for the entire mineral estate in the Valles. The Forest Service offered $1.8 million to the owners of the 12.5 percent share (leased to GeoProducts) but was turned down. No negotiations over mineral rights have taken place for the past two years.
The Valles Caldera Trust, which manages the Preserve, is opposed to geothermal development in the Caldera, claiming it is incompatible with the legislative mandate of the Preserve. The Trust believes that it was the intent of Congress to purchase the remaining 1/8th share of the mineral rights at fair market value and that it is the role of appraisers to determine that value and the role of the U.S. courts to settle disputes, if necessary.
The Valles Caldera Coalition, an organization that advocates for ecologically sound and sustainable stewardship of the Preserve, supports the Trust position. According to Coalition coordinator Marty Peale, "The fact that Ken Boren approached the American Land Conservancy for help in negotiating the sale of the remaining mineral rights in the Valles suggests that he would like to be bought out, rather than develop the prospect. I have not been able to find anyone else who thinks that the geothermal prospect is viable, especially now that it lies under federal lands and is therefore subject to a whole set of public processes and environmental planning regulations and laws."
The Oil Conservation Commission is holding a (public) hearing on February 12 at 9 a.m. in Porter Hall, 1220 St. Francis Drive, Santa Fe.
The Soldiers At My Front Door
By Father John Dear
Editor's Note: Father John Dear is a Jesuit priest who has been active in the peace movement for many years. Formerly based in New York City, he was invited by the Archdiocese of Santa Fe to come to New Mexico to serve several parishes in the Cimarron area. In December of 2003 he was involved in a confrontation with a National Guard unit preparing to be deployed to Iraq. Since then, many people across New Mexico have written letters to the editor of the Albuquerque Journal either condemning or thanking Father Dear for his actions. We asked Father Dear if we could excerpt from his "The Soldiers At My Front Door" article that appears on his website to fully explain what happened that day, why he speaks out about his beliefs, and why his message is particularly relevant for norteños. Father Dear's website is: www.fatherjohndear.org
I live in a tiny, remote, impoverished, three block long town in the desert of northeastern New Mexico. Everyone in town - and the whole state - knows that I am against the occupation of Iraq, that I have called for the closing of Los Alamos, and that as a priest, I have been preaching, like the Pope, against the bombing of Baghdad.
Last week, it was announced that the local National Guard unit for northeastern New Mexico, based in the nearby Armory, was being deployed to Iraq early next year. I was not surprised when yellow ribbons immediately sprang up after the press conference.
But I was surprised the following morning to hear 75 soldiers singing, shouting and screaming as they jogged down Main Street, passed our St. Joseph's church, back and forth around town for an hour. It was 6 a.m., and they woke me up with their war slogans, chants like "Kill! Kill! Kill!" and "Swing your guns from left to right; we can kill those guys all night."
Their chants were disturbing, but this is war. They have to psyche themselves up for the kill. They have to believe that flying off to some tiny, remote desert town in Iraq where they will march in front of someone's house and kill poor young Iraqis has some greater meaning besides cold-blooded murder. Most of these young reservists have never left our town, and they need our support for the "unpleasant" task before them. I have been to Iraq, and led a delegation of Nobel Peace Prize winners to Baghdad in 1999, and I know that the people there are no different than the people here.
The screaming and chanting went on for one hour. They marched past the church, down Main Street, back around the post office, and down Main Street again. It was clear they wanted to be seen and heard. In fact, it was quite scary because the desert is normally a place of perfect peace and silence.
Suddenly, at 7 a.m., the shouting got dramatically louder. I looked out the front window of the house where I live, next door to the church, and there they were - all 75 of them, standing yards away from my front door, in the street right in front of my house and our church, shouting and screaming at the top of their lungs, "Kill! Kill! Kill!" Their commanders had planted them there and were egging them on.
I was astonished and appalled. I suddenly realized that I do not need to go to Iraq; the war had come to my front door. Later, I heard that they had deliberately decided to do their exercises in front of my house and our church because of my outspoken opposition to the war. They wanted to put me in my place.
This, I think, is a new tactic. Over the years, I have been arrested some 75 times in demonstrations, been imprisoned for a "Plowshares" disarmament action, been bugged, tapped, and harassed, searched at airports, and monitored by police. But this time, the soldiers who will soon march through Baghdad and attack desert homes in Iraq, practiced on me. They confronted me personally, just as the death squad militaries did in Guatemala and El Salvador in the 1980s, which I witnessed on several occasions.
I decided I had to do something. I put on my winter coat and walked out the front door right into the middle of the street. They stopped shouting and looked at me, so I said loudly, publicly for all to hear, "In the name of God, I order all of you to stop this nonsense, and not to go to Iraq. I want all of you to quit the military, disobey your orders to kill, and not to kill anyone. I do not want you to get killed. I want you to practice the love and nonviolence of Jesus. God does not bless war. God does not want you to kill so Bush and Cheney can get more oil. God does not support war. Stop all this and go home. God bless you."
Their jaws dropped, their eyeballs popped and they stood in shock and silence, looking steadily at me. Then they burst out laughing. Finally, the commander dismissed them and they left.
Later, military officials spread lies around town that I had disrupted their military exercises at the Armory, so they decided to come to my house and to the church in retaliation. Others appealed to the archbishop to have me kicked out of New Mexico for denouncing their warmaking. Then, a general called the mayor and asked him to mediate "negotiations" with me, saying he did not want the military "in confrontation" with the church. Really, the mayor told me, they fear that I will disrupt the gala send-off next month, just before Christmas, when the soldiers go to Iraq.
This dramatic episode is only the latest in a series of confrontations since I came to the desert of New Mexico in the summer of 2002 to serve as pastor of several poor, desert churches. I have spoken out extensively against the U.S. war on Iraq, and been denounced by people, including church people, across the state. I have organized small Christian peace groups throughout the state. We planned a prayer vigil for nuclear disarmament at Los Alamos on the anniversary of Hiroshima this past August, but when . . . [some] people from Los Alamos, most of them Catholic, heard about it, they appealed to the archbishop to have me expelled if I appeared publicly in their town. In the end, I did not attend the vigil, but the publicity gave me further opportunities to call for the closing of Los Alamos. I received hate mail, negative phone calls and at least one death threat for daring to criticize our country. But New Mexico is the poorest state in the U.S. It is also number one in military spending and number one in nuclear weapons. It is the most militarized, the most in need of disarmament, the most in need of nonviolence. It is the first place the Pentagon goes to recruit poor youth into the empire's army.
If we are to change the direction of our country, and turn people against Bush's occupation of Iraq, we are going to have to face the ire and persecution of our local communities. If peace people in every local community insist that our troops be brought home immediately, that the U.N. be sent in to restore Iraq, that all U.S. military aid to the Middle East be cut, and that our arsenal of weapons of mass destruction be dismantled, then we might all find soldiers marching at our front doors, trying to intimidate us. If we can face our soldiers, call them to quit the military and urge them to disobey orders to kill, then perhaps some of them will refuse to fight, become conscientious objectors and take up the wisdom of nonviolence. If we can look them in the eye and engage them in personal Satyagraha as Gandhi demonstrated, then we know that the transformation has begun.
In the end, the episode for me was an experience of hope. We must be making a difference if the soldiers have to march at our front doors. That they failed to convert me or intimidate me, that they had to listen to my side of the story, may haunt their consciences as they travel to Iraq. No matter what happens, they have heard loud and clear the good news that God does not want them to kill anyone. I hope we can all learn the lesson.
Editorial: Anti-Immigration and Animal Rights Activists Attempt Sierra Club Takeover
By Kay Matthews
The fight over Sierra Club policy regarding immigration is once again rearing its ugly head. Back in 1998 the club voted on an initiative that would have required the organization to "take a position on immigration levels or on policies governing immigration into the United States . . . to end U.S. population growth . . . through . . . reduction in net immigration . . . ." By a vote of 60% to 40% (which represented only a small fraction of club membership) the measure was defeated.
Now, in 2004, anti-immigration proponents have joined forces with the animal rights protectionists in an attempt to take over the club's national board of directors. Three members of this coalition already sit on the board: Paul Watson, head of Sea Shepherd Conservation Society; Benjamin Zuckerman, UCLA astronomy professor; and Doug LaFollette. Zuckerman and Lafollette are affiliated with anti-immigration groups and Watson is an animal rights activist; they all downplayed these affiliations during the election in 2002. They are now actively supporting a slate of six candidates who share their agenda and affiliations, including: former Colorado governor Richard Lamm (author of The Immigration Time Bomb: The Fragmenting of America); Frank Morris, former director of the Congressional Black Caucus Foundation; and David Pimentel, Cornell University professor of entomology. None of the three were Sierra Club members before they filed as petition candidates: The Club allows petition candidates to run (a steering committee selects those candidates deemed eligible by the club) and is vulnerable to groups that can recruit and run candidates from outside the club who share their ideology. Watson is frank about their goal: "I'm advocating the takeover of the Sierra Club."
They are not so frank about who is supporting their campaign, politically and financially. Right-wing foundations provide much of the funding for anti-immigration groups, including those affiliated with these board members and candidates. Richard Mellos Scaife, a Pittsburgh billionaire, has contributed millions to the Federation of American Immigration Reform (which is encouraging its members to join the Sierra Club to be eligible to vote in the board election) and right-wing extremist John Tanton is targeting "liberal" groups like the Sierra Club to carry his message because if conservatives do it they'll be "tainted" as racists.
Everyone concerned about the immigration issue should read Mike Davis' book Magical Urbanism as a prerequisite to taking a position. The book, subtitled Latinos Reinvent the U.S. Big City, counters many of the myths the anti-immigration crowd uses to stir up fear and racism in this country:
• There is little evidence that immigrants are taking the jobs of native workers: they largely move into employment niches that were created by immigration itself or abandoned by native workers who have moved to the suburbs.
• The increase in poverty within many immigrant communities, and the inability of the newest wave of immigrants to find work or make a decent living, is due to the fact that traditional urban manufacturing jobs have been "automated, suburbanized, or moved overseas."
• Just as jobs become globalized so do immigrant communities become transnational. Entire villages in Mexico, the Dominican Republic, and El Salvador move to el norte, establish inter-city communities, and export "migradollars" back to support their villages. These dual citizens bring with them strong cultural traditions and governance that humanize neglected urban neighborhoods and send money home to rejuvenate their indigenous communities.
• In his chapter on the attempts of the right wing to do away with bilingual education, Davis quotes the racist comments of John Tanton, founder of US English who is backing the Sierra Club takeover: "To govern is to populate. In this society where the majority rules, does this hold? Will the present majority peaceably hand over its political power to a group that is simply more fertile? Perhaps this is the first instance in which those with their pants up are going to get caught by those with their pants down! . . . As whites see their power and control over their lives declining, will they go quietly into the night? Or will there be an explosion."
Actually, all of Davis' books should be required reading. In City of Quartz and Ecology of Fear Davis reveals the disastrous social and environmental policies of Los Angeles created by the white power structure that reaped enormous profits while turning the city into an "apocalyptic theme park". It reminds me of some urban environmentalists in New Mexico who often blame environmental problems on the indigenous communities of northern New Mexico that are dependent upon forest resources while ignoring what is happening in their own backyard. In a recent letter to the editor Sam Hitt, of Wild Watershed, lauded the idea of a river reserve, as proposed by Think New Mexico (see La Jicarita, January 04), because middle Rio Grande agricultural water could be used to support "urban needs"; in other words, promoting urban growth at the expense of rural communities. Development in Santa Fe, just like in Los Angeles, is not pushed by immigration.
There is a groundswell of opposition to this attempted takeover within the club. Members are being urged to organize and get the word out that every vote will count in the spring board election. A web site, www.groundswellsierra. org, has been set up to keep people informed, list ways they can help, and raise money. Twelve past presidents of the Sierra Club have written a letter to the current board, president, and executive director asking them to "use all the resources of the Sierra Club that are legally available to protect the organization" from this hostile takeover.
Ensuring a Land Legacy for Future Generations
Conservation Opportunities and Planning Tools for the Future of Your Land and Your Community

A community forum sponsored by the Taos Land Trust, with generous support from the McCune Charitable Foundation
The Taos Land Trust is sponsoring two community forums for the public to share their interests, concerns, and priorities about land conservation and to learn about creative approaches to preserving our land heritage. The first forum took place on January 31 and the second will be held on February 27. The agenda for the February forum is printed below.
According to Taos Land Trust executive director Ernie Atencio, "In this rapidly changing economy it's becoming a struggle for people to stay on the land, to keep their land holdings intact and pass them on to the next generation. We want to hear from the community about their issues and share information about possible solutions." Both forums will cover estate planning, conservation easements and other ways to accomplish conservation goals on private land, local property tax assessments, acequia water banking, maintaining traditional land tenure and the wisdom of traditional settlement patterns, the New Mexico Land Conservation Incentives Act, and conservation incentives under the 2002 Farm Bill. RSVP information is also listed below.
Part II

Friday, February 27, 2004

9:00 am &endash; 4:30 pm (lunch provided)

Rio Grande Hall at the Town of Taos Convention Center

120 Civic Plaza Drive, Taos
Topics and presenters will to some extent reflect issues, questions, concerns, and interests that emerge from the January 31 forum. The following is a preliminary list of topics, and we welcome your suggestions.
• Green Infrastructure Planning - Incorporating Farmland, Open Space and a Network of Interlinking Natural Corridors into Long-Range Community Planning
• Economic Value of Conservation - The Connection Between Land Conservation and Economic Vitality
• Keeping the Land Open - Creative Solutions to Balancing Land Conservation with Careful Planned Development
• Marketing Conservation - Promoting Conservation Easements and Open Space through Selective Land Sales
• Who Pays? - Potentials for Local Public Financing of Conservation Programs through Gross Receipts or Transfer Taxes• Conservation Easement Overview - Benefits for the Land, Your Family, Your Community and Your Pocketbook
• Preserving Your Family Land and Family Wealth - The Wisdom of Estate Planning
• Staying on the Land by Working It - Economic Viability of Local Agriculture
• The Bigger Ecological Picture - Watershed and Forest Land Conservation Planning
• Managing Your Forest Land - Bark Beetles, Economic Potentials and Other Forest Issues
• Managing Your Range Land - Stewardship and Restoration Potentials
• Remembering our Predecessors - Historic Lands, Trails and Communities of the Taos Area
** RSVP to Taos Land Trust, 751-3138 **

For more information, to get on the forum mailing list or to offer your suggestions, contact:

Taos Land Trust: phone (505) 751-3138

PO Box 376 fax (505) 751-1189

Taos, NM 87571 info@taoslandtrust.org

www.taoslandtrust.org