Picuris Pueblo Files Claim to Aboriginal Lands
By Mark Schiller
Editor's Note: As this issue of La Jicarita was about to go to the printer, we learned that Oglebay Norton filed for Chapter 11 bankruptcy protection from its creditors and is in "active negotiations to sell its mica operations." Lawyers for the pueblo told La Jicarita that they didn't yet know how the bankruptcy proceedings would affect the pueblo's lawsuit.
Picuris Pueblo - once among the largest and most populous pueblos in New Mexico, but now reduced to the smallest - continues to wage war against further encroachment of its land and traditional way of life. On February 20 Tribal Governor Gerald Nailor, in conjunction with the tribal council, clan mothers, religious leaders, tribal members, and a team of lawyers, held a press conference to announce that the pueblo has filed an aboriginal land claim in state court.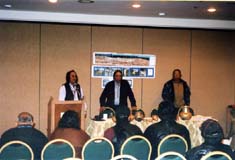 Governor Gerald Nailor and tribal council members behind Picuris pottery
This suit seeks to regain possession of approximately 200 acres of culturally significant land that has been decimated by nearly 40 years of mining. Known to pueblo members as "Mowlownan-á" or "pot dirt place", this area, less than four miles from the tribal village, contained the pueblo's micaceous clay pit, which tribal members had used for at least 400 years to make their distinctive pottery. The mining operation has not only destroyed the clay pit but prevented tribal members from accessing this area that was traditionally used for hunting, medicinal herb and food gathering, and religious ceremonies.
Governor Nailor explained in the tribe's press release, "This land belongs to the Picuris. It is our heart, and we have never given it away. The mine is like a knife in our heart, and as long as it remains, our people will bleed because we cannot practice our traditions and cannot protect the earth." Francis Martinez, an 89-year old potter and tribal clan mother, told the press conference, "The mine ruined everything. When I went up there I prayed for the clay to come back. It seemed like mother earth was crying."
The suit alleges that Oglebay Norton Specialty Minerals, the current mine operator, as well as Franklin Industries and Preston Capital Corporation, previous owners of the claim, have trespassed on tribal lands, denied the tribe access to the clay, removed valuable minerals, polluted the area with mine waste, and caused loss of income for tribal members. The tribe's legal team, which consists of Richard Hughes of Santa Fe, Curtis Berkey of Berkeley, California, Roderick Ventura of the New Mexico Environmental Law Center, and Simeon Herskovitz of the Western Environmental Law Center, is asking the court to acknowledge Picuris' aboriginal title to the land, eject the current operator Oglebay Norton from the area, and compensate the pueblo for damages incurred by all three current and former operators.
The Jicarilla Apache Nation, which historically has had close ties to Picuris, demonstrated its support of the Picuris lawsuit by sending a delegation of tribal administrators and elders to the press conference. Representatives of the All Indian Pueblo Council, Eight Northern Pueblos, and the Lannan Foundation were also in attendance.
This suit is only the latest battle in the pueblo's ongoing struggle to protect the land and water of the Rio Pueblo/Rio Embudo watershed. The pueblo, in conjunction with neighboring community activists and environmental groups, successfully fought to have the Copper Hill area west of the pueblo withdrawn from mineral entry by the Bureau of Land Management. The environmental department has established water quality standards and monitors water quality throughout the Rio Pueblo. Picuris was also instrumental in obtaining funding and initiating a feasibility study for waste treatment facilities in the Rio Pueblo watershed.
ANNOUNCEMENTS
• EcoVersity is sponsoring a FREE LECTURE on Green Education Wednesday, March 10th from 5:30 - 8:00 p.m. The campus is located at 2639 Agua Fria. Presentations by local education pioneers will be followed by discussion and the formation of a green education action group. This lecture will kick off EcoVersity's spring term that includes education related classes such as Watershed Curriculum Development, Environmental Educators Outdoor Experience, and Revisioning Education Towards Abundance. These classes can be taken as a group for a discount of over 30%.
Ecoversity is also accepting enrollment for spring courses and workshops, which should make even the most stubborn of stoics crack a smile. Topics include: water harvesting, spring herbs and gardening, solar design and techniques, orchard design, permaculture, pueblo pottery, sombra design, bicycle maintenance and power, natural dyeing and earth pigments, composting, chicken care, drought gardening, industrial ecosystems, ecology of manuscripts, biodynamic gardening, and more. For more information or for a catalogue, please visit us at www.ecoversity.org, or call 424-9797, x10.
•The Southwest Marketing Network's 2nd annual Conference will be held in Flagstaff, Arizona on March 14, 15 and 16, 2004. Some of the biggest names in small-scale and alternative food issues will be there, including keynote speakers Gary Paul Nabhan, Deborah Madison, Stan Crawford, and Tony Norris. Conference themes include: Farm to Cafeteria, Restaurants, and Institutions; Marketing I: Ecolabels, Promotion, Meat and Wool; Resources, Skill Building, and Leadership Development; Southwest Food and Agricultural Policy; Marketing II: Boosting Production and Direct Marketing. Cost of the conference is $85; a limited number of scholarships are available for those who work with a group or a community project or plan to start a project and want to learn more about how to develop your program or project. To receive a registration form or find out more information call 505-473-1004 or e-mail Le Adams at ladams@cybermesa.com.
• Don't forget the marches being organized on March 20, "Bring the troops home now!", "End colonial occupation from Iraq to Palestine and everywhere!", "Stop the attacks on civil liberties!", and "Money for jobs, education, healthcare and housing - Not war!" Major demonstrations are planned in New York City, San Francisco, and Chicago; call 212-632-6646 or check www.internationalanswer.org/campaigns/m20/ index. html. In Santa Fe, Peace Action New Mexico and United for Peace and Justice are sponsoring a demonstration/march that will begin at noon at the Roundhouse. For more information call Peace Action at 989-4812. StoptheWarMachine is planning a march in Albuquerque, leaving Robinson Park at 1 p.m. and walking to the Old Town Missile (www.StoptheWarMachine.com).
New Mexico Organic Farming & Gardening Expo: A Celebration of Growing Food
By Kay Matthews
A common theme running through this year's New Mexico Organic Farming & Gardening Expo was the concept of "cheap food" versus the social, political and environmental costs of that cheap food. Keynote speaker Joel Salatin, Virginia farmer extraordinare, explained the socio-political context: "Globalists want to take over the world with cheap food." Laura Jackson, professor of biology at the University of Northern Iowa, put it in an environmental context: the extra costs of growing food that is healthy for people and for ecosystems means that "You're not just a consumer, you're a citizen who should be willing to pay for certain values."
It reminds me of a story by Stan Crawford, who looks at the issue another way. In his book A Garlic Testament: Seasons on a Small New Mexico Farm, he tells a story about selling his produce at the Santa Fe Farmers' Market, when he is asked, "Is your stuff organic?" Depending upon what kind of answer you want he'll tell you simply, "We have never used any chemical herbicides or pesticides and never will" or go on to explain the use of organic pesticides or other pollutants that get into the ground. But sometimes he concludes with the forbidden question, "And if I may ask, what about the money you would offer to pay me with? Is it organically earned?" As he explains at the end of his story, he asks this question hoping to "hear the deliberations of someone who understands the endless dilemmas of living in these times, someone who understands the term organic as pointing towards an ideal of how a community might better elaborate itself around the use of its land and water."
Salatin further explored this issue in his keynote address. The production of cheap food "grew out of a conquistador mentality" and is tied to an economy where "industrial paradigms exceed their own efficiency." The industrial takeover of food systems has led to increased, not decreased world hunger, we are being contaminated by E. Coli, salmonella, and other food diseases that didn't exist 30 years ago, and we have contaminated our soil and water with herbicides and pesticides that disconnect us from the living world.
Salatin believes there is hope, however. As we "opt out of the global economy to find our own food," we are creating new options: the Slow Food movement, direct farm marketers, farmers' markets, Community Supported Agriculture, and Chef's Collaboration 2000. Salatin's own farm is a splendid example of the result of pursuing small entrepreneurship. With only 100 open acres, in 2002 Salatin's farm produced $300,000 in gross income and provides four full-time "white collar salary" jobs. Every enterprise on his farm is "stacked" on the centerpiece enterprise, pastured broiler chickens. As his farm grew, each new enterprise was designed to strengthen a pre-existing proven enterprise. Cows were purchased as an economical way of keeping pasture grasses short for his chickens and grew into an income producing enterprise in its own right. A rolling henhouse, the "eggmobile", followed the cattle through their pasture rotation to scratch up cowpies and help control flies and internal parasitism in the cattle. Egg production then became profitable because much of the feed required by free-ranging chickens comes from the bugs they control. Pigs were used as a low cost way to turn over and aerate the winter bedding manure pack and turn it into compost. A sawmill was initially purchased to provide lumber for the farm's own uses and grew into a money-making enterprise by selling specialty cut lumber to local builders. Salatin's farm supports four households of eight people; he has now turned over operation to his 21-year old son and "just as the farm had provided the means to raise his children he expects it to provide for his and his wife's retirement as well."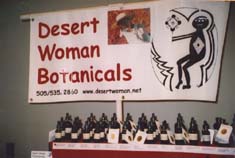 One of the many booths at the Expo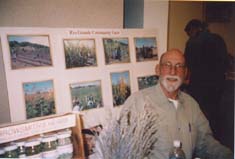 Farmer Ray Arrowsmith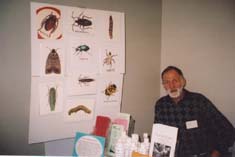 Bernie Smith, Perma-Guard, Inc.
Over the course of two days the expo presented workshops on a myriad of subjects that help local farmers address all kinds of specific farm issues: marketing, crop rotation, mulching, livestock grazing, etc. A workshop of particular interest to acequia parciantes was presented by Sam Fernald of NMSU on the "Effects of Acequia Seepage on Shallow Ground Flow and Water Quality." The study is being conducted at the Alcalde Agricultural Science Center. Parciantes have long observed that acequia irrigation works to recharge groundwater supplies and improve water quality. Politically, as rural areas fight to protect their water rights from transfers to urban and industrial use, described by many as the "highest and best use" of our water resources, acequia associations and activists who use this argument could benefit by research that backs up these claims.
Fernald's study does just that. Over the course of the last several years the study team has observed that irrigation water from the Alcalde Ditch used to irrigate pastureland below the ditch and above the Rio Grande supports riparian vegetation, protects groundwater quality, and provides delayed return flows. The longterm goal of the project is to determine how much acequia water flows back to the river.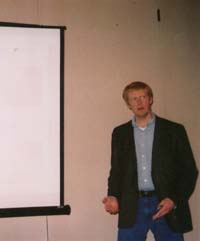 NMSU professor Sam Fernald
To quantify the "hydrologic budget acequia flow", or seepage, the team damned up the acequia in 2001 and 2002 in two areas, one that was stone lined and one earthen lined. In the stone-lined ditch section they measured seepage of 10.7 centimeters per day and in the earthen-lined section seepage was 11.9 centimeters per day. A conservative estimate of acequia seepage was determined to be 5% of the flow.
The team also measured groundwater levels by installing nine, two-inch wells 25-45 feet deep between the ditch and the river. They also collected data from 11 existing wells. The water level data showed the interaction between shallow groundwater and the river; within three months the seepage water made it a half mile to the river. The seepage flow moving slowly through the shallow groundwater levels provides high quality water and shows how important this groundwater is compared to "old water" that is deeper and oftentimes less clean.
Results of these and further tests will be published, and at the request of those attending the workshop, will also be posted on a new website for agricultural stakeholders: www.e-Plaza.org.
Coalition for the Valle Vidal Opposes Development of Coal Bed Methane
A coalition of environmental groups has organized in the Taos area to challenge the Bush administration's decision to fast-track a proposal to open the Valle Vidal to coal bed methane development (CBM). The Coalition for the Valle Vidal, comprised of Amigos Bravos, ConservAmerica, Mining Impacts Communication Alliance, Western Environmental law Center, New Mexico Environmental Law Center, New Mexico Wilderness Alliance, New Mexico Wildlife Federation, Oil and Gas Accountability Project, Wild Earth Llama Adventures, and ranchers and watershed groups, believes that CBM development would negatively impact the multiple use values of recreation, wildlife, and water resources the Valle Vidal was designated to provide and protect.
Carson National Forest, where the 100,000 acre Valle Vidal is located, is in the early stages of assessing the feasibility and impact of CBM development, but the Coalition recently sent a letter to the Forest Supervisor expressing their concern that the Forest Service must not cut corners in its environmental review because of pressure by the White House. According to Erik Schlenker-Goodrich, an attorney with the Western Environmental Law Center, "The White House Energy Task Force has only one objective: maximize oil and gas drilling. Drilling in the Valle Vidal will have devastating effects to the ranchers, outfitters, hunters, anglers, and outdoor enthusiasts that know and love the Valle Vidal."
CBM drilling involves pumping millions of gallons of contaminated wastewater onto the surface and into toxic wastewater pits. This "produced water" erodes topsoil, pollutes clean rivers and streams, and negatively impacts surrounding agricultural and ranching communities. In some instances, drilling operations have depleted aquifers and caused residential wells to run dry.
According to the Coalition, CBM development is devastating communities throughout the West, in particular those within the San Juan and Raton basins of New Mexico and Colorado. Drilling rigs in the Valle Vidal could be spaced as close as 1/2 mile apart, connected by an extensive spider web of roads and infrastructure. The coalition believes this will destroy the scenic landscape, fragment habitat, and displace local wildlife populations.
For more information regarding the coalition and potential CBM development in the Valle Vidal contact Erik Schlenker-Goodrich at the Western Environmental Law Center, 505-770-1295.
Land Grant Activists Have Much to Celebrate This Year
By Kay Matthews
Land grant activists were in a good mood at the Oñate Center and Roundhouse celebrations to commemorate the Treaty of Guadalupe Hidalgo this year: land grant reparation finally has the attention of the state legislature and the final version of the General Accounting Office (GAO) study of community land grants will be released in a few months. The celebration at the Oñate Center also recognized the tremendous victory won by the communities within the former Sangre de Cristo Land Grant in southern Colorado for grazing, firewood, and timber access rights to La Sierra (see February 2004 La Jicarita).
This year's legislature passed laws that strengthen the legal and political authority of the more than 20 existing land grants in New Mexico and a memorial that calls on the state to determine if it owns former land grants (mercedes) that were illegally acquired and if so, return them to the heirs. (See below for a full explanation of legislation passed.) Much of the impetus for this legislation came from the Land Grant Interim Committee, headed by Rep. Miguel Garcia, which heard testimony over the course of the year from many land grant representatives and activists.
The final GAO report, now months overdue, should be available by June. The report, which addresses only community land grants, will make "general recommendations" with regard to land grant restitution. At the January 31 Treaty celebration at the Oñate Center in Española, several members of the land grant archive and data base team presented an overview and a detailed sample of the work they are doing to document all of the state's approximately 250 Hispano and Native American land grants. A Rio Arriba County-sanctioned project, the archive and data base will provide more detailed and comprehensive information than the GAO report and will, according to Oñate Center Director Norman Martinez, "take away some of the myth and mysteries of these land grants" and help people determine their rights.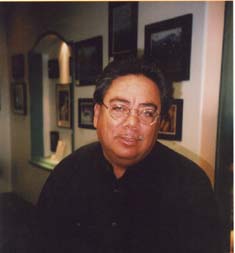 Alberto Baros, Rio Arriba County Planning Department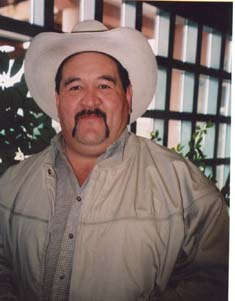 Juan Sanchez, Chilili Land Grant
At the Oñate celebration, Robin Collier, who is helping develop the data base, read from a paper prepared by lead historian Malcolm Ebright that began: "The broken promises of the Treaty of Guadalupe Hidalgo were just part of a series of betrayals arising out of the invasion of Mexico by the United States." Ebright explained that because the U.S. wanted to annex as much of Mexico as possible, a "long trail of broken promises" enabled the government and its lawyers to make their own rules for adjudication of land grants: grants such as Embudo were rejected out of hand, while others, such as San Joaquín and Juan Bautista Valdez, were drastically cut down from their original size, resulting in millions of acres illegitimately being rejected in the adjudication process.
Mark Schiller, who has been doing research and writing for the data base team on a number of land grants in Rio Arriba County, presented detailed histories of the Juan Bautista and Montes Vigil land grants to demonstrate Ebright's point about unfair adjudications. Three issues in particular often affected the outcome of these adjudications: First, categorization of grants in terms of community or private ownership failed to take into account the entire history of a grant, rather than what was written in grant documents or how a grant was initially formulated; second, the Office of the Surveyor General and the Court of Private Land Claims unjustly tried to reject or severely limit the extent of legitimate claims in order to keep as much land in the federal domain as possible; and third, lawyers representing land grants during the adjudication process often had a clear conflict of interest between themselves and their clients and did not represent the best interests of the grant.
Moises Morales, Rio Arriba County Commissioner and heir to the Juan Bautista Land Grant (reduced from 250,000 acres to 1,468.57 acres and limited to the heirs of Juan Bautista Valdez rather than the community of settlers that occupied it), attended both the Oñate celebration and the rally at the Roundhouse on February 2. In his introductory remarks he said, "These common lands were intended to remain open for use by the residents, not owned as private property by anyone. . . . [W]ithout the common lands, the small-scale family farm and ranch economies of the land grants would collapse for lack of grazing, timber, and other resources provided solely by the common lands."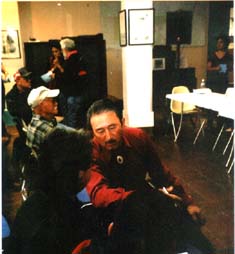 Moises Morales, Rio Arriba County Commissioner
While there were many land grant "betrayals", the recent court decision granting "heirs in title" to the Sangre de Cristo Land Grant access to former grant lands (now under private ownership) is a victory for all land grant heirs. Activists who have been involved in the struggle for 22 years were at the Oñate Center to share their victory and express their desire to collaborate with New Mexico land grant activists. Attorney Jeff Goldstein explained that the recent decision by the U.S. Supreme Court not to hear the private landowner's appeal of the 2002 Colorado Supreme Court decision granting heirs in title access to grazing, firewood, and timber resources on 80,000 acres of the former grant is the last step in the legal battle that began in 1981 (see La Jicarita, February 2004).
Shirley Romero Otero, plaintiff and heir to the grant, laid out the hopes and fears for management of La Sierra: "We're under the microscope and we don't have all the answers. We are two generations removed from that mountain." But with an anonymous grant of $75,000, the Land Rights Council, which represents many of the heirs, has hired Arnold Valdez, who is both an heir and professional planner, to direct the project to develop a comprehensive land use plan. Phase one of the project will be to conduct an assessment of the status of the land and take whatever steps are necessary to "heal that mountain before we put even two animals there." The next step will then be to determine what the people in the community need in terms of grazing access, timber, economic development, etc. Romero expressed eagerness to work closely with New Mexico land grants, like the Abiquiú grant, which has remained in community ownership.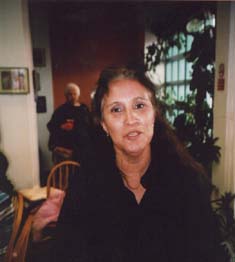 Shirley Romero Otero
Virgil Trujillo, Abiquiú Land Grant member and range manager at Ghost Ranch, had previously made an impassioned speech, in Spanish, about the unique and wonderful history and status of the Abiquiú grant. He described how his generation's connection to their grandparents and great-grandparents enabled them to keep alive the celebrations and customs of the merced. It is this cultural and practical information that can be shared with the Sangre de Cristo heirs as they prepare to manage and care for La Sierra in the 21st century.
Legislative Update
• Senate Bill 142 "Land Grant Governance": Updating of General Provisions to define land grants as subdivisions of the state (allowing boards to accept funds from the state); determine land use, local infrastructure and economic development of the common lands; determine zoning of the common lands pursuant to a master zoning plan approved by the local government divisions of the department of finance and administration; provide for open elections for land grant boards of trustees.
PASSED - Waiting Governor's Signature
• Senate Joint Memorial 10 "Inventory of Former Land Grant Lands in State Ownership'': Requesting that the Office of Cultural Affairs determine the extent to which the state owns lands that previously were common lands of a Spanish or Mexican Land Grant-Merced and if the facts show that that land was obtained through dishonest, unjust or illegal means that office and the Office of the Attorney General determine what actions are required for the land to be returned to the heirs of the land grant.
PASSED
• Senate Joint Memorial 11: Requesting the state highway department meet with the Truchas Land Grant to discuss right-of-way concerns and lack of fencing along NM 76 (the dangerous highway that winds up the escarpment from Chimayó to Truchas).
PASSED
• Senate Joint Memorial 20: Continues the Legislature's interim Land Grant Committee.
PASSED
Some Community People Unhappy with Prescription in La Joya Urban/Interface Thinning Project
Recently, community members have taken issue with plans to thin three areas in the Camino Real Ranger District: La Joya Wildland/Urban Interface, located south and upstream of the communities of La Joya and Ojo Sarco; El Pato Hazardous Fuels Reduction, located north and northwest of the community of Truchas; and Borrego Mesa Fuel Reduction, located on U.S. Hill upstream from the communities of Placita, Vadito, and Picuris.
While the El Pato and Borrego projects have not yet begun, La Joya thinning is in progress. This project has a contentious history: First released in 2002, the project was delayed a year because of requests by community members that ranged from reducing the number of acres targeted and the number of trees cut to demands that no trees be cut at all. As a result, the Forest Service reduced the number of treated acres and the prescription.
Now, although stewardship blocks have already been marked and cutting has begun, some community members are shocked by the severity of the prescription. What follows is an excerpt from a letter to Governor Bill Richardson, written by Filimon Sánchez, Ojo Sarco resident and Las Trampas Land Grant heir, who has organized a petition drive (over 200 signatures) to demand that the Forest Service halt all activities in La Joya until a there is consensus on the prescription. Because La Joya is part of the Las Trampas Land Grant, Sanchez believes that the Forest Service should enter into a comanagement agreement with community representatives to determine management goals and practices in the area.
"New Mexico's series of droughts understandably makes us all concerned about fire and compels us to reduce the risk by thinning. However, thinning applications in this particular case unfortunately are too excessive and the impact on the community will linger for many years.
Traditionally, the inhabitants of Land Grants have depended upon the several varieties of species which are natural to this region and are desired by all of us today and also in the future. The Forest Service desires ponderosa pine only and is offering stewardship blocks to the communities. The problem is that piñon and juniper species are being eliminated according to Forest Service prescriptions.
We do not have a problem with thinning, but we do vigorously object to excessive thinning and one species management.
With this we ask you to help us convince the Forest Service to review their proposals and have more inclination to the wishes of our communities since our input during field trips and intense discussion on January 9, 2003, and January 25, 2003, was ignored or misinterpreted.
Interestingly, the Forest Service is not focusing on clearing our beetle-killed piñons, of which there are plenty and should be made available for harvesting for use as fuelwood, and allow the green, healthy piñons and junipers to remain as canopy on our watershed. Land grant heirs share the vision and desire and care necessary for a healthy watershed and also we share the need of diverse species of trees. Invasive species are not present [in La Joya].
On behalf of the villagers, I invite you to visit our forest again and take the time necessary to contemplate the drastic changes that have taken place already with regard to the forest canopy."
Sanchez and several other community members met with Henry Lopez, Forest Service timber technician, the week of February 23, to walk La Joya thinning area. Lopez agreed to make a proposal to the district ranger, Cecilia Seesholtz, that the Forest Service leave more piñon and juniper trees in the cutting areas and increase the minimum number of trees per acre in Unit A from 80 to 100.
Cultural Energy: Creating Media Voices for Youth, Arts & Activism in Northern New Mexico
Community radio production in Taos is up and running. As it states in its name, Cultural Energy is "Creating Media Voices for Youth, Arts & Activism in Northern New Mexico." The new organization is infused with the energy of Mike Tilley, former KRZA Taos production volunteer, who is the production director and volunteer coordinator, and Robin Collier, of Tierra Wools and Wool Traditions, who is president of the board of directors.
Cultural Energy, equipped with a production facility with recording studio, mixing and editing room, meeting room, and T3 high speed Internet access, is producing and reporting on a wide array of events and organizations in the Taos area, primarily for KRZA's news program, A Las Ocho. These include the Health Segment with Barbara Arnold, Community Against Violence, a program with former district attorney John Paternoster, a community justice segment on juvenile violence, Living Treasures with Cathy Córdova, Story de Taos, Taos Pueblo Day School, and the Taos High School Entrepreneurship class that produces segments for KTAO's Listen Up program. Taos Currents is live from the studio, and Amigos Bravos, the Western Environmental Law Center and Somos all record programs at the studio. Tilley is particularly enthusiastic about a program currently being developed that will focus on sustainable housing, highlighting innovative and alternative building techniques in the Taos area.
Tilley and the other board members, who include longtime radio producer Deborah Begal of La Madera, artist Scott Randolph of Questa, UNM student and youth organizer Melanie Baca, and Carson artist Maye Torres, plan to slowly develop other outlets for their radio productions. In addition to KTAO in Taos, they have contacted KMXT and KKIT about possible programs and look to KSFR in Santa Fe and KUNM in Albuquerque as appropriate venues. Begal, who has produced shows for KUNM, is currently trying to start up a radio station based in the Abiquiú area (where radio reception is problematic) that would focus on local events, music, and public affiars, as well as offer National Public Radio and other programming not available in the area. She and other interested community people had their first organizational meeting in Ojo Caliente on February 28 and plan to meet once a month to start the process of raising money to buy an available license.
Tilley brings an emphasis on youth development to the Cultural Energy studio: "We're a tool - audio and visual - for youth, getting those voices out there. I don't want to host the programs - they can." He is particularly excited that Melanie Baca has joined the board. She recently interviewed the Taos City Council candidates about youth issues and recorded two youth forums, in December and January, where participants discussed their concerns about schools and education, gangs and violence, and acquiring a teen night spot. Cultural Energy recently received a $1,000 grant to pay Baca to expand her youth reporting. She would also like to set up a Cultural Energy recording studio where local youth bands would have a chance to record.
The Cultural Energy studio is located in the TaosNet offices at 201b Camino de la Merced. The phone number is 505-758-9791 and e-mail address is energy@culturalenergy.org