Interview with U.S. Representative Tom Udall, Part II
La Jicarita News: The General Accounting Office (GAO) report on the Treaty of Guadalupe Hidalgo Community Land Grant claims was released last summer. The report essentially says the US government fully met its responsibilities under the Treaty to protect the property rights of Spanish and Mexican land grants. Malcolm Ebright, lawyer and preeminent land grant historian, has said that the report is a "whitewash and slap in the face" to the land grant community. What's your response to the report?
Tom Udall: There were actually two reports. The first one was a report to define and identify community land grants because that's where most of the discussion has focused in New Mexico. The bill that I put in during several previous sessions of Congress dealt with community land grants. I think the GAO was responsive to our request to come and get feedback from local people and made some corrections from that information. The second report dealt more with recommendations and I think it fleshed out some of the kinds of remedies we ought to be looking at over the long term. I think the congressional delegation will look at these recommendations and try to come up with a plan that incorporates either a mixture of several of the recommendations or focuses on one of them. Because we're trying to work as Democrats and Republicans on this issue we've made an agreement to not talk about it with the press until we've had a chance to come up with a proposal that all five of us can agree on. If we can, there's a good chance we can actually get some legislation through because we have very well-placed senators on key committees like the Appropriations Committee. I respect Malcolm Ebright enormously but I can't really respond to his article because of the agreement among our delegation. However, the bills that I've previously sponsored have been based on his research and input from the Land Grant Forum.
LJN: In December of 1999 you wrote then Regional Forester Eleanor Townes asking her to revisit the report written in 1972 by M.J. Hassell, referred to as the "The People of Northern New Mexico and the National Forests." The report recommends that the Forest Service treat the people in the rural communities of New Mexico as a unique resource whose culture must be protected. You asked Townes to update and implement the report. Do you feel that the Forest Service has made a good faith effort to do this?
TU: It's unfortunate that she is now retired because I know she was trying to address this issue and move things along. I've talked to the current Regional Forester Harv Forsgren about the Region Three report but I don't know what the next step is. I hope to explore this further but I don't think there's been much activity since Eleanor left. However, as I understand it, the Forest Service has incorporated this as part of their policy. I don't know if this has been effective. If I were chairman of the Forest and Forest Health subcommittee that I now serve on I'd have hearings on this specific issue and ask the Forest Service at the administrative level, at the grassroots level, and the communities to come forward to see if this is working and if we need to do it better.
LJN: From what we've observed, the degree to which it's implemented comes down to a personality issue &emdash; who the Regional Forester is and what his or her sensitivity is to our unique history.
TU: You're right, the history here is unlike any place in the United States, 400 years of deep Spanish and Mexican history. There's nothing like it anywhere else in the country.
LJN: The environmental community has been very critical of the Bush administration's Healthy Forests Initiative because they think it's opening the door to corporate logging. What's your position on the Initiative?
TU: The big reform in Forest Service management occurred in the 1970s with the passage of the National Forest Management Act (NMFA). The purpose was to get the public involved in the accountability of managing the forests. NFMA mandated the Forest Service to develop forest management plans that solicited public input. These plans take time and money. I'm very skeptical of rolling back this idea of having the public participate in a forest plan. I think it's been a good system, and while it probably needs to be tweaked, like any law that's been on the books for 30 years &emdash; see how its working and make necessary changes &emdash; the Healthy Forests law has the potential to throw out the window the reforms that NFMA mandated. That's my biggest complaint with the law. Are they going to develop amendments to forest plans with little or no public input and, as has been proposed, assess impacts after the action has been taken. The Forest Service has assured me that it has the discretion to continue to solicit public input and that it is going to do that. This is another area where the federal government should be doing oversight to see if it's working or not. I remain wary of these changes and am going to follow them as closely as I can and do everything I can to bring to light the problems with the law.
LJN: Here in northern New Mexico, while there is general agreement that NFMA and other federal laws have allowed better public scrutiny of Forest Service management, there has also been conflict over how these laws have been administered to deny local people access to forest resources.
TU: The local people who live near the forest have more of an interest than anybody else to see that there is public input. That's who I've been standing up for in talking about the public involvement aspect of forest management and why we should be protecting the integrity of forest plans. Because it's the local people who feel the most impact. If you force the Forest Service to go to the public and start talking about where they're going to thin, what kind of contracts are going to be let, and what kind of local employment they're going to provide, then local people derive the benefit. We've seen people like Max Córdova, who was able to develop a dependable crew and work on thinning projects like the Santa Fe Watershed. I hope that this is continuing.
LJN: With regard to Max, he was the first contractor to work in the city-owned part of the Santa Fe Watershed, but when the Forest Service developed a plan for the majority of the watershed it stipulated that the contractor use expensive equipment that local, community-based operators couldn't afford. Therefore, one of the largest and highest profile thinning projects in the state went to an out-of-state contractor.
TU: I guess we could do a better job in situations like that, but I think that there are many other opportunities for contractors like Max. My preference is always that we try to direct these projects so that they benefit the local communities.
LJN: The Forest Service seems to be placing increasing layers of bureaucracy in the way of local people benefitting from these thinning projects.
TU: I don't think it's going to get any better under the Healthy Forest Act that was passed. The point I want to drive home is that if you take away public involvement you're going to hurt the local people. I think we made a big mistake in putting so much discretion in the hands of the Forest Service without demanding more accountability. If you have sensitive forest managers who are responsive to local communities you may get some good results. Nation-wide, we're going to have to come back and revisit this in four or five years and we're going to see that there are lots of problems. I hope the Forest Service in New Mexico is more sensitive to the communities and our unique history.
LJN: As long as directives from Washington take away local input, there is going to be less and less local autonomy. For example, all local contractors who do business with the Forest Service are now required to register their businesses on a centralized government web site that requires unbelievable amounts of unnecessary information and is incredibly difficult to negotiate. Our neighbors, who don't own a computer, asked us to help them file their business and it took us three weeks to complete the registration. We complained to the regional office and were told, "Our hands are tied, this is a directive from Washington to make the contracting process more efficient."
TU: If we had the Region Three Policy and people in the Forest Service were trying to be sensitive you wouldn't have that kind of situation. You would have people being responsive to what the local situation is rather than creating a one size fits all policy.
ANNOUNCEMENTS
• On March 10 the New Mexico Environment Department released a Finding of No Significant Impact (FONSI) with regard to the Village of Taos Ski Valley's upgrade and expansion of its wastewater treatment plant (see La Jicarita News, January 05). Many individuals and groups in the area believe the environmental assessment was inadequate and are concerned that the plant upgrade will facilitate significant growth in the Taos Ski Valley. A master plan outlining projected growth that will facilitate 2,335 additional people per day has already been developed. Concerned citizens are meeting to discuss filing an appeal of the FONSI or taking the Environment Department to district court (the procedure is still unclear at this point). La Jicarita News will keep readers updated on developments.
• EcoVersity will celebrate Earth Day, April 23, from 10 am to 5 pm at their campus at 2639 Agua Fria Road. Activities will include making paper Cranes for Peace, face painting, magic, juggling, kite flying, chanting, massage, acupuncture and more. Food and drinks will be available for purchase. The event is free and open to the public. APRIL CLASSES (ENROLL EARLY MANY ARE FULL!): Spring Bees - Introduction to Backyard Beekeeping, April 2nd; Introduction to Solar Electricity - Outbuilding Retrofit for Solar Power, April 2nd & 3rd; The Wild Herbs of Spring, April 6th - May 25th, Wednesdays; Spring Chicken, April 9th; Drought Gardening, April 9th; Mindful Business, April 16th & 30th; Permaculture Intensive, April 16th and 30th; Community Drumming, April 24th; Coming Home to Earth (Cob Building Class), April 30th. WWW.ECOVERSITY.ORG
Legislative Update on Water and Land Grant Bills
This 2005 legislative session did not hear water and land grant bills that carried the significance of those passed last year, but several important policies were adopted. The house and senate Acequia Enforcement Powers bills, which amend state statutes to provide better enforcement of acequia easements and prevent obstruction or interference with their operations (see La Jicarita News, February 05) are waiting for the governor's signature. The Strategic River Reserve, which creates a fund to purchase or lease water rights to help comply with Interstate Compact commitments (acequia water rights are exempted), also passed. There are some reservations about this policy within the acequia community because traditionally the state's purchase of water rights has come from agricultural uses to meet the use of junior users, avoiding a priority call. There is already criticism of the bill because not enough money, at this point, has been identified for water purchases. The two bills that dealt with domestic wells &emdash; decreasing the permit from three acre feet per year to one acre foot per year, and creating Critical Management Areas &emdash;were defeated in committee. The Office of the State Engineer is now saying it will move to limit domestic wells administratively.
Several land grant bills are also waiting for a signature. One bill gives land grant boards of trustees the "right of first refusal" to buy surplus state lands that are within the orginal land grant boundaries, while another allows land grants to match the highest bid for former land grant property auctioned for delinquest proporty taxes. Most important, however, are capital outlay requests for Las Trampas ($300,000), Carnuel ($200,000), Santa Cruz de la Cañada ($300,000), and don Fernando de Taos ($150,000) for business development and other needs. These are still pending.
Local Concerns Slipping Through Cracks as Forest Service Becomes More and More Centralized
By Kay Matthews and Mark Schiller
Community foresters are concerned that the Forest Service is not applying its rules and regulations fairly with regard to the harvesting of wildings (live trees, usually piñon, ponderosa and aspen, up to 20 feet tall). While foresters are usually not allowed access to the forest during winter months, the Camino Real Ranger District has permitted companies and individuals to harvest wildings on approximately 550 acres in the Entrañas and Lower Entrañas areas year-round. However, after foresters accompanied the district ranger to the areas to take a look at the damage to access roads and the holes some wilding permittees had left, the district closed the wilding areas on March 7. They will remain closed until the district determines the trees can be taken without resource damage.
Forestry Technician Henry Lopez told La Jicarita News that the Forest Service doesn't have the resources to monitor on-the-ground conditions in the wildings area. Because this year has been particularly wet and mild, access roads are vulnerable to winter use. He recommended that the district re-analyze the wildings program and separate commercial and personal use permittees in order to limit the impacts. He also recommended that the Forest Service limit the number of days wildings can be harvested so the agency can have personnel on site to monitor the activity. In order for the program to be more closely overseen, the Forest Service could charge commercial users an administrative fee.
Foresters have also complained that commercial companies are exploiting the wildings program. They claim the companies employ a succession of undocumented workers to purchase personal use permits (each household is permitted 14 wildings per year) in order to maintain a continual supply of wildings and avoid minimum wage and workers compensation requirements.
The wildings program is only one example of programs that are not getting enough Forest Service attention as districts lose autonomy due to budgetary constraints and increasing "bureaucratization." La Jicarita News has been covering Camino Real District management policies since the mid-1990s. During that time it became increasingly clear that forest plans, promulgated in the 1980s, were not addressing the needs of the people who use the forest and and often ended up being litigated by environmental groups. District Ranger Crockett Dumas and his staff decided to implement new management strategies, based on ecosystem management, that took a look at the district more holistically. The program broke the district down into ecological and social management zones to better analyze the needs of forest resources and communities. This policy led to the Collaborative Stewardship program, which enabled the Forest Service and communities to work together to establish and implement common goals.
Unfortunately, as corporatization and privatization became national political priorities, Congress cut Forest Service funding in order to force districts to use private contractors to provide recreation services, NEPA analysis, thinning for fire prevention, and other jobs formerly held by in-house staff. This, of course, led to the loss of local input in the way districts are managed and has once again created mistrust and alienation between the agency and local community members. Moreover, this increased "bureaucratization" has forced district staff out of the field and back inside to desks and mountains of paper work. They complain that decisions are politically driven and often made without adequate inventory of resources.
As privatization becomes more prevalent in the agency, forest administrators become businessmen rather than stewards. Decisions are increasingly based on economic priorities, not ecosystem and social priorities and "Caring for the land and serving the people," the Forest Service motto, becomes more of a rationale than a reality.
Green Fuelwood Areas for 2005 on the Camino Real District
• El Pato Wildland Urban Interface: Across from FR 155 near Truchas. Contract stewardship blocks.
• Montes Ecosystem Restoration: Off FR 155 near Truchas. Personal use permits and contract stewardship blocks.
• La Joya Wildland Urban Interface: Off SH 76 near La Joya. Some stewardship blocks left, personal use permits.
• Borrego: Near Telegraph Canyon. Personal use permits and contract stewardship blocks.
• Turkey Park Two: Near Pot Creek. Personal use permits.
Editorial: Norteño Communities Must Unite
By Mark Schiller
Globalization continues to increase the disparities between rich and poor. Wealth and power are being concentrated into fewer and fewer hands and more and more of the world's people are being disenfranchised and dispossessed. This current is disturbing in and of itself, but the most disheartening aspect is the way oppressed and disadvantaged people have been drawn into participating in the exploitation. Internationally we have the spectacle of Israel, representing one of the historically most oppressed minorities, using that history of oppression as a rationale to oppress Palestinian Arabs. Nationally, we've witnessed the absurdity of American voters electing a president who not only represents the corporate interests that exploit them but is willing to sacrifice their children in a totally unjust war to further those interests. Recently, this irony has been further highlighted by the appointments, to the positions of secretary of state and attorney general, of people who clearly represent the interests of the corporate world at the expense of their own minority communities.
Here, in northern New Mexico, this same insidious process is playing itself out in a diversity of ways. The Aamodt lawsuit, which has been in the headlines almost daily, is a case in point. This suit pits Native American communities and Indo-Hispano communities, which have a long history of water-sharing, against each other in a battle to determine how the water from the Pojoaque, Nambe and Tesuque basins is going to be allocated. Tragically, traditional allies are becoming enemies while the largest beneficiaries of the proposed inequitable settlement will be developmental interests. Both the county and city of Santa Fe stand to gain additional water for development from this battle. Moreover, much of the revenue from the water allocated to the pueblos is going straight into the pockets of the corporate gambling interests who the pueblos have mortgaged themselves to in order to build the casinos, golf courses and hotels that were supposed to make them economically independent.
Which brings us to the issue of Native American gambling. It's morally painful to oppose projects which, in theory, are supposed to bring economic development to one of the most exploited and impoverished minorities in our country. But in practice, this simply doesn't seem to be the case. You only need to look at one of the "most successful" Native American gaming operations, Santa Ana, just north of Albuquerque, to see some of the problems inherent in these operations. While Santa Ana Pueblo boasts a successful casino, five star hotel and restaurant, and 27 hole golf course, it recently went to the state for a 62 million dollar loan in order to make a balloon payment on the debt it incurred to acquire those facilities. The state turned the pueblo down, but Sandoval County, where the pueblo is located, couldn't afford to let the operations go into bankruptcy and bailed the pueblo out with a 75 million dollar bond issue. How many more times will the county be able to do this? And if a "successful", well located operation like Santa Ana can't afford to pay its mortgage, what's going to happen to the Native American gaming operations that have less advantageous locations? Why are the gaming pueblos in competition with each other anyway? Why didn't they pool their capital and water rights to build two or three destination type resorts from which they could profit collectively without going into debt or taking water out of agricultural use to water a seemingly unlimited number of golf courses? More importantly, the gaming pueblos all initially claimed their operations would bring a huge influx of capital into the state from the tourists who would patronize them. This also doesn't seem to be the case. Sadly, the majority of patrons appear to be working class locals, many of whom are going into debt or bankruptcy to fund their gambling addictions. Furthermore, San Juan Pueblo, which built one of the largest gambling operations in northern New Mexico, fought to prevent organized labor from working on casino related construction projects. It seems that the pueblo, which rationalized building the casino in order to create economic opportunity for its members, wants to deny the opportunity to get an equitable wage and benefits to others. So who is the major beneficiary of Native American gambling in New Mexico? Not the pueblos and not the taxpayers of New Mexico, but the corporate interests to which all these operations are mortgaged.
The land grant communities of northern New Mexico are not exempt from this kind of maneuvering either. Despite the fact that surface water rights were originally granted by the Spanish and Mexican governments as a community resource, many community members take the position that water rights are personal property that can be sold, leased or transferred regardless of the impacts those transactions may have on the rest of the community. And what about all the inter- and intra-community battles over water distribution? Instead of recognizing that other parciantes and acequia communities are allies in the battle to keep water in the acequias by trying to resolve acequia disputes within their communities, many parciantes and acequia commissions choose to take their disputes to the State Engineer or the courts, resulting in water rights owners becoming so disillusioned they no longer participate in acequia activities or even worse, are tempted to sell their water rights to the highest bidder.
Common lands administration is another case in point. Now that the state has recognized that community land grants are subdivisions of the state governed by their own by-laws, some land grant activists are taking a very narrow view of who should benefit from the common lands. Because the injustices that occurred during the adjudication process are a central concern of the land grant community, you'd think that grant activists would want to be particularly scrupulous in establishing equitable criteria for who has a stake in community property. So what should that criteria be? I suggest that it should be the same criteria the United States government promised but failed to apply in the first place: everyone who the laws of Spain and Mexico would have recognized as legitimate shareholders of community land grants, i.e. anyone who holds legitimate title to a private tract within the land grant. However, many community land grant governing boards are claiming that only the heirs of the original grantees or families that settled the grants before the Treaty of Guadalupe Hidalgo are legitimate shareholders. In other words, many people living within land grant communities, Indo-Hispanos, Native Americans and Anglos, would be excluded from the common lands, while many people who no longer live within the grant would have access. Community grants were established to benefit communities, not individuals who can trace their lineage to the original settlers. While heirs who were unjustly dispossessed of their holdings should be financially compensated for their losses, land grant boards, if they really want to maintain land-based communities, must acknowledge that non-heirs who hold title within the grant are shareholders in the common lands. As former Truchas land grant board president Max Córdova suggested in the November 2001 La Jicarita News: "I think the only way our traditional values are going to last is if we start sharing them with others. What we have to do as a community is engage these people [newcomers] in the every day process of what we do. It's very easy to pay someone to clean the acequia for you. It's much harder to get a shovel and help clean it yourself."
All of the foregoing are examples of class betrayal: selling out members of one's own economic and social class to further other perceived interests: personal, racial, ethnic, nationalistic, etc. More specifically, they're manifestations of exploitative opportunism that have been rationalized by a sense of victimhood: i.e., a past history of dispossession and disenfranchisement grants the victims a "moral right" to claim they are protecting themselves from further oppression by using opportunistic advantage to exploit or exclude others. Ironically, these actions are self-defeating because ultimately they help the real enemy of all poor and working class people, the forces of corporate globalization. As such, the forces of globalization welcome and promote them. Moreover, although people in northern New Mexico clearly have been economically and socially victimized, using victimhood as a rationale and justification simply serves to legitimize and perpetuate the dysfunction rampant in our traditional communities. If we ever hope to break the vicious cycle of poverty and exploitation in northern New Mexico, we must see beyond the narrowly defined boundaries that divide us and unite with working class people throughout the region and the world.
What We Saw on our Pilgrimage from Truchas to El Santuario Two Weeks Before Easter
• The snow covered Truchas Peaks looming above the village of Truchas
• Beer cans, liquor bottles, and plastic bags strewn across the highway shoulder
• Pecos Baldy rising to the east in the Pecos Wilderness
• A cache of 20 used hypodermic needles and syringes lying on the ground
• Santa Clara Peak and the Pedernal in the distant Jemez Mountains
• Twleve descansos marking highway deaths
• The friendly faces and waves of neighbors driving down the highway
• Enough discarded furniture to fill a living room
• The beautiful adobe homes and fields of Córdova
• Gambling cheat sheets from the casinos showing you how to win at craps
• Handsome, multi-colored mules at Oviedo and Centinela in Chimayó
• More used hypodermic needles
• El Santuario de Chimayó, a symbol of hope and faith
Marching in New York City on the Second Anniversary of the U.S. Invasion of Iraq
By Aspen Meleski
Editors' Note: We asked Aspen Meleski, who is sixteen years old and lives in upper Las Trampas Canyon with her parents, Mary Steigerwald and Rico Meleski, to write about her experience at the New York City march marking the second anniversary of the US invasion of Iraq. As Aspen notes in her article, there were many people there protesting the possibility of the reinstitution of the draft. President Bush has directed the Selective Service System (SSS) to report to him on March 31 that it is ready to implement the draft within 75 days. Right now, the SSS is staffing local draft boards, training volunteer registrars to work on high school and college campuses, and streamlining its induction process. They have also gained access to the Department of Education's computer files to ensure maximum registration. As Representative Tom Udall commented in last month's interview in La Jicarita News, the Hispano and Native American communities in New Mexico have traditionally served in wartime in disproportionately large numbers. The draft, while defended by many as a way of making sure that military service extends across all barriers of class, race, and ethnicity, has not made the situation in New Mexico any more equitable. In response to current stepped-up recruiting activities, members of a group called Full Disclosure Recruiting, comprised of Veterans for Peace, are visiting New Mexico schools to provide information to high school students that balances the information provided by military recruiters. The group will make a presentation to students at Peñasco High School in April.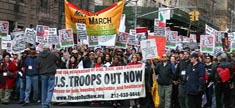 Courtesy of the Troops Out Now coalition
On March 19, 2005, the second anniversary of the US invasion of Iraq, I had the privilege to attend a march and rally in New York City, sponsored by the Troops Out Now coalition. At least 15,000 people marched from Marcus Garvey Park to Central Park, to join a crowd which was already assembled to hear speakers and musicians. After the rally the march continued to Mayor Bloomberg's house to demand money for jobs instead of war.
New York City was graced with unusually sunny weather. The energy of the crowd was upbeat and hopeful. It seemed every faction of humanity was represented on the streets that day, including a woman in a wheelchair, her sign reading "Ninety-Seven and Outraged!" There were dozens of signs saying "No Draft No Way", and it was inspiring to see them -&emdash; it made me feel safer about my future to see how many people were taking a stand to protect it for me.
En route to Bloomberg's home, the march passed a church, where a wedding party stood on the steps, halted by the immense crowd. They watched and smiled, and the bride raised her hand in a peace sign, as the protesters cheered and chanted, "Make love not war!" As we marched, the borders of the fence that lined the route were guarded by police officers. I made a point of making eye contact and smiling, and several of them smiled back at me &emdash; furtively, but still a smile.
All along our walk the onlookers showed support, from the poorest neighborhoods of Harlem to the wealthiest parts of the Upper East side, proving my belief that the American people from all walks of life truly want peace, not war.