Techno Fascism, Otra Vez: National Animal Identification System Threatens Small Farmers and Ranchers
By Kay Matthews
There is a groundswell of opposition to the United States Agricultural Department's (USDA) draft proposal, the National Animal Identification System (NAIS), that would require all farmers and ranchers to register the GPS coordinates, name, address, phone, and other data on every single animal they own. The rationale behind this soon to be mandatory program is "to establish the animal information foundation necessary to support animal disease monitoring, surveillance, control, and eradication programs." Every livestock animal in the United States will be identified and tagged. All livestock animal movements will be tracked, logged, and reported to the government. The program has even been extended to include non-traditional food animals such as horses and guardian animals (the list includes alpacas, llamas, bison, cattle - beef and dairy - deer and elk, horses, goats, poultry, sheep, and pigs on the USDA web site, http://www.usda.gov/nais).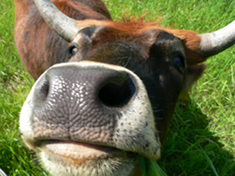 A cow . . .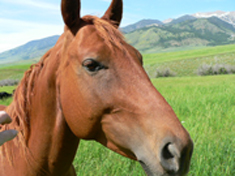 A horse . . .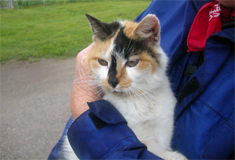 Then a cat?
Enabled under the Patriot Act, NAIS will require that premises identification and the animal identification system be mandatory by January 2008, and the animal tracking system by the year 2009. The agency held "listening sessions" (which many were totally unaware of) during 2004 and issued a draft proposal in 2005 that supposedly incorporated public comment. The 2006 draft proposal follows NAIS standards.
According to opponents, the proposal is all about money and will not prevent disease. Foreign markets for cattle export require tagging and tracking, and the tag and equipment industries see this as an opportunity to make a profit by getting the USDA to extend the tagging requirement to include all livestock that might enter the food chain.
Walter Jeffries, who runs Sugar Mountain Farm in Vermont, is one of the most vocal opponents and has set up a web site called NoNAIS.org.He believes the USDA is using Mad Cow Disease (BSE) and Avian flu as scare tactics to justify the program, but that NAIS will not prevent or stop disease: "BSE is caused by cows eating cows and it sometimes occurs randomly when a protein misfolds so traceback won't help with BSE. Testing at slaughter and stopping the practice of feeding cows back to cows are the things that will help prevent Mad Cow Disease. Avian Flu comes from wild ducks and other wild water fowl. NAIS will do nothing for either. Confinement rearing also will not help with Avian Flu - several factory chicken farms have been hit by it."
Jeffries believes NAIS will hurt small farmers, homesteaders, and pet owners with excessive fees ($10 or more per animal), invasion of privacy, and onerous paperwork. "Even small farmers that sell directly to local consumers will be required to pay the fees and file all the paperwork on all their animals. Homesteaders who raise their own meat and grandma, with her one egg hen, will also have to register their homes as 'farm premises' and obtain a Premise ID, tag all their animals and submit all the paperwork and fees."
Jeffries concurs with other opponents that this program is being set up to benefit big factory farms that probably do need this type of regulation. But large-scale producers will be able to obtain single IDs for large groups of animals. He encourages everyone to submit comments to the USDA (it's not too late), inform their friends and neighbors about what is going on, and call their congressional representatives to express their opposition. He believes the program should be voluntary; then sellers who would benefit from the export markets and other venues requiring traceability would get higher prices. There is no need to "shove it down the throat" of everyone else. Another web site that is organizing opposition to NAIS is http://www.noanimalid.com.
ANNOUNCEMENTS
• The appeal of the Invasive Plant Control Project Record of Decision has been upheld by the Regional Forest Service Office and the Environmental Impact Statement will be sent back to the Carson and Santa Fe National Forests for revision. The deputy regional forester acknowledged that the EIS does not address the state Environment Department's concern about the use of a certain herbicide in municipal watersheds and that the plan does not adequately address the cumulative environmental impacts on wildlife. An amended EIS will have to be drafted and released to the public for additional comment (see article on pages 6-7 for a more complete analysis of this issue).
• The Southwest Marketing Network 4th Annual Conference will be held on March 27, 28, & 29 in Grand Junction, Colorado. The goal of the Network is to ensure that new, existing, and prospective Southwest producers - especially small-scale, alternative, and minority producers - have connections with others, technical and financial assistance, marketing information, business and marketing skills, and peer examples needed to improve their marketing success. This year's conference fee is $150, which includes most meals. There will be presentations, workshops and tours of local businesses. For more information contact Le Adams at Farm to Table, 505 473-1004, or e-mail ladams@cybermesa.com.
•EcoVersity just released its spring catalog of courses. The calendar includes courses for March through June: permaculture, beekeeping, composting, energy, herbal healing, ethnobotony, earth plasters, water management and more. To get a catalog or register, contact EcoVersity at 2639 Agua Fria, Santa Fe, 505 424-9797, www.ecoversity.org
LETTERS
La Jicarita News:
Happy New Year! We made it this far. Let us hope 2006 will be a better year for the world than 2005.
Ike is spot on. Thanks for interviewing him. It's one of the saddest things I've ever read. I'm about the same age, mas o menos - tho I'm in good health and still truckin' - tho slower than before.
I remember well standing on a streetcorner in L.A. in 1948, all by myself, handing out leaflets for Henry Wallace - my first political action. I too was sure that my generation would Fix the World. Guess we haven't done any better than any other generation.
It seems to me, though, that one has two choices: continue to struggle, no matter on how small a scale, or lie down and die, and I'm not ready for the latter yet. Evidently you aren't either; I much appreciate La Jicarita. Keep it up!
Hang in there,
Joanne Forman
Proposed Rio Hondo Water Sharing Agreement
By Kay Matthews
The acequias of the Rio Hondo in Taos County have been working on a flow sharing agreement to cooperatively distribute water among users for many years now. While commissioners for the Des Montes, Valdez, and Arroyo Hondo community ditches signed the agreement on January 9, 2006, it has subsequently been derailed by objections from the Office of the State Engineer (OSE) and an individual parciante.
The water sharing agreement states that the ditches will share water according to percentages of the available supply (Des Montes, 41%; Valdez, 22%; and Arroyo Hondo, 37%), which will be based on the sum of the stream flow measured at the Valdez gage on the Rio Hondo. The ditches will not divert more water than the diversion amounts and percentages for each ditch, as stipulated by a final adjudication. The parties to the agreement have applied for monies from the Interstate Stream Commission (ISC) to install weirs and gages equipped to measure and record the diversion at each of the headgates.
The commissioners will appoint a water management committee known as Los Mayordomos de Comunidad (LMC) that will oversee the measurement of flows at the Valdez gage and adjust the head gates of each of the eight direct diversions from the Rio Hondo, equal to the percentages of available water supply. LMC will be comprised of one member from each of the three communities.
The agreement also sets up mechanisms for dispute resolution, consultation with other agencies, and changes to the agreement. There is also a waiver of liability. The commissioners have acknowledged the findings of a state-employed historian with respect to priority dates and "expressly agree that they shall not seek enforcement of these priorities, either directly or indirectly, through priority call or otherwise."
This is an historically important document in light of the many internecine battles among acequias over water sharing, especially in this time of drought. So why has the OSE filed a "Nonconcurrence" with the agreement? According to OSE attorney Bruce Frederick, the priority date listed in the motion to adopt the Rio Hondo water sharing agreement lists a priority date of 1815 for the Des Montes ditch that is different from the priority date that the OSE has already provided, by notice, to ditch parciantes. "We don't oppose this priority date but we need to come up with a procedure for sending out notification. I fully support the priorities and the water sharing agreement."
Alfred Trujillo, an affected parciante, came into the court hearings pro se and challenged the agreement with regard to the priority dates of the three ditches and the allotments of water, particularly of the Valdez ditch, which represents 11% of the acreage but will divert 22% of the water. Trujillo claims that the water flow data supplied by the ISC is incorrect and without the necessary measuring devices the agreement is premature.
Em Hall, one of the attorneys representing the community ditches (the other attorneys are Peter White and Fred Abramowitz), who has been working on this agreement for many years, worries that it is going to turn into "a procedural nightmare. . . . This is an agreement that can work very practically." He's been trying to get Trujillo, and Robert Baxter, the historian who recommended the priority dates included in the agreement, to sit down and work out their differences.
Peter White questions Frederick's opinion that it is necessary to give notice of the changed priority date: "It's desirable for the OSE to support this agreement as it stands. It supersedes all prior proceedings and orders. Let's not litigate all these issues and priorities and drag this process out with responses, replies, and endless motions. This is a really impressive agreement."
The attorneys plan to file a motion to stay the OSE's Nonconcurrence motion and enter into a consent order that would make the priority dates in the water sharing agreement binding on the ditch associations so that the project can move forward.
TAOS COUNTY Resolution No. 2006
Editor's Note: This is a significant and timely resolution that hopefully will set a precedent for other New Mexico counties. It's particularly important in light of Santa Fe County's attempts to transfer water rights from Top Of the World Farms in northern Taos County. A transfer of 588 acre feet has been pending since 1999, and Santa Fe County recently purchased 1,088 additional acre feet of rights and will soon apply to transfer them to help settle the Aamodt adjudication (see La Jicarita News, January, 2006 and article on page 5).
A resolution to support the protestants to any transfer(s) of water from Taos County in order to preserve and retain the waters of the County within the Area of Origin.
WHEREAS, The historical cultures of the Taos Region - Native American and Hispanic - have revered water as the lifeblood of their communities; and
WHEREAS, the hydrology of ground and surface water is important to the viability of the acequias, Pueblos, and traditional communities; and
WHEREAS, the County seeks to protect the agricultural water rights that sustain the rural way of life within the County; and
WHEREAS, the long term growth and economic stability of the County depends upon adequate water supplies to sustain the vitality of the County.
NOW, THEREFORE, BE IT RESOLVED BY THE GOVERNING BODY OF TAOS COUNTY, NEW MEXICO, that the Taos County Board of Commissioners hereby, will support, and possibly join, any protestants to water rights being transferred from Taos County, to protect the traditional cultures, communities, and the future growth of the County.
PASSED, ADOPTED, AND APPROVED this 20th day of February 2006.
TAOS COUNTY BOARD OF COMMISSIONERS ___________________________________
Emanuel B. Pacheco, Chairman
____________________________________
Nicklos E. Jaramillo, Vice-Chairman
______________________________________
Virgil D. Martinez, Commissioner
_____________________________________
Gabriel J. Romero, Commissioner
____________________________________
Don Francisco R. Trujillo II, Commissioner
Pojoaque Basin Water Alliance Members Continue to Raise Serious Questions Regarding Proposed Settlement of the Aamodt Adjudication
By Kay Matthews
The board of directors of the Pojoaque Basin Water Alliance invited its members to a meeting in Pojoaque on February 13 to talk about the latest version of the Aamodt adjudication proposed settlement. At the court hearing before Judge Martha Vasquez in January, all government entities involved in the settlement, excluding the federal government, agreed on the principles of the settlement and are expected to sign the document by March 15. The Pojoaque Basin Alliance is not a signatory to the agreement (it is not considered a class) and can only recommend to its membership that they individually sign or not sign.
As was obvious at the Alliance meeting, board members and many of their fellow non-Pueblo basin residents are still far from happy with the proposal. In their presentation, board members discussed the issues they feel still need to be resolved before they would recommend signing the settlement.
Lack of Impairment Fund
Board president Scott Pittman and Alliance attorney Fred Waltz both spoke to this issue. Waltz pointed out that there need to be criteria and standards for determining how potential impairments will be addressed and that he is trying to bring this issue to the table. Pittman believes that non-Pueblo residents should have a guarantee that an impairing Pueblo be required to cease activities that cause impairment and/or mitigate impairment by providing water. Establishing a monetary fund for compensation should be seen as a last resort, and funding should not come from the pocket of the impaired party through tax or bond issues.
Cost Sharing Agreement and Governance
These costs have yet to be negotiated and non-Pueblo residents feel strongly that they should pay only for services that benefit their community. None of the projected $250 million cost of the project is committed at this point. The state is expected to cover $20 million (as we went to press Governor Richardson vetoed the appropriation for all Indian water settlements, including Aamodt) and Santa Fe County between $5 and $10 million. That leaves the federal government with a substantial chunk of the bill, which they abruptly failed to commit to a year ago last January at the settlement hearing. Alliance members want a full disclosure of costs and they also want a seat on the board of the Regional Water System, which will be controlled by the four pueblos and the county, and the County Water Utility. There is the danger of privatization of either of these entities and the Alliance wants to be onboard to protect the interests of non-Pueblo residents.
Purchase of Water Rights
Board member Lynne Velasco provided a brief overview of the Top of the World Farms (in northern Taos County) water transfer proposals currently being negotiated by Santa Fe County (see La Jicarita News, January 2006). The 1999 application currently under protest would transfer 588 acre feet per year (afy) to help meet the county's obligation of 750 afy of future non-Pueblo development rights (the county anticipates that the 750 afy of current use rights would come from residents hooking up to the water delivery system). The proposed second transfer application of 1,088 afy would go to the Pueblos to help meet the 2,500 afy of pipeline water committed by the county. As Velasco pointed out, in theory this imported water would benefit the basin by preventing further pumping of the aquifer and provide protection for priority calls on the acequias. The reality, however, is that the Rio Grande may or may not have the wet water to deliver to the Pueblos, whether it comes from transfers or San Juan/Chama rights. If that water is not available, Pojoaque Pueblo has the right to pump their portion of water from the basin. Fred Waltz also pointed out that the Top of the World water rights are very junior rights and subject to a priority call.
Water Banking
While state statute allows acequia commissions to establish water banks (see La Jicarita News, February 2005) board member Paul White is concerned that the settlement agreement provides for loss of priority protection without notice if a parciante does not use irrigation water for five years (unless you can show hardship). To be protected from Pueblo priority calls water placed in an acequia water bank must be put to beneficial use.
Attorney Fred Waltz addressed the group and stressed that while these issues still need to be negotiated, much has been accomplished in this last year of talks. There will be no capping of domestic wells or mandatory hook-ups to the water delivery system. There will be only a small reduction of the amount of water pumped from wells based on historic beneficial use. There will be no priority calls on wells with the exception of those who entered into the post 1982 well agreement and those who use more than .5 afy. There will be 750 afy of imported water for future non-Pueblo use.
But Waltz pointed out that the proposed settlement is, in reality, the settlement of Pueblo water rights under the prior appropriations doctrine and anything the non-Pueblo residents get is gravy. Under Spanish and Mexican law and tradition all water users shared water resources, but under New Mexico prior appropriation law the "first in time is first in line." He told everyone that they will probably have about a year to decide if they want to sign the agreement or litigate. If parties to the adjudication fail to act on the agreement, the court will declare agreement by default.
Waltz answered a lot of questions from the audience but he also fielded a lot of complaints: That lawyers representing the Rio Pojoaque Acequia and Well Water Users Association have done a poor job of protecting acequia rights; that they want restrictions that say the Pueblos can't export their 2,500 afy of imported water; that they want water to stay in its area of origin; and that the two public meetings slated for the following weeks in Tesuque and Pojoaque were set up to inhibit public discourse.
After the public venting, Pittman asked the audience: "Why are we negotiating? To stop the Pueblos from pumping the aquifer. That is a disastrous position to be in. But are we giving away too much? Are you ready to pull the plug on this? What is the mindset of this valley?" This elicited an impassioned statement from Robert Sena, who has long been involved in the adjudication: "Let's not be intimidated. Let's litigate and appeal Mechem's [Judge Mechem, who originally determined the Pueblos' water rights] decision of 3,660 acre feet!" He got a round of applause, but he also got a cautionary note from Waltz, who told the group, "You're going to need a million dollars to litigate this adjudication."
Editorial: Now is the Winter of Our Discontent
By Mark Schiller
Following one of the driest and politically bleakest winters on record and anticipating a spring and summer when the whole state could go up in smoke and the war in Iraq could morph into a civil war and escalate into Iran, I'd like to talk about how the bureaucratic policies and thinking we continue to tolerate exacerbate these dire situations.
Water Management - or the Lack Thereof
The ongoing drought is bringing water distribution issues to a head. It seems clear that local governments are in the back pocket of developers and will do nothing to limit the unbridled growth of Santa Fe and Albuquerque despite the fact that New Mexico' surface water is already over appropriated. Right now these cities are banking on imported water from the San Juan/Chama Project, but that water's availability will also be affected by the drought. State government's endorsement of the inequitable proposed settlement of the longstanding Aamodt water rights adjudication for the Pojoaque Basin strongly indicates it intends to pit rural communities against each other in order to provide water to support municipal growth. Moreover, though the State Engineer claims priority is the law of the land, he's made it clear that his office won't enforce priority when it comes to Santa Fe and Albuquerque, despite the fact that many of those cities' water rights are junior to both upstream and downstream agricultural rights. The message is obvious: water taps in Santa Fe and Albuquerque, particularly hotels' and Intel's, will continue to flow regardless of the consequences to others.
So what does that mean for New Mexico farmers and ranchers? Remember during the 80s, when the Santa Fe housing market was experiencing an unprecedented upswing? Real estate agents were literally going door to door offering longtime low- and middle-income residents big time money for their houses. And the county and city cooperated by increasing property taxes as housing costs soared, forcing the few remaining diehards, who could no longer afford to live in their own neighborhood, from their homes. Well, it's deja vous all over again. How will farmers and ranchers, who've already been marginalized to the brink of extinction, be able to resist big time bucks for their senior water rights, particularly after a summer or two like the one upcoming, when there won't be enough water to irrigate crops and the Forest Service and BLM will almost certainly curtail or completely deny grazing access on public lands. And if you're banking on the new state statutes that give acequia commissions the authority to deny water transfers, I'd wait to see how the law holds up in court, where it will unquestionably be challenged.
Ski Area Myths
Speaking about the drought and acequias, I was recently disturbed to hear a parciante trot out the same lame argument the Forest Service and the ski industry have been trying to sell for years: i.e., snow making at ski areas stores water and makes it available for irrigation later in the year. That conclusion is near-sighted and specious for a number of reasons. First, the run-off from snowmaking has a miniscule impact on overall stream flow because it occurs at the same time as normal mountain run-off when there's already abundant water for irrigation. It's not available in July and August when it's really needed. Conversely, snowmaking takes the water from the river during the winter when it's lowest and most vulnerable, impacting fish habitat and diminishing the river's ability to assimilate pollutants. If you don't believe me, check out the algae blooms in communities downstream from ski areas like Arroyo Hondo and Dixon. Third, ski areas add a biological agent to the water to help it crystallize. The ski industry has insisted that it's harmless, but recent studies at Utah State University demonstrate otherwise. According to an October 3, 2005 article in the Salt Lake Tribune, "Snomax [the commercial name of the biological agent used in snowmaking] threatens a root-associated fungi that plants depend on to process nutrients and water." The article quoted researchers at the University: "Over several years the deterioration of these fungi could denude tree-covered hills at ski resorts that use the product. . . . It takes a while for this [biological agent] to get down into the soil, and they (ski resorts) have only been spraying heavily for [a few] years." The article continued, "Through greenhouse testing, [researchers] found the more Snomax was applied to plants, the less they grew."
While I'm at it, there's another false notion about ski areas that needs to be addressed. Recently both the Taos News and the Santa Fe Reporter have run articles suggesting that we should all be concerned about the lousy year the Taos and Santa Fe ski areas are having because they "contribute" so significantly to the local economy. Economic statistics, however, tell a different story. Colorado College professor and community organizer Maria Varela investigated how the Taos ski area affected Taos County and found, "Since the 1960s Taos County's gross revenues have risen commensurately with the popularity of alpine skiing and other recreational activities, more than doubling between 1980 and 1990 from $80 million to $172 million. But the poverty rate of the county remained unchanged. According to the 1990 census 67 percent of the families in Taos County, where a little more than 70 percent of the population is Hispano and Native American, make less than $25,000 per year." In other words, ski areas are playgrounds for the rich that are underwritten by the poor. They benefit the few at the expense of the many. They increase the flow of revenue passing through a community, but rarely contribute to increasing the economic capacity of community members themselves, particularly members of racial and ethnic minorities, because the vast majority of jobs they and associated businesses create are low-wage, seasonal, and without benefits. So let's put that myth to rest as well.
Forest Service Follies
If you read last month's La Jicarita News, you may recall my article about the numerous appeals, by individuals and civic and environmental groups, of the Forest Service plan to use herbicides on the Santa Fe and Carson national forests to control "invasive" plants. The good news is the appeal was upheld. The bad news is that the Forest Service, predictably, is not going to seek alternative methods of treating the problem, it's simply going to "tweek" the Environmental Impact Statement (EIS) in an attempt to better justify herbicide use. Although deputy regional forester Lucia M. Turner found that the EIS did not address the New Mexico Environmental Department's concerns about use of the herbicide picloram in municipal watersheds, nor did it adequately address potential cumulative impacts of herbicide use on wildlife, she still maintained that herbicide use "appears to be the most efficient and effective means to control invasive weeds and should accomplish the purpose and need of the project." Forest Service spokesperson Delores Maese said, "It's not a setback. It just means we have some work ahead of us." Do these folks live in a parallel universe? I guess they're going to find out because their intransigence is going to lead to an endless cycle of appeals and litigation. If the Forest Service simply took the money it spent and is going to continue to spend trying to justify the use of herbicides (which the public clearly feels represents unacceptable risks to native plants, wildlife, and humans) and used it to create jobs for unemployed members of forest adjacent communities, pulling and cutting weeds and managing livestock that eat the weeds, I suspect the problem, which affects less than 7,300 acres (less than two tenths of one percent of these forests combined areas), could be eliminated in a few years and the Forest Service might actually earn some much needed goodwill among the locals. But you can always count on the Forest Service zanies to take the counter intuitive approach. Since they spend most of their time shuffling papers, they apparently think creating more paper work secures their jobs. And the way their bureaucracy rewards and promotes incompetence while punishing whistleblowers certainly bears that out.
Manifest Destiny
Finally, in conjunction with the land grant research I've been doing, I've been reading about the nineteenth century notion of "Manifest Destiny" (which posited the idea that the United States was divinely ordained to expand across the entire continent of North America) and I'd like to share an interesting fact. In 1843 Andrew Jackson euphemized the imperialist land grab through which the United States acquired Texas (which ironically entered the union as a slave state in direct contradiction to Mexican law) by calling it "extending the area of freedom." Does that sound familiar? Jackson's rationale differed neither in form nor substance from what the neo-con ideologues of the Bush administration are currently perpetrating in Iraq: rationalizing an imperialist war by asserting we're "redeeming" the Iraqi people (who paradoxically are dying by the tens of thousands) by bestowing the institution of "American Democracy" upon them (which, according to Bush, God himself has endorsed). The American government has been feeding the American people the same line of bullshit since Thomas Jefferson penned the Declaration of Independence, in which he attempted to justify the theft of Native American land by American colonists by suggesting that Native Americans were "merciless Indian savages, whose known rule of warfare is an undistinguished destruction of all ages, sexes and conditions." In other words, blame the victims, another classic imperialist strategy. So next time you pass a ranch or farm that's barely surviving and has one of those signs that says, "Freedom isn't free," take note of the irony.