A Moveable Feast: Mobile Matanza Comes to El Norte
By Mark Schiller
Small scale ranching has been a mainstay of norteño culture for centuries. However, twenty-first century economics, drought and increasingly restrictive grazing regulations on public land (much of which, ironically, was misappropriated from these rural communities by the federal government) have made it increasingly difficult for ranchers to stay in business. Now the Taos County Economic Development Corporation (TCEDC), with funding from the state government, is providing a tool that can help make ranching more profitable. It's called the "Mobile Matanza," named after the Hispano tradition of community members coming together to help one another butcher livestock and share and celebrate the bounty.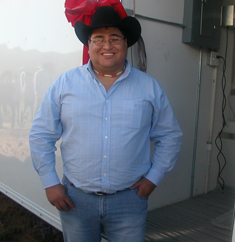 Lee Knox, Mobile Matanza manager and chief butcher
The Mobile Matanza is a livestock slaughtering facility attached to a truck. The unit itself is almost 14 feet high and 36 feet long. The work area is temperature controlled and includes a sink, sterilizing bin, inspection tray, two 2,000 pound winches, power washes, and a no-slip floor. It can hold up to ten beef, twenty hogs, seventy lambs, or eight bison.
The facility will be staffed by two butchers and a New Mexico Livestock Board inspector. They'll use the unit to slaughter and inspect livestock on farm or at a central place selected by livestock growers. Meat slaughtered in this unit can then be transported to a certified hang, cut, and wrap facility which will allow norteño ranchers to market their meat commercially.
On September 28, TCEDC hosted an inaugural ceremony for the facility attended by local, tribal, state, and federal officials who are all stakeholders in the new enterprise. Speakers included Rick Homans, the state Secretary of Economic Development, State Senator Carlos Cisneros, and representatives from the Taos County Commission, the New Mexico Livestock Board, Taos Pueblo, and the United States and New Mexico Departments of Agriculture.
Lee Knox, a native New Mexican who grew up on ranches in the north, has been hired as the Mobile Matanza manager and chief butcher. He's spending the month of October in Washington state training with the Island Grown Farmers Co-operative, a mobile slaughtering, processing, and marketing group that's been in business for more than five years and upon which TCEDC is modeling its plans.
Terrie Bad Hand, co-director with Pati Martinson of TCEDC, told La Jicarita News that in addition to the Mobile Matanza TCEDC has purchased a pre-fabricated building that will house a refrigerated hanging, cutting and wrapping facility at the TCEDC business park on Salazar Road in Taos. This facility, underwritten by a grant from the Rural Development division of the United States Department of Agriculture, will also employ a USDA inspector. Future plans call for a more permanent hanging, cutting, and wrapping facility and a training program to certify local people as meat inspectors, who she noted are in short supply.
Bad Hand went on to say that TCEDC has developed a business plan in conjunction with long time norteña activist and Colorado College professor Maria Varela, to organize ranchers into a marketing cooperative in order to increase the scale of production and maximize markets. She pointed out that market demand for organic and natural, grassfed, locally grown meats is increasing nationally at a rate of fifteen percent annually. However, the lack of certified processing facilities has prevented many New Mexico ranchers from taking advantage of this lucrative niche market.
La Jicarita News also spoke with Daniel Sam, who along with his wife Joey, manages the Picuris Pueblo bison herd. Sam said that the Pueblo has increased the herd to seventy head and expanded its meat distribution, which was initially limited to tribal members, to include the Santa Fe and Los Alamos Farmers' Markets, as well as the restaurant in the tribe's Hotel Santa Fe. The Pueblo hopes to grow their operation to 200 bison. Sam noted, however, that the Pueblo has continually had problems finding a certified slaughtering and processing facility that can reliably meet its needs and expressed obvious interest in the Mobile Matanza.
When Lee Knox returns from Washington in November, TCEDC will begin a demonstration program to acquaint local producers with the full range of its slaughtering and meat processing services. The Mobile Matanza will operate within a 60-100 mile range of Taos, including the counties of Taos, San Miguel, Colfax, Rio Arriba, and Santa Fe.
TCEDC also operates the Taos Food Center, which along with educational programs about food processing and the history and culture of food in northern New Mexico, includes a 5,000 square-foot commercial kitchen. The kitchen has been instrumental in establishing and growing local businesses that sell salsa, jams and jellies, and baked goods. The kitchen includes dry storage, walk-in cooler and freezer, convection ovens, fryers, steam kettles, vacuum sealer, fruit presses, flash pasteurizer, and canning equipment.
For more information regarding the Mobile Matanza and other TCEDC food services and programs, readers can contact Bad Hand, Martinson, or Knox at (505) 758-8731, e-mail: tcedc@tcedc.org, or stop by the business center at 1021 Salazar Road in Taos.
ANNOUNCEMENTS
• The steering committee of the Taos Regional Water Plan will be holding a series of public meetings to review the plan. The Regional Plan has identified watershed management, water quality protection, public education, protection of agriculture and acequias, infrastructure improvement, growth management, and keeping water in its area of origin as it priority strategies. A draft Public Welfare Statement will also reviewed. Meetings will be held on Thursday, October 19, 6-8 pm at the Village of Questa Town Hall; Tuesday, October 24, 6-8 pm at El Taoseño Room, Taos Convention Center, 120 Civic Plaza Drive; and Wednesday, October 25, 6-8 pm at the Community Center in Peñasco.
• The 2007 Collaborative Forest Restoration Program (CFRP) is providing grant applicants with the option of submitting a Pre-Project Proposal Summary. This will enable CFRP Program Coordinators to assure that projects are developed in collaboration with the relevant land management agencies and that new CFRP grant proposals adequately address the program objectives. The due date for Pre-Proposal summaries is Monday, November 20, 2006 and must be submitted to the CFRP coordinator of the forest nearest the proposed project area. The CFRP coordinators for northern New Mexico are:
Carson National Forest: Ignacio Peralta, P.O. Box 558, Taos, NM 87571, 758-6344, iperalta@fs.fed.us
Santa Fe National Forest: Ruben Montes, P.O. Box 1689, Santa Fe, NM 87504, 438-7892, rmontes@fs.fed.us
Amy Goodman Came to Town
Amy Goodman of Democracy Now! came to Taos for a fundraiser to support Cultural Energy and charmed everyone. She and her co-author brother David Goodman recently published a new book, Static: Government Liars, Media Cheerleaders and the People Who Fight Back. David discussed the book and the politics it addresses. He underscored the importance of grassroots organizing to resist the onslaught of global corporatization supported by media complicity. His sister, obviously delighted to be in Taos, entertained the crowd with anecdotes about their current book tour and recognized the work of Taos activists who were in attendance.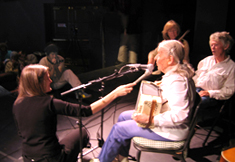 Amy Goodman recording Taos musician Jenny Vincent at the fundraiser
State Engineer's New Domestic Water Regulations Contested
By Kay Matthews
There is a pattern that repeats itself over and over again in government bureaucracy: a county, state, or federal agency seeks public input (usually required by law) on new regulations of one sort or another, ignores the substantial opposition, and ends up in court defending its action.
This time it's State Engineer John D'Antonio who has been served with a "Writ of Certiorari" contesting the Office of the State Engineer's (OSE) "Rules and Regulations Governing the Use of Underground Waters for Household or Other Domestic Use," released August 16, 2006. (Because there is no statutory right to an appeal of the regulations the petitioners filed a pleading before District Court Judge Hall, who issued this Writ of Certiorari, which was served on the OSE and the state attorney general.) The parties (petitioners) contesting the new regulations, which essentially reduce the number of acre feet per domestic household well to 1-acre foot per year, permit expedited transfers to domestic wells without notice and hearing, and prohibit transfers of domestic well rights to mutual domestic water systems (except under very limited circumstances), include Rio Arriba County, the New Mexico Acequia Association, a group of mutual domestic water associations, and a group of acequia associations.
These groups claim that the new regulations are both procedurally illegal and substantively inequitable. The issue of well regulation has been before the state legislature for several years now, but the bills have continually failed to pass. So the OSE decided to promulgate new regulations administratively rather than legislatively and released a draft version of the regulations last January. The agency received written comments and held a public meeting on April 21, where the majority of the attendants expressed opposition to the regulations. A second set of proposed regulations was issued on May 26. The OSE again received written comment but did not conduct a public hearing. The final domestic well regulations were issued on August 15.
The petitioners contend that additional public hearings should have been held, particularly in light of the amount of opposition the regulations generated, making the adoption of the regulations "arbitrary and capricious." They also assert that the State Engineer has overstepped his authority by promulgating regulations that "usurp the legislative function of the legislative branch." They claim that "his attempt to do so violates the separation of powers provisions of the New Mexico Constitution."
The suit additionally raises several substantive issues that were addressed by people at the public hearing in April and in written comments. One of the main concerns is that the regulations allow transfers to domestic wells within the same hydrologic unit to proceed without public notice or the opportunity for a hearing to determine if the transfer impairs existing water rights, is contrary to conservation of water, or detrimental to the public welfare. Rio Arriba County signed onto the suit because of its concern that "the vast majority of water rights available for transfer into domestic wells, under the restrictions imposed by the domestic well regulations, are the water rights owned by the acequias and their members." While acequias that have a Transfer Bylaw provision would be notified of any proposed water transfer from that acequia, those without such a bylaw would have no notice.
The other major concern is that the new regulations prohibit the transfer of existing domestic well rights to a mutual domestic water association unless it is classified a "regional water system", or the transfer is part of the settlement of a water rights claim (adjudication). While it's unclear what a "regional water system" is, the New Mexico Acequia Association has been working with acequias and mutual domestics to support the transfer of domestic well rights to community water systems to promote safe drinking water and protect acequia water rights.
Esther Garcia, a commissioner on the Cabresto Lake Irrigation Company, one of the petitioners, believes the state's promotion of regional water systems will give it more control, noting the OSE's recent involvement in the creation of the Cerro and El Rito regional water system. Garcia attended the OSE public meeting in April where most of the 200 people who attended objected to transfers without notification and the restrictions on transferring well rights to a mutual domestic. They also objected to the proposed regulation allowing up to ten domestic well permits to any one person or entity for development purposes, which could threaten senior water rights holders or result in stream depletions that are not required to be offset. According to Garcia, the OSE failed to address any of these concerns in its revised regulations.
The OSE has 30 days to file a record of response, including the reasons for its decision. The petitioners then have 30 days to reply. Judge Hall will then determine whether any or all of the proposed regulations are within the purview of the State Engineer. The petitioners believe that these regulations give the State Engineer powers that he doesn't - and shouldn't - have, and that in order to regulate domestic wells, the legislature must enact laws that amend current state statutes.
From Michael Pollan's book, The Omnivore's Dilemma: A Natural History of Four Meals
"The coevolutionary relationship between cows and grass is one of nature's unappreciated wonders; it also happens to be the key to understanding just about everything about modern meat. For the grasses, which have evolved to withstand the grazing of ruminants, the cow maintains and expands their habitat by preventing trees and shrubs from gaining a foothold and hogging the sunlight; the animal also spreads grass seed, plants it with his hooves, and then fertilizes it with his manure. In exchange for these services the grasses offer ruminants a plentiful and exclusive supply of lunch. For cows (like sheep, bison, and other ruminants) have evolved the special ability to convert grass&emdash;which single-stomached creatures like us can't digest&emdash;into high-quality protein. They can do this because they possess what is surely the most highly evolved digestive organ in nature: the rumen. About the size of a medicine ball, the organ is essentially a forty-five gallon fermentation tank in which a resident population of bacteria dines on grass. Living their unseen lives at the far end of the food chain that culminates in a hamburger, these bacteria have, like the grasses, coevolved with the cows, whom they feed.
Truly this is an excellent system for all concerned: for the grasses, the bacteria, for the animals, and for us, the animals' eaters. While it is true that overgrazing can do ecological harm to a grassland, in recent years ranchers have adopted rotational grazing patterns that more closely mimic the patterns of bison, a ruminant that sustainably grazed these same grasses for thousands of years before the cow displaced it. In fact, a growing number of ecologists now believe the rangelands are healthier with cattle on them, provided they're moved frequently. Today the most serious environmental harm associated with the cattle industry takes place on the feedlot.
In fact, growing meat on grass makes superb ecological sense: It is a sustainable, solar-powered food chain that produces food by transforming sunlight into protein."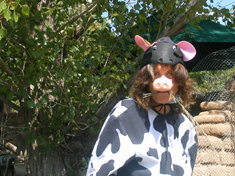 A grassfed cow in our El Valle pasture
Southwest Grassfed Livestock Alliance Producer Contact List (New Mexico Producers) www.swgla.org
Soaring Eagle Ranch
PO Box 171, Los Ojos, NM 87551
505.588.7424 - Sage Faulkner
505.588.7011
Grassfed Beef Available
www.naturalsteak.com
Carrizo Valley Ranch Natural Beef
Sid & Cheryl Goodloe
Capitan, New Mexico
505.354.2379
carrizovalleyranch@yahoo.com
Six Bar Eight Ranch
Walt Marshall
Leyba, New Mexico
505.421.2465
cbhecc@aol.com
Ranney Ranch
Melvin Johnson, Nancy Ranney
Corona, New Mexico
505.849.8141
Tafoya Grassfed Beef
Richard Tafoya
Santa Fe, New Mexico
505.438.8153
richardt87502@yahoo.com
The Weaver Ranch
Jim Weaver & Willard Heck
Causey, New Mexico
505.273.4360
wrcnm@yucca.net
Mark Cortner
Roswell, New Mexico
505.627.0430
mcortner@msn.com
Cimarron Angus
Bill & Barbie Goebel
Maxwell, New Mexico
505.375.2972
bgoebel@bacavalley.com
Grassfed Spanish Longhorns
John Guldemann
Animas, New Mexico
505.548.2402
Easy Does It Ranch
Joe Hollister
Cliff, New Mexico
505.535.4410
ezdoesit@gilanet.com
Pino Creek Ranch
Martin & Margrit Honegger
Newkirk, NM 88431
505.641.5282
pcr@plateautel.net
Reunion Ranch
Matt Mitchell
Roy, New Mexico
505.485.2589
Sam Montoya
Sandia Pueblo
505.867.2547
Naturally New Mexico Beef & Lamb
Michael Quintana
El Rito, New Mexico
Plant: 505.581.4576, Michael: 577.2924
grassfed beef & lamb
George Vigil & Katherine Britton
Los Alamos, New Mexico
505.661.6236
Pecos Valley Grassfed Beef
Rick Kingsbury
Ribera, New Mexico
505.421.4727
www.pecosvalleygrassfedbeef.com
Los Alamos National Laboratory and Northern New Mexico: A Codependent and Troubled Relationship
By Jake Kosek, Mark Schiller and Kay Matthews
Nuclear watchdog groups such as Concerned Citizens for Nuclear Safety have done a good job of monitoring and exposing the environmental and political impacts of Los Alamos National Laboratory. However, less attention has been paid to the issues of environmental justice associated with the operation of the Lab. La Jicarita News' friend and colleague Jake Kosek provides such an analysis in his forthcoming book, Understories: The Political Life of Forests in Northern New Mexico (Duke University Press). The following is an excerpt from the chapter in his book that focuses on the complicated relationship of the Lab and the people of northern New Mexico. We have slightly edited it to fit our purposes.
" This iridescent city [Los Alamos] is many things to many people: a revered site of the modern U.S. military industrial complex; epicenter of U.S. nation building; ground zero of high modernism; and the place where [many northern New Mexicans] earn a living. At the same time Los Alamos National Laboratory (LANL) is where the most horrific instruments of mass destruction are produced, the site of one of the most successful collaboration of brilliant minds in the history of the nation, and a symbol of colonialism for many of those who live outside its fences. Its founding father, Robert Oppenheimer, correctly saw it as a place that would radically 'change the nature of the world.' [As one norteña puts it, LANL] is 'the exact opposite of the rest of northern New Mexico in every way,' the Other against which the region is understood. It is 'the white sheep of the family.' In the heart of Chicano Aztlan, [with] one of the strongest Native American presences in the country, there is . . . 'an Orange County suburb crossed with a large private university based at a corporate mountain retreat center.'
The contrasts are startling. In a state that has the highest national rate of residents living in poverty, the second highest percentage of residents without health insurance, the second highest rate of violent deaths among teens, and the third highest rate of violent crimes, Los Alamos sits on the hill with a population that is over 90 percent white, is the [wealthiest county] in the country, has a population that is almost fully insured, and has almost no violent crime. New Mexico is at the very bottom of the scale when it comes to teacher salaries and the socioeconomic conditions for raising children. Only 15 percent of neighboring Rio Arriba County residents over 25 have bachelor degrees or higher, and the dropout rate is almost 12 percent for those who start high school. In contrast, Los Alamos has the highest number of Ph.D.s per capita of any city in the world and the best-funded school system in the state; almost 90 percent of students who graduate from high school go on to a four-year college; and the dropout rate in Los Alamos is well under one percent, with the highest per capita number of national merit scholars in the country. Moreover, northern New Mexico is a site of long histories and traditions that are deeply involved with the ethnic past, whereas Los Alamos, like a 1950s chrome toaster, is a gleaming example of the modern world of technology, science, and the future. These are two different worlds, living together but entirely separate; one poor, one wealthy; one educated, one uneducated; one engaged in global politics of plutonium, genetic engineering, and biotechnology, the other in the politics of ancient acequias, land grants, and firewood. What could be more different from degraded grazing lands and trailer homes than particle separators in suburban neighborhoods?
The apparent disconnect between the communities of northern New Mexico and the military-industrial complex at Los Alamos, however, could not be farther from the truth. New Mexico receives the largest infusion of federal funds per capita of any state in the union and has done so for the last 20 years, almost entirely because of Department of Energy spending. Additionally, New Mexico is a one-stop-shopping experience for those interested in nuclear material. From the cradle to grave (many would say beyond the grave), New Mexico is 'Nukes 'R' Us.' It boasts one of the largest open-pit uranium mines in the Western Hemisphere, two of the three major U.S. nuclear weapons design facilities, and development, production, storage, and processing centers. It has the largest depository of nuclear waste (WIPP&emdash;Waste Isolation Pilot Project) in the country, where scientists and bureaucrats promise to hold millions of pounds of nuclear waste for 10,000 years, or 400 generations&emdash;five times the length of Western civilization-&emdash;after which time much of the waste will still not be safe. New Mexico is a nuclear economy; the annual budget of LANL and of Sandia National Laboratory in Albuquerque is as much as the entire state budget. In fact, if New Mexico were to secede from the U.S., it would be the world's third largest nuclear power. This industry is also northern New Mexico's biggest employer, through direct hiring at the Lab and indirect hiring of contractors. It directly employs 13 percent of the people of the region and is indirectly responsible for approximately 30 percent of the region's employment. Needless to say, New Mexico in general and northern New Mexico in particular are deeply dependent on the nuclear industry.
They are intimately linked through flows of labor, radiation and formations of nature. Los Alamos, through its colonial relationship with northern New Mexico . . . is intimately connected to the daily understandings and engagements in the forest politics of the region."
As one woman Kosek interviewed, who lives in Truchas and works at LANL, put it: " 'It's like a bad boyfriend&emdash;you enter into [a relationship with] it seeing all the possibilities, but then it doesn't live up to your expectations and even though you know it's bad, it gives you something, you can't get out, you can't see another way. . . . You think it's better than nothing, and maybe it is. That's why I still work there.' She continues the analogy: 'What's worse is that he can never tell the truth and he always has an excuse, he's never wrong, never responsible, sometimes cute, ultimately painful. . . .' The relationship between these intertwined communities of northern New Mexico is not one born of love or trust but one of necessity, opportunity and habit. These conditions make for an often narrowly understood relationship&emdash;one of mutual reliance (labor and wages), but like many deeply interconnected bonds, one that can also be intensely bitter. Far from being the disparate, ironic juxtaposition of the nuclear age with ancient cultures, the industrious human spirit with idleness, and wealth with poverty, these are starkly different worlds that come from a shared history."
Kosek's analysis, though its details are startling, should come as no surprise to norteños familiar with New Mexico economics and politics. We're all aware of the Lab's toxic effect on the environment, but too many norteños believe that our economy is so entrenched in LANL that any cutbacks or movement away from arms production would result in statewide economic collapse. What we fail to acknowledge, however, is that our economy is already collapsed except for the chosen few who live on "the hill" and get big bucks to build weapons of mass destruction and pollute our lives.
An announcement by the Lab, which recently renewed its management contract with the University of California and the giant weapons manufacturer Bechtel, is illustrative of the disparity it helps engender. Of the 20 new division managers named, not one is Hispano or Native American. People of color are technicians, if they're lucky, and clerical, custodial or security workers, if they're not. Two of our neighbors in the tiny village of El Valle get up every morning at five o'clock to drive the hour and a half to the Lab where they are groundkeepers, freezing their butts off in the winter and sweating in the overgrown forests they thin all summer. Because the vast majority of jobs in northern New Mexico are either tied to the Lab or the tourist economy, whose service industry jobs are low wage, menial, and often seasonal, people feel lucky to find employment at the Lab, where the pay scale is higher and includes benefits. Many of them admit privately, however, that they feel used and are concerned about how the Lab operates and how it affects New Mexico and the world at large. It's the dirty little secret that everyone is aware of, but by the same token is reluctant to bring out of the closet for fear of reprisals. We've all seen how ruthlessly the lab deals with whistleblowers and how the federal government continually sweeps the dirt under the carpet and protects the status quo.
Our entire Congressional delegation is complicit in this conspiracy, knowing their political careers are tied to the pork barrel politics connected to the Lab and its subsidiaries, Sandia National Laboratory and White Sands. Senator Pete Domenici, in particular, has predicated and consolidated his enormous power on this basis.
New Mexicans can ill afford to remain silent as the Lab proposes to drastically expand its nuclear weapons program. We must forcefully tell the government that it can no longer buy us off, as it continues to poison our water, land and air; as it continues to reinforce racial and class barriers; and as it continues to tyrannically control world politics through nuclear threat.
Understories, will be released later this fall and we will review it in its entirety in La Jicarita News.
LANL announced recently that it intends to lay off between 350 and 550 contract workers, ostensibly because of a $175 million budget shortfall. But several spokespeople for LANL have made it clear that the Lab needs to be more "cost-efficient." In an article in the Santa Fe New Mexican, Jay Coghlan of Nuclear Watch New Mexico, responded to this news: "As usual, it's the folks on the lowest rung of the ladder that end up getting hurt. It seems like the privileged scientists in Los Alamos County are being well protected. But it's more like the blue-collar workers from, for example, Rio Arriba County, that are going to be laid off."
We send our warmest congratulations to Jules Greenberg and Jake Kosek on the birth of their as-yet unnamed daughter on October 12.
Aamodt: Water System Not Supported by the Pojoaque Basin Water Alliance
(This letter was signed by the board members of the Pojoaque Basin Water Alliance )
The Pojoaque Basin Water Alliance (PBWA) has been involved in the Aamodt court case since March 2004, at which time well owners realized they had not been adequately represented. We did not like the terms of the settlement agreement presented to us at a public forum and thus formed the PBWA to protect our water rights. Since that time, we have been represented by an attorney. However, we have been unable to change significant portions of the 2004 settlement. What we have accomplished is that we can keep our wells and cannot be forced onto a public utility.
We believe that sections of the settlement allow for exportation of water and may violate the interstate stream compact. There are sections that allow the county, city, and commercial interests to retire acequia water rights for development. The settlement calls for numerous deep wells which may severely impact the aquifer and reportedly could affect the safety of Nambe Dam. We have grave concerns regarding these matters which have not been addressed.
Forty years ago, a simple lawsuit was filed by the state of New Mexico to adjudicate water rights of the pueblos and non-pueblos of the Pojoaque Basin. During this time, the settlement has expanded to include a regional water system jointly owned by the pueblos and the county. Each and every resident of the basin will pay for the county's share of the system whether or not they decide to hook up. We believe this water utility will lead to the decline of the rural nature of our basin. The County, the City of Santa Fe and the State have all approved of this settlement without providing a poll or a ballot vote. A sampling of our membership indicates that there would be no support for the water utility.
Most of the well owners in the valley are adamant about keeping their wells. Only 12% of the land in the basin is privately owned; therefore, there is not sufficient growth potential to support a non-pueblo water system. Since the federal government has stated that it is unwilling to provide the necessary funding to build the regional water system envisioned in the Settlement Agreement, it is our conclusion that there is no need to keep that portion of the agreement. This means that we no longer need the city or the county of Santa Fe in these negotiations.
Our position is that the pueblos should get the water as provided in the settlement and also the means to deliver the water to them without impacting our domestic wells. The pueblos and the U.S. government must determine how to obtain the water and the financing of the delivery. It is a waste of time to continue negotiations based on a water utility that no one wants or is willing to pay for.
There are other items in the settlement that we would like changed; however, by eliminating the water utility, we believe that we could finish these negotiations more quickly and at much less expense. Otherwise, we don't see the non-pueblos signing the Settlement Agreement.
Martinez's from Cañoncito Win Farm Family of the Year Award
It may be coincidental, but this year the Martinez family harvested a bumper crop of apples, despite late spring frosts, and were also chosen as Farm Family of the Year by the New Mexico Department of Agriculture. The family, which owns the largest commercial orchard in the Dixon area, received the award at this year's State Fair,
Fred Martinez, along with his wife Ruby, son Chris, and daughter Luisa, farm 13 acres of orchard in Cañoncito, where the Martinez Ditch off the Rio Embudo waters 3,500 trees: cherries, peaches, and many varieties of apples. Martinez acquired the farm from his father, Delfin, who bought it from his uncle in 1950 and ran the farm until his retirement (he passed away several years ago). He planted ten varieties of new trees, including Red Delicious, Golden Delicious, Rome, Jonathan, Winesap, Granny Smith, Fuji, and Gala. Under Fred's direction (who retired from Los Alamos National Laboratory five years ago), the family has diversified their market and sell to school systems under their nutritional programs, large produce buyers&emdash;both wholesale and retail, farmers' markets, and directly from the farm.
Although an early April frost last spring caused many Española Valley farmers to lose their apple crops, the Martinez's were able to save most of theirs with the help of fans that circulate warm air above the trees. Now that Fred is retired it's easier to maintain the required vigilance to bring a crop to harvest.
"I know that the income from most farms can't compete with escalating real estate prices," Martinez says. "But a larger farm like ours can provide a decent living. You have to have the interest and desire to do the work, however. I'm hopeful that my son and daughter, who have the motivation, will be able to keep the farm going after I'm gone."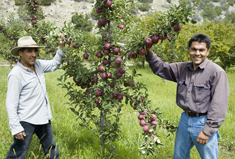 Fred and Chris Martinez in their Cañoncito orchard