ANNOUNCEMENTS
• A roundtable panel discussion, in conjunction with the 13 part radio series, "The Shift of Land," and SOSTENGA!, The Center of Sustainable Food, Agriculture and Environment at Northern New Mexico Colloege, will be held at the college on Saturday, October 27, 2007 from 9 am to 12 pm. The panel discussion will focus on the connection between land, culture, and agriculture-from where it has come to where it is going-and will also take a look at water and land use, as water rights are tranferred from agriculture to urban areas. An illustrious group of norteños will address these topics: Author and farmer Estevan Arrellano; UNM Professor of Anthropology Dr. Sylvia Rodriquez; Tesuque Agricultural Project Director Emigdio Ballow; land grant activist Roberto Mondragon; Picuris Pueblo Bison Program Director Danny Sam; College of Santa Fe Professor of Political Science Dr. Robert Jessen; Director of Environmental Science at NNMCC Camilla Bustamante; Co-directos of the Taos County Economic Development Center Terri Bad Hand and Pati Martinson; and biologist and farmer Janet Jerrit. The event is free. For more information visit www.theshiftofland.org.
Richard Cook Challenges State Statute That Protects Acequias
By Kay Matthews
In 2003 the acequia community was successful in lobbying the New Mexico State Legislature to amend state statutes regarding water transfers from acequias. The new law allows acequia commissions that have incorporated the statute into their bylaws to review any proposed transfer from their acequias and deny the transfer if it would be detrimental to the functioning of the acequia system. The Office of the State Engineer (OSE) is required to honor that decision, although the law provides for an appeal process in state district court.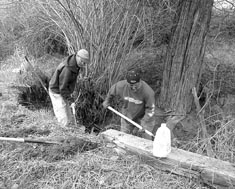 It comes as no surprise that Española businessman Richard Cook is the first water rights owner to challenge the law, or that he is represented by the law firm of Stein and Brockmann of Santa Fe. Cook has a long history of adversarial dealings with rural communities, particularly with regard to his sand and gravel business that has opened mines in Velarde and El Guique. The Stein and Brockmann law firm represents clients who are transferring agricultural water rights to municipalities and has also tried to derail two of the states regional water plans.
Cook is challenging the decisions by the commissioners of two acequias, San Jose de Hernandez Community Ditch, and La Acequia del Gavilan, in Ojo Caliente. In the Acequia del Gavilan case Cook wants to use his water rights to offset evaporation from a pond on another property he owns near Ojo Caliente. In the Hernandez case, Cooks's company, Peña Blanca Partnership, wants to transfer water rights off the ditch and use them in a subdivision the company owns in Española. Every parciante-except Cook, of course-on the Gavilan acequia opposed the transfer, and the Hernandez acequia association also overwhelmingly opposed the transfer of 75 afy of water from its ditch.
Cook's lawsuit (the two cases were combined as one case) was heard in Judge Daniel Sanchez's district courtroom in September, in front of a large crowd of acequia supporters including members of the New Mexico Acequia Association, the Rio Arriba County Manager, and the commissioners from the Gavilan and Hernandez ditches. Attorneys from New Mexico Legal Aid-David Benavides and Ryan Golten-along with Kristina Martinez, represented Acequia de Hernandez, and Connie Odé and Mary Humphrey represented Acequia del Gavilan. Cook was represented by Katherine Hall of the Stein and Brockmann Law Firm. After opening statements Sanchez limited arguments to a single issue: the constitutionality of the new state statute. Hall argued that the statute denies Cook his private property rights under the provisions of the New Mexico Constitution, which, she claimed, would allow him a de novo, or new trial without deference to previous judgements, if his water transfer requests were denied by the OSE, the agency responsible for reviewing all transfers before the promulgation of the new statute in 2003. She asserted that the statute, which allows transfer applicants a more limited appeal, is therefore "an unconstitutional taking of property without just compensation." The new law stipulates that if an applicant appeals the acequia's denial of a transfer request the court will consider only whether the commissioners "acted fraudulently, arbitrarily or capriciously, or not in accordance with law." Under an OSE review the applicant can appeal the state engineer's decision in district court, which allows for "substantial review" of the evidence.
Attorneys for the acequias argued that the legislature has the authority to change OSE's authority and that the new statute does not require a de novo appeal of an acequia commission's decision. They pointed out that in the case of the commissioners' reviews of Cooks request there already exists "substantial evidence", in the form of recordings, letters, and minutes, that are available for the judge to review. They also argued that unless Cook can prove that he has been denied any economic benefit of the use of the water by the transfer denial there is no taking of private property rights. On the Acequia de Hernandez he owns the land from which he wants to sever the water rights, and on the Acequia del Gavilan the water rights were already severed from the land.
Sanchez deferred his ruling and announced he would make a decision on the constitutional issue on October 11. But on September 26 he issued a ruling that took everyone by surprise (particularly when it was delivered to the press before it was delivered to the defendants' attorneys). Sanchez decided that the case shall be a de novo appeal because not doing so would constitute "giving some water rights owners more procedural protections than others" and "rais[ing] the specter of denying the Appellants of a constitutional right." This decision essentially negates these acequias' authority to deny the transfer but doesn't rule the statute unconstitutional.
According to Ryan Golten of New Mexico Legal Aid, attorneys for the acequias have asked Judge Sanchez to put language into his decision that will allow an interlocutory appeal, which would allow the parties to appeal his decision that the applicants (Richard Cook and his Pena Blanca Partnership) are entitled to a de novo appeal. The acequias hope to avoid the time and expense of a new trial in state court. "We don't think a de novo trail is required," Golten said. "A new trial would be especially burdensome to the acequias."
Book Review: Changing Course: Windcall and the Art of Renewal
By Susan Wells
Reviewed by Kay Matthews
I had the opportunity to spend two weeks at Windcall, near Bozeman, Montana, in the summer of 2005. A 430-acre ranch owned by Susan and Albert Wells, Windcall is a retreat for social and environmental activists across the county to "help them rest and renew their physical and emotional energies before burnout [can] foreshorten their valuable contributions." These are the words of Susan Wells, who has written a book that is both a reflection on the need for the critical work being done to address the many injustices in the world, and a paean to those who are doing that work. Unfortunately, during my stay at Windcall Susan and Albert Wells were away at a family reunion, and I was one of the few residents who didn't meet them face to face as the active hosts they have been for sixteen years. Through her book, however, everyone can meet the woman who offered her home, her resources, and her kindness to the hundreds of people who found themselves living in a beautiful guest house at the foot of the Bridger Mountains with only one obligation: showing up for a gourmet dinner every night at 6 p.m.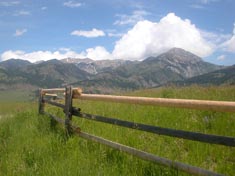 A view of the Bridger Mountains from the road into Windcall
The Wellses are active board members of the Abelard Foundation, a family foundation based in the Bay Area that funds many of the organizations that do the critical work Susan Wells discusses in her book. They bought Windcall in 1985, with the idea of creating a working ranch (Ted Bryan, their ranch manager, raises Corriente cattle), spending summers, and eventually retiring there. But with the help of the Abelard Foundation director, Leah Brumer, they decided "on a new kind of investment in social change. Knowing as we did the worrisome incidence of burnout in the field [of social justice], why shouldn't the two of us provide direct support for individual leaders themselves?" Their guesthouse became the residents' house; the restored barn became the recreation center; their horses carried neophyte riders up forest trails; and they built a studio with writing rooms, a pottery studio, and drawing room. Their 430 acres became the playground, source of inspiration, and training ground in how to rest and restore for four residents at a time during two-month sessions in the summer and fall.
Windcall residents come from all over the country and are involved in incredibly diverse issues: homelessness; AIDS education and care; hate crimes; protecting small farms; hazardous waste disposal; low-cost housing; domestic abuse; and health care. The three women with whom I lived for two weeks were a black minister from North Carolina who is a social activist; the director of the Interfaith Alliance of Idaho that works against hate crimes; and a nurse from New Jersey who is the president of the Health Professionals and Allied Employees Union there. At the end of Changing Course Sally Lehrman, an independent journalist, provides in-depth portraits of seven activists who have spent time at Windcall.
While Wells focuses on the need for social activists to take the time to "discover crucial pieces of their lives that they unknowingly relinquished in their zeal to make a positive difference in the world", she also recognizes that the organizations they work for often demand these kinds of sacrifices, which works to destroy the self-confidence and life-affirming patterns that are necessary to succeed in the stressful world of social activism. By doing so, Wells says, "The social change community has assumed too many of the current values of our larger society-values that are antithetical to the very essence of social justice work." She also points out that funders all too often undercut the work of these organizations by not providing the long-term support that is necessary to build power over time.
The Wellses retired after the 2005 sessions, but there is a new residency program called Windcall Futures Project, under the sponsorship of Common Counsel Foundation. For more information regarding the program, you can e-mail windcallfuture@igc.org.Changing Course: Windcall and the Art of Renewal is available through Heyday Books, Berkeley, California www.heydaybooks.com.
Denial of Rocky Flat's Claim Raises Questions About the Entire Nuclear Workers' Compensation Program
By Mark Schiller
I was recently in Colorado visiting friends when I came across an article in a Denver newspaper titled "Flats Workers Appeal Aid Ruling." The article reported on a September 24 appeal of a decision by Health and Human Services Secretary Michael Leavitt not to extend "Special Exposure Cohort" (SEC) status to workers who became sick as a result of working at the now closed Rocky Flats nuclear facility. SEC status, as we've discussed in previous articles regarding workers who became ill as a result of working at Los Alamos National Laboratory (LANL), is a concession by the federal government that it does not have enough information to reliably determine how much radiation a group of employees was exposed to as a result of their work at nuclear facilities. It automatically entitles workers who've contracted one of twenty-two designated cancers to a settlement of $150,000 plus the costs of medical treatment directly associated with those illnesses under the Energy Employees Occupational Illness Compensation Program Act (EEIOCPA) of 2000. Workers who have become ill and have not been granted SEC status, on the other hand, must go through a "dose reconstruction" process, which purports to scientifically determine how much radiation the worker was exposed to and the "likelihood" that they became ill as a result. Workers from nuclear facilities throughout the United States and their advocates have been outspoken in their denunciation of the accuracy and fairness of the dose reconstruction program and have been working for expansion of SEC status. Here in New Mexico, SEC status has been granted to employees who worked at LANL between the years 1943-1975. However, LANL workers' advocates contend that the government does not actually have accurate records of exposure levels until the early 90s and should extend SEC status to cover the intervening years as well.
In an effort to get more information on what's happening with this issue on the national level, I called Terrie Barrie of the Alliance Of Nuclear Workers Advocacy Groups. She in turn referred me to the website of the Government Accountability Project (GAP), which monitors the EEOICPA. (According to its website www.whistleblower.org, GAP "is the nation's leading whistleblower protection organization. Through litigating whistleblower cases, publicizing concerns, and developing legal reforms, GAP's mission is to protect public interest by promoting government and corporate accountability. Founded in 1977, GAP is a non-profit public interest advocacy organization with offices in Washington, D.C. and Seattle). Even though revelations about government corruption and incompetence have become a daily occurrence, reading the GAP website regarding EEOICPA is a disturbing experience. Documentation clearly indicates there is significant corruption, as far up as the Executive level, involved in decisions to issue SECs as well as in the administration of the dose reconstruction and compensation awards processes.
Background Information on the EEOICPA and SEC Status
The EEOICPA has many bureaucratic layers and in order to understand how it's being implemented, it's critical to know who the players are and how the process works.
• EEOICPA was originally administered by the Department of Energy (DOE), which was mandated by the act to hire an independent contractor to do dose reconstructions in order to avoid any conflicts of interest. However, after numerous accusations of incompetence and corruption, Congress transferred administrative authority in November 2005 to the Department of Labor (DOL). DOL, in turn, authorized NIOSH (see below) to administer the dose reconstruction and SEC programs.
• The National Institute for Occupational Safety and Health (NIOSH) is a division of the U.S. Department of Health and Human Services. Under the EEOICPA it is charged with evaluating nuclear workers' petitions for SEC status and making a recommendation to the President's Advisory Board on Radiation and Worker Health (see below for information regarding the Advisory Board) on whether SEC status should be granted. It is also responsible for administering the dose reconstruction program, which it delegates to a contractor.
• The Advisory Board on Radiation and Worker Health is appointed by the President to advise him, through the Secretary of Health and Human Services, on methods, validity and quality of dose reconstruction, and the addition of classes of workers to Special Exposure Cohort status. EEOICPA requires that the Board have a balance of medical, scientific, and workers' perspectives.
• The process for gaining SEC status is as follows: 1) a petition for SEC status is submitted to NIOSH (the petition can be triggered either by NIOSH conceding it does not have enough reliable information to do individual dose reconstructions for a given period of time or a group of workers may assert that NIOISH does not have enough information); 2) NIOSH must then evaluate the petition within 180 days of its submission and issue a recommendation to the Advisory Board; 3) the Advisory Board conducts an independent review and votes on a recommendation, which it conveys to the Secretary of Health and Human Services; 4) the Secretary issues a final decision within 30 days of receipt of the Advisory Board's recommendation; and 5) Congress has 30 days to veto an SEC designation or it becomes effective.
• According to the NIOSH website some class of employees at a total of twenty-one federal facilities, test sites, and subcontracting facilities have gained SEC status. Fourteen others have qualified for evaluation. The website does not list petitions that were dismissed in the early stages of review and lists the Rocky Flats' petition, which was denied and is currently being appealed, as under evaluation.
OMB Memo Regarding Growth of the SEC Program
On March 1, 2006, chairman of House Subcommittee On Immigration, Border Security and Claims, Representative John Hostettler (Republican, Indiana), convened a hearing to consider the implications of a White House Office of Management and Budget (OMB) memo to the Department of Labor outlining "options for administrative procedures to contain growth in the costs of benefits provided by the [SEC] program," which it suggested were mushrooming. According to Hostettler, "The OMB document . . . sets out a plan to effect the current decision making process and independent review to base SEC status approvals on budget concerns rather than on the scientific basis mandated by law." He then briefly critiqued the five recommendations by OMB for achieving this end.
1) "The first option is to require the Administration clearance of SEC determinations. This option appears to place budget examiners with only a budget focus, in the role of making the final decisions on approving SEC status for recommended groups of claimants, without regard to actual health determinations on the adequacy or inadequacy of radiation records made for that purpose."
2) "The second option is to 'address any imbalance in membership of Presidents' Advisory Board on Radiation and Worker Health.' . . . It appears that the 'balanced Board' OMB contemplates may be one that will determine the scientific evidence available is sufficient to justify denial of the majority of SECs in order to 'contain control' of benefit payment costs. This does not coincide with balancing the Board or insuring independence as contemplated in the law."
3) "Option three calls for an 'expedited' review of SEC recommendations by outside experts. If OMB concern is with costs, adding another layer of costly review makes no sense. The indication is OMB doesn't trust the Board, which the President appointed nor its team of expert health physicists to provide cost containing results. The Committee has yet to find evidence, during the existence of the current review procedure, that the Board's advise has been unsound or led to unwarranted approvals."
4) "Option four questions the credibility of the Board's audit contractor. This contractor's conflict of interest restrictions are more stringent than the restrictions on NIOSH, its contractors, or the Board members. Contrary to OMB's view, the Committee's review of conflict of interest concerns has found that significant conflicts of interest center on individuals employed by Oak Ridge Associated Universities (ORAU), the contractor hired by NIOSH to perform dose reconstructions, and not the Board's contractor hired to review NIOSH and ORAU's work."
5) "The final option is to require that NIOSH demonstrate that its site profiles and other dose reconstruction guidance are balanced. Again, it is unclear what they mean by balance. Both site profiles AND dose reconstructions are to be based on data and facts. Data and facts are NOT a perspective. They are either valid, comprehensive and able to withstand public scrutiny or they are not."
In other words, the White House was suggesting that the Department of Health and Human Services, the Department of Labor, and the Department of Energy conspire to undermine the SEC provisions of the EEOICPA in order to limit benefit costs. Moreover, The Department of Labor's Budget Request for fiscal year 2007 inexplicably dropped benefits from Part B (which covers SECs) of EEOICPA from $460 million to $277 million, clearly reflecting the White House's efforts to limit SECs. Also bear in mind that before he was defeated for re-election at the end of 2006, Hostettler was considered an ultra-conservative advocate for the Christian fundamentalist lobby. So this analysis of the Executive Office memo came from a man who was considered a solid supporter of the Bush administration.
Administrative Costs of the EEOICPA Program and Conflicts of Interest Associated With It
According to former GAP Senior Policy Analyst Richard D. Miller's (Miller now works for the Oversight and Investigations Subcommittee of the House Energy and Commerce Committee) 2006 testimony before Representative Hostettler's subcommittee, "OMB's desire to contain the growth in the cost of benefits curiously overlooks the questionable growth of administrative costs. NIOSH's dose reconstruction contractor has seen its costs grow from $74 million to at least $200 million over five years." In point of fact, in August 2004 New Mexico Senator Jeff Bingaman and two of his colleagues requested the General Accounting Office (GAO) investigate how the Department of Energy (DOE) had spent $92 million of EEOICPA money processing fewer than 6% of 23,000 claims, of which fewer than 100 were actually paid. The GAO found that DOE, under a noncompetitive arrangement, had hired a contracting company that had no prior experience to administer the claims program. Furthermore, the GAO report asserts, based on review of 60% of the $92 million expenditure to this contractor, at least $26.3 million of the approximately $55 million dollars of billing that it investigated was questionable or improper. By comparison, the net benefits to claimants under this program during this period were approximately $2 million.
As a result of the GAO investigation the Department of Justice threatened to sue the contractor, but eventually signed a settlement that recovered only a fraction of the over-billing. At that point an exasperated Congress transferred administration of the program from the DOE to the Department of Labor, but as point 4 of Representative Hostettler's critique of the OMB memo to the DOL points out, the new dose reconstruction contractor, Oak Ridge Associated Universities (ORAU), has conflict of interest problems and is also suspected of over-billing. Miller asserts, "To prevent conflict of interest, EEOICPA precluded DOE or its staff from performing dose reconstructions. However, after NIOSH was assigned this task, it contracted with a major DOE prime contractor, ORAU, to perform dose reconstructions. ORAU staffed up with DOE contractor staff, thereby circumventing the statutory prohibition intended to prevent conflict of interest. These conflicts have raised significant doubts about the credibility of the science being used for dose reconstruction. To date, NIOSH's conflict of interest policy has been largely ineffectual, and NIOSH staff has allowed ORAU to evade key restrictions. The presence of such glaring conflicts of interest increases the necessity of having an independent Advisory Board to serve as a check and balance."
Miller went on to testify, however, that the Advisory Board for the EEOICPA, which is supposed to reflect a balance of medical, scientific, and workers' perspectives, has also been "stacked" to reflect the White House's attempts to limit the government's liability. According to Miller, "In January 2006, the White House removed two members without cause and appointed three new members . . . . [T]wo of these new members may have conflicts of interest. One individual has had two of his children working for a subcontractor to NIOSH; and another Board member serves as a DOE-appointed expert serving as a defense expert in evaluating workers' compensation claims . . . . Based on the Passback memo [OMB memo that Hostettler critiqued], it appears that OMB and DOL would like to replace . . . [other] Board members as a way to reduce approvals of the Special Exposure Cohorts."
Rocky Flats Workers' Appeal
With all that mind, let's look at some of the issues the former Rocky Flats workers raise in their appeal of Health and Human Services' (HHS) denial of SEC status. The appeal is divided into two sections, which cite eleven procedural errors and eight errors of fact in Secretary Leavitt's decision. Among the procedural errors the appeal asserts:
• "Failure to provide information to the petitioner in accordance with the law . . . including 'accidentally' removing the petitioner and petitioner representative from e-mail distribution for notification of meetings for a six month period of time . . . and fail[ing] to distribute [Adivsory Board] reports to the Petitioner until minutes before, or in some cases after the meetings-thus preventing the Petitioner from be able to prepare for the meeting."
• "NIOSH failed to meet the Congressionally mandated deadline of 180 days to make its recommendation on the petition. The recommendation was not made until 440 days after the petition was submitted."
• "Conflict of Interests. Individuals who have testified AGAINST workers in worker compensation hearings are serving key roles in the NIOSH [evaluation of the SEC] process."
• "The [Advisory] Board vote of 6 to 4 showed considerable dissension in the opinion of the Board members . . . [and] is not a strong endorsement for the recommendation [to deny the SEC]."
• "Actions Outside the Boundaries of the Authority under the Act. This process was intended to include a timely evaluation and recommendation regarding the merit of the petition-to answer the question, did the petitioner prove that there was a class of workers for which the Government could not accurately reconstruct dose. The Board's role was to evaluate and recommend, never to fix. The Board . . . became intertwined with a process to develop a set of new science, methods, models, guidance, technical basis documents and assumptions over the last two years. These were directed at serving as the basis to deny the Rocky Flats petition. These new documents will ultimately result in thousand of dose reconstructions that now must be redone in accordance with the new standards. The fact that the dose reconstructions are being declared 'invalid' and are being redone serves as strong evidence to the Department of Health and Human Services and the members of Congress that it was, in fact, not possible for NIOSH to reconstruct dose for the Rocky Flats workers at the time the petition was submitted. We are gravely concerned that this action and the Secretary's decision to deny the petition based on this action opens the entire EEOICPA process up to severe scrutiny . . . ."
• "Inconsistent Application of Conflict of Interest Requirements. NIOSH inconsistently applied conflict of interest standards to stack the Advisory Board on Radiation Health to deny worker petitions in accordance with political pressure and statements made by top leaders in HHS. For example, Mark Griffon was allowed to vote in spite of his relation with the union, while Josie Beach was denied her right to vote based on her membership in a union at the Hanford site."
• "Deputy Secretary applied pressure against SECs. In a June 18 2004 e-mail Shelby Hallmark, Deputy Assistant Secretary of Labor, stated, 'Just in case there was any question, it's my strong belief that we should do everything possible to oppose these SEC amendments.'"
Under errors of fact the appeal states that there was significant missing data as evidenced by the fact "that between 1964 and 1992, 33% of the worker cases reviewed were found to have missing data." The appeal then lists numerous technical errors, the use of unproven scientific models, and significant divergence in scientific opinion as other errors of fact that contributed to the denial of SEC status. This section of the appeal concludes: "The fact that NIOSH has modified the site profile, added new TIBs [Technical Information Bulletins], changed the particle size for fired oxides, developed new co-worker models, added adjustment factors, tweaked other models, etc., means that NIOSH could not accurately reconstruct dose, otherwise they would not have made all the changes."
This is how the government, which according to the EEOICPA placed workers in its nuclear weapons program "at risk without their knowledge and consent for reasons that, documents reveal, were driven by fears of adverse publicity, liability and employee demands for hazardous duty pay . . ." treats those workers, even after admitting culpability. The Rocky Flats Appeal notes that ". . . 10 percent of our workers [have died] waiting for their claims to be processed by the U.S. Government." Nuclear workers activist Terrie Barrie calls the government's actions "criminal." Representative Hostettler asserts, "The purpose of this nuclear worker compensation program is as stated in the statute-'to provide for timely, uniform, and adequate compensation of covered employees . . . .' That should be the Government's guiding principle-not undermining legitimate claims processing to save what, in reality, is a miniscule fraction of the entire federal budget." While our government spends billions every month to fight what most of us believe is a completely unjustified war, it refuses to compensate workers who sacrificed their health in what they believed was the interest of national security.
This Just In
The day after I finished this article, I received a press release from The Alliance of Nuclear Workers Groups (ANWAG) titled, "ANWAG Aghast at Presidential Award Bestowed Upon EEOICPA Program Director." It seems that President Bush decided to award Department of Labor EEOICPA Director Peter Turcic for his "meritorious" service. The award is given to government administrators who have displayed "integrity, industry, and a relentless commitment to excellence in public service," and it includes a financial bonus equal to 20% of the recipient's base pay.
The reaction from nuclear workers advocacy groups was immediate. Dr. Maureen Merritt, who does advocacy for LANL claimants responded, "This is the height of hypocrisy. To think that Mr Turcic received a monetary award in light of the disarray this program is in is beyond belief. Ask any of the tens of thousands of claimants who have been denied if they think Mr. Turcic deserves this award." Janine Anderson of the Coalition for a Healthy Environment in Oak Ridge, Tennessee said, "I find it incredible that Mr. Turcic received an award based upon his excellence in public service. I think this award should be rescinded due to Mr. Turcic's inability to administer this program in a fair and timely manner." Terrie Barrie of the Grassroots Organization for Sick Workers in Colorado said, "I am in shock to think that Mr. Turcic's superiors believe that he is doing such a fine job administering the compensation program, when the claimants have been begging Congress to investigate the multitude of problems with this program."