State Opens Office of Nuclear Workers Advocacy
By Mark Schiller
In the June 2007 La Jicarita News we told the stories of two former Los Alamos National Laboratory (LANL) workers who believe they developed cancer as a result of exposure to radiation and other toxic chemicals during their employment at the Lab. Both filed claims under the Energy Employees Occupational Illness Compensation Program Act (EEOICPA) of 2000 and both were denied compensation. In fact, the vast majority of claims filed by former LANL workers have been denied. Recent statistics show that 6,235 such claims have been filed and only 551, less than 9%, have actually been granted compensation. By comparison, Department of Labor statistics show that workers at nuclear facilities at Oak Ridge, Tennessee and Paducah, Kentucky have been granted compensation in over 25% of the claims that have been filed.
The good new is that in response to this problem, New Mexico State Legislature House Speaker Ben Luján, who formerly worked at LANL himself, sponsored a $125,000 appropriation to open an office to assist and do advocacy for claimants who have been denied compensation or have encountered other problems with their claims. In a press release Lujan stated, "The current system requires lay people to navigate through a difficult bureaucracy. I believe that it is the duty of the state of New Mexico to advocate and assist nuclear workers who have been exposed to toxic substances, which have adversely affected their bodies, livelihood and quality of life. "
Loretta Valerio, who heads the new Office of Nuclear Workers Advocacy, told La Jicarita News that she's been flooded with inquiries since her office opened about two weeks ago. Valerio formerly worked at the Department of Labor's Española Resource Center and has a great deal of experience with EEOICPA claims. She explained that the Española Resource Center can help claimants begin the application process and that her office is geared towards helping applicants appeal claims that have been denied and acquire information they need to help in the adjudication of their claims. Valerio is currently trying to get the word out about the services her office offers by meeting with nuclear worker organizations and individual claimants. She can be contacted in Santa Fe at 505-827-1636. The number at the Española Resource Center is 505-747-6766.
While Valerio is clearly very competent and dedicated to ensuring that claimants get the benefits to which they are entitled, the bad news is the original request to the state legislature was more than four times what the office ultimately received. There are thousands of claims pending and, by Valerio's own admission, "tens of thousands of people [who] may qualify for the program." $125,000 is simply not going to pay for the administrative staff and medical and legal expertise necessary to help all these people.
Moreover, members of the Alliance of Nuclear Workers Advocacy Groups assert that the state should also be addressing the overarching issue that the criteria EEOICPA uses to evaluate claims is inherently unjust. They are particularly outspoken in their denunciation of the "Dose Reconstruction" component of the EEOICPA, which theoretically reconstructs a claimant's radiation exposure and determines the "likelihood" of their having contracted cancer based on what it terms "reasonable estimates" of those exposures. Activists assert that the Department of Energy simply does not have accurate enough records to make a reasonable estimate, and that the program deals with claimants like an insurance company seeking to limit its liability rather than a compassionate employer who accepts culpability.
Activists hope that over the next few months Valerio's work will demonstrate the critical need for nuclear worker advocacy services and the 2008 state legislature will allocate funds to both expand her office's services and lobby the federal government to amend the EEOIPA so that it more justly evaluates claims.
Pete Domenici's Toxic Legacy
By Kay Matthews
New Mexico Senator Pete Domenici is perceived in Washington as a behind-the-scenes guy who shuns the limelight to gets things done. Here in his home state, however, those behind-the-scenes machinations have created a toxic legacy: if New Mexico were to secede from the union, the state would be the third largest nuclear power in the world. Domenici's unrelenting promotion of the nuclear weapons industry at Los Alamos National Laboratory (LANL) and Sandia National Laboratory has resulted in a one-dimensional economy that contributes to a growing divide between the haves and have-nots, as well as the contamination of our air, water, forests, and homes. Now, in his latest scheme to "get things done", the senator is using his considerable power to get the three New Mexico Indian Water Rights settlements-Navajo/San Juan River, Aamodt (Pojoaque, Tesuque, San Ildefonso, and Nambe pueblos), and the Abeyta (Taos Pueblo) approved by Congress and funded by the administration.
Domenici has enjoyed an almost 36-year reign in New Mexico that has rarely been challenged or criticized. The son of Italian immigrants, he was born in Albuquerque, graduated from the University of New Mexico (he got his law degree at the University of Denver), and won his first electoral position on the Albuquerque City Commission in 1966. In 1968 he was elected Commission chairman, a postion which at that time was equivalent to that of mayor. He ran unsuccessfully for governor against New Mexico favorite son Bruce King in 1970, but was back two years later in a successful U.S. Senate run. He was the first Republican to be elected to that position in 38 years. He has subsequently been re-elected five times, and is raising money for his 2008 bid.
Domenici is the second-most senior Republican in the Senate, and while his party was the majority in Congress, he used that position to wield his influence, particularly as ranking member of the U.S. Senate Committee on Energy and Natural Resources and the U.S. Senate Appropriations Subcommittee on Energy and Water Development. He has also used his membership on the Appropriations Committee to enhance his image as a leading fiscal conservative who watchdogs Congressional spending.
Bringing Home the Pork
A conservative, that is, unless it means dollars for New Mexico. Domenici has always known how to bring home the bacon by understanding the nature of the pork. During the Cold War the free-flowing money went towards weapons production, and once Los Alamos was chosen as a site for the Manahatten project in the 1940s (see Atomic Spaces article on page 4), the potential for New Mexico's development as the nation's leading bomb builder was set. Concurrently, during the post war boom in oil and gas production, Domenici made sure that the corporations doing business in New Mexico had easy-and subsidized-access to New Mexico reserves that also fueled, and continue to fuel, that growing economy (during the controversy over gas and oil drilling in northern New Mexico's Valle Vidal Domenici was the last of the New Mexico congressional delegation to support its protection). As we reported in the July issue of La Jicarita News, with pressure from both Domenici and New Mexico's other senator Jeff Bingaman, a Senate subcommittee recently recommended increasing weapons funding for the three nuclear labs-LANL, Sandia, and Lawrence Livermore in California-by $213 million after a subcommittee in the House recommended reducing weapons-related production by $369 million to focus funding on energy research (a joint funding bill has yet to be negotiated). Los Alamos National Security, the corporate consortium that runs the Lab, has already laid off contract workers and is now threatening to lay off as many as 2,500 workers from all Lab sectors, which, of course, will have a huge impact on the one-dimensional economy of northern New Mexico.
No one would know from Domenici's record that the Cold War is supposedly over (the current administration would have us believe it's being resurrected in Iran). But now that the threat of global warming is finally forcing global corporations to look for new sources of energy to exploit, Domenici can bring his support of all things nuclear full circle: he is committed to making commercial nuclear power the main source of energy in this country. He's even written and edited two books about it: A Brighter Tomorrow: Fulfilling the Promise of Nuclear Energy, and Advanced Nuclear Technologies-Hearing Before the Committee on Appropriations, U.S. Senate. In 2005 he was instrumental in the passage of the Energy Policy Act, which contained $85 billion in subsidies and tax breaks for all kinds of energy companies, including $13 billion for nuclear power. In August of this year he threatened to oppose the confirmation of former Iowa Representative Jim Nussle to head the White House Office of Management and Budget (OMB) unless Nussle agreed to allow the DOE to issue guarantees for 80 percent of the loans slated for nuclear power in the recently passed Senate energy bill. These loans could add up to as much as $50 billion.
As the Senate's "chief nuclear apostle" his political career has profited as well. According to research by MSNBC.com, Domencici has received $1.2 million in campaign donations from individuals and political action committees in the energy and natural resources sector, a tenth of his total campaign funds. In his latest coup for New Mexico, he convinced Louisiana Energy Services, made up of some of the biggest players in the nuclear power field, to build its uranium-enrichment plant in southern New Mexico near Eunice (after citizens in Louisiana and Tennessee blocked the project in their states). Furthermore, he inserted language into last year's energy bill that required the Department of Energy to dispose of the radioactive waste generated by the plant. Only after Senator John McCain and others complained about this obvious pork was the language removed from the bill.
Indian Water Rights Settlement
It's obvious to everyone, not just Pete Domenici, that our most precious and fundamental resourse-water-is the next market commodity critical to continued corporate growth, particularly in the semi-arid southwest, and so, of course, Domenici is right there directing the action in New Mexico. He's using all his behind-the-scenes power in Congress to arm twist the administration to expedite approval of the three Indian water rights claims in New Mexico. La Jicarita News has covered the controversies surrounding all three settlements: that the federal government is reluctant to provide its share of their enormous costs; that the settlements terms discriminate against the largely Hispano communities in the Pojoaque basin; that the proposed infrastructure and water systems will facilitate growth and development primarily benefiting the developers, rather than the Indians or the state's citizens; and that because the settlements rely on the importation of water by means of water transfers from outside their regions and will facilitate water marketing, they are unsustainable.
Domenici's considerable power is particularly being exerted to get the Navajo/San Juan River Water Rights settlement approved. Federal legislation was introduced this year to implement the settlement that will fund the Navajo Irrigation Project and the Navajo-Gallup Water Supply Project, at a cost of $800 million. In April, Domenici and Bingaman introduced the Northwestern New Mexico Rural Water Projects Act (S. 117) that would contribute funding over two decades to construct the pipeline. When the federal government balked at the cost, however, citing that implementation of the three settlements would exceed $1.5 billion, Domenici then came up with a scheme to fund all three settlements. In June he introduced the Reclamation
Water Settlements Fund Act, which would authorize a 10-year funding source to generate an estimated $1.37 billion to pay for the settlements once they have been signed into law. Along with his threat to hold up the OMB nomination of Nussle over the nuclear industry loan guarantees, Domenici demanded a commitment that the Bush administration not oppose the legislation to fund the proposed settlements. The administration expressed its support.
Chinks in the Armor
So much for his reputation as a fiscal conservative and Conressional watchdog. The environmental community has long criticized his unequivocable support of energy development and the 1872 Mining Act, and anti-nuclear organizations have opposed increased weapons production at LANL and Sandia. But until he backed down on his support for oil and gas drilling in the Valle Vidal (he has always supported drilling in the Artic National Wildlife Refuge) he rarely acknowledged public opposition to his agenda. Now, however, after the Department of Justice controversy, some of his support has eroded.
Everyone knows about Domenici's phone call to New Mexico's U.S. Attorney David Iglesias, prior to the 2006 midterm election, urging him to speed up indictments in a federal corruption investigation that involved former Democratic state senator and legislative powerhouse Manny Aragon. Iglesias informed the senator (and U.S. Representative Heather Wilson, who also called Iglesias on the same subject) that indictments wouldn't be handed down until December, and a month later he was fired, along with a number of other U.S. Attorneys. It's a violation of ethics rules for a member of Congress to communicate with federal prosecutors regarding ongoing criminal investigations, but it remains to be seen whether Domenici or Wilson will be formally accused of ethics violations and how that might affect their re-election campaigns.
After enjoying many years as a purveyor of pork, this episode has shown that the senator is finally vulnerable. While his re-election may not be a fait accompli this time around, New Mexico must live with a toxic legacy that has and will affect many peoples' lives economically, socially, and physically (see articles on pages 1 and 4). And it remains to be seen whether the opposition party, here or in Washington, will have the political will to address the inequities and dangers of continued LANL funding for nuclear weapons production and work with the communities of New Mexico to find economic parity.
Editorial: It's All About Money
By Kay Matthews
They have collectively lost their minds. By "they" I mean the New Mexico bureaucrats charged with managing the state's water resources. In response to a scheme concocted by a Roswell rancher who wants to buy water rights from Fort Sumner farmers and pipe the water 145 miles uphill to Santa Fe and Albuquerque, State Engineer John D'Antonio's response was: "We're in a growing state and if you're going to continue to grow there's a certain amount of water that's going to have to come out of agriculture." He also stated that allowing farmers to sell their water rights to cities is one of the state engineer's missions "as long as the sales aren't harmful to the public welfare."
Of course, the concept of "public welfare" has never actually been defined, and if the local bureaucrats, like those in the Town of Taos, have anything to say about it, public welfare will come to mean just what D'Antonio claims is his mission: underwriting growth and development in urban areas with water from agricultural lands. As we're noted previously in La Jicarita News, Taos, along with El Prado Water and Sanitation District and Taos Pueblo, are vigorously opposing the promulgation of the Taos Regional Water Plan Public Welfare Statement, which attempts to not only define public welfare but establish a regional board or committee to review potential water transfers in the Taos area and make recommendations to the state engineer as to whether those transfers are in the best interest of the public.
These parties to the Abeyta adjudication settlement have been trying for months to scuttle the Public Welfare statement. At the last meeting of the Plan's Public Welfare Subcommittee with Tomas Benavidez, Taos city manager, and Jim Brockman, the El Prado District lawyer, they tried to obscure that goal with talk of the burden an oversight committee would bring to the process of transferring water to their good citizens and the threat it represents to the settlement of the adjudication: both the town and the district are committed to finding water to facilitate growth and to offset depletions that have incurred from overpumping to serve their constituents.Why don't we just exempt them from any oversight and let them get down to the business of implementing the settlement whether or not it might be in the best interest of the rest of us in northern or southern Taos County?
The real agenda with these bureacrats, as it is with the upper eschelon ones, is the opportunity to commodify water and buy and sell it on the open market. It's all about moving water to its "highest and best use", as the lawyers and bureaucrats and developers like to say. Or, in plain and simple terms, it's all about money.
ANNOUNCEMENTS
• UNM Professor Jake Kosek's book Understories: The Political Life of Forests in Northern New Mexico (reviewed in the December 2006 and January 2007 issues of La Jicarita News), was selected as the recipient of the American Studies Association's 2007 John Hope Franklin Prize. The prize subcommittee received 121 submissions, and arrived&endash;quickly and unanimously&endash;at the decision to award the prize to _Understories_. Congratulations!
Elevator Nine Found Guilty
The Elevator Nine, who were arrested in September 2006 when they refused to leave a federal office building after trying to get Senator Pete Domenici to sign a Declaration of Peace, which called for the end of the war in Iraq, were found guilty at their Albuquerque trial this September. Sentencing will occur within 30 days, and while it is unlikely they will receive jail time, the verdict was a shock. In an e-mail sent out by Stop the War Machine (stopthewarmachine@ comcast.net), one of the defendants responded to the judge's decision: "I feel like I was kicked in the stomach and now have been let down by every branch of our government when it comes to this war: the Executive, when Bush lied us into this war; the Legislative, who abandoned their Constitutional responsibilities; the Judicial, who basically said that the nine of us don't have the right to meet with our senator and petition him against this war; and the media, who many call our fourth branch of government, who parroted Bush's lies and did next to nothing to try to expose those lies (Amy Goodman et al. not included, of course). . . . [B]ut how badly we may feel can't compare to what the family and friends of both the Iraqi and American dead must feel, as well as the wounded on both sides and the two million poor Iraqis who have been forced to leave their own county. I do know that it is going to take many more of our fellow Americans to stand up against this war in imaginative and nonviolent ways before we will get peace."
• Author, professor, and activist Roxanne Dunbar-Ortiz will be in New Mexico to read from and discuss the new edition (University of Oklahoma Press) of her book Roots of Resistance: A History of Land Tenure in New Mexico. On Tuesday, October 9th, 6-7:30 pm, she will read and discuss her book at Otowi Station, 1350 Central Ave, Los Alamos. On Saturday, October 13th, 2-4 pm, she will be in Taos at an informal signing with poet Simon Ortiz, who wrote the introduction to her book, at Moby Dickens Bookshop, 124-A Bent Street. That evening at 6:30 she and Simon Ortiz will discuss the book at a Peace Action New Mexico meeting at Kit Carson Electric Cooperative Board Room, 118 Cruz Alta Rd. For more information go to: http://www.reddirtsite.com/bk-roots-1.htm.
• The annual High Road Art Tour will take place the weekends of September 22-23 and 29-30, 10 am-5 pm. The tour begins with studios in Chimayó and continues through the mountain villages of Córdova, Truchas, Ojo Sarco, Las Trampas, Chamisal, Rio Lucio, Picuris Pueblo, Peñasco, Rodarte, Llano San Juan, Llano de la Yegua, and Vadito. To obtain a brochure or more information visit the website at www.highroadnewmexico.com or call 866-343-5381.
Living In "Atomic Spaces"
By Mark Schiller
Last week, in the wake of an announcement by Los Alamos National Laboratory (LANL) that it may be laying off as many as 2,500 employees, many of whom live in Española and other parts of Rio Arriba County, Española mayor Richard Maestas called for the county to start diversifying its economy so that it wouldn't be so dependent on the Lab. Maestas' comments seemed particularly poignant, as I was in the midst of reading Peter Bacon Hales' book Atomic Spaces, Living on the Manhattan Project, which discusses the strangle hold the Manhattan Project (MP) (responsible for the research and production of the first atomic bomb) established over the economies of northern New Mexico (LANL), eastern Tennessee (the site of the Oak Ridge production facility), and eastern Washington (the site of the Hanford production facility). The book also documents the many injustices perpetrated on the American people in the name of national security by the administrators of the MP, including knowingly exposing thousands of workers and military personnel to dangerous levels of radiation and other toxic chemicals and failing to adequately compensate hundreds of farmers who owned land condemned for the major production and research sites. Hale also traces the origins of the "military-industrial complex" (which President Eisenhower in his farewell address warned the country to be wary of) to the MP and discusses the effects the project has had on our social institutions and the advancement of scientific and technical research.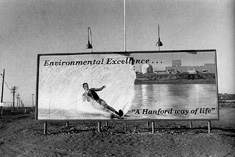 Hanford Nuclear Facility: Truth in Advertising?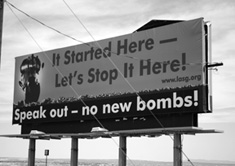 Los Alamos Study Group billboard
Photo by Jakob Schiller
The MP, Hales asserts, drew "the scientific community into a new set of relations with government, industry, and each other." Suggesting initially that representatives from the government, military, and scientific communities would share equally in the administration of a program to research the potential of atomic technology, the program quickly devolved into a hierarchical military-industrial bureaucracy, under the aegis of the National Defense Research Committee (NDRC), that treated the scientists as employees and restricted research to military goals rather than atomic energy's broader potentials. According to Hales, "By the Fall of 1940 [over a year before Pearl Harbor], the NDRC had effectively taken over the world of experimental atomic physics" by signing contracts for the development of its programs with Columbia, Harvard, Princeton, Cornell, Johns Hopkins, the University of Minnesota, Berkeley, and the University of Chicago. NDRC also enlisted the corporate elite by including members of Standard Oil, Kellogg, Union Carbide, Westinghouse, and others major corporations on its Planning Board. That board was appointed ostensibly to award production contracts to the technologically most advanced corporations, but as Hales notes, "quite naturally these corporate representatives recommended their own companies . . . [and] were accepted as prime contractors for the nascent production phase of the atomic enterprise." Thus, the most advanced scientific research was commodified and limited to the agenda of the military-corporate decision makers. Moreover, the work and business arrangements of the MP were exempt from any kind of governmental or public oversight. As Hales points out, it was assumed "that all actions by the Project were necessary and right. Thus there would be no justifications, no investigations, no demands for statistics or reports . . . ."
This enormous project was ruthlessly and cunningly orchestrated by General Leslie R. Groves, who also directed the construction of the Pentagon and whom Hales refers to as "the invisible presence." Hales notes, ". . . Groves did not appear on the bureaucratic maps of power, no matter how vast or complex they became over the years of the District's [The Manhattan Project was originally referred to as the Manhattan Engineer District] history. At the top was always the district engineer-first [Colonel James C.] Marshall, then [Colonel K. D.] Nichols. Groves himself existed immaterially, at once everywhere and nowhere." In other words, if Robert Oppenheimer was the so-called "father" of the atomic bomb, then Groves could aptly be called its "godfather."
Although Groves insisted in his 1962 account of the MP, Now It Can Be Told, that the Project was governed by three guiding principals: "1, safety first against both known and unknown hazards; 2, certainty of operation-every possible chance of failure was guarded against; and 3, the utmost saving of time in achieving full production," Hales asserts that the facts demonstrate Groves was a liar. He suggests that "The first priority lay with production, then with prevention of liability or bad publicity, and last of all with health or safety." A chapter detailing the toxic hazards many MP workers were exposed to chillingly bears this out.
According to Hales, Groves sought to "supersede" medico-ethical concerns related to the production of the atomic bomb. To this end, Groves appointed Stafford Warren to head a medical program "owing unconditional allegiance to the military-industrial culture and to Groves." Hales asserts that "Warren's program left the doctors and researchers diffident servants to the contracting corporations and the district engineer's office." But apparently even Warren's "draconian recommendations" were not enough for Groves. "He wanted further guarantees that the doctors . . . would not let humanitarian concerns get in the way of their duty [to the program]. He sought an authority that could supersede the Hippocratic oath. . . . " He therefore demanded and ultimately succeeded in placing the entire medical program under military control which "assured that individual doctors would not concern themselves with ethical matters."
Groves was also successful in placing strict limits on research into the effects of exposure to radiation and forced the medical program to embrace "a philosophy of purposeful ignorance, of knowledge control . . . in order to prevent revelations that might hamper the project." Hales claims that "When it came to medical research, the prime focus was 'medico-legal'-the function of research was to prevent, not injuries, but lawsuits resulting from injuries." Warren's own account of the project concedes ". . . the general attitude of the medicobiologic workers was 'If this is all we need to know, we don't want the responsibility of knowing any more.'"
As a result of this policy, work-related illness and injury proliferated throughout the Project. The Oak Ridge electromagnetic processing facility, Hales states, "used dangerous uranium hexafluoride gas and uranium oxyfluorine as well. Just how volatile these processes were is indicated by the [MP's] official historian's 1946 statement that Tennessee Eastman's electromagnetic process resulted in 'an average of 150 cases of occupational injury or illness . . . every 24 hours' when the process was in full production. And these were only the cases treated by the Tennessee Eastman Corporation medical team; lower-level injuries, such as skin rashes from contact with radioactive and toxic materials, may have been much higher."
Not until after the first bomb had been detonated at Alamogordo in late July of 1945 did the Medical and Insurance Sections of the Project acknowledge that proper safety procedures had not been followed and that the government could face legal consequences. At that point the Medical Section, according to Hales, fearing its own legal liability, insisted that "the employees must necessarily be rotated out, and not be permitted to resume further exposure." Hales goes on to say, "For the doctors themselves, radiation injury provided a particularly troubling matter. On the one hand, they had no idea how to treat the disease; in fact, they might not even be able to make an informed diagnosis, thanks in part to the District's orders limiting research. What were they to tell those patients who came to them with symptoms of severe radiation illness? According to the District: nothing." In point of fact the District closed ranks, and in an effort to impose a policy to limit its liability, officially discouraged workers from consulting doctors outside the facilities by suggesting that the District's own medical staff was "best equipped and trained to treat any cases arising out of the peculiar working conditions of the area."
Although the federal government finally passed the Energy Employees Occupational Illness Compensation Program in 2000 (see page 1), which allows for limited financial compensation for workers who can "prove" they contracted occupational related diseases as a result of working for the Department of Energy, fewer than 8.5% of LANL employees' claims have been awarded, clearly substantiating Hales' assertion that "The campaign of duplicity concerning the dangers continues today."
Atomic Spaces also presents a devastating critique of the rigid class, race, and gender biases that pervaded the MP and which current employment and wage statistics demonstrate continue today. Native Americans, African Americans, Hispanos, and women were all discriminated against and relegated to low paying, menial jobs.
While the intelligentsia at LANL tended to romanticize the Native American culture, they were also condescending and contemptuous of the hundreds of Native Americans who worked as construction and maintenance personnel as well as domestic servants. A 1944 letter, in which the wife of a LANL scientist discussed hiring a Native American woman to work as a domestic servant, is indicative of the prevailing sentiment: "I have household help today for the first time. She came to the house rolled up in a bright red blanket and smiles. She calls me "Meesie Feesha" [the woman's name was Phyllis Fisher] and tells me her name is Apolonia. She is a short, middle-aged, stooped Indian woman from a nearby pueblo. She looks as though she couldn't lift a feather. But whether or not she can clean the house is immaterial. I'm sure she'll be worth her wages in entertainment value alone. She is sweet, picturesque, and I love to watch her. If she does nothing more than stand around, I'll find my housework less boring."
Ironically, within the patriarchal culture of the MP, even LANL wives who were well educated and sophisticated were marginalized. Isolated from their husbands who worked long hours and were given strict orders not to discuss their work with anyone, many of these women suffered severe depression. Laura Fermi, the wife of Nobel laureate Enrico Fermi, recalled that the MP encouraged scientists' wives to take low-paying white-collar jobs, crunching numbers, collating data, typing, filing and organizing in order to "keep them out of mischief." Hales notes that by August of 1944 three quarters of scientists' wives were employed in what he calls "mind-numbing" work: "They sat in rooms filled with other women doing the same work, and they typed in the endless lists of numbers. They were hired not because they were intelligent, but because they were available. They were never told the rationale behind their work. When the calculations didn't live up to the hopes of the scientists and mathematicians who devised the theories, they found themselves the butt of anger, contempt, blame. The assumption was: the failure was their fault, not the fault of the theory or the prediction. When they were vindicated, as they often were, they never found out."
Employment of African Americans and Hispanos, who had been dispossessed by the MP from their homes and farms, amounted to a kind of forced servitude (they had nowhere to go and no marketable job skills) that included substandard wages and housing. At Los Alamos, for instance, Hispano workers were housed in uninsulated metal Quonset huts that were set-up as dormitories, providing little protection from the heat and cold and no privacy whatsoever.
As jaded as we've all become by more recent revelations regarding the government's covert operations, reading Atomic Spaces is still a very disturbing experience: the litany of horrors associated with MP seems endless and overwhelming. More importantly, as Hales points out, "the systems of behavior and belief that guided the actors and participants of the District spread from the sites and spaces [of the MP] as the fences came down. The Manhattan District influenced the course of America and of international civilization in important ways . . ." As citizens of the most powerful nation in the world, whose domestic and foreign policies are shaped by a military-corporate elite, and as residents of New Mexico who live down wind, down stream and down trodden by LANL, the legacy of the Manhattan Project pervades our lives and, I suspect, our anatomies as well.