Acequias Confront Forest Service Over Access Rights
By Mark Schiller and Kay Matthews
Editor's Note: Just after we wrote this article we learned that John Miera will no longer be the Camino Real District Ranger as of May 1 and will be working out of the Carson Supervisor's Office in the Special Projects Division. We don't know whether this position change was already in the works when he conducted the meeting described below, but we hope the Forest Service will not further delay the acequia projects that are currently in progress.
Camino Real District Ranger John Miera always introduces himself at community meetings as an acequia parciante and land grant heir, but after a three and a half hour meeting with local acequias on a cold, windy day at the Peñasco Community Center, parciantes came away with the impression that he's just another government bureaucrat, plain and simple.
The meeting was called by the Forest Service to address the acequia rehabilitation projects of five area acequias whose projects are located on national forest land (all former land grants). While most of the parciantes who attended the meeting wanted to focus on their concerns regarding the slowdown of their rehabilitation projects, which is jeopardizing their funding, Miera insisted that the Forest Service proceed with excruciatingly long presentations detailing the regulatory process it contends the acequias must undergo.
Miera is taking the position that acequia projects that require more work than he deems simple "maintenance" are subject to analysis under the National Environmental Policy Act (NEPA) and have to obtain a special use permit from the Forest Service. Just what constitutes "maintenance" is open to interpretation, of course. Miera asserts that it only includes removal of silt, reduction of erosion, maintaining water flows, and the replacement of a compuerta or presa that exactly replicates the structure being replaced. He claims, for example, that replacing a presa made of logs and hay bales with gabions and cement, even in the same location as the previous dam, does not fall within regular maintenance. Acequias, on the other hand, assert that work that is "essential" to the maintenance of their ditches and remains within their easements should not be subject to Forest Service regulation.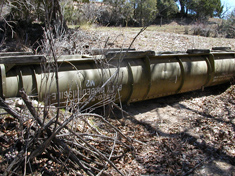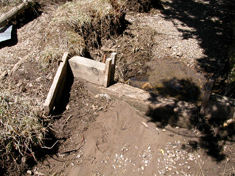 Many interesting and rudimentary flumes and diversions fill the hundreds of acequias that will someday need to be replaced
The regulatory process includes five steps: 1) submitting a SF 299 permit; 2) determining the "cost recovery," or administrative fees that the Forest Service charges to obtain necessary permits and monitor special uses for compliance; 3) conducting a NEPA analysis; 4) obtaining a special use permit; and 5) implementing and monitoring the project. The Forest Service is also insisting that all acequia projects submit a SF 299 application so that the agency, not the acequia, will determine whether it is only a "maintenance" project or "beyond normal maintenance."
"Beyond normal maintenance" is the terminology used in a 2001 letter from then Regional Forester Eleanor Towns to David Benavides, attorney with New Mexico Legal Aid. Benavides had asked for clarification of Forest Service policy regarding acequia rehabilitation on federal lands for the Nacimiento Community Ditch Association on the Santa Fe National Forest. In her letter to Benavides, Townes stated that a special-use authorization is required for activities "beyond normal maintenance or minor improvements . . . or outside the right-of-way; or which involve significant changes in location or alignment, significant increases in the area occupied, construction of new access roads, and enlargements and extensions that increase the capacity of the system."
Benavides believes that this policy statement "should have ended Forest Service badgering of parciantes to get special use permits and allow them to do what they've always done." But Miera, who has a history of interfering with acequia maintenance, seems to think Towns' policy is subject to his interpretation. The commissioners of one of the five acequia projects chose not to attend the meeting because they assert that the Forest Service does not have authority over acequia easements and they intend to proceed with their project.
In another case in 2002 involving Abiquiu parciante Virgil Trujillo, who attempted to rehabilitate an acequia that had actually been damaged due to Forest Service negligence, Miera, then the Española district ranger, cited Trujillo, telling him he needed a special use permit to not only take heavy equipment across Forest Service land but to even use the ditch. Trujillo responded: "You better cite me right now because I'm putting water in this ditch this afternoon, and you better be prepared to cite everyone in northern New Mexico if you think you have the authority to stop people from exercising their pre-existing water rights."
Despite the fact that acequia easements pre-date Forest Service tenure, Miera still thinks he has authority to regulate work within these easements. At the meeting in Peñasco, Miera did bring up the 1866 Congressional Act that acknowledges the validity of existing easements without the necessity of a permit or other authorization. The Act states: "Whenever, by priority of possession, rights to the use of water for mining, agricultural, manufacturing, or other purposes, have bested and accrued, and the same are recognized and acknowledged by the local customs, laws, and the decisions of courts, the possessors and owners of such vested rights shall be maintained and protected in the same; and the right of way for the construction of ditches and canals for the purposes of aforesaid is hereby acknowledged and confirmed."
Miera noted that this Act provides an alternative way for acequias to establish their pre-existing rights, but warned that the process requires a claim to the Regional Office of the Forest Service, which necessitates copious documentation and places the burden of proof on the acequias, rather than the Forest Service. He also cited the Federal Land Policy and Management Act (FLPMA) of 1976 that he claimed gives the Forest Service the right to "reasonably regulate" water rights and accompanying rights of way. At the meeting Benavides questioned whether FLPMA also recognized pre-existing water rights easements, which it does in the section regarding rights of way: "Nothing in this subsection [of the Act] shall be construed as effecting any grants made by any previous Act to the extent any such previous grant of right-of-way is a valid existing right, it shall remain in full force and effect."
Consensus among the parciantes, of course, is that everyone knows acequias pre-date the Forest Service and it is incumbent upon the Forest Service to recognize their pre-existing rights. A commissioner on one of the ditches that has been trying to implement its rehabilitation project since 2004 and has been dealing with Miera for two years (the commissioner complained that Miera is seldom in the office and often fails to return his phone calls) said, "We shouldn't have to prove our pre-existing rights. If we go through the permitting process we've already sold ourselves to the devil." Another parciante on the same acequia said to Miera, "Your position is insulting and degrading to the community."
The New Mexico Acequia Association, represented by Janice Varela and David Benavides of New Mexico Legal Aid, attended the meeting to assess the Forest Service position and provide legal counsel and support to the affected acequias. There were also representatives from Senators Tom Udall and Jeff Bingaman and Representative Ben Ray Lujan's offices in attendance. Parciantes are hopeful that the congressional delegation will pressure the Forest Service to recognize the acequias' pre-existing rights and do away with the special use permitting process for acequia rehabilitation.
Also in attendance was Land Grant Forum member and Interstate Stream Commission special water projects coordinator (a Governor Richardson political appointment) Roberto Mondragon who, to everyone's surprise, defended Miera from parciantes' anger regarding his interpretation of the regulatory process. Mondragon, who handles some of the funding through the ISC for acequia projects, knows how rigorous that process is in terms of design and oversight of these projects and should be acting as an advocate for acequias, not an apologist for another layer of bureaucratic control.
Senators Mark Udall and Tom Udall Sponsor Bill to Reform EEOICPA
By Mark Schiller
Charlie Wolf died on January 28, 2009, more than six years after he had been diagnosed with brain cancer and more than five and a half years after doctors said he would be dead. During that period, Wolf was not only fighting for his life, he was fighting the federal government for the compensation he was entitled to as a former worker in federal nuclear weapons facilities who contracted cancer as a result of exposure to radionuclides in the work place. Just as Wolf experienced the nightmare of radiation treatments, chemotherapy, and bone marrow transplants, he also experienced the nightmare of trying to negotiate a claim for compensation through a government bureaucracy clearly intent upon limiting its liability. The entire story of Wolf's battle with cancer and the government was graphically detailed in a July 22, 2008 Rocky Mountain News story by Laura Frank, and I urge readers to download the article and see for themselves the ordeal Wolf suffered through as a result of the government's attempts to avoid culpability. Sadly, even after providing copious documentation and successfully challenging the government's decision to deny his claim, Wolf died before receiving full compensation and benefits.
With the March 31 introduction of the Charlie Wolf Act by Senator Mark Udall of Colorado, however, Wolf's story may help initiate sweeping reform of the entire Energy Employees Occupational Illness Compensation Program Act (EEOICPA), and a "housecleaning" of the bureaucrats from the Department of Labor (DOL) and National Institute of Safety and Health (NIOSH) who administer the program. Senate Bill 757, co-sponsored by Senators Tom Udall of New Mexico and Michael Bennet of Colorado, and House Bill 1828, introduced by Colorado Representative Jared Polis and cosponsored by Colorado House members Mike Coffman, Diane DeGette, Ed Pelmutter, and John Salazar, seeks "to expand the category of individuals eligible for compensation, improve the procedures for providing compensation and improve transparency."
A summary of the bill's amendments provided by Mark Udall's office includes:
Sec. 3. Specified disease.
Expands the list of cancers for which individuals are eligible to receive compensation. This would be done by amending the relevant part of another law, the Radiation Exposures Compensation Act (RECA), because EEOICPA adopts that law's list by reference.
Sec. 4. Definitions for program administration.
Amends the EEOICPA by the following:
(1) adds an employee of a contractor or subcontractor of an "atomic weapons employer" to the definition of "atomic weapons employee" who is eligible for compensation;
(2) eliminates the requirement that claimants must be subjected to invasive testing procedures to establish the presence of chronic beryllium disease;
(3) places any person who worked at a Department of Energy facility (defined as a facility where radiation and other toxic materials were present) before January 1, 2006 in a "special exposure cohort" and thereby establish exposure for these workers;
(4) expands the list of cancers to include chronic lymphocytic leukemia, basal cell carcinoma, and skin cancer as eligible for compensation; and
(5) allows claimants who were previously denied compensation based on these changes to reapply for compensation given these changes to the Act.
Sec. 5. Change in presumption for finding of cancer.
Shifts the presumption of compensation to the claimant; it does so by presuming that an individual with cancer sustained that cancer while performing his or her duty and places the burden of proof of rebutting that presumption on the National Institute for Occupational Safety and Health (NIOSH) to prove-by clear and convincing evidence-that the exposure did not cause the illness (to prove something by "clear and convincing evidence" and thus deny compensation, NIOSH must show that it is substantially more likely than not that the illness was not caused by the exposure but by some other factor).
Sec. 6. Distribution of information to claimants and potential claimants.
Requires the Department of Labor (DOL), which administers the EEOICPA, to provide a list of physicians qualified to perform medical and impairment screenings from independent medical associations and institutions of higher education; and require claims examiners to provide written notice to claimants who file under either Part B or Part E of the EEOICPA of potential monetary or medical compensation for which they may be eligible.
Sec. 7. Enhancement of site profiles of Department of Energy facilities.
Requires DOL to provide the public with access to the "site exposure matrix" and any other databases or site profiles used to evaluate claims for compensation.
Sec. 8. Clarification of covered illnesses.
Broadens the definition of "covered illness" that is eligible for compensation to include a specific, but not exhaustive, list of specific illnesses; it also allows claimants who heretofore were denied compensation for a specified illness the ability to reapply for compensation due to this clarification.
Sec. 9. Payment of compensation to survivors and estates of contractor employees.
Require the DOL to pay a claimant's estate, if there are no heirs, should a claimant die after filing their claim but before receiving payment.
Sec. 10. Wage loss resulting from exposure.
Allows compensation for a covered illness even if that illness may not have been the sole cause of the claimant's disability.
Sec. 11. Expansion of toxic substance exposure for covered illnesses.
Allows consideration of exposure to radiation in addition to toxic substances-or a combination of both-for compensation purposes.
Sec. 12. Extension of statute of limitations for judicial review of contractor employee claims.
Expands the statute of limitations to 1 year to provide ample time for workers whose claims have been denied to file a petition in federal court.
Sec. 13. Expansion of authority of Ombudsman of Energy Employees Occupational Illness Compensation Program.
Expands the duties of the Office of the EEOICPA Ombudsman to include the ability to provide information to claimants on benefits available under Part B; and grants the Ombudsman the authority to contract for expert services to assist in the execution of its duties (e.g., individuals with expertise in health physics, medicine, and toxicology).
Sec. 15. Enhancement of transparency in claims process.
Requires any federal agency with jurisdiction over the program to provide information to claimants in easily understandable language and, if a claim is denied, provide claimants with a detailed, written explanation of all reasons for the denial and the additional documents, evidence, or information necessary to meet the burden of proof on appeal; and prohibits the Departments of Energy (DOE) and Labor from destroying original documents related to any DOE facility that might reasonably be expected to be used by workers in support of filing claims under EEOICPA.
Sec. 16. Extension of time for claimants to respond to requests for information.
Provides a claimant with additional time (not less than 120 days) to respond to a DOL request for additional information from the claimant about the claim.
Worker advocates I spoke with believe the bill addresses most of their concerns. Although it doesn't totally eliminate the dose reconstruction program, according to Mark Udall's office, Section 4. Number 3, does eliminate dose reconstruction for all workers with "specified cancers" and Section 5. shifts the burden of proof for non-specified illnesses from the claimant to NIOSH. Advocates and congressional aides for several of the bill's sponsors also believe that key administrative personnel at both DOL and NIOSH have not implemented the act as Congress intended and should be replaced.
Both bills are in committee as of this writing and La Jicarita News will follow their progress in upcoming issues.
ANNOUNCEMENTS
• The New Mexico Citizens Alliance for Responsible Energy and Sustainability (NMCARES), with strong support from Representative Rick Vigil and Senator Phil Griego, successfully helped pass House Joint Memorial 75, which will establish a Statewide Taskforce to make recommendations regarding siting and regulations of industrial wind farms in New Mexico. This Taskforce offers citizens an opportunity to have a voice in the future of industrial wind facilities in New Mexico. Particularly now with the American Recovery and Reinvestment Act, when states are strategically vying for a place in the Renewables Industry, this Taskforce will be able to guide New Mexicans on how to best work with this unregulated industry while protecting communities, culture, heritage, and exceptionally beautiful scenic areas. Headquartered in Ribera, NMCARES is pro-renewables, pro-jobs, pro-health, and pro-healthy communities. www.newmexicocare.org
• Professor Ward Churchill, who was fired from his tenured position at the University of Colorado last year, was recently vindicated when a jury found that the university had wrongfully dismissed him for political reasons. Churchill had come under fire after the September 11, 2001 attacks on the World Trade Center and the Pentagon when he published a paper saying that policies of the United States government had contributed to the attacks, and that those who work in the institutions that support inequities around the world bear some of the responsibility. The university began an investigation of Churchill's academic record, claiming he had plagiarized and falsified parts of his research on American Indians (he was chair of the ethnic studies department) and fired him. The jury found that Churchill's political views had been a "substantial or motivating" factor in his dismissal and that his first amendment rights had been violated. His attorneys will now ask the Denver District Court judge to reinstate Churchill in his tenured position at the university. A spokesman for CU said the university will oppose his reinstatement.
• A public hearing on the Miranda Canyon Preserve subdivision was heard on April 14 just as La Jicarita News went to press. The hearing was recorded by Cultural Energy and can be heard on its website: www.culturalenergy.org. The Taos County Planning Commission decided to continue the hearing on May 14 so the Weimer family can address:1. a community water system; 2. a community sewer system; 3. firm commitment as how traffic is to be addressed; and 4. documentation as to review by the Corp of Engineers. We will continue to follow developments of this proposal throughout the regulatory process.
La Jicarita will combine the May and June issues of the paper, so look for us again around mid-June.
Embudo Valley Environmental Monitoring Group Sponsors Listening Session with New Mexico Environment Department
By Kay Matthews
The Embudo Valley Environmental Monitoring Group (EVEMG) sponsored a day-long dialog between concerned citizens and experts on legacy waste from Los Alamos National Laboratory and monitoring efforts in our downwind communities. La Jicarita News attended the afternoon listening session with the New Mexico Environment Department (NMED), the agency responsible for much of the clean-up oversight at LANL.
Communities for Clear Water, a coalition of citizen groups, recently filed an appeal of the Environmental Protection Agency's (EPA) stormwater permit (NPDES) for LANL, charging that it violates the Clean Water Act (see article on page 5, which details the appeal and the concurrent lawsuit against LANL for violations of the Clean Water Act). La Jicarita asked James Bearzi, NMED Hazardous Waste Bureau chief, to clarify NMED's role, as opposed to the federal EPA agency, in LANL permitting. The stormwater permitting process under the EPA is critical to preventing the many contaminants generated by nuclear production and testing at LANL from ending up in the Rio Grande.
It turns out that EPA is responsible for issuing the LANL stormwater permit because NMED doesn't have "primacy" on surface water regulations, only groundwater. Unlike most states in the country, New Mexico lacks this regulatory authority, although the state is actively seeking it. Both Bearzi and Joni Arends, executive director of Concerned Citizens for Nuclear Safety (CCNS), who attended the all day meeting, stated that the fight for primacy is a political football and has been actively opposed by various state industries, particularly developers, who don't want the "burden" of meeting stormwater regulations that would be imposed.
The way it stands now, the EPA, a federal agency, is essentially in the position of regulating another federal agency, the Department of Energy (DOE), the federal agency that oversees all nuclear weapons facilities. But federal regulations don't allow one federal agency to impose penalties on another federal agency, so regardless of LANL's failure to comply with stormwater permit deadlines for 17 years, the EPA has never imposed any penalties.
According to Bearzi, the EPA permit could conceivably extend "forever" the time frame for LANL to use Best Management Practices (BMPs) such as reducing the gradient of the streambed, enhance wetland areas, and build structures to interrupt the streamflow to prevent the contaminants from reaching the Rio Grande (much less clean up the contaminants at their source).
While this is obviously a frustration for the NMED, and a potential disaster for the downstream communities of New Mexico, Bearzi told the group that NMED can effectively bring LANL into compliance because of the Consent Order the Lab and NMED signed in 2005: "The Consent Order is the way to prevent the contamination in Los Alamos and Pueblo canyons from reaching the Rio Grande." This order detailed a schedule for "fence to fence" cleanup of hazardous waste sites at the Lab by 2015. LANL has already failed to meet some of the terms of the Consent Order and in 2007 requested $90 million less than the cleanup agreement outlined. The ED has thus far fined the Lab more than $2 million.
Another frustrating component of the regulatory process is that the NMED does not have the authority to regulate radionuclides, only chemicals, toxins, and metals. Once again, a federal agency, the DOE, which is ultimately responsible for the release of radionuclides at its nuclear facilities, is in the position of regulating itself. The NMED has petitioned Senator Bingaman to take the lead in changing regulations within both the Clean Water Act and the Resource Conservation and Recovery Act (RCRA), which regulates hazardous and non-hazardous waste from the time it is generated until its ultimate disposal, to allow state oversight of these contaminants.
While this means that NMED does not have the authority to regulate the radionuclides that have been found in the Embudo watershed (higher than normal levels of uranium 234 in watershed lettuce samples and "extraordinary" levels of cesium 137, strontium 90, and plutonium 239 and 240 in soil samples near the Las Trampas Lakes), the department, in conjunction with EVEMG, is monitoring these contaminants and "fingerprinting" their origin. While the Oversight Bureau of NMED speculates that these contaminants could have been carried by wind from LANL (particularly during the Cerro Grande Fire) or from atmospheric testing of nuclear weapons conducted prior to 1963, the samples are currently being analyzed to determine their origin. Sheri Kotowski, EVEMG director, expressed frustration that it has now been eight months since this "fingerprinting" began with still no results.
EVEMG, NMED and El Valle community members (the highest elevation community in the Las Trampas watershed) will meet at the end of April to discuss setting up an AIRNET station in the village to measure dust particles for plutonium, americium, cesium, and tritium.
Citizen Groups Appeal EPA Stormwater Permit for Los Alamos National Laboratory
By Kay Matthews
As reported previously in La Jicarita News (see February, 2008) a coalition of environmental justice and anti-nuclear groups called Communities for Clean Water (CCW) filed a Clean Water Act Lawsuit against Los Alamos National Laboratory (LANL) last year for failing to comply with the terms and conditions of its stormwater National Pollution Discharge Elimination System (NPDES) permit. According to the lawsuit, LANL has allowed contaminated stormwater from 59 dump sites to run off into soils, surface water, and shallow groundwater of the Los Alamos and Pueblo canyon watersheds., violating by 25,000 times New Mexico's water quality standards for PCBs, polychlorinated biphenyls.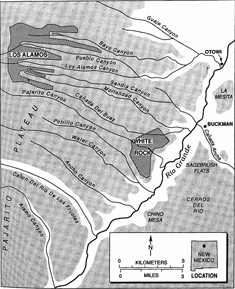 The stormwater permitting process is regulated by the Environmental Protection Agency (EPA) and is critical to preventing the many contaminants generated by nuclear production and testing that have been carried out at LANL for the past 60 years from poisoning our surface water. LANL itself is on record that stormwater runoff "is the principal agent for moving Laboratory-derived constituents off-site and possibly into the Rio Grande." The history of the permitting process dates back 17 years. In 2005, the EPA determined that LANL was violating its permit and required that the Lab submit an application under an individual permitting process, rather than the previous general permit. Since that time, LANL has submitted several updates and was finally issued a draft permit in January of 2008. A public hearing and comment period followed in March and the CCW groups met with the EPA to discuss substantial changes to the draft permit.
The lawsuit has been on hold while the EPA reviewed the permit. The EPA finally released the permit on February 13, 2009 and Communities for Clean Water (CCW) filed an appeal of the permit to the Environmental Appeals Board in Washington D.C. According to Matt Bishop of the Western Environmental Law Center, which represents CCW in the lawsuit, it was necessary for the groups to complete the administrative appeals process because many of the same issues raised in the lawsuit will be raised before the EPA appeals board (the petition asks for the right to present an oral argument). Some of those issues may be resolved by the board and be dropped from the lawsuit, or CCW may find it necessary to file a lawsuit against the EPA rather than LANL, if the regulatory agency fails to uphold the terms of the permit.
In its petition to the EPA appeals board CCW argues that: (1) the EPA has illegally issued a compliance schedule for LANL that is impermissible under the Clean Water Act (CWA); and (2) the permit fails to ensure EPA oversight or involvement with the Site Discharge Prevention Plan, which outlines monitoring and Best Management Practices to be used.
The compliance schedule allows LANL an additional seven years to comply with water quality standards despite the Lab's failure to comply for the past 17 years. According to the petition, "Despite the fact that LANL has not installed adequate BMPs (Best Management Practices) or eliminated the sources of pollution at its facility so as to limit discharges, it has had more than adequate time to do so, and indeed was required to do so . . . . Thus, LANL's failure to do so should not be seen as a justification for an extended schedule of compliance. On the contrary, it illustrates that no matter how much time LANL is given, it has failed to comply."
The appellants expect a response to their petition sometime in April, and while a hearing on the lawsuit has not yet been scheduled, it should proceed sometime this year.
Editorial: Disaster Capitalism, Full Circle
By Kay Matthews
Like everyone else, La Jicarita News gets it's share of weird e-mails from unknown individuals and institutions. On March 25 we received this particularly pithy letter: "America has a fascinating system of government, although I'm not sure what you'd call it. Give the banks billions of dollars and hope they lend it to us. If they refuse, give them trillions of dollars. If that doesn't work, then . . . . So what would you call this type of government? How about "shakedown"? As in, "That's a great little global economy you've got there. It'd be a shame if something . . . happened to it."
Instead of "shakedown," New York Times best selling author Naomi Klein would just call it the Chicago Boys government, which references the Milton Friedman school (University of Chicago) of free-market economics that has interfered in governments around the world for the past thirty years to bring them into the so-called global economy. In her book The Shock Doctrine, the Rise of Disaster Capitalism, Klein tells of the death and destruction perpetrated on countries by these American economists, in cahoots with dictators, military junta leaders, and even elected officials, who took advantage of economic and political crises in countries from Bolivia to Russia to foist drastic, free-market policies on their disenfranchised citizens. Now that the USA, home base of these shock doctors, is experiencing it's own disaster, first in the form of the September 11 attacks and now in the meltdown of our economy, will these free-market practices be instituted in an even more aggressive form or will they at long last die an ignoble death?
The latter is wishful thinking, of course. We're still enmeshed in the "shock and awe" doctrine we perpetrated on Iraq while getting ready to do the same in Afghanistan. The economists who President Obama has appointed to rescue our economy are the same ones who designed the free-market or neoliberal policies that have caused our economy, and the inextricably linked global economy, to implode. Nothing has changed in the thinking of the government and corporate power brokers that free market capitalism is and always will be in our best interest. As Klein demonstrates in her book, the interests that lie behind laissez faire or free-market economics are the same interests that drove the colonialist movements to exploit the labor and natural resources of local populations to enrich the few. Now, rather than countries conquering new territory, "corporate conquistadors pillage with the same ruthless determination and energy as their predecessors showed when they hauled home the gold and silver of the Andes." Wall Street sees " 'green field opportunities' in Chile's phone system, Argentina's airline, Russia's oil fields, Bolivia's water system, the United States' public airwaves, [and] Poland's factories," which were all built with public funds and then bought for peanuts when the countries' economies were in crisis and the free-marketers moved in for the takeover.
In the course of her analysis of the Chicago Boys, and later the World Bank and the International Monetary Fund, meddling in the economies of Bolivia, Argentina, Chile, Indonesia, Poland, South Africa, Russia, China, Sri Lanka, and South Korea (among others), Klein raises an often asked question about free-market ideologues. "Are they 'true believers,' driven by ideology and faith that free markets will cure underdevelopment, as is often asserted, or do the ideas and theories frequently serve as an elaborate rationale to allow people to act on unfettered greed while still invoking an altruistic motive?" How can they possibly rationalize as altruistic the kinds of political acts that were necessary to institute free-market economies: mass arrests like those in Argentina and Chile; mass killings, as in Beijing's Tiananmen Square and Indonesia's East Timor; assassinations of democratically elected leaders like Salvador Allende; and torture, as practiced in prisons in every country named, including the USA. But as Klein points out, if you accept that "profit and greed as practiced on a mass scale create the greatest possible benefit for any society," you can justify pretty much anything.
Klein's concluding chapter, titled "Shock Wears Off, the Rise of People's Reconstruction," does provides a modicum of hope, however. We have all witnessed the mass movement of Latin Americans to throw off their free market chains and establish social and progressive democracies in control of their own economic futures. They, and other countries around the world, are refusing to accept monies from the IMF or World Bank that are loaned with the requirements of free market rules: free trade, cuts in social services, and privatization of these services. In 2001, Argentina "erupted in protest against IMF-prescribed austerity measures and then proceeded to force out five presidents in only three weeks."
Unfortunately, here in the U.S., where the wealthiest one per cent of the population owns more than the bottom 95 per cent, and Washington still regards "democratic socialism" a greater threat than totalitarian Communism, it remains to be seen if our economic crisis will institute the kind of economic reform that Europeans, and now Latin Americans, expect from their government: a more equitable distribution of wealth and a government that provides basic services for its people rather than corporate welfare.