High Road to Taos Art Tour
By 11:00 a.m. on Saturday a steady stream of visitors was already making its way up the High Road. In Las Trampas, both local folks and those from as far away as Long Beach, California visited the exhibiting artists and venues: La Tiendita; Montoya's Milagro Shop; Gerrett Durland with sheepskin slippers, vests and gloves; Erminio Duran with soapskin and sandstone sculptures; Juanita Lopez with crochet work and flower arrangement; Emmy Koponen with woven willow baskets; Mary Steigerwald with hand-felted toys and accessories; and Ron Boyd with beaded moccasins. Manning the chile roaster was Dudley Finch, while the Lopez family sold burritos, tacos and chile.
Other venues, in Truchas, Ojo Sarco, Peñasco and Vadito displayed Chimayó-style weavings, paintings, santos and bultos, hand-crafted furniture and pottery. Some local folks we saw in Las Trampas: Clara Lopez and her niece Yvette, Lucia Vigil, Penny Romero, Monica Sanchez and the Ortega family from Velarde.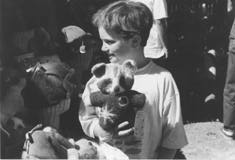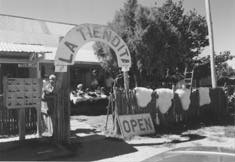 ANNOUNCEMENTS
• A September 9 press release from Washington D. C. announced that the Northern New Mexico Collaborative Stewarship program is one of the 25 finalists in the Innovations in American Governernment Awards. These awards, funded by the Ford Foundation and administered by Harvard University's John F. Kennedy School of Government, are given to programs across the country that find innovative ways to cut through government red tape to find solutions to complex problems. These 25 winners will share a grant of $1.3 million to encourage the replication of their initiatives in other governments. According to the press release, "Northern New Mexico Collaborative Stewardship program already has distinguished itself as a leading example of a government agency tackling a tough situation - and succeeding - by using an innovative and creative approach" to bring the forest back to its original health so that it can adequately provide for all of its community's many demands. Crockett Dumas, Camino Real District Ranger, and Max Córdova, President of the Truchas Land Grant, will fly to Washington in October to present their credentials to the National Selection Committee of the program, which will choose the ten winning programs in a public competition. ¡Buena suerte, amigos!
Community Mapping on the El Rito Ranger District
By Kay Matthews
Some folks who live in the El Rito Ranger District of Carson National Forest have been "mapping" their forest to document traditional and current community use. At the invitation of Kurt Winchester, District Ranger, Rosemary Romero of Western Network and Jan-Willem Jansens of Common Ground have been working with these individuals to compile a series of overlay maps that will help communities and the Forest Service integrate forest use and hopefully prevent conflict.
Romero and Jansens are compiling the maps from the ground up: on replications of forest maps, individual community members indicate their areas of use, such as firewood gathering, herb gathering, prospecting, posts, vigas and latillas, hiking, hunting, etc. They do so for each season of use as well. These individual maps are all transferred to the base map, so that village by village different uses, or "social influence zones" can be mapped. Then, when the Forest Service overlays its proposed uses, such as a prescribed burn or timber sale, on top of these social influence zones, potential areas of conflicts are revealed.
This community mapping concept grew out of a need to create a more hands-on tool than the Geographical Information Systems mapping currently used by the Forest Service. Henry Carey of Forest Trust was instrumental in recognizing the need to use a mapping system that better inetegrates data pertinent to rural communities that can be used as both a planning and mediation tool between communities, the Forest Service and environmentalists. The mapping helps the Forest Service follow its own regulations and can prevent potential litigation, as each concern is overlaid: for example, in a timber sale, roadless areas, erodeable soils, potential sales, endangered species habitat, etc. are clearly delineated.
Several other ranger districts have already put in motion variations of the concept. The Camino Real Ranger District designated social influence zones as part of its Collaborative Stewardship process. Mountainair Ranger District, in the Cibola National Forest, organized a citizen group called the East Manzano Mountain Communities Development Committee of elected village and town representatives to work with the Forest Service on community mapping and a stewardship project. The Tres Piedras District of Carson National Forest sponsored meetings and field trips to develop mapping in the Upper Petaca watershed and used the maps to help design a recent prescribed burn.
Kurt Winchester, El Rito District Ranger, invited community members, including grazing permittee Rick Martin and logger Ike DeVargas, to see if there was interest in a community-mapping project in El Rito. Everyone expressed interest in the project but also cautioned that the mapping not engender a "Balkinization" of the forest: designated use zones could restrict uses and inhibit forest diversity. Some of the grazing permittees pointed out their grazing allotments were too homogeneous, and that by restricting cattle to to the uplands, the Forest Service had set up a competition between the cattle and elk that was not good for the resource. They needed flexibility in moving cattle from upland to lowland.
Romero sees the process as enabling local community people to take more of a lead role in deciding where certain restrictions need to be enforced, for what time frame, and to what end. Once the project began, she heard from participants that they are optimistic that the Forest Service can use the information they provide to good effect. One area of concern is that increased promotion of tourism in the area is exacerbating an already existing problem of all-terrain vehicle (ATV) use. Another concern is that because of an inadequate county solid waste plan people are dumping their garbage on the forest, and that restrictions need to be in place to prevent both ATV erosion and illegal dumping.
Winchester is hopeful that the information gathered from the communities can be "the primary driving force in forest planning, at least on the Carson." He sees community mapping as a step towards fulfilling the mandate of the 1976 Region Three Policy, which directed the Forest Service to manage public lands in northern New Mexico with the welfare of its villages and pueblos foremost in mind. "We're finally beginning to turn the Forest Service bureaucracy around a little bit here in northern New Mexico."
Romero and Jansens are also using a community survey to support the mapping project. The survey asks questions that relate more directly to the values people place on forest uses. Questions include whether the Forest Service should promote large timber sales or small sales to local operators, whether prescribed burns should be utilized to improve forest health, if fuelwood gathering, grazing, and wildlife protection are compatible, and if people feel forest resources are available to all community members when community input is used to develop forest plans. Analyses of these surveys will be compared to map analyses to see if values and specific forest uses match.
A Critique of the Rio Grande Corridor Proposed Plan and Final EIS
By El Bosque Preservation Action Committee
The villages downriver from the Rio Arriba/Taos County Line, known as El Bosque, are at a crossroads - much like Pilar was in 1985 when commercial boating began to increase. Pilar residents asked for controls from the Bureau of Land Management (BLM) to help alleviate pressure from a great influx of boaters and determine just how much river use the human, plant and animal communities could tolerate. It has taken the BLM 13 years to respond to this request.
In all of the Bosque position papers, at scoping meetings since 1992 and more recently in a consensus group with boaters, both commercial and private (as represented by Adobe Whitewater Club), representatives of Rinconada, Embudo, Pilar and the BLM, El Bosque Preservation Action Committee has stressed the importance of controls to prevent the Pilar scenario from being played out again in this flatwater stretch of the river as interest in boating continues to increase.
Because Pilar's calls for relief were ignored, commercial boating grew exponentially, displacing and overrunning the residents of Pilar. Today in 1998, in order to ameliorate an intolerable situation, the BLM has taken steps to lessen the load on the good people of Pilar. Unfortunately, it is doing this by shifting the load to El Bosque. Page 4-26 of the Plan states: "Most visitors and residents of Pilar would experience an overall decrease in impacts from boating activity from 1990 levels since these controls would shift boating downstream." Presently there are 10 commercial outfitters operating in El Bosque, according to BLM records. Less than 1000 (about 600) commercial and privates have historically boated this 7.6 mile stretch of 94% privately owned riparian area (less than 1 mile of land along the river where most of the boating takes place is federally owned).
In the latest version of the Plan approximately 2500 commercials and unlimited privates (no registration required) would be permitted from May 15 to Oct. 31. This represents a longer season and much larger number than in the draft. Even more disturbing is the addition of a commercial whitewater/flatwater trip which starts at Quartzite and ends at "Lover's Lane", an area below Rinconada that has been traditionally used by locals and tourists for swimming, fishing and picnicking.
This combined whitewater/flatwater trip permits thousands of people through the Rinconada from May 15 to July 15. It is important to note that this is a new trip (never before officially sanctioned by BLM) and that it was originally presented in the consensus group as a high water only trip. There is presently no public demand for this trip. It was proposed by commercial outfitters to lengthen a trip which would be over quickly in fast water, and was tied to cubic feet per second (cfs). In the Plan, this whitewater/flatwater trip is specified for a particular period, regardless of cfs.
The new trip doesn't always end at Lover's Lane. Some of the commercial boats would be permitted to float on through Embudo to Embudo Station (see totals in box). Trips past County Line should be allowed only when the water is above 4000 cfs, and cannot continue below Lover's Lane due to a bridge which is impassable at that level. In the present Plan, any of the 17 outfitters who are permitted to launch in Orilla Verde or the Racecourse may continue through the Bosque without a Bosque permit. This oversight needs to be corrected. No more than 10 outfitters (the current permittees in El Bosque) should be granted permits in this section of the river.
There is presently no safe take out at the end of the Bosque run. Embudo South (at the gauging station) presents a highway safety hazard. Under no circumstances can this site be used safely as a takeout for thousands of rafting passengers. Traffic safety measures must be in place at Embudo South, where 8400 vehicles pass daily, before buses hauling 20 ft. trailers start pulling out onto the highway.
This shifting of the burden downstream would necessitate the development of Lover's Lane, possibly Embudo East (across from Embudo Station), or Embudo South. In all of our position papers since 1992 we have stressed the importance of keeping Lover's Lane and Embudo East for the traditional uses of picnicking, fishing and swimming. There is a difference between gradual change, small increases and huge increases which displace people and activities. Sharing this space with a small number of boaters might work, but it is untenable with the numbers proposed.
Those of us who have lived here for more than 15 years and remember when Quartzite was called the "Fishing Hole" know that sharing a site with thousands of boaters ends up displacing the present users. Just as happened at Quartzite, Lover's Lane will become a launch/takeout site. Fishermen told us in scoping meetings that they don't go to launch/takeout sites anymore because even at off-season, the development promotes more activity and is therefore incompatible with fishing.
The BLM had three years to evaluate the Bosque for Wild and Scenic status. We expected that the final plan would present scientific studies of wildlife and riparian areas which would also help in determining how increases in recreation would affect the ecology. No new studies were done; therefore the BLM based all consideration in these matters on "best available data". We don't know, for example, if there are any threatened or endangered species in El Bosque that would benefit by avoiding certain channels as has been done at Orilla Verde. Once again, our position has always been that baseline data must be collected to determine use of the river, especially since there has been very little boating here in the past.
Oversight is probably the most crucial aspect in the final plan. The Plan's recommendation concerning levels of use will be determined by the BLM's commitment to monitoring. Monitoring must be a top priority, methodically done by trained staff, especially since there are no restrictions on private boaters. Page 2-48 of the Plan states: "No additional restrictions would be placed until a threshold of 50 or more private boaters launching or floating past County Line per day for 20 or more days over two consecutive years is reached between May and September. At this time the BLM would implement additional actions, which may include reducing group size, requiring call-in reservations or other measures which may be proposed by residents, boaters or BLM." It is unrealistic to assume that BLM will have monitors stationed at County Line from May 15 to October 31 to count private boaters for 12 hours per day. Without such monitoring in place, the threshold detailed above could not be determined.
According to the BLM, number of boats and size of groups has proven to be a very large factor in noise and disruption. Both very high and very low water can lead to trespass. To keep excitement levels high when water is low (under 300 cfs), water fights are encouraged. Although we believe the quiet zone has been quite successful, there are still commercial and private boaters who are defiant about complying with conversational levels on this residential stretch of the river. Unfortunately, BLM does not have the personnel to monitor noise levels in the Bosque, therefore the burden falls upon residents to identify the source of the noise, determine whether private or commercial, identify the outfitter, notify BLM of the infraction, and hope some action is taken. In no way can the institution of a quiet zone totally protect an area from the effect of explosive growth in boating.
While BLM proposes yearly meetings with boaters and residents, they need to be more specific as to time and location and highlight the critical importance of such a meeting as the tool to resolve conflict and plan for future action.
Historical Bosque Traffic
Commercial and Private:
Less than 1000 per year
Proposed Traffic in El Bosque
May 15 to July 15
Commercial Passengers:
Bosque Permits - 1806
(July 16 to October 31 - 630)
Orilla Verde Permits - 29,280
Racecourse Permits - 59,475
Total - 90,561
Private Boaters
No Restrictions
Total - INFINITE
Puntos de Vista By Dana Wise
• "Too often, disagreements that are not ethnically based manifest along ethnic lines so that they grow ever more charged, injurious and difficult to resolve."
• "I care about the trees. Let the sociologists figure out the social effects of our [environmental] work."
• "It particularly perturbs me that so many liberal white women have gone over to the other side."
In the last year, I have witnessed Anglo environmentalists make these statements in a variety of public forums about environmental conflicts. For these environmentalists, the questions and answers to environmental problems are obvious. But those who don't belong to this exceptional group are faced with a confusing array of complex issues and allegations. There can be no doubt that New Mexico communities face a broad range of questions about their environments - from global warming, to the Hanta Virus, to the quality and quantity of water. But it has been a difficult task for New Mexicans to define the problems themselves: What are the biggest problems? Who is to blame for them? Whose practices should change?
We should see in this confusion the simple fact that environmental questions cannot be separated from social issues. We all need to strive to develop better understandings of - and better ways of describing - relationships between environmental politics and social processes, but as an urban Anglo male, I am particularly concerned about the practices and beliefs of urban Anglos in current New Mexico environmental disputes. For many, the word environment represents a pure, pristine, and spiritual place; for others, environment may be primarily a place where work takes place. It turns out that there are many environments. I believe that we can produce a better public discussion about environmental problems if we consider the different ways in which we all constitute these environmental problems in our minds. Some environmentalists realize that environmental issues mean different things to different New Mexico communities - especially those that differ by class, ethnicity, race, gender, etc. Others have a more absolutist approach to their environmental advocacy. This second group is reluctant to concede a relationship between their environmental advocacy and the social, historical and political processes that constitute their values and beliefs. This group is equally reluctant to consider how the outcomes of disputes about the forest or water use have varying impacts and meanings for people of different races, classes, and genders. Indeed, part of the attraction of scientific terms like biodiversity is that they lend a scientific or absolutist basis for environmental advocacy, supporting the illusion of a pure knowledge or standpoint beyond culture, race, and gender.
While there may be a short-term, tactical advantage to the framing of environmental issues in absolute terms, these tactics are unlikely to produce a sustainable, socially just, or democratic outcome. Many environmentalists would say, "doesn't everyone benefit equally from clean air, water, and biodiversity? Don't these ends justify a court-imposed solution?" Environmentalists in the southwest rely on lawsuits and court-imposed measures because they can't organize or build a political majority around their values. But court-imposed solutions foster resistance, and perhaps most importantly, they can dis-empower the poor, people of color, women, and their communities. Some people call this arrogance "white privilege," which is characterized by both a lack of concern about how our conceptions are constructed out of a racially, economically, and gender-stratified society, and an equal lack of concern about how the costs of solutions are distributed. Just one look at the membership of environmental organizations and their issues shows that these social influences on environmental politics cannot be easily dismissed. Many recent New Mexico environmental disputes feature predominantly Anglo organizations versus communities and organizations comprised of people of color. Often, there are environmental issues that are the concerns of predominantly Anglo populations and other very different environmental issues that are the concerns of Hispano, Native American, or other minority populations.
Indeed, dominant conceptions of the environment usually juxtapose nature or natural with all things human or social. Mainstream institutions frequently reinforce (often unconsciously) distinctions between science and the sociological. The stock-in-trade of science is frequently Truth and Facts, while sociological statements are limited to theory and hypothesis. No doubt this is why much of politics - including environmental politics - strives for scientific status. If we acknowledge that how we see the environment and how we define environmental problems can largely depend on our membership in social groups, then the very foundations for our thoughts and actions are threatened. The use of scientific method and language to frame an environmental debate confers a higher status to those who can master it - and surely we all have experienced the silencing power of scientific rhetoric. Science and scientific inquiry are valuable, and I support a rigorous and methodical approach to understanding environmental problems, but the best science has always recognized the ways in which social factors make absolute statements impossible. Because of their privileged social status and because they are constantly affirmed in our culture as "normal", "valuable", and "powerful", Anglos - and Anglo environmentalists - have a tendency to recognize their position as universal or absolute.
Other statements made to me by Anglo New Mexico environmentalists include:
• "I don't see myself as a white woman."
• "The problems in Santa Fe are problems of class, not race."
• "[When people of color promote their] race and ethnicity to deflect [criticism from environmentalists it is] false consciousness. It is much better [for environmentalists] to take a principled stand on the cause of the problem and set out policies, not feel goodisms, to win over [people of color to our environmentalism]."
Here, an Anglo male environmentalist suggests that racial and ethnic identity - and a distinctly different set of environmental values - are "false consciousness." False consciousness is what people who "know the truth" say about people who they think are confused and muddled. It implies that one person has an objective view of society while another looks through a distorted lens. Such statements are symptomatic of membership in the dominant society, and they reflect "white privilege." Access to power and resources is often determined by one's membership in a particular group. The privileges of membership tend to become invisible or appear natural over time, especially when one is a member of that group and not constantly reminded of the privileges of membership. It is understandable that Anglos may not recognize how experiences and values are different for other people who are not members of that privileged group. Anglo environmentalists too often reinforce social inequality when they deny that their privileged social status has a role in determining their environmental values. They reinforce social inequality when they present their environmental values as absolute. And surely Anglo environmentalists maintain social inequality when they use solutions imposed by lawsuits to promote their environmental values.
I believe that all of us need to be committed to listening, learning - and speaking out about - how environmental issues are constituted in relation to values, morality, and beliefs. Environmental issues cannot be divorced from their social and political context. If we hope to build solutions to environmental problems based upon mutual respect, dignity, and justice, then we must learn how our perceptions of environmental problems are shaped by our place in society.
Editorial
By Mark Schiller
Well, gang, the ironies are really beginning to pile up in the forest management wars. You may recall that in April of 1997 Kieran Suckling, head of the Tucson-based Southwest Center for Biological Diversity (SCBD), was instrumental in engineering the ouster of Sam Hitt from the Board of Directors of the Southwest Forest Alliance (SFA), a coalition of 55 environmental groups. At that time, Suckling was quoted as saying, "There is still some cutting [of old growth] going on out there, but overall the battle is largely won. Our forests have other problems. There are too many thickets of small trees and something needs to be done about it. Hitt and Talberth [John Talberth, of Forest Guardians] have tendency to challenge too many Forest Service logging and control burn projects and need to focus more on land restoration activities and working with local communities. Just to continually battle every project can be counter-productive."
Suckling may want to revise these remarks in light of the lawsuit his group, along with 19 other environmental groups, recently filed in District Court in San Francisco. They seek an injunction to ban any logging on all 151 national forests on economic grounds. While SCBD claims the intent of its lawsuit is to protect wildlife habitat and watersheds, they are once again instigating a broad-based, unilateral action that fails to distinguish between huge timber sales for corporate interests and small sales for local operators which can contribute to restoration efforts. Likewise, there is no provision to protect the personal use firewood program so that the result of this injunction could very well be the same as the spotted owl injunction which completely shut down wood cutting in New Mexico and Arizona national forests for 18 months in the mid-nineties.
While we're on the subject of environmental groups that talk the talk about working with local communities to promote forest restoration but don't walk the walk, another member of the SFA, Carson Forest Watch (CFW), recently joined Forest Guardians in attempting to appeal the Tio Timber Sale on the Tres Piedras district. Because the Hopewell Timber Sale on that district is hopelessly tied up in controversy, timber management personnel thought small sales like the Tio could both contribute to forest restoration efforts by thinning overly dense stands, culling mistletoe infested trees, and creating openings for plant diversity and wildlife, as well as contribute to the local economy by providing sawtimber for several small operators. The proposed sale encompasses about 130 acres from which only 200,000 board feet of sawtimber would be cut. The SFA, in its vision statement, Forests Forever, placed an arbitrary limit of 16 inch diameter width on trees that can be cut for "restoration." However, in its appeal of the sale, CFW suggests trees 12 inches in diameter are adequate for small operators and strenuously objects to any trees over 16 inches being cut (there are approximately 200 trees 18 inches to 24 inches which have been marked in the sale). Despite the fact that this stand does not meet Region Three old growth standards, CFW cites protection of old growth and habitat for the endangered northern goshawk as reasons for its appeal.
CFW's appeal represents, I believe, an extremely short-sighted assessment of this sale. Because of previous mismanagement during the period between 1880 and 1930, the Carson National Forest is overrun by dense clusters of young and middle-aged trees which have choked out much of the diversity that occurs in a healthy forest. If the intent of CFW is to protect and promote old growth and plant and wildlife diversity, then it should support small sales like this which, as Carson silviculturist Len Scuffham has pointed out, contain " . . . group selection cuts. This type of treatment . . . cuts small openings in the stand [primarily in mistletoe infested sections]. Grasses, forbs and shrubs increase. In between the groups the trees are thinned out. These thinnings are mainly thinnings from below, leaving the largest and healthiest trees in the stand. Once the trees are thinned out, [the remaining trees] will grow much faster and will be more healthy. The habitat for goshawk prey species improves and the stand is opened enough so the goshawk has room to maneuver through the stand to hunt. Harvesting trees over 16 inches in diameter may be necessary to achieve [this] desired condition."
On the other hand, if the underlying intent of SFA groups like the Southwest Center for Biological Diversity and Carson Forest Watch is simply to eliminate all commercial timber cutting and grazing on public lands, then provisions should be made in the National Environmental Policy Act (NEPA) regulations to provide free or affordable legal representation for land-based community members to intervene in these appeals and lawsuits. Furthermore, if their intervention proves successful, community groups should be compensated by environmental groups for court costs and lost economic opportunities. En otras palabras, amigos, environmental groups which claim they want to work with land-based communities must either start doing so in earnest or the playing field must be leveled for all parties involved.
Updates
Summo Mine
The Bureau of Land Management (BLM) will soon be starting the review process for permanent withdrawal of the Copper Hill area from mineral entry. The present two-year moratorium will expire in July of 1999. The Taos/Rio Arriba Mining Reform Alliance (TRAMRA) will be monitoring the process and will sponser a public meeting, hopefully this November, to let the public know what they can do to support a permanent withdrawal. Now that Summo Minerals has abandoned its interest in the Champion mine, the BLM, Picuris Pueblo, and many concerned area residents would like to see that the Copper Hill area be preserved for its cultural and environmental values.
Mica Mine
The September public meeting to discuss the permit and close-out plan of Franklin Mineral's mica mine was canceled due to a dealth at Picuris Pueblo. Brian Johnson of the New Mexico Department of Mining and Minerals informed La Jicarita just before going to press that his department does not plan to reschedule the meeting, despite the fact that Franklin Minerals has changed its permit request and now seeks permits to expand its site in two phases: the first phase on existing patented lands owned by the company; the second phase on Forest Service land. Johnson can be reached at 827-5991.
Land Grant Review Bill
On September 21 Senator Pete Domenici introduced legislation to set up a Land Grant Review Commission to investigate claims by New Mexicans that their lands were misappropriated by the federal government after the Mexican-American War. His legislation is a follow-up to Representative Bill Redmond's Land Grant bill that was recently approved by the House of Representatives. According to Georgia Roybal of the New Mexico Land Grant Forum, Domenici's bill differs from Redmond's bill only in that it emphasizes that private and Native American lands won't be touched. She also expressed disappointment that voting on the House bill followed strict party lines - Republicans for, Democrats against - and that only two members of the Hispanic Caucus voted in favor of the bill: "If one of their objections was that the bill lacked teeth, they should have worked on the bill with Redmond."